No matter whether you are starting a business or properly employed, working on your personal branding is essential to your success, as it sets you apart in terms of who you are and what you want to be known for in your niche.
Personal branding refers to a marketing concept that is simply the ability to take responsibility for how you present or position yourself as an influencer by creating a brand around yourself within your niche or industry, thereby increasing your reputation.
Jump Directly to
1. Elements of a strong personal brand
2. How to Use Your Personal Brand to Generate Leads?
Building a strong personal brand around yourself is one of the great ways to expand your influence and strengthen your business. Personal branding provides the unbeatable benefit of easing your path for perfect positioning, generating leads, and amplifying sellability.
In this article, you will come to know about elements of building a strong personal brand and how you can leverage that personal brand to generate leads for your business.
---
Elements of a strong personal brand
1. Authenticity
Authenticity is required in your personal branding strategy. Otherwise, you will not see sought growth for your brand and business in terms of lead generation. Genuinely try to help your followers and audience, and remember not to be forceful in that process. When you curate and share relevant and quality content while asking nothing in return, you're authentic. When you try to consider your audience's pain points and help them diffuse that, you're authentic.
---
Still Not an User of Aritic PinPoint Automation?
---
Either you're simply authentic, or you're not. To make sure that you are always authentic and professional, take the time to define your goals and purpose.
2. Storytelling
People connect more with visuals and storytelling. Storytelling is an essential aspect of building personal branding. It will help you be more recognizable and interesting among your target audience and eventually set the stage for them to buy from your business.
When you incorporate storytelling in your personal branding strategy, it helps you build an emotional reach with your audience. Try to present content that paints a story because that will resonate more with your connections and helps them comprehend who you are and why you're so passionate about your message.
3. Consistency
In personal branding, consistency is a key tactic. It takes nearly five to seven impressions for someone to notice or remember a brand.
Developing a personal brand requires a significant amount of time and patience while you will also have to juggle between various marketing channels and social media platforms.
Maintaining consistency in how you present your personal brand will help you begin to build name recognition with your audience across all those marketing channels. You can do this keeping the following points in mind:
1 . Try to use the same profile picture across all social platforms
2. Use a consistent logo that's designed specifically for your brand
3. Try to use a consistent cover image across all social platforms
4. Use specific color schemes in media and social promotions
---
How to Use Your Personal Brand to Generate Leads?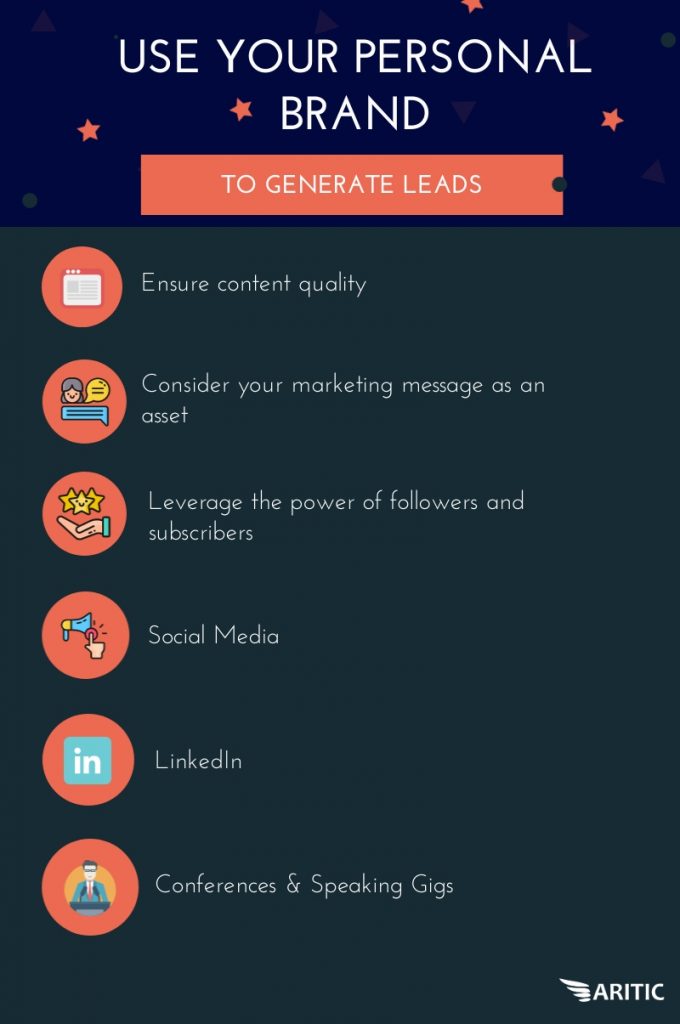 1 . Ensure content quality
The path to grabbing the attention of people towards your expertise goes via providing helpful content.
Start strategizing what you want to convey, put yourself in your audience's shoes while coming up with content ideas, and keep a pulse check on the challenges or issues your audience wants the solutions for- how you as an expert can help them solve those issues?
Having consistent, high-quality content is the starting point to use your personal brand. Optimize your social profiles and make sure you're using high-quality images, your expertise is demonstrated, and your copy is crisp and typo-free.
Your goal is to make people aware of what you are working for in your niche, your vision relating to your niche, and how you are a problem solver for your audience. Considering all these points, you can create relevant and quality content to spearhead your personal branding efforts.
It will drive people to visit your page, generate more leads, and create brand advocates.
2. Consider your marketing message as an asset
When you are paving the way to propel your personal branding, it is important to treat your marketing message as an asset. The reason for this is simple: it will help you open up new profit avenues and create multiplied demand in distinct markets.
3. Leverage the power of followers and subscribers
According to the Edelman-LinkedIn study, 55% of decision-makers say they use thought leadership content as an important way to vet business.
Incorporate thought leadership in your personal branding strategy, build and leverage relationships with other thought leaders in your niche. Why? That's because you will benefit from shared branding and augmented exposure while also discovering new perspectives that you might otherwise have missed noticing.
For strengthening relationships, fetching growth, and amplifying engagement, you can create shared content aligning with collaborations and fun competitions.
4. Social Media
Spearheading your personal branding effort is directly proportional to building a beneficial and strong network. Leverage social media platforms and expand your network for you to brand yourself, show professionalism, and cultivate more contacts.
---
Execute Effective Marketing Automation Workflows Now
---
Utilizing social media platforms makes it easier to connect with your target audience, establish relationships, and even get you unexpected opportunities. When selecting social media platforms, keep your brand or business goals intact.
5. LinkedIn
You must be surprised to see Linkedin as a separate use case of personal branding- well, that is intentional because Linkedin is entirely different from other platforms.
Linkedin is the most lucrative social media platform if you want to reap the most out of your personal branding efforts. It has developed a reputation as a professional social platform, giving you ample reasons for exercising your personal branding efforts on this platform; you can cultivate quality leads, promote your content, and find partnership opportunities.
A study by Content Marketing Institute revealed that around 63% of marketers rated LinkedIn as the most effective B2B social media platform.
6. Conferences & Speaking Gigs
Conference and Speaking gigs are an incredible medium in personal branding. Speaking at workshops and conferences is a go-to strategy for lead generation. Moreover, these are a perfect way to present your views and show your expertise while also meeting with new minds in your niche community.
Speaking gigs or conferences are the combinations of two essential parts when it comes to personal branding- content production and content distribution. It would be best if you focused on educating and adding value.
Remember to be proactive in your introductions, courteous with your time, and try attending more gigs than just yours.
---
Conclusion
If you embrace the path of personal branding, you will become more recognized and a go-to expert for your followers in your niche. That's it, your very alternative source of new leads!
To know more about why personal branding is important for an entrepreneur, check out the following resource: Why Is Personal Branding Important for an Entrepreneur?