TALK TO THE EXPERTS FOR A PERSONALISED DEMO NOW!
TAKE DEMO
Landing Pages
Capture more leads through forms and landing pages
Landing page builder
Drag and Drop Builder
Make a stunning and compelling landing page, your very own standalone web page, with the easy-to-use drag and drop page builder features. Simply drag and building blocks, edit or quickly modify them to produce website design for your featured standalone page.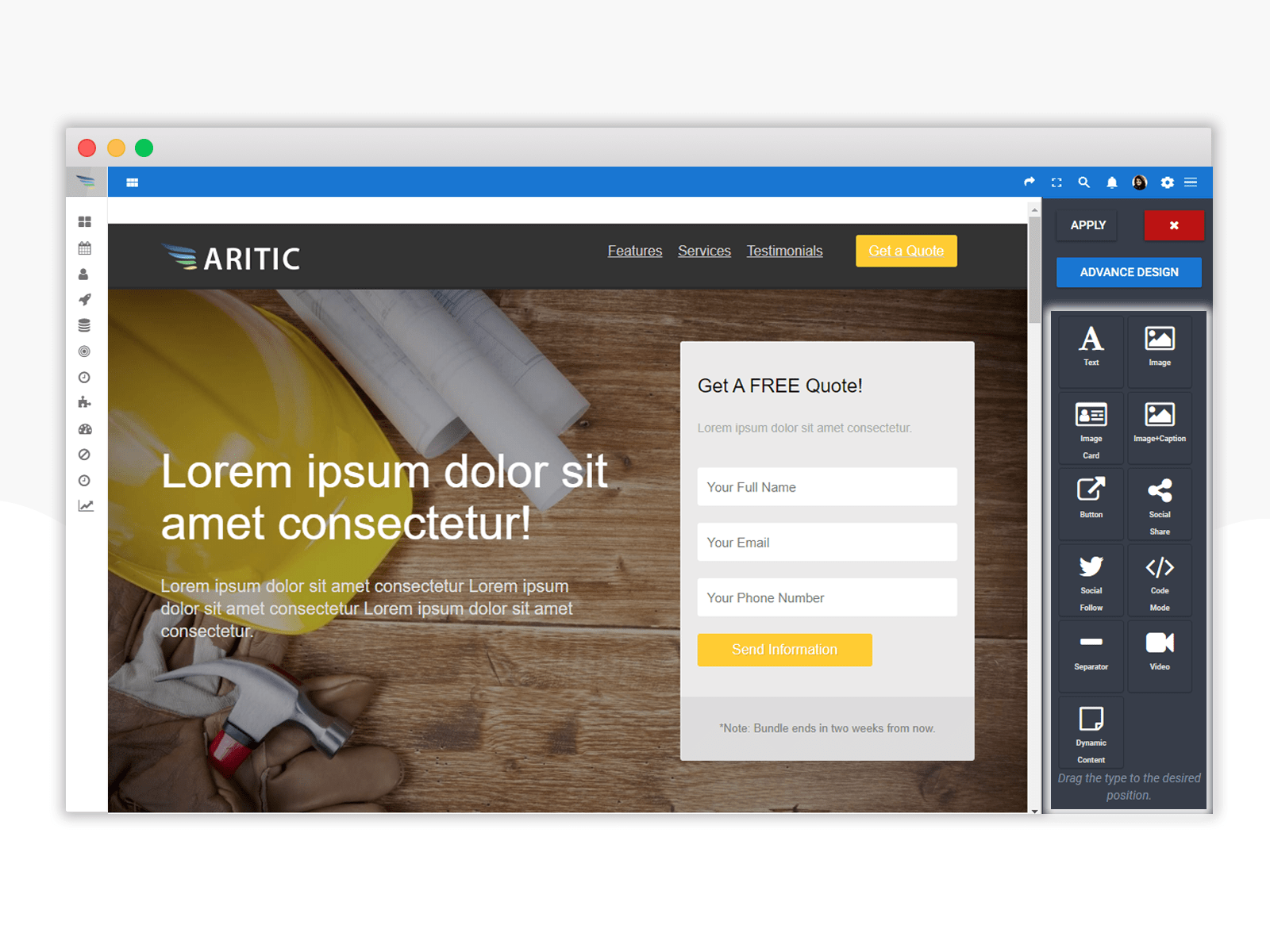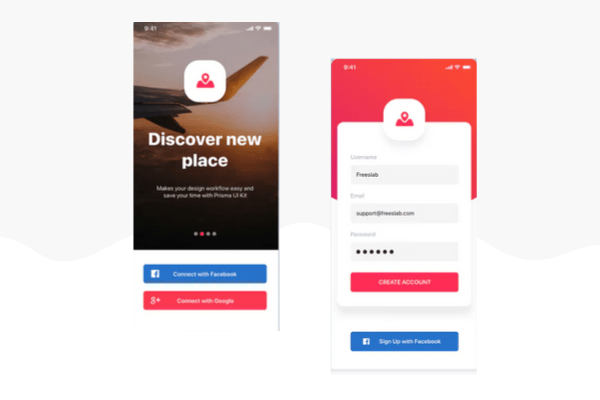 Embedded Forms
Easy-to-embed forms
Embed smart lead capture form on your page to bring in more potential customers and more prospect to subscribe to your group list. Use social login plugins on form, and you'll see improved lead capture time and increased conversion rate specifically.
Responsive
Responsive landing pages
Pick and choose pre-built responsive templates to begin creating all types of landing pages. Smoothly create, edit, modify and publish existing page template without any technical or engineering help.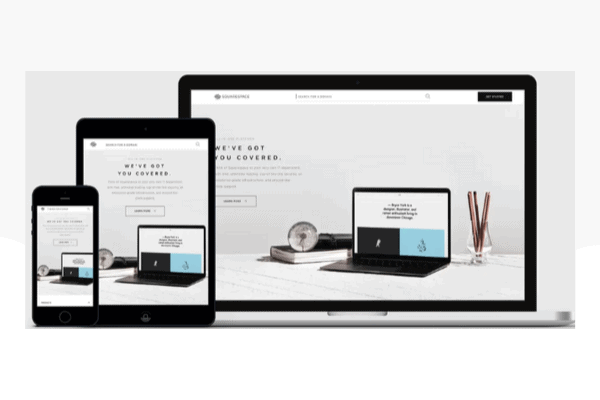 Get Started in 3 simple steps..
Signup on Aritic PinPoint
Sign up on Aritic PinPoint, and start developing best landing page from your dashboard
Select one of the responsive themes from the theme library to customize, or develop your own theme design
Add engagement elements
Make form fields or a gated video or a GIF, or everything if that's what you want. Save and publish once ready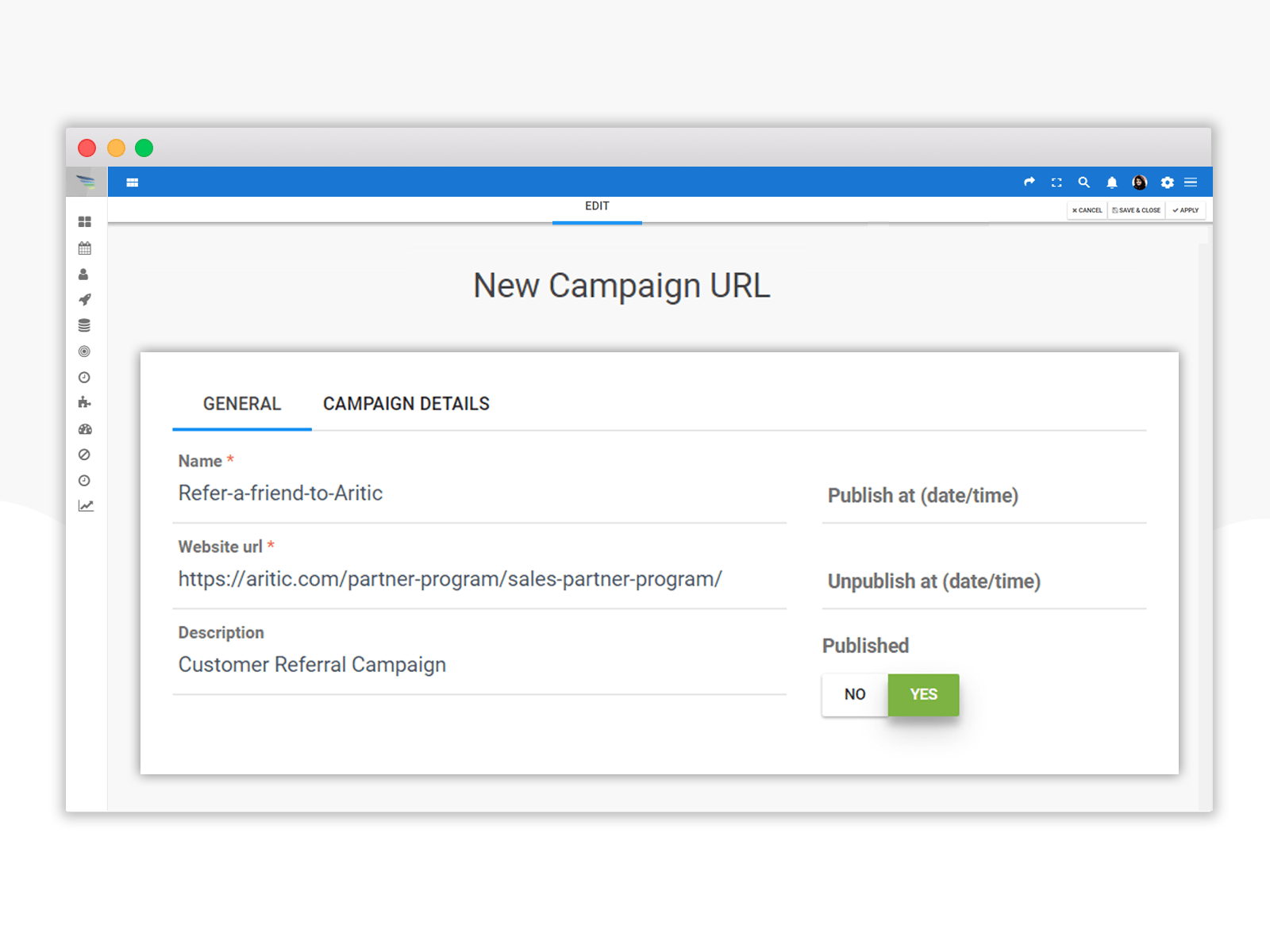 Tracking
UTM tracking enabled
Insert UTM tracking code to your landing pages for identifying landing page visitors or major source of your leads. Use landing page best practices and effectively monitor your page performance and recognize your most profitable landing page visitor for your product or service.
A/B Tests
A/B Testing
A/B test page element, design, call to action (CTA) placement, forms, and format before publishing it immediately for your entire segment to know about performance. Determine and highlight which version or variation of your page is a success in giving you maximum returns, and then publish it for all.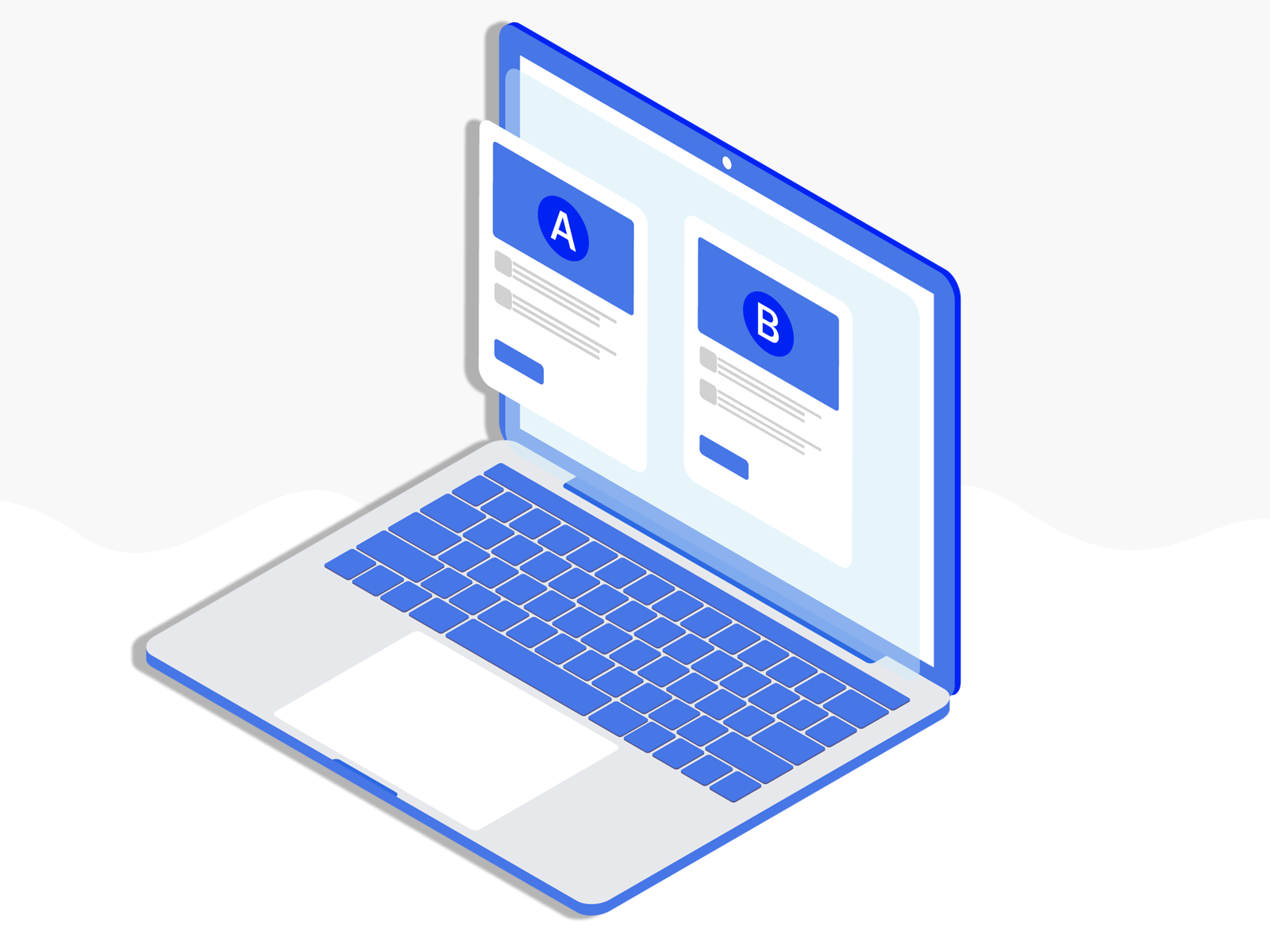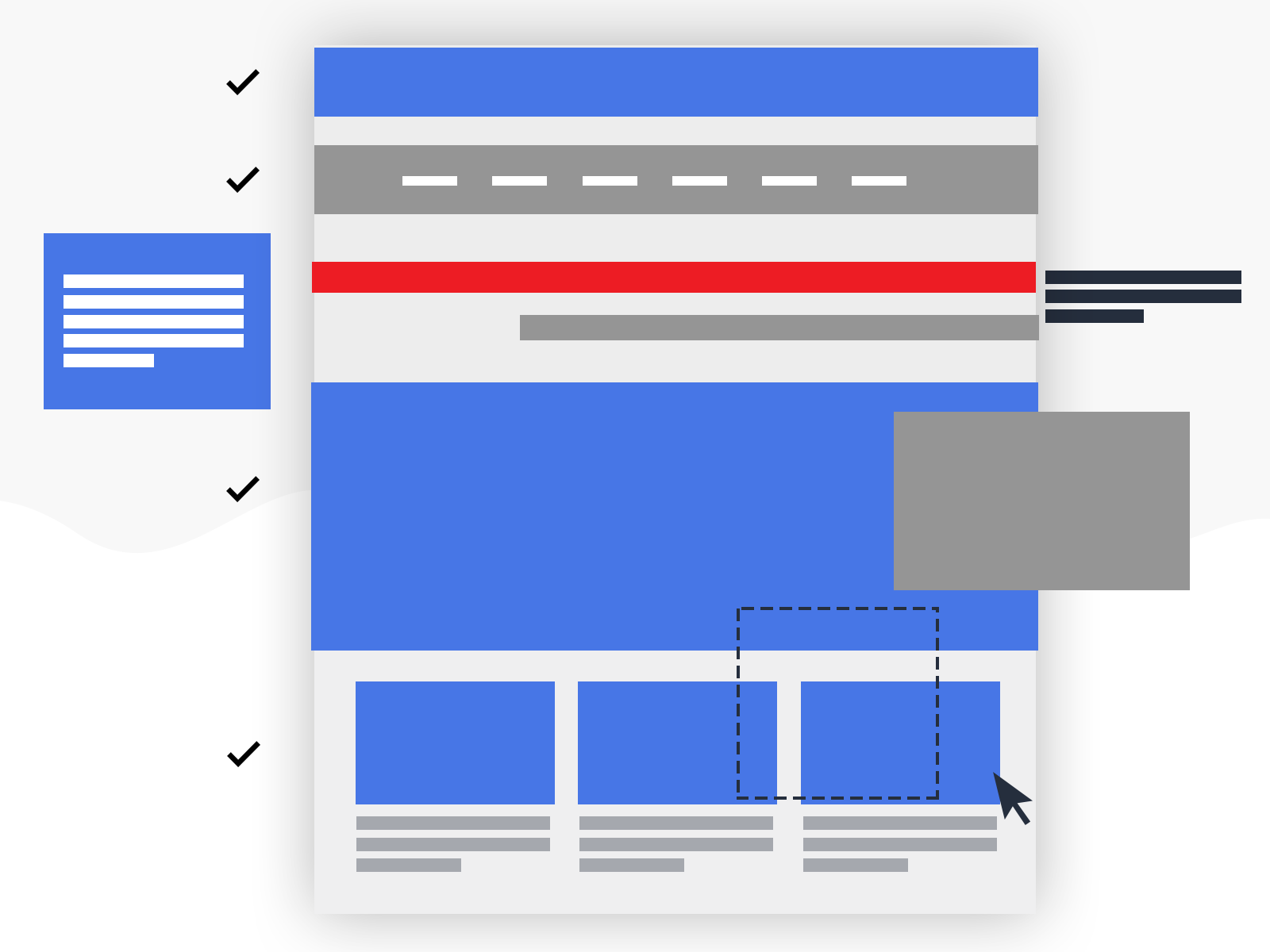 No coding
Designed for Non-Programmers
Utilize pre-designed template as the next step to develop customized landing page without writing a single line of code. Edit, modify and make interactive pages in under a minute.
Report
Detail Page Report
Get clear and detailed reports on your page performances to map your conversion. Focus on analyzing the number of clicks on your clear call to action buttons (CTAs), how many prospects submit the form, which are the returning customers, and which web design worked best to record them as a great example and improve your strategy. Better track and monitor valuable centered performances with a UTM tracking script on your page, and generate a report for the same.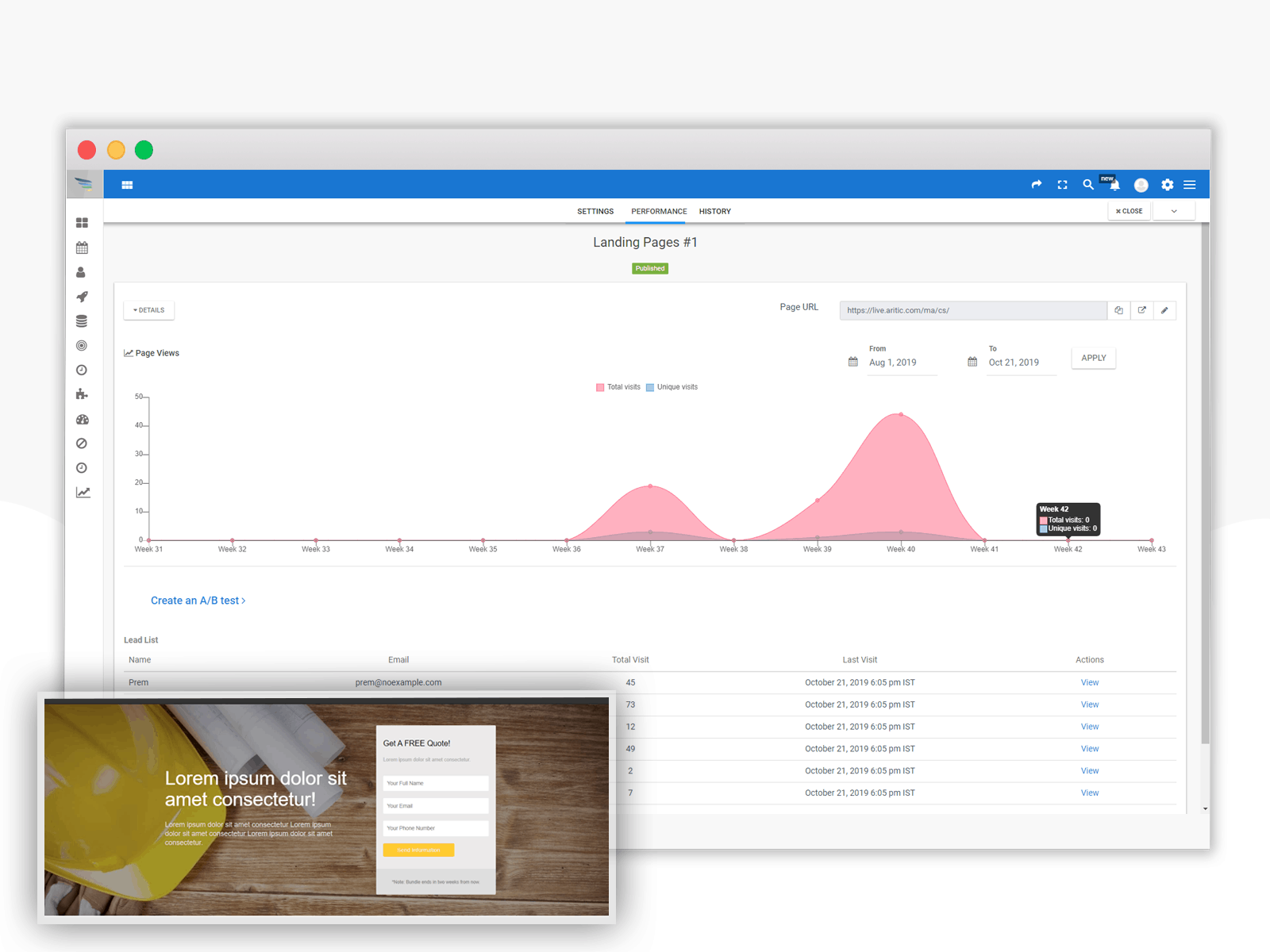 Benefits of Aritic Landing Pages
Capture more prospects through forms and landing pages
Upload personalized themes for your brand once, and utilize them every time you are making a great landing page
Code Mode
Utilize the Code-mode theme example to customize the layout, attach a logo, and append media to the page
Embed Videos
Embed Wistia or gated video on top of the page to retain website visitors and increase lead capturing rates and site traffic
Use dynamic content to show relevant piece of content-material based on behavior of users and buying stages to scale your marketing campaigns
Employ custom HTML builder to upload your own HTML and CSS part inside the landing page builder
GIF Insertion
Generate stunning GIFs from current or published video URLs easily inside landing page builder using the GIF builder
Multi-lingual
Make pages in any global language, or generate translated versions of your original one, improve your search engine visibility, and increase traffic
Social Elements
Include top social media strands because it's important to trigger faster, smoother conversion rates and work well for online marketing
Opt-out Page
Turn on crucial Opt-out page option while making a great landing page design for European audience (following GDPR)
Obtain In-depth and Comprehensive Analytics
Get important in-depth analytics for all your landing pages. Compare multiple pages on your site to analyze interested visitor pattern details, which one is typically converting well and all you need to know. View reports for the same page for different periods as you want well hinged on key conversions
Responsive Pages for Desktop and Mobile
Get the value and benefit of creating fully responsive pages for every screen, be it desktop or mobile devices, and you'll see enhanced visitor engagement that'll drive action you've been craving for your every standalone page
Unify All Pages Under Main Domain
Be it a new domain or your already owned domain you're connecting, quickly produce homepage sub-domains links, keeping business or brand consistency exactly intact and fold throughout as per your expectations