Landing Pages and Forms
Capture more leads through forms and landing pages
Publish professional landing pages in few seconds
Running short of time? Quickly pick template and customize it without any technical or design help. All landing pages are mobile-optimized so that you can get started immediately. Use our on-page editor to place your copy, images, conversion forms, and CTAs in a snap.
Use dynamic content for hyper-personalization
Dynamically display different content based on each individual visitors' source, demographics, buying stage, or any other details that are saved in your database. Create variations of content, forms, and CTAs, and choose the specific segment against each variation. Then relax and see the conversions speeding up as each individual visitor sees tailored content, forms, and CTAs to engage.
Create interactive and engaging landing pages in less than a minute
No designers or IT help required. Create beautiful and responsive landing pages in less than a minute with our drag and drop editor.
Make edits in seconds, drag and drop multiple elements, and create dynamic versions of your landing pages to hyper-target your ideal customers.
Test. Optimize. Publish. Review. Repeat.
Analyze what triggered the conversions for this landing page and why. Find out customized keywords using our SEO analysis tool and optimize your landing page for search. Create A/B tests to test every element, including copy, headlines, element placement, CTAs and more, to know what will work for sure.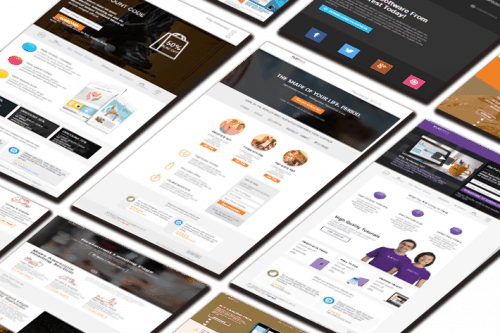 Responsive landing pages in seconds
Attract your ideal customers across multiple devices. Use responsive landing page templates available or build your own with the BEE-Editor.
Customise your landing page
Use dynamic content to show relevant messages to your ideal customers. Insert forms, videos, or GIFs to trigger higher engagement.
Integrate with multiple platforms
Use your landing page as a gateway for your multi-channel marketing purposes – emails, SMS, push notifications, and mobile marketing.
Convert more visitors into leads
Create and launch professional looking landing page without a developer. Run A/B tests to identify what works best for your ideal customers.
Embed social sign in and sharing buttons
Include social sign-up or sign-in buttons to save time and trigger more conversions on-the-go. Use your landing page as a gateway for your multi-channel marketing purposes – emails, SMS, push notifications, and mobile marketing
Add more customizations in few clicks
Edit backgrounds, add elements, rearrange the element structures, and make edits in few clicks. Add images, image cards, and buttons. If you have a ready to use HTML code for a pre-designed landing page, simply click on Code mode and paste it.
Customize how your form looks with advanced formatting options
Use the formatting options to customize your form background, alignment, padding, height, width, font styles, labels, input styles, layouts, and checkboxes. Make your form look exactly how you want it to be – engaging and interactive.
Build custom forms to convert anonymous visitors into leads
Create smart forms that can be embedded in your landing pages and websites, and start converting anonymous visitors into potential leads. Use the drag and drop editor to quickly design an interactive form.
Choose from a vast list of field types to customize your forms
Create customized form fields using any field type from a long list of field types in seconds. Simply drag and drop the questions you want to ask in the order of your choice.
No technical know-how required. Create a custom form with either radio select or checkbox or date picker- whichever suits your needs.
Automated CRM updates as and when your leads fill a form
No need to manually enter or make changes in your Aritic CRM. As and when your leads fill out a form, they are automatically updated and segmented within your CRM for further relationship building. Dynamic segmentation ensures that your leads are segmented automatically.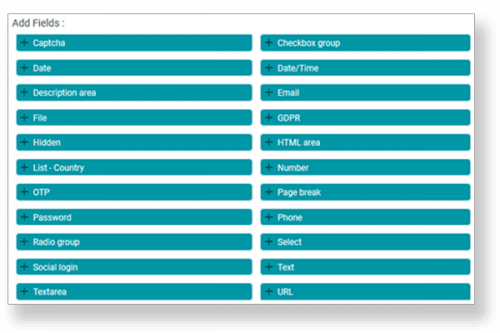 A/B test form fields and create progressive forms
Build responsive forms and A/B test each field type and form structure. Never lose a visitor at any point of time. Ask questions that they want to answer. Select the segment, matching form fields, and test against a handful of visitors. Track the performance metrics of your test form. Preview forms before publishing.
Create forms in Kiosk Mode to dissolve tracking cookies
Turn on the Kiosk Mode while building a campaign form. This ensures that the form will not generate any tracking cookies, nor will it assign an IP address to the contact created or updated within Aritic PinPoint database.
Social Login and autofill options for your customers
Speed up form submissions for your visitors and potential leads with social login options. Add social plugins easily in your forms without any help. Opt for autofill options to save time for your visitors on landing pages built within Aritic PinPoint.
Create after-form-submission actions to tie together customer details
Automate the immediate action following the form submission. Choose from a list of options like add to contacts, download an asset, modify contact's tag or segments, post results to another form, push contacts to integrations, and more.