Aritic Sales Features
All marketing sales-related features you need for your business.
Sales CRM Platform
Relationship Management
Not all contacts are same. We understand how some contacts can create a rather complex relationships. Aritic Sales provides a flexible and adept means to establish relationship with contacts of any type with anything else within the CRM itself. For instance, you can link a contact with another unrelated company because that company might help in speeding up the buying decision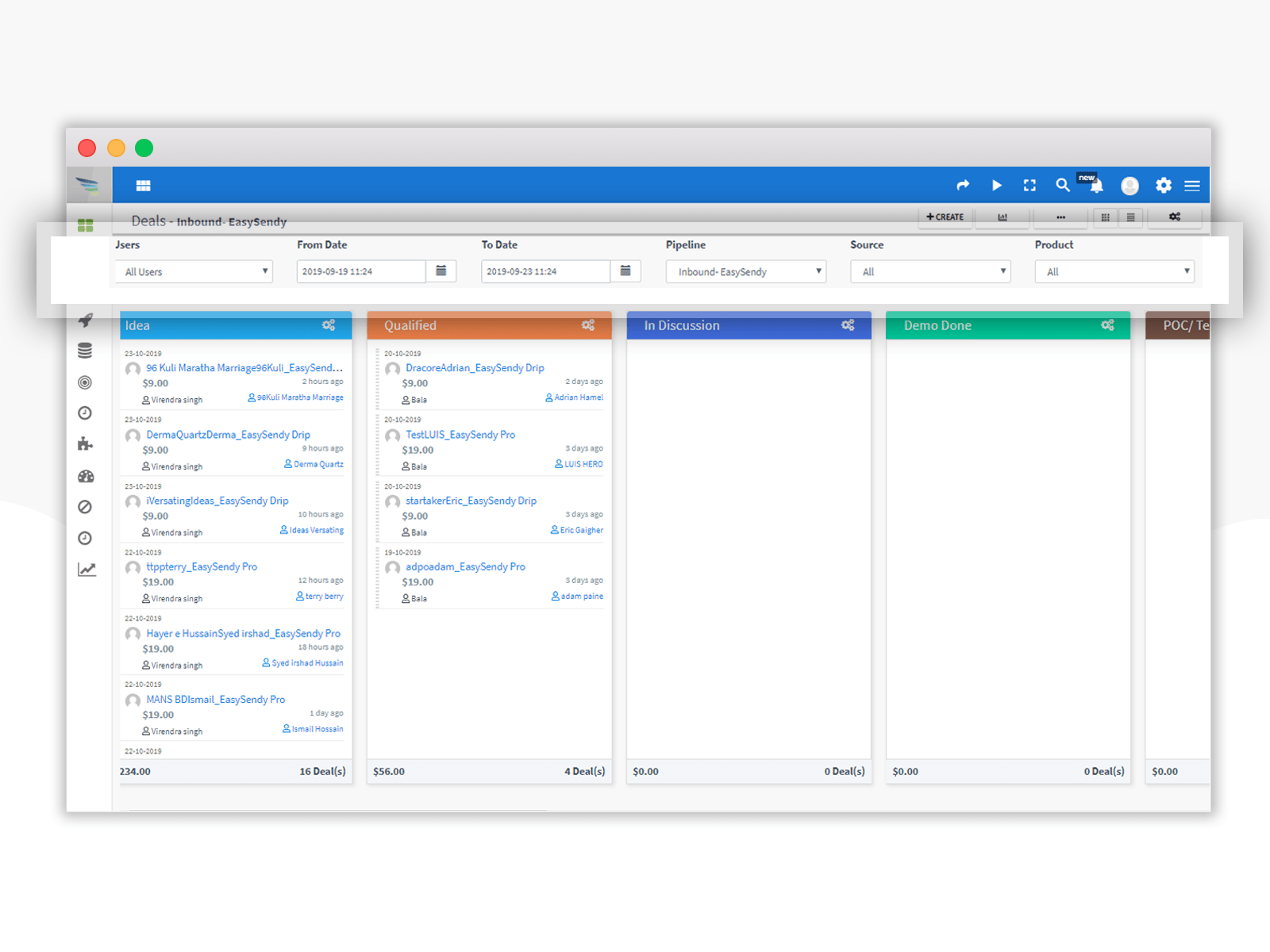 CRM Deals
With Aritic Sales CRM software, get a complete 360-degree view of the macro and micro levels to identify deals (open, won or lost), set milestones, track customer interactions, and know all about conversion probability.
Funnel management
Capture new leads from all your channels automatically, oversee customer journeys, track real-time information, establish relationships, and manage them intelligently to keep hold of your sales pipeline. It's all advanced sales CRM features you need for leakproof funnel management and an effective sales cycle.
Unlock potential deals
A richer CRM software implies more customer data. Keep hold of every data entry, build customer relationships with Aritic Sales—automatically pick up every page visit, every interaction, every form fill-out, and much more. Assign tags to the records for better segmentation and filtering. Never miss out on any potential deal using our sales CRM software.
Sales workflow automation
Reduce manual interference and automate business processes with Aritic Sales Workflow Automation. Utilize an intuitive designer and engine to leverage all your data, design the perfect workflows automatically, support your sales team and customer support teams by streamlining even minute tasks by automating follow-ups.
Request a Personalized Demo Today!
Manage your unique Sales Process with CRM
With the right customer relationship management tool, you can manage any sales process and unify service teams efforts. Use three powerful elements of CRM tools—Split, Wait, and Conditional to create power-packed workflows. Get the right contact information and trace contact management flow and create asynchronous contacts to do more like edits, testing, and modifications.
Manage Sales Tools
Connect thousands of tools and third party integrations. Leverage end-to-end sales management with Aritic Sales CRM tool that helps ease tasks for sales teams. Manage and monitor orders and invoices using our sales CRM system. Seamlessly ensure order fulfillment on time and identify any bottlenecks in your entire sales management flow utilizing our CRM features.
Analysis Report
Visualize your growth with detailed sales reports and analytics using our CRM solution. Get specific analytics for all detailed reports to get a wholesome view of CRM sales. Know how your sales reps and marketing efforts have fared and make intricate changes for performance enhancements utilizing the ease of Aritic Sales.
ANALYTICS
Comprehensive Customer Relationship Management
Experience the best of contact interface optimised to suit your needs. Starting with contact details, social media profiles, work portfolio, personal details, relationships, and a complete overview of the interaction history- Aritic Sales spaces and organises each of these systematically for you to easily locate for future interaction. Along with that, get detailed overview of your call logs and emails sent.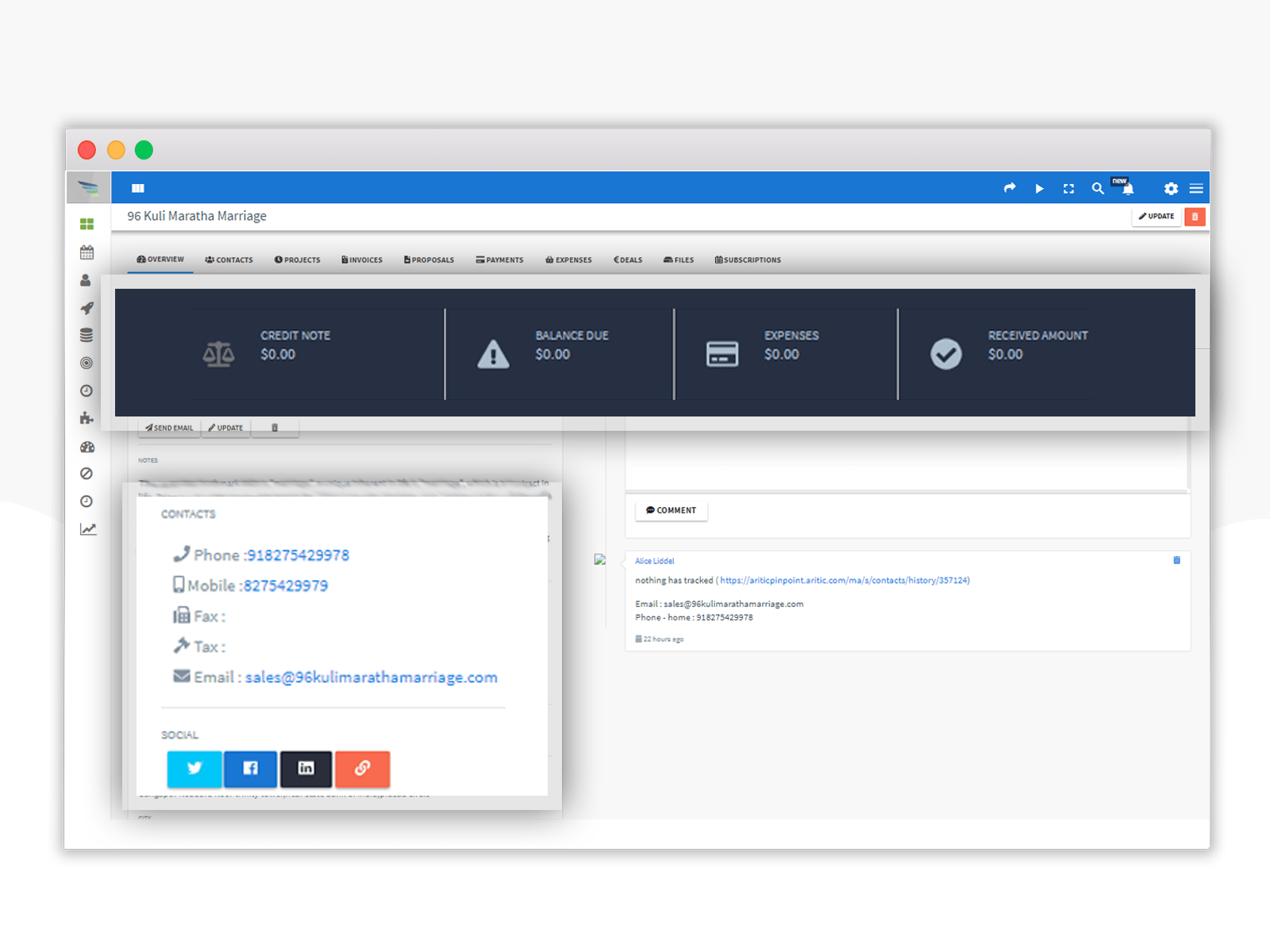 Record Management
Ditch manual involvement in creating records in Aritic Sales. Whether you want to edit or delete or create a new record based on a pre-defined trigger- Aritic Sales has it all sorted.
Workflow Creation
Use three powerful tools- Split, Wait, and Conditional to create a power-packed workflow. Customise your workflow and make it adept to carry out tasks.
Instant Notifications
Aritic Sales lets you stay updated with anything that happens within your database. Get instant notifications of anything that needs your attention.
Sales Funnel
Aritic Sales provides a simple interface to create your unique sales workflow. We understand each organisation has different stages in their sales funnel.
Task Management
Aritic Sales makes it easy to manage your tasks within the application. Create actions assigned to others as well as view and manage those assigned to you.
Aritic Utilities
Administrators can efficiently manage the application with Aritic Utilities. Starting with importing and exporting data for contacts, accounts, and all other records, to migrating data from one CRM system.
Customise Access Roles
Administrators will have the full power over the user's level of record access. They can give permission to edit or update data to the users. Admins can create new users & assign them to specific groups.
Analytics and Reports
Improve your overall performance with detailed analytics & reporting of Aritic Sales. Know how your marketing and sales efforts have fared and make intricate changes vital for performance enhancements.