Help your sales team convert more with Lead Scoring
Give your sales team the best bets for quality conversations and fast-paced conversions. With best integrations in-store, create the ultimate lead scoring model for your sales team. Monitor leads, assign scores and implement a behaviour-driven lead scoring system for higher ROI.
Identify potential leads
Build a lead scoring model to identify potential leads. Track your lead behaviour, assign positive and negative scores, and pinpoint the right leads for your sales team to follow-up. Engage potential buyers at every buying stage, track their behaviour, assign scores. Converse only with leads that have the highest score in your lead scoring system.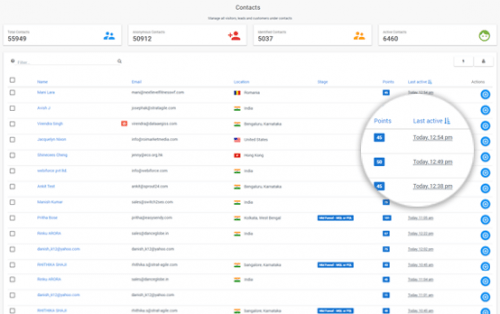 Speed up Conversions
Pass on only those leads that are ready to hit the 'buy' button to your sales team. Increase your conversion rates with the lead scoring feature.
Trace the actions of your visitors
Use lead tracking code (aritic pixel code) on your website to track your leads. Each action of the lead earns them certain points. Based on the total lead scores, plan out your next move.
Assign points for every action
Assign scores for every single lead activity, including negative scoring to ensure high quality leads in your sales pipeline.
More lead score = Better chance of conversion
Track your lead scoring system to identify leads with the maximum score after including negative scores. Connect with only those leads that promise conversion.