Unified Automation Ecosystem You Need
With the Aritic automation platform, your marketing, sales, and service team can build a cohesive customer experience.
Start Growing With Aritic Today
Build automation campaigns that are relevant, targeted, and more human. Start with creating a cohesive customer experience across all marketing channels to drive higher business ROI.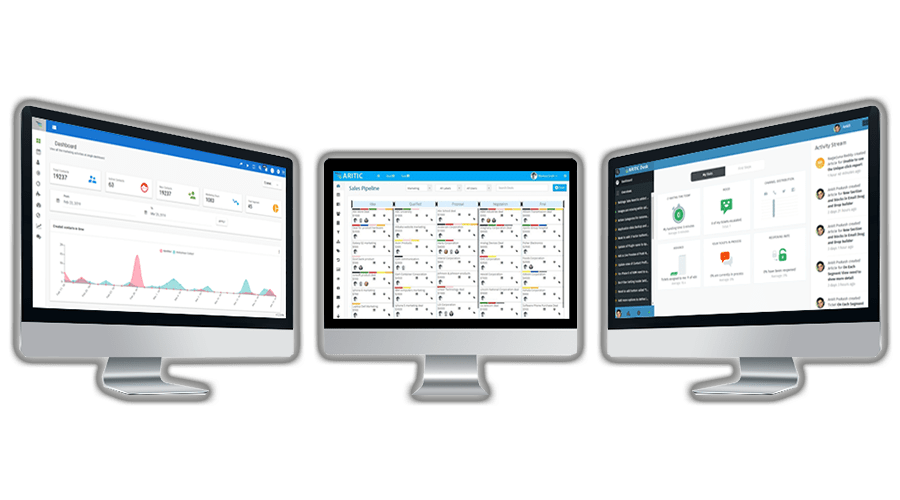 The Most Powerful Marketing Automation Platform.
Aritic is a unified marketing automation platform for all B2B companies regardless of their size.
Financial Services
Aritic is the marketing automation platform purpose-built for financial services. Accelerate your personalization, lead generation, and ROI with a single integrated platform!
Manufacturing
Aritic's industry-specific marketing automation platform helps manufacturing companies increase sales and grow. The platform integrates with CRM, ERP, and other business systems to deliver automation that works across all fronts!
Higher Education
Aritic's Marketing Automation Platform enables higher education institutions to deliver personalized, real-time experiences across the student lifecycle and accelerate their enrollment process with applicant tracking!
Online Digital Business
Aritic is marketing automation platform for online digital businesses. The platform helps companies to build, manage and grow their online presence through automation of marketing activities by delivering a combination of automation, social media, and CRM solutions.
Technology
Aritic is the only marketing automation platform designed from the ground up to support SaaS business technology companies. It simplifies the complex world of marketing, sales, and support. The platform helps you market and sell your technology faster.
Marketing Agency
Discover Aritic automation platform for marketing agencies that helps you automate tasks and take your agency business to the next level. The platform enables you to embed simplicity, functional ease, and effectiveness into your marketing processes.
Tailored tools you need to succeed
Inbound Marketers
Aritic helps you to personalize your own inbound marketing strategy starting by creating personalized content, nurturing leads with effective email campaigns, executing targeted social media campaigns, and many more to increase your customer base.
B2B Marketing Team
Aritic is a holistic B2B marketing platform that includes personalized tools for Marketing Teams. The platform helps you increase lead generation, improve your pipeline management with our CRM, and provide you with all the necessary insights on your target market to be confident about your decisions.
Marketing Managers
Aritic is a versatile marketing automation platform that integrates with your already-using tools. It lets you set up workflows that align with your goals and use templates for various marketing needs to help everyone on your team achieve their targets.
Inbound Sales Team
No more sending generic emails! No more wasting time on meaningless activities. Aritic will help your inbound sales team pull interested prospects and qualify them to see if they're a fit for their product or service.
Quick Steps to Set up Aritic
An intelligent and powerful automation platform for B2B Commerce that's easy to use
Start a trial

Begin a free trial and gain access to the full suite of Aritic marketing automation platform. See how Aritic provides you with the best technology and marketing solutions. We'll give you the full support of our experts along the way.
Onboard contact data & integrations
Work with your contact data like never before with seamless integration. Organize your entire contact history and create custom records, all from one interface. Keep track of opportunities and stay on top of your lead nurturing process.
Start nurturing your leads
Nurture like a pro with automated lead nurturing. Grow your pipeline and maintain healthy relationships with your leads. Create an automated drip campaign, schedule email blasts, and manage email templates — all in one place.
Begin converting opportunities
Get more out of every opportunity by converting them into closed deals faster than ever before. Easily automate tasks, set triggers, and never lose an opportunity again.
Make Your Life Simpler With The World's Most Affordable and Unified Automation Platform
An all-inclusive platform to automate your marketing and sales. With tools to manage, measure and optimize your entire funnel, you have everything from complete visibility to control across all your business needs​.
Explore Aritic
Aritic's services are designed to work for businesses of all sizes.
Action-Based Automation platform to Synthesize Everything Across Prospect Journeys
Aritic enables organizations to create action-based automation that scales across their entire organization. Marketing, sales, and customer success teams can automate complex processes and create dynamic sequences of emails, custom rules, and phone calls with the click of a button. Start personalizing your customer experiences today!
Over

2500

+ customers using Aritic
Align marketing, sales and service on a Aritic platform, automate and manage the complete customer journey.
Get started with a free trial
Start creating online marketing campaigns for your business with Aritic's free trial.
Aritic has been continually attentive to our needs. They have improved their product features to give us the capabilities that we need most and are actively pursuing even more advanced features! Thank you for always being ready to help our team!
I have been working with Aritic Pinpoint, marketing automation platform for the last seven months. I found the platform quite elegant, efficient for marketing operations and their customer support team is on-time responsive. Highly recommended!
NicheMktg switched to Aritic PinPoint after an extensive research. We've been using this tool for over 10 months now and we are very happy with the way the customer success team has helped in our migration, setting up, and guiding us through the tool.
Aritic's marketing automation solution has helped us drive massive improvements in our business. Aritic offers multiple marketing channels in one platform that has helped us establish multiple digital touch-points for our customers.




Frequently Asked Questions
Join 2500+ happy customers using Aritic to change the face of your business.
Start building a cohesive customer experience with fully integrated Aritic automation suite