TALK TO THE EXPERTS FOR A PERSONALISED DEMO NOW!
TAKE DEMO

Integrated Automation Ecosystem You Need
Coordinate and collaborate with teams across all departments to automate your business ecosystem and build a cohesive customer experience with Aritic Automation Suite.
Start Growing With Aritic Today
Build automation campaigns that are relevant, targeted, and more human. Start with creating a cohesive customer experience across all marketing channels to drive higher business ROI.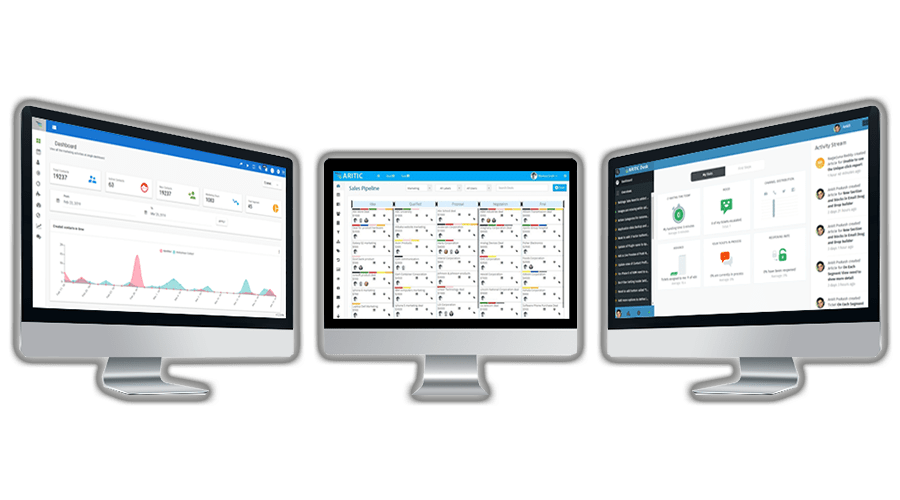 The Most Powerful Marketing Automation Stack
Aritic is a powerful marketing automation solution for B2B companies in any industry, regardless of their size.
Financial Services
Aritic is the only marketing automation platform purpose-built for financial services. Speed up your personalization, lead generation, and ROI with a single integrated solution!
Manufacturing
Aritic's industry-specific marketing automation software helps manufacturing companies increase sales and grow. Our platform integrates with CRM, ERP, and other business systems to deliver automation that works across all fronts!
Higher Education
Aritic's SaaS Marketing Automation Platform enables higher education institutions to deliver personalized, real-time experiences across the student lifecycle and accelerate their enrollment process with applicant tracking!
Online Digital Business
Aritic is marketing automation software for online digital businesses. We help companies to build, manage and grow their online presence through automation of marketing activities by delivering a combination of automation, social media, and CRM solutions.
Technology
Aritic is the only marketing automation suite designed from the ground up to support SAAS business technology companies. It simplifies the complex world of marketing, sales, and support. We help you market and sell your SAAS technology faster.
Marketing Agency
Discover Aritic automation software for marketing agencies that helps you automate tasks and take your agency business to the next level. Our platform enables you to embed simplicity, functional ease, and effectiveness into your marketing processes.
Quick Steps to Set up Aritic
An intelligent and powerful automation platform for B2B Commerce that's easy to use
Start a trial

Begin a free trial and gain access to the full suite of Aritic marketing automation tools. See how Aritic provides you with the best technology and marketing solutions. We'll give you the full support of our experts along the way.
Onboard contact data & integrations
Work with your contact data like never before with seamless integration. Organize your entire contact history and create custom records, all from one interface. Keep track of opportunities and stay on top of your lead nurturing process.
Start nurturing your leads
Nurture like a pro with automated lead nurturing. Grow your pipeline and maintain healthy relationships with your leads. Create an automated drip campaign, schedule email blasts, and manage email templates — all in one place.
Begin converting opportunities
Get more out of every opportunity by converting them into closed deals faster than ever before. Easily automate tasks, set triggers, and never lose an opportunity again.
A Full-Stack Marketing Automation Platform for Growing Business
Try this simple yet powerful tool for all your business needs​
Explore Aritic
Aritic's services are designed to work for businesses of all sizes.
Action-Based Automation Builder to Synthesize Everything Across Prospect Journeys
Aritic enables organizations to create action-based automation that scales across their entire organization. Marketing, sales, and customer success teams can automate complex processes and create dynamic sequences of emails, custom rules, and phone calls with the click of a button. Start personalizing your customer experiences today!
Over

2500

+ customers using Aritic
Align marketing, sales and service on a Aritic platform, automate and manage the complete customer journey.
Get started with a free trial
Start creating online marketing campaigns for your business with Aritic's free trial.
Frequently Asked Questions
Join 2500+ happy customers using Aritic to change the face of your business.
Start building a cohesive customer experience with fully integrated Aritic automation suite