Salesforce Guide
The Ultimate Guide to Sales Force Automation
Small business owners do not trust the credibility of Salesforce Automation and are intimidated by the investment costs that come with it. They are of the belief that it is an unsocial and supercilious way to interact with your potential customers and leads, that is broadly adopted by big corporations who have no other way to manage and organize their large teams systematically.
It is one of the biggest misconceptions that shields the actual benefits of sales force automation. The truth is that automation helps to eliminate the extra time that your team spends on doing the most obvious and simplest of the tasks manually. Instead, you can utilize that time in creating strategies on how you can improve your business output and reach out to more valuable clients who need special attention.
What is Salesforce Automation and why should you invest in it?
Salesforce automation means implementing software tools to automate your interactions with leads that are in your sales pipeline.
It includes some everyday and obvious tasks like sending automated e-mails when an enquiry is submitted on your website, creating tasks for your team to schedule a call or email a prospect personally, automatically dividing the leads and allocating them to your team members equally or assigning lead score to each of the prospect to define how qualified it is.
Many entrepreneurs are not well aware of the actual difference between sales and marketing automation, and they often confuse it to be the same. Yes, it is true that any of the automation systems can be implemented for both, but each of them has their specific features and focuses on different types of communications and goals.
Marketing Automation:It focuses on creating qualified leads from the people on your list.
Sales Automation:This automation is about making customers for your business out of the available qualified leads. Because of this reason, it is a bit more on a personal level.
Why should you plan to invest in Sales Force Automation?
Automation for making more interactions with your leads may sound a bit formal and impersonal, but it helps you in establishing a quality interaction between your brand and customers. An efficient sales force automation will not eliminate all the direct conversation with the leads instead it will handle the most obvious and repetitive tasks that take up most of your time. It will ensure that you can have quality interactions with the prospects by giving them personal attention and benefiting from it in the long run.
The real objective of automation is not to replace humans in an organization or make your sales team idle. It is there to create time and opportunities for more productive activities like focusing on your potential clients that are liable to become long-term and loyal customer in the long run.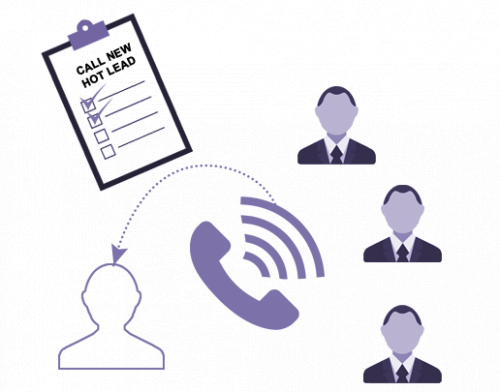 Automation not only creates time and opportunities for more human interactions it also helps to polish your team's consistency and ensure that none of the leads go unnoticed. Such mistakes are common even for the best sales team where they forget to follow a potential client and lose him sooner or later.
Salesforce automation does all these jobs of following-up with the clients, sending them automated emails or reminding your team of a follow-up call.
The automation of follow-up processes involves a few mechanical steps but will improve the consistency of your team. There might be some people on your team who are professionally sound, and they have their way of treating their leads depending on the situation which further improves the consistency of your business. They can help to define the correct process to approach a situation and also train people at the same time and optimize your practices for a high conversion rate.
The final benefit of salesforce automation is that it helps you to plan and prioritize your opportunities so that you never miss on a potential lead that is just ready to buy.
Instead of racking your and your team's brains through the never-ending lists of clients and leads to find the most eligible ready to buy lead, sales force automation will do it for you. It will keep track of all the leads and their readiness level and prioritize the follow-up tasks accordingly. The automation system is equipped with features like lead scoring and automating tasks that will ensure that your team never misses out the potential lead and reaches them at the right time.   
Chapter 7: Analytics and Reports
Within Aritic PinPoint, contacts added can be calculated based on the total number of unique Push subscribers, Email subscribers, Contact Phone Numbers.
Chapter 8: Salesforce Automation Terminologies
This reference guide will help you get familiar with all the terminologies in sales force automation.
Chapter 9: Your Next Steps
Put together everything you have learned, create a roadmap to follow, and start making progress in the right direction with this final takeaway chapter. This chapter is for you to get started towards your goal.
Part 1: Preparing you for Salesforce Automation
If you are reading this article, then we are sure that you must know how important it is to follow your leads and customers. But if you are taking a plunge into sales force automation, then it is essential to understand that how worthwhile it is and how investing your time and effort in this will reap better results in the future.
Salesforce automation requires a right amount of energy and time to make it an integral part of your business, but the results are worth all the efforts. By automating your salesforce processes, you can achieve the following benefits: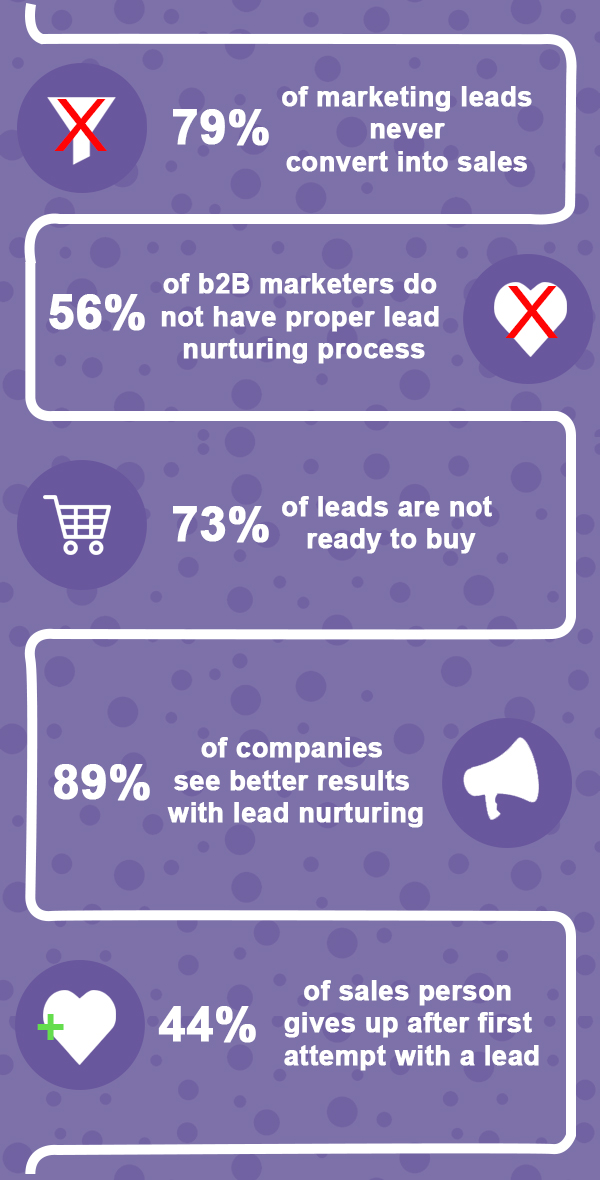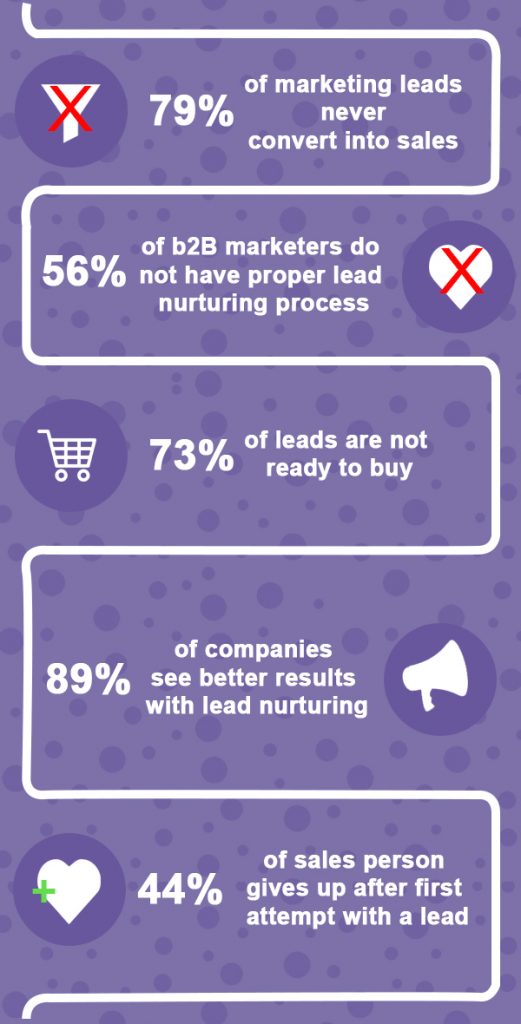 Reduce the Marketing Costs: A more feasible and inexpensive way is to turn an existing lead into a customer rather than generating a brand new lead from scratch. With the implementation of sales force automation in your business, it will be much easy to make your leads into customers saving you a good amount of money that would have otherwise spent on lead generation.
Improve your conversion rates: It is not easy to make your leads turn into customers without following them religiously as they quickly forget the brand and move on to other. Salesforce automation helps you to automate the entire follow-up process and make sure that you do not miss on any of your customers.
Create loyal customers:If your prospects/leads keep getting personal attention from your team then, in the long run, the chances that they will turn into your customers increase. One-on-one interactions help to build trust and make your customer believe that they will be taken care of in the near future. They also find it more convenient to buy a service or product from a brand with which they had an interaction than looking up for other options which are entirely unknown to them.
Improve revenue:When you are readily doing the follow-up with your leads and turning them into your loyal customers, you are also improving the overall revenue of your company. It also increases the retention rate and helps you to sell more products making your income to soar.
Save time:Salesforce automation saves a lot of time because it prioritizes your leads depending on their readiness factor. You will no more have to follow the clients who are not even ready to buy. With all the extra time you can focus on those leads who have the potential to turn into customers and also on the loyal customers who need personal attention.
The above reasons are quite compelling to automate your follow-up and take the plunge. But, it is essential that you first answer these critical questions about your business and then move forward. The first one is where your company is, the second one is what you want for the company, and lastly what should be the ultimate plan for your sales force automation. To be able to achieve this task, you will need to define the complete lifecycle of the customer's journey and accordingly create the ideal experience for the customer as well as the leads. This chapter will focus on questions that you should ask yourself to find the best customer journey to create your sales force automation plan.
Mapping Customer Journey
A customer journey mirrors the ideal experience for each customer as well as the lead, and each journey is different from the other. 
The concept "one-size-fits-all" doesn't apply to customer journey meaning to say you cannot approach an existing customer with a plan that is designed for the prospects.
Each of your prospects and customers has their unique preferences, the expectation from the brand, interests, and needs. The main focal point in the entire setup is that a well-defined customer journey will define the next steps in every possible scenario. It is essential that the plan is foolproof and thorough with no loopholes for customers to fall into it.
Let us try to understand it with a few examples:
A lead opts in for a free discount by sharing his email address, but he doesn't shop anything and leaves your website. What will you do next? Will you send an email reminding him to make use of the coupon? What if he ignores the email? Your customer journey should include all the possible choices and outcomes that he may opt for during his interaction with your brand.
With a countless number of possibilities relating to a customer journey, it becomes essential that you create a proper visual representation of all of the possible paths that you expect your customers can take.
When there is an innumerable number of possible paths that a customer or a lead can take it becomes essential that you create a pictorial representation of these paths. These paths often interconnect or overlap depending on the customer/lead behavior. The visual creation of these possibilities is known as mapping.
A customer journey map will be perfect if it displays all the possible communication paths that the customer can take whether they are direct, indirect or interconnected. It will include all the communications that they send or receive via email/texts, the tasks performed by your company/team to follow them and the respective choices the customer make in response to your interactions. All these details help you to understand your customer and leads in a better light.
Example One: Lead Qualification Funnels
This map represents the basic process like when a contact fills up a form for enquiring about a specific product. When a contact fills out a form, it indicates that he may be a qualified lead for that particular product, so the next thing that you do is initiating a phone call to know what and who they are. If you get a positive response from the customer and you find them a qualified lead you send them follow-up emails telling them more about your product. If the response suggests that the contact is not a good lead, then emails are sent them with additional information about the product to nurture them and convince them to buy the product in the future.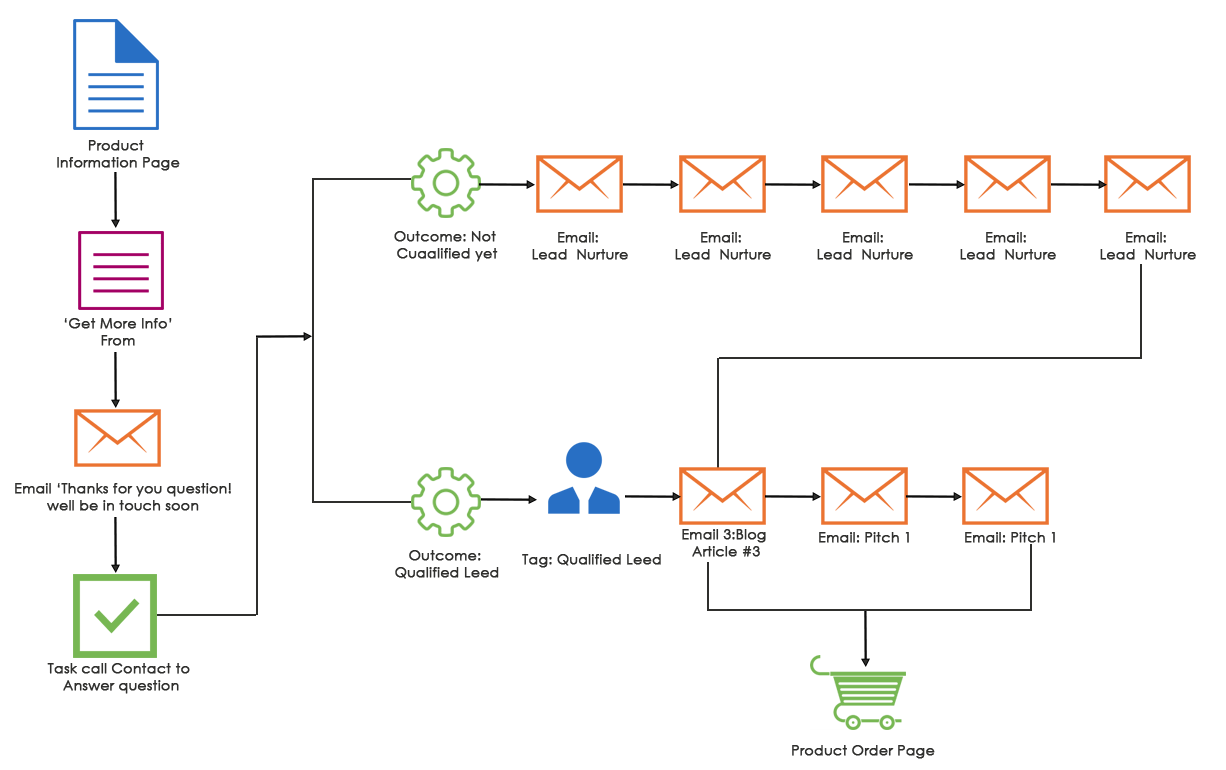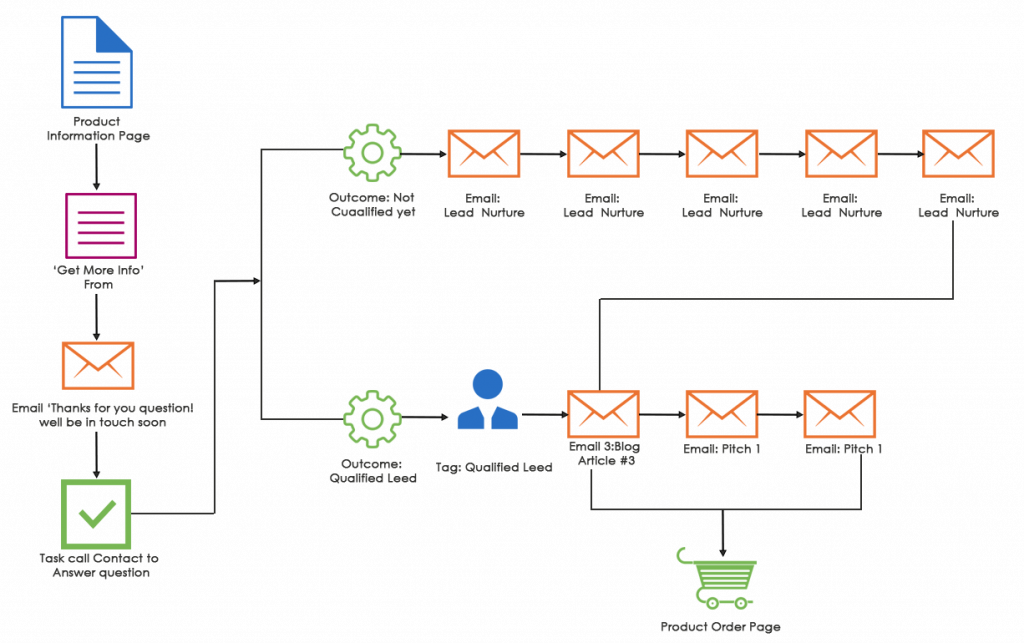 It is a basic map and does not display all the possibilities. For instance, what if they are not a qualified lead nor they will ever be? What if they immediately give the nod to buy your product? What if they do not answer your call? What if they do not even buy your product? These are just a few fundamental questions that give you an idea of several possibilities that might come into the picture when a contact fills up the form. Once you have charted down all these scenarios the next step will involve other actions that the contact can perform and your subsequent response.
Example 2: Lead Nurturing Funnel
This map represents a simple lead nurturing funnel that allocates a score to each lead based on how they responded to additional information sent to them through blogs and then decide the next steps. The figure shows that this map has only one entry point that is when the contact doesn't buy the product at the end point of the offer funnel. As the chart indicates that these leads are not interested in buying your product they will need a longer nurturing process. You will have to provide the extra information and more value about the product to build a stronger relationship over time.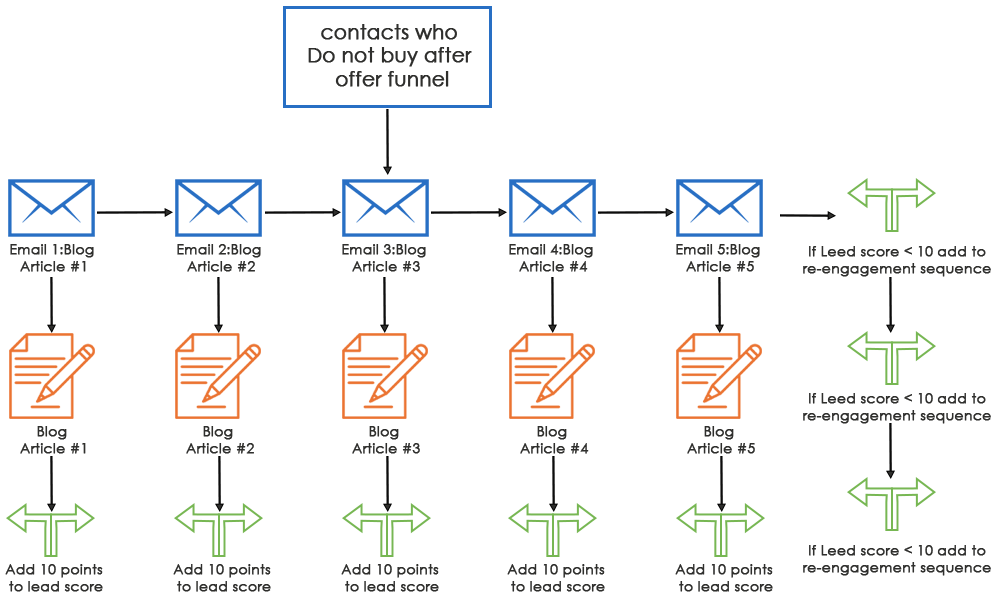 Let us now see how the lead scoring works:
When a contact clicks on a blog link sent to them via email, 10 points get added to his score. After posting a total of 5 or more emails(submitted at least one to two weeks apart), automation will filter each contact and send them in the suitable next funnel.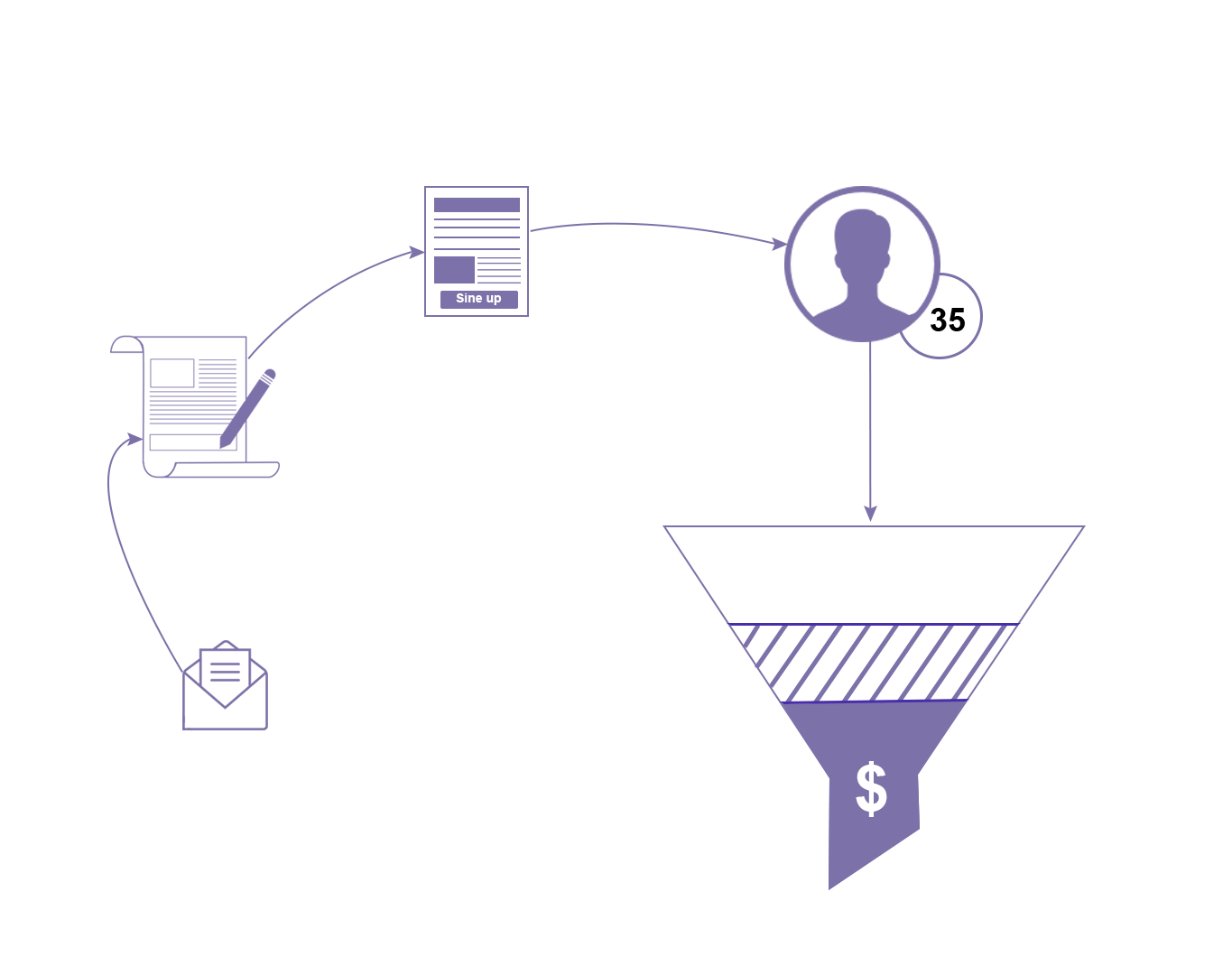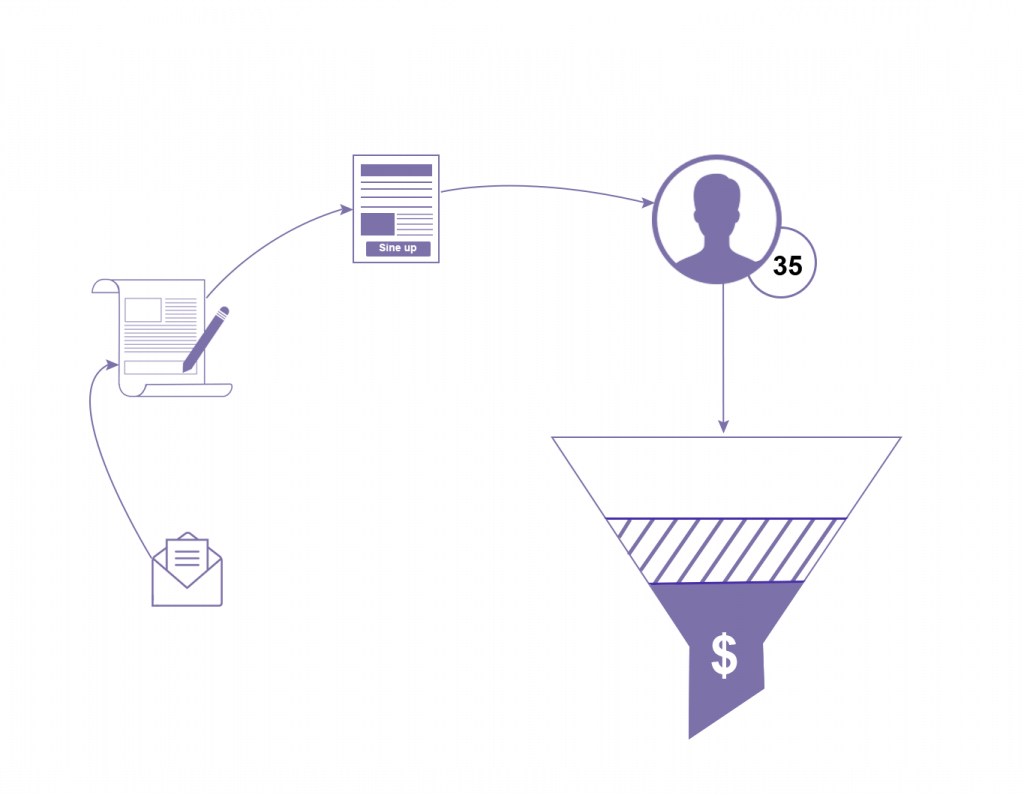 The leads who did not show any interest in the emails and links sent to them and have scored less than 10, are put in another funnel for re-engagement and are monitored continuously for any positive signs. If there is no progress, then they are eventually removed from the mailing list.
Leads that show some interest in some of the articles may be one or two are placed in a nurture funnel to enhance their engagement and lead score level before sending them another offer.
The leads that showed interest in three or more articles and have a lead score of 30 or more than that are termed as positive leads and get added to new offer sequence.
Now the question is, when is this funnel helpful? The answer is that if your blogs and emails are focused on unique issues and topics that cater to specific leads who are a good fit for your product, then this funnel will be useful. It is quite an essential and efficient funnel as it helps you to prevent your prospects from falling through the cracks. They will always be under one of the three categories and receive follow-up emails depending on their engagement and level of interest.
Putting it on the map
When you have prepared all the information needed for your map, the below-listed steps will help you to get started.
The map should resemble a flowchart that displays the contacts flow as per your database entries. The symbols and icons that you use should be consistent so that you can easily understand and refer them whenever needed. You can take help of mapping tools like Lucidchart or draw them manually on paper or a whiteboard.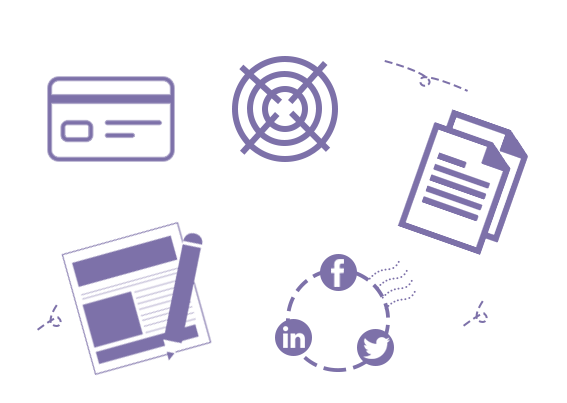 To begin, first, find how the contacts enter your database. The next thing that you need to draw is what will happen next based on the entry points.
Circle out the possible triggers that will make a lead go under the marketing qualified lead category. Connect them to the corresponding follow-up that is intended to happen next.
Circle out the possible triggers that will make a lead go under sales qualified lead category. Connect them to the corresponding follow-up that is intended to happen next.
List your entry-level products on the map. The next step is to connect the follow-up process after each sale to another offer funnel corresponding to your core products.
List your core products on the map. The next step is to connect the follow-up process after each sale to any upsell, retention or onboarding funnel for expansion products.
Add all of your expansion products to the map. Connect the follow-up process after each purchase to any follow-up or referral funnels in place.
List your expansion products on the map. The next step is to connect the follow-up process after each sale to another follow-up or referral funnel.
The next thing is to map your customer service process that will include all the actions that the customer may take to initiate a support request. Connect each of it to the corresponding follow-up process.
Analyze your map from start to end and highlight area that may include person-person interactions with any of your staff members. Identify all the possible actions that could happen after each interaction and work it into your map.
The final scan to find out the area where your prospects and leads may get stuck, probably when the lead takes no action when you reach them.
Once you create the map following the above-mentioned steps your map will be quite big, and there will be several areas where you would want to improve the customer experience. But, before getting ahead, you should draw the customer experience map as it is currently working. We recommend that you draw two separate maps one that shows the way your processes work now and the other one is the ideal type you expect. As soon as you modify/change any process go and update it in your master map and repeat the process until it matches your ideal type.
Researching Sales Force Automation Tools
When you are considering sales force automation for your business, it is a good idea to do thorough research of the field and their providers. It will help you to choose a tool that is best suited to your business needs and requirements.
The process of understanding and finding the appropriate automation tool is quite overwhelming. So, in this article, we will list out various questions that will help you to zero down your automation tool without much fuss. The first thing that you need to take into consideration when you start your hunt for a new tool is to take into account all the tools that you are already using.
By completing the chart below, you will find out what you have, what you don't need, and what you need. Put your tools under the following broad categories:
Email
Landing Pages
eCommerce
Marketing Automation/CRM


When you fill in the details in the above table, you will be quite surprised to find that there are several tools that you are paying for but they do not serve any purpose.
Next, you should answer the following questions:
How many tools serve just one purpose for your business?
How many features can you operate from multiple tools?
What are other features that you need, but you don't have?
Is it possible for you to replace multiple single-point solutions with one platform for sales force automation?
Designing Your Shortlist
When you are searching the vendors make sure that you place only those products on your list that
Provides your business with the core functionality that your business needs but you do not have currently.
Replaces several tools with each tool doing one job and additional advantage will be if it cost cheaper than all tools together.
Doesn't have the same features or feature set that you already have
Having an explicit representation of what you want and what question you need answers for, you can prepare the list of the suitable vendors. You can search their website and call them to get more information about their product and services. It will help you to make your final decision. When you have created your shortlist, now you will need to investigate each point one by one closely. Here is the list of questions that you should ask as you compare.
How will the implementation process look like after signing up? Will there be any extra onboarding cost associated with it?
Will I get any live support channels and if yes then what are the support hours?
Will they provide any additional training materials or not?
What if the product doesn't suit our requirements and we want to give up the subscription? Is there any money-back guarantee or trial period?
Does the platform is equipped with all the features that my business needs?
Does this platform have many features that I will most probably not use?
Part 2: Lead Generation With Email Automation
Email follow-up is one of the most successful techniques which if done right can help to skyrocket your sales and also retain your old customers. It is the simplest yet useful tool for large businesses as well as entrepreneurs. You will be surprised to know that if done in the right way it can help to strengthen and build a long-lasting relationship with your customers. The statistics of direct marketing association predict that email marketing has the ability to produce an ROI of 4300%.
Why use emails?
Email is a popular follow-up channel, and there are plenty of reasons why professionals highly recommend it. The first point is that email is inexpensive that is the prime reason that makes ROI quite high. The type of email service plan you have subscribed to and depending on the email service provider you have, you spend less than 1% on each email. Several email providers offer unlimited calls in a month with additional features and tools.
The next thing is that people still rely on emails for their online communication. No matter how much social networking and messaging channels they use email will never take a backseat. They are still the leader of digital communication and will always be. It is not surprising to know that ¼ of the companies have 30% sales through email marketing.
Email is still the most sought way to acquire customers than any other social media channel. If you want to reach out to your customers, you will need to rely more on email channels than any social networking platforms.
The last thing that makes email a top choice is that it is highly scalable. Your team can send an unlimited number of emails virtually to your customers that are not possible through phone calls. You also have the capability to send personalized emails to your customer at the right time and content that holds value for them. You do not send the customer the same email again and again rather specific emails that are created depending on the action performed by them. Such type of personalization is not possible with any other medium thus making email a clear winner.
A simple rule of when to start an email follow-up routine is when a customer is the first one who contacts you. He can connect with you in the form of filling a contact us form or opt-in to join your mailing lists or have called you.
The kind of email you send your customer doesn't need to be different, but it will solely depend on the type of relationship they have with your brand. There are three common categories in which your leads will fall. A fundamental difference between B2B and B2C companies is that there is a hairline difference between marketing qualified lead and sales qualified lead. If you are targeting the consumers directly, then you can quickly sell your main product without follow-up from your sales team member specifically if your product is quite cheap.
Part 3: Task Automation and Management
Task automation means to automate tasks for your team that is triggered from time to time as programmed. The system sends the task via an email to the respective team member, who is intended to perform the job. The email has information about the task that what the representative needs to do. Each task has an associated contact linked to it in the database which means that the outcome of this task will affect the particular contact's next steps. The task emails sometimes may also have information about the merge fields on the specific contact in reference. Each task is marked complete by the assignee when he completes it as per the instructions mentioned, and the system gets notified about it. After this process, the next steps are automated depending on the outcome of the task.
The task automation system should always have due dates and should also notify the assignee if any task is pending or incomplete. When the job is complete, and you have already listed all the possible outcomes, then the assignee can select the respective outcome from the list, and it gets added to the particular contact in the database. When you have the task outcomes, you can quickly decide the next steps.
Why should you use task automation?
We have told you how task automation works but now the question is how it is helpful for your organization? You must be wondering why to make individual calls when they take so much of time or why to waste time on such a thing when there are other important things to do?
Task automation may sound a bit intimidating, but with the right information, you can set it correctly.
Identify the task trigger

Define the task

List all the possible outcomes

Determine what will happen after every outcome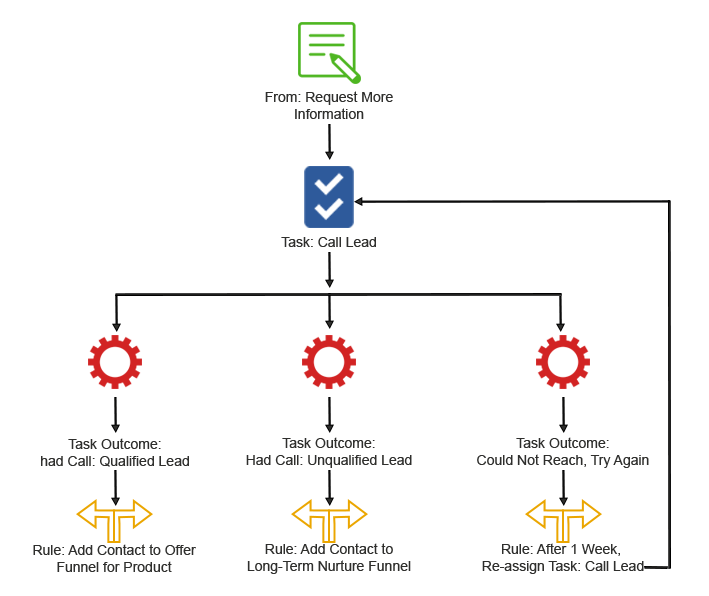 Part 4: Get Started With Lead Scoring
The most daunting task in marketing is connecting with an endless number of leads with no assurance of whether they will convert or not. How would it feel if somehow you knew that which of the leads is worth calling and which one is not? Won't you start calling them straightaway and save on your precious time? This is the concept behind lead scoring that helps you to filter the right leads so that you focus on the potential customers.
What is lead scoring?
A contact gets assigned a lead score depending on the action performed by them that is determined by their type/level of engagement with your brand. It ranks them accordingly which helps you to prioritize them and pinpoint where they stand in your sales funnel.
For example, you add 10 points to their score if they click a link in the email sent to them, add 10 more points if they asked for a free trial, another 10 if their contact information has CEO as job profile. You can automate your tasks depending on the credit score or set a threshold value after which a particular task will trigger. In this case, you can program a task trigger of making a call if a specific client reaches a threshold of 30 points.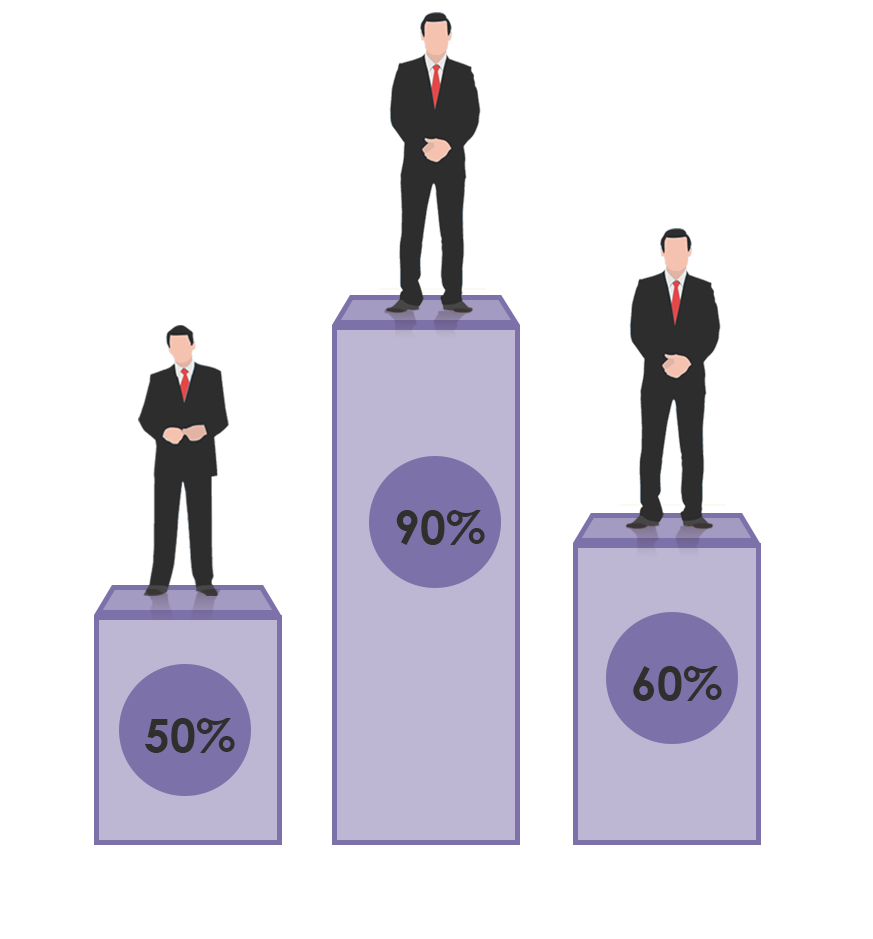 How to make your lead scoring system?
(1) Determine the factors that will qualify as a hot lead:When you start working on your lead scoring system, you need to sit down with your sales representative team and discuss the factors that make a hot lead. You can analyze your customer lists and previous sales to answer some of the fundamental questions.
What is the common age group of your leads?
What are the job profiles of most of the leads?
The source from where you get maximum leads?
How many requested for a free trial before making the final buy?
What is the average time taken by a lead from entering the database to being a customer?
(2)Do scoring for extra information also:The additional or explicit information that leads provides while filling the form like their age, gender, place, designation in the company, the size of their firm and any other should also list in lead scoring. This information helps you to determine other factors that can affect your sales hence you can make specific strategies keeping in mind these aspects as well.
(3) Assign value for behavioral inputs:You will need to give a score to each of the action performed by your lead such as visiting your website, clicking on the link sent to them or filling a contact form. The respective lead enters your database via these actions, and you will need to assign a credit score depending on how necessary that particular activity is to you. You can always track the database for this information and how likely it is to affect your sales.
(4) Lead score degradation:The lead score will not always be consistent, and it is essential that you monitor it regularly. There will be scenarios like a customer requested a free trial but they didn't show any positive signs in the next few months. It merely means that either they are not interested in your product or they no more need it or you have slipped from their memory so you will have to decrease their score so that you can focus on new leads. You can achieve this by setting a degradation percentage of say 3% or any preferred value daily. You can decide the degradation value by the average time that a lead takes from entering into the database to finally converting into a customer. Take a higher degradation value if the average time taken by the customer is less and a lower degradation value if the average time is high. It will help you to keep a focus on the new leads that are more likely to buy.
Once you have the details of how many points a lead can accumulate now, you need to decide the threshold score of when a lead will require special attention. You can do this by deciding a lower threshold value for initiating a task trigger.

Part 5: Lead Routing
You will have to make categories and accordingly assign the right lead to the right representative so that the interaction is always worthwhile. It will help you save time and a lot of resources that might get wasted if a wrong representative is assigned a false lead.
Salesforce automation will help you to route the leads to respective representatives and distribute them equally among them.
What is Lead Routing?
Lead routing helps you to assign the leads to the right team member automatically. Whenever a new lead gets added to the lead router, it instantly allocates to the respective team or representative depending on the settings you have decided.
There are two types of lead routers :
A round robin lead router divides the leads equally among all the team members such that all the representatives have the same number of leads.
A weighted random lead router works on the percentage basis. You can add users to this router and make the settings in percentage like User A will have 50% of all the leads in the pipeline while User B and User C will have 25% each of the total number of leads.
Why use lead routing?
(1) It ensures that interaction is valuable
(2) Assign leads according to the skill set of the representative
(3) Save the time of assigning leads to the representatives
(4) Decrease the first response time of your team members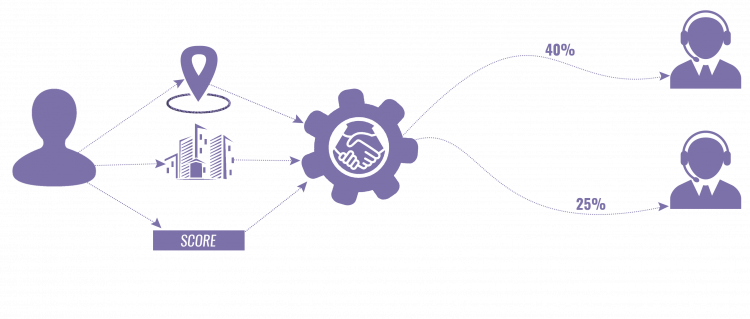 How to set up lead routing?
If you have decided that you will add lead routing to your business then here are some questions that you need to answer.
When to add contacts to the lead router?
If you decide to implement multiple routers and use the contact details then what will be each router called? Who will you add to the list?
Which kind of router will you use? Round robin, weighted random or multiple router and for what?
If you are using weighted random then what will be the division percentage for each lead?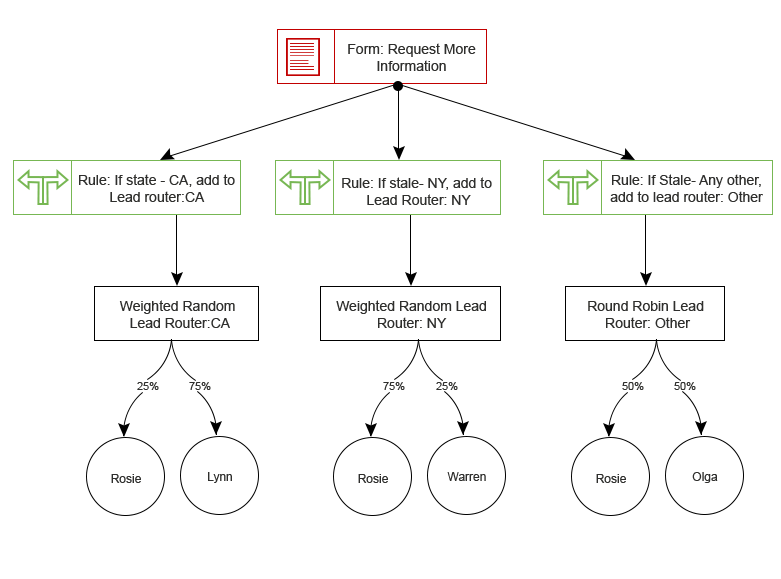 Part 6: Personalize Your Marketing Automation
You can use automation for each and everything, but still, you should not get carried away. Sending emails, task automation, dividing the leads everything is okay with automation but still, there are specific rules that you should abide by when bringing automation into your business.
If you automate every detail and it starts lacking the personal touch, then your interaction with the leads will not be effective. You should never forget the importance of human interaction and no matter what automation cannot take its place. A sales plan strategy is useful only when it has the perfect balance of automation and human interaction.
Why it is critical to have humanized interactions that give a personal touch?
(1) People take an interest in a product when they can relate to it
(2)Satisfied leads bring in more referrals
(3) Personalization increases customer retention and loyalty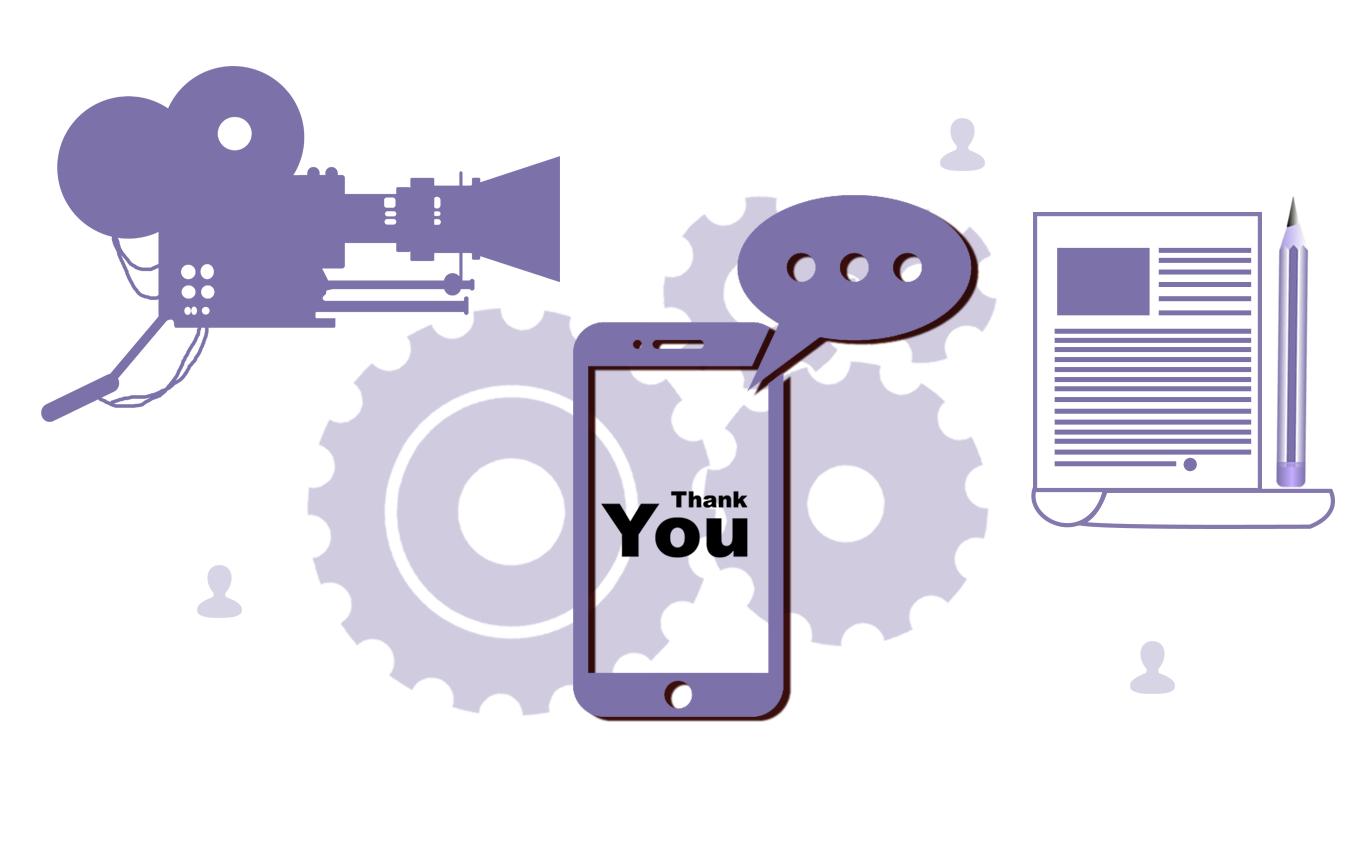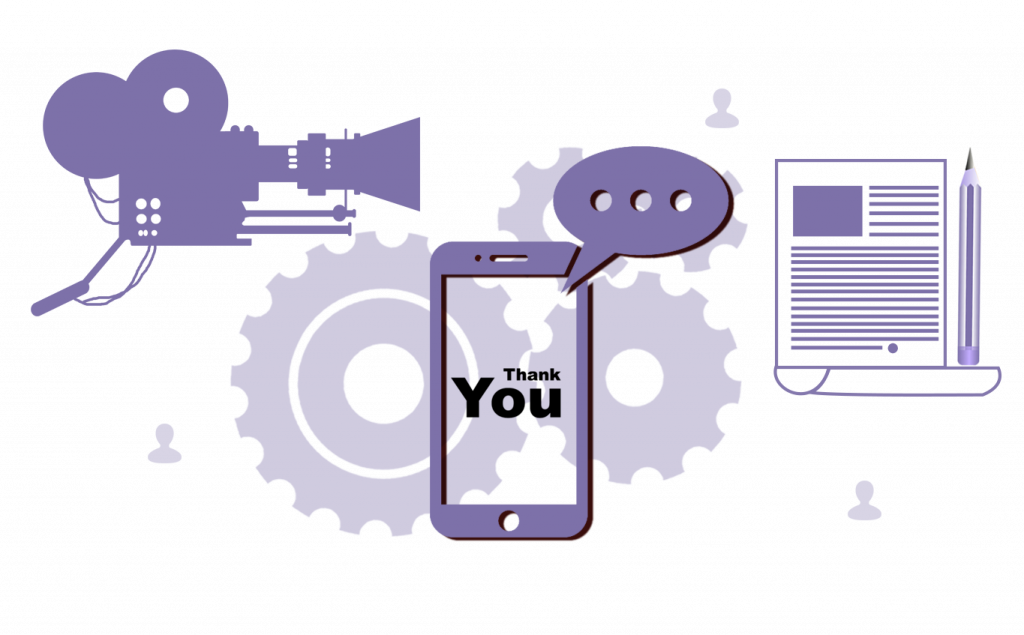 Part 7: Analytics and Measurement
If you have reached this chapter, then I believe that you have successfully implemented the tools and strategies for sales force automation and understood its importance. But, wait a minute do you think that now you are done with everything and can close the book and move forward? Then you need to fast backward a bit because like all other implemented system in a business sales force automation also require constant monitoring, reporting,(key performance indicators) KPI's and optimization.
You have to monitor the performance of your system continually and see if it is working the way it needs to. It will also make sure that if there are any problems, you rectify them at the earliest.
To ensure that you can leverage all the benefits of the implemented automation system you need to monitor it on a daily, monthly or quarterly basis to see if it is working accurately. With consistent reporting, you can make the system work much better and optimize it with the changing dynamics of your business needs. If you do not do it regularly, then it will be hard to see that whether your changes are making any difference or not.
So, the question is what are the KPI's that you should be considering that determine the effectiveness of your sales automation system?
Here is the list of the most important KPI's and ways to calculate them.
(1) Connection rate: You can understand it as the total number of incoming leads that can connect with your team for a sales conversation. It is generally the first call with a lead specifically for those leads who have requested extra information about your product. It is also indicative of a positive step by the prospect and a "new opportunity."
Consider the same timeframe: You need to match the timelines of both the variables in reference, i.e., if total connections in consideration are for Jan 2019-Jun 2019 the same period should be for total opportunities to get an accurate result.
If you track this number on a daily basis, then it will be of great help as you will catch problems instantly.
Connection rate should be calculated for your team as a whole as well as for each team member individually.
(2) Closing Rate: It helps you to track the effectiveness and performance of your team as it determines how many leads were converted to customers or better say the total number of successful sales conversations. The following formula helps to determine this value:
As an example, say that you connect with 60 people. After a week 20 of them purchased your product so the closing rate will be 20(total generated sales)/60(total connection)= 0.66 0r 66%.
Key points to keep in check about closing rate:
Consider the same timeframe: You need to match the timelines of both the variables in reference, i.e., if total generated sales in consideration are for Jan 2019-Jun 2019 the same period should be for the total number of opportunities to get an accurate result.
If you track this number on a daily basis, then it will be of great help as you will catch problems instantly.
Connection rate should be calculated for your team as a whole as well as for each member individually.
(3) Average time to Buy: Have you ever wondered about how long does a lead/client takes to buy your product after they have entered your database? You can calculate this number by finding the total number of days when the contact first came into your database and the time when they finally make the purchase. With the help of these details, your automation system will display the number.
Key points to keep in check about Average time to buy:
Make yourself clear that whether you want to calculate this for all of your products or just for the specific ones. It will depend on how extensive your product inventory is and how different they are from each other.
You can measure this in two ways the first is from the day one when contact entered your database or the second is from the day when they became a qualified marketing lead.
(4) Total New customers: It is a relevant KPI for you if your customer's billing cycle is of recurring nature for their monthly subscription. It is because if any existing customer cancels their subscription, you will have to find a replacement for him immediately, so you do not lose your ground. The objective is to minimize cancellations while finding maximum new customers.
(5) Email engagement: Emails are an integral part of your sales management strategy, and it is crucial that you track its performance to know how your leads are interacting with your messages. There are two metrics that you should focus on one is click thru rate and the other is open rate.
The Final Leap
Hearty Congratulation! You have finally made to the end of this series of Sales Force Automation Blueprint. You must be overwhelmed with the amount of knowledge that you have just gained, and it is obvious that your mind is saturated with a plethora of ideas. But, the point is that when you are just a rookie in this field how you will be able to do all of it in just one go? There are so many steps to follow so it might become a bit daunting to begin at first.
If everything in this article is confusing you a bit, then do not forget that sales force automation is not a one day job and you cannot implement it at once. You need to be patient and focus on how you plan to implement it for your business. You can follow the following steps to start your journey of sales automation and achieving your goal.
Your First Steps to Salesforce Automation
(1) The first thing that you will need to do is create a map of your customer journey that will form the foundation of your automation strategy. You have to ensure that you have mapped the lead as well as your customer experiences in their current form itself. It will help you to develop your automation system based on the processes that are currently working for your business and make changes as you would want it in the future. You can take help with the tips mentioned in the first chapter of the series, and when you complete your map, you can continue with the next steps.
(2) Next step will be to find the most appropriate sales force automation system that suits your requirements. You can do it with the help of guidelines mentioned in chapter two. You should pay special attention in this phase because you should be sure of what you are looking for and which will be the latest solution.
(3)After completing the above two steps the next is the implementation of later phases. Try to focus on one process at a single time because if you do a lot of things at once, then it might become a mess in the later stages of implementation. The key is to take baby steps so that you know and understand exactly what you are doing.
Once you are all set to consider the below the order of working:
Email Follow-Up
Task Automation and Lead Routing
Lead Scoring
Personalization
Optimization
Request a Personalized Demo Today!