What is Business to Business Marketing?
Business to Business also called B2B or B to B is a model that involves the exchange of products or services between two businesses. B2B marketing includes the techniques and best practices used by companies to sell their product and services to other businesses. However, B2B marketing is more than just one company doing business with other companies. It is the task of developing and managing customer relationships for the advantage of both customer and the supplier. Relationship Management rests at the heart of B2B marketing, and it requires complete attention in retaining and gaining new customers for long-term sustainable growth. This is the reason why B2B marketing needs you to possess strong relationship building skills.
Some Successful B2B Marketing Strategies
Any B2B Marketing strategy should be designed with a primary intention of generating quality leads, which, is not easy at all. The challenge is further elevated for B2B marketers out there as they have less 'attractive' products to offer, fewer resources that are available and almost no actors who can do the pitching for them. Having a characterized strategy is the way to enhancing the effectiveness of your B2B marketing efforts. Let's have a look at some reliable B2B growth strategies.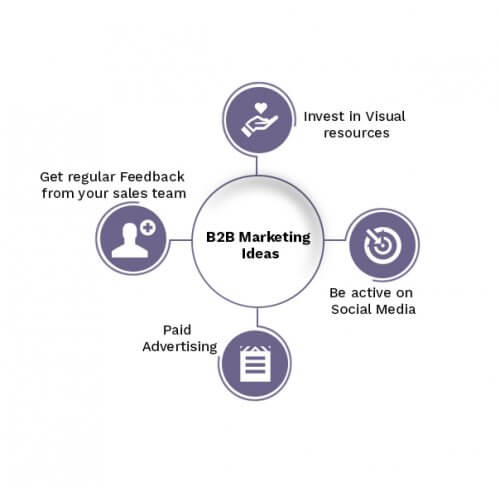 Build Trust to make your Product Reliable
B2B buyers have a deluge of ads and marketing hubbub every day in their inboxes. Hence it is necessary for the B2B marketers to find a path through this noise and earn the trust of B2B buyers. The unprejudiced voice of your customers in the form of Customer testimonials can bring in some transparency. You can utilize these client testimonials in many ways like by making a blog post, video, Slideshare, marketing materials. As much as 53% of B2B buyers rely on peer suggestions before they settle on any purchase decisions.
Know your target Audiences
Online Stalking is an essential step that you should take to understand and acquire more target audiences. In Business to Business marketing, it is vital to determine how your target audience reacts to specific events, items, and circumstances. These reactions are directly going to affect your business growth. Connecting with your audience helps you can understand their opinions, wants, and needs. It also gives you a rough idea of who your target audiences actually are. This, in turn, will provide you with all the insights to develop a marketing strategy.
Provide that killer content
There's no excuse, regardless of the theme, for a dry content that has no sensation or zeal. You can't convert a lead without getting them excited when they read your content. Toss in personality and stories to build a voice that makes the person reading understand that you are a human and not a robot doing all the talking. Try to bring in some creativity in your content and shed that "boring" label that B2B marketers usually have. If you wish to write an outstanding content, you must start thinking outside the box, hatch some new ideas and seek out fresh ways to gain new (qualified) leads.
Encourage Referral Marketing
When someone refers your product to their professional network or friends, they are transferring the trust their friends have in them to your product or service. It works because many people trust tried-and-tested solutions instead of some random name they came across on Google. What's more, such referrals have high conversion rates. Now, don't you think customers, who are fans of your product/service, should be rewarded for their Positive Word of Mouth? Afterall, there is nothing to lose when you offer them an additional incentive or an exciting offer.
Invest in Visual resources
B2B marketers should start concentrating more on micro-content using infographics and videos to build relationships with businesses. According to a study by eMarketer, B2B buyers name video as one of the top three most useful types of content. You can create an explainer video which addresses all the pain points of your target audience and don't forget to explain how well your product resolves it, how much it can benefit them, inform them about your USP and so on. Again don't make it too lengthy, they have an attention span that is lesser than that of a goldfish, remember?
Be active on Social Media
B2B customers utilize multiple channels for research like websites, Linkedin, whitepapers, surveys, Twitter, customer feedback, their peers, etc., to make their decisions. It is clear that the impact of social media in B2B marketing has been growing and is essential to build brand recognition and strengthen your image. According to Hinge, social media is one of the most commonly used sources of information, and almost 60% of buyers look for new service providers on social media. Also, in B2B marketing, link building can often be more efficient with social media.
Paid Advertising
Paid marketing by social media advertising is another way for B2B companies to build awareness about their company. A typical B2B promotional ad campaign can have a budget of just a few thousand pounds because the target audiences for B2B promotions are very small in number while the revenue generated is enormous. LinkedIn shines out by topping the list of social media. It is full of 380 million business professionals, and the LinkedIn Ad Network gives you all the information you need to reach out to these people.
Get regular Feedback from your sales team
As a B2b marketer, you need to frequently engage with your sales team and learn about their observation on leads and opportunities created. After all, the success of Business to Business marketing demonstrates your understanding of sales. You must often engage in a conversation with your sales team to determine real results so that you can retune all your strategies. This process will build a relationship with sales and helps in marketing and sales alignment.
How to develop a b2b marketing strategy?
Having a well defined B2B marketing strategy is the key to improve the effectiveness of your B2B marketing efforts. Before you begin, you need to understand that one-size-doesn't-fit-all. I mean to say what works for others may not work for you even with your direct competitors. Every B2B marketing strategy must be designed in such a way that it meets your organization's unique goals and objectives. Keeping that in mind you need to address the following elements as you create a B2B marketing strategy.
Start by Defining Clear Objectives
Compose a general overview of your organization's background, the current stage and the overall scope of your marketing scheme. This is the point where you can recognize delicate points in your conversion funnel that requires some rectification.
To make your plan actionable, first set clear goals and make sure your marketing objectives chases your company's strategic goals. The Business to Business marketing objectives in your strategy should be
Accurate and quantitative- For example, 15% growth in revenue or capture 10% of the market.
Feasible – Plan what is achievable. That is, propose a plan that is actually within your power to deliver based on the best-case scenario.
Time-bound – The goals you have defined should be achieved within a specific period. For example, meet a target within a quarter or a year.
Study your Competitors
Do thorough research about what your competitors are doing and what they aren't doing? How does it differ from yours? What are pain points of the audiences they are targeting? Who are your struggling competitors? ( learn from their mistakes) and so on.
Create buyers Personas
To have a clear picture of whom you are trying to reach, design a semi-fictional representation of your ideal customers. Their behavioral model, demographics, goals. Your sales team can help you out by describing their current best customers.
A strong USP
Recognize your USP to stand apart from your competitors. It assists you to exert a pull on more appropriate customers. Your USP should be such that your customers are convinced to switch brands for you. Also, build a strong positioning statement which includes: What services you provide? To which industry? By using which approach? And the reason why?
How to make B2B Marketing Work?
Understand the B2B Marketing Funnel
A funnel is necessary to rightly define and advance your marketing strategy. A B2B Marketing Funnel gives you a clear picture of how a prospect turns into a lead as they progress through the funnel. It is primarily designed with the motive of improving B2B marketing strategy by presenting an ideal representation of customer's journey. One of the chief objectives here is to cut down on the budget that is wasted on Ad campaigns. This funnel will help you to comprehend how well your prospects convert at each stage and gives you an idea of the entire journey of your customer. From start to end, your prospect moves through the predictable stages, similar to the funnel shown in the image.
Each stage of the funnel can offer some information for the B2B marketers.
For example, you can comprehend what the conversion rates are for each funnel stage, and how much revenue it generates.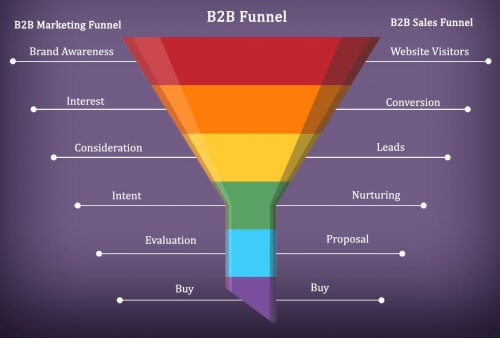 Personalize your B2B Marketing
Personalization is a key to drive sales, as well as to grow your customer base. It sets the groundwork for a sales acquisition. While there are numerous ways to add personalization to your marketing strategies, one must understand that adding these enhanced fields will help your sales to learn more about your prospects. Just remember to utilize information, test all your ideas, and tune in to your client's insights to get a complete understanding of what's working and what needs to be modified.
Design your B2B Marketing Campaigns
It requires careful planning of messages, media, and timing to create a successful B2B marketing campaign. Additionally, it is also essential to be prepared ahead of time so that the team who will be involved in your campaign can have a clear picture of the campaign and their roles. Usually, B2B Marketing campaigns can last from approximately three weeks to three months. Some of the long-term approaches you can adopt in B2B Marketing are SEO, Social Media campaigns, and Content Marketing.
Monitor the B2B Marketing Analytics
B2B marketing Analytics will allow you to combine marketing and sales data within one platform. With Marketing Analytics you can identify your marketing campaign's ROI and its impact on sales revenue. It also provides business insights which you can share with your team. Understanding B2B marketing analytics allows you to reduce marketing dollars that is wasted on the web. Hence by evaluating, supervising and analyzing your marketing performance, you can maximize the effectiveness of your marketing process and eventually boost your ROI.
Outline your B2B Marketing Budget
It is imperative to first build a Marketing Budget and later start adjusting your spending based on your priorities. Well, coming to the answer to the question of how much to budget for marketing 'It Depends.' It depends on your company's goals, objectives, financial condition and competitive landscape. Although, when you are developing your budget, you can take a look at the previous year's results and allot budget accordingly, plan for more marketing technology, plan ongoing marketing training, and also plan bigger budget for publishing content (e.g., blog posts, whitepapers, videos, etc.) as it is a long-term investment.
Successful Example of B2B Marketing Campaign
The first thing that flashes to anyone when they hear B2B marketing is that it is a kind of marketing that lacks creativity. It is usually dull or boring, unlike B2C marketing. But that perception is changing rapidly. You might be too astonished to know that B2B marketers are using consumer insight to form marketing campaigns and tactics that are fun and just as attractive as B2C marketing campaigns.
For example, consider NewsCred, who sells software and services to digital content marketers. They came up with their High Fashion, Great Content micro-site. They used the power of storytelling and focused mainly on top fashion brands to gain the attention of their target audience. They framed interactive and rich content that not only brought their featured brands and their stories to life but also flawlessly described the need for content marketing. This is clearly a successful campaign that still works for the company.
B2B Marketing channels for Growing Businesses
With technology being so common today, the advanced digital marketing platform offers numerous affordable ways to market your business and boost brand awareness. It is not always necessary to spend thousands of dollars to rise above the competition and stand out. The following are some channels that growing businesses should focus on.
Email Marketing
Email marketing is one of the best possible means to drive brand awareness, generate qualified leads, and bring about customer re-engagement. It comes with advantages like simple to set up, budget-friendly and the best part is that it can almost entirely be automated. What's more, it brings the highest ROI when compared to any other marketing channel. Even a basic Email Marketing Software has become increasingly sophisticated by offering essential features like customizable templates, mobile optimization, and analytics tools. However, if you want to segment your leads and send tailored campaigns to particular groups of customers based on their demographics, behavior, and interests, then you might require a Marketing Automation tool. You can eventually do A/B testing on all emails to analyze what works and what doesn't. Try out different subject lines, body copy, designs, and colors. Note that this is not direct marketing. This outreach is for your content to reach your leads and not for sales. Finally, don't forget to measure your outcome by tracking open rates, click-through rates, unsubscribes and conversion rate because that is how your business grow.
Content marketing
It is essential to invest your time and budget in creating High-quality Content so as to build awareness. It is an excellent way to bring about a discussion in communities and answer questions about your brand. It includes creating content for blog posts, videos and infographics related to your brand, and sharing it with potential leads. Although the benefits of Content Marketing cannot be visible immediately, in the long run, it delivers excellent value to your business. If you are still in the honeymoon period of your startup journey, then you might have to lay off sales pitch and focus all your efforts to become visible. At this point, all you want is the information to be seen as trustworthy and reliable. Build credibility, bring in more reviews, case studies, and demo videos. To attract, connect, and compel your leads to take action make sure the content is either one of these: Emotional, Educational, Entertaining, Exciting. Such content will position your business's image as an industry expert and thus leads looking out for information will reach out to you.
Search optimization
Search Engine Optimization is about making sure search engines like Google can identify what exactly your business is about and this, in turn, ranks your site higher in suitable search results. This is again a long-term marketing strategy. It is quite evident that more visibility actually means more traffic and eventually more ROI. A quick fact: A study by BrightEdge revealed that an average website gets 50% of website traffic from organic search, which makes 40% of total income To improve your SEO you can verify your business by setting up Google My Business to appear in local search results. Make use of Google Search Console to judge how Google sees your website. And to research about the keywords that you'd like your website to rank for- use Google AdWords. Apart from that make sure you blog regularly and attractively connect themes and topics. Remember, to be the first one out there you have to let your website be the cultivator. Plant a concept on your website such that your leads grow and eventually give you the fruit of purchase.
B2B Marketing and Sales Alignment
There is always an obnoxious tension that exists between sales and marketing teams in any B2B business. Many businesses accept it as an inevitability while some companies try their best to make both the teams talk to each other! The cold war most of the times arises when both the teams blame each other for the failure of conversion. It would be great if both the teams understand that it is high time to end the blame game and start knowing more about each other so that both can know more about their customers.
Your sales team does not have supernatural power to attain all new skills magically. You have to create some standardized ground rules and also include an in-depth training program that not only directs on the value of engaging but also stress upon best practices and immediate, realistic guidance to get started right away. Sales and Marketing should together manage and update the content and assets, revise guidelines and best practices from time to time.
One of the best possible ways to get both the teams on the same page is by utilizing Service Level Agreement and hold everyone responsible for all the objectives and responsibilities. Try to have more documented SLAs which include lead scoring criteria, time from lead assignment to follow-up and collection of win or loss data.
Remember, aligning Sales and Marketing goals is the only way to bring the main focus of your entire business (not individual's teams) on ROI.

B2C vs. B2B Marketing
B2B and B2C are two diverse forms of commercial businesses. The former deals with selling products directly to the customers while the latter deals with selling products or services to other companies. Both Business to Customer and Business to Business marketing differs in terms of complexity, scope, scale, and cost. Below are some of the differences.
To grab attention, of B2B audiences you need short and punchy captures. Whereas to retain the attention of B2B audiences the content needs to be longer and must position the brand's expertise to earn the trust of the audience.
In terms of Content required, the B2B businesses need to offer detailed descriptions of products or services, as well as technical specifications. Whereas in B2C marketing the content should be brief and benefits-driven.
The Purchasing process in a Business to Business marketing as I have already said has several Decision-making groups (technical, business, financial and operational departments) to decide on buying a product. Whereas in B2C the consumer buys a product for personal use.
The Cost Price, in Business to Business marketing, may vary depending on the customer- it's negotiable. Whereas in B2C the price remains the same for all the customers.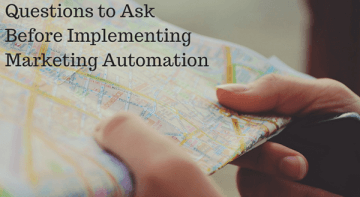 21 Marketing Automation Questions to ask before Implementation
Here are 21 Marketing Automation Questions to be asked, as marketing automation has created a paradigm shift in the field of digital marketing. Continue Reading..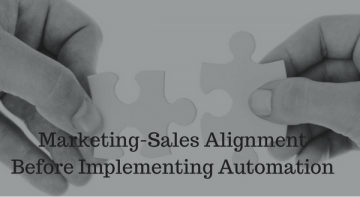 Marketing-Sales Alignment Before Implementing Automation
Marketing-sales alignment can increase revenue by 208% if implemented properly. Communication is the biggest challenge in marketing-sales alignment. Continue Reading..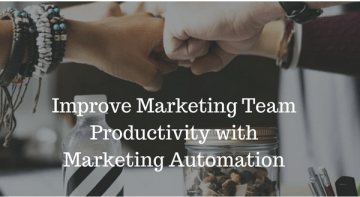 Improve Marketing Team Productivity with Marketing Automation
Email marketing is a two-way communication. Understanding email subscriber lifecycle is very vital in order to know what will work. Continue Reading..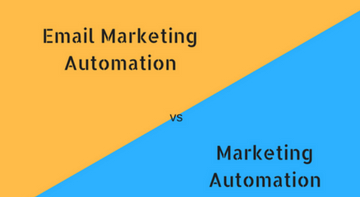 Is Marketing Automation different than Email Marketing Automation?
Email marketing automation and marketing automation are not same, nor are complimentary terms. They are hugely different from each other. Continue Reading..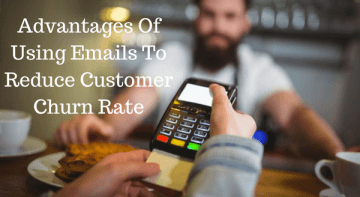 Advantages Of Using Emails To Reduce Customer Churn Rate
Customer churn rate is the worst enemy you can have while marketing your product. The churn rate refers to the number of customers lost over period of time. Continue Reading..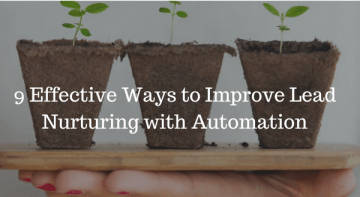 9 Effective Ways to Improve Lead Nurturing with Automation
Lead nurturing without automation is as vague as drawing sketches in the water. With proper segmentation and automation, effective lead nurturing can happen. Continue Reading..