Marketing Automation For Banking
Get detailed insight into the lifecycle of each of your customers, right from the time they visit your bank's website, to getting converted into a potential lead and then loyal customers. Redirect your marketing campaigns towards maximizing your ROI with Aritic PinPoint. Identify the best marketing channel, optimum marketing message frequency, and all the available resources to build a unified customer experience. Monitor and create rich customer profiles to target and retarget them with relevant educational content, ads, and offers.
Use unified customer profiling for omnichannel customer engagement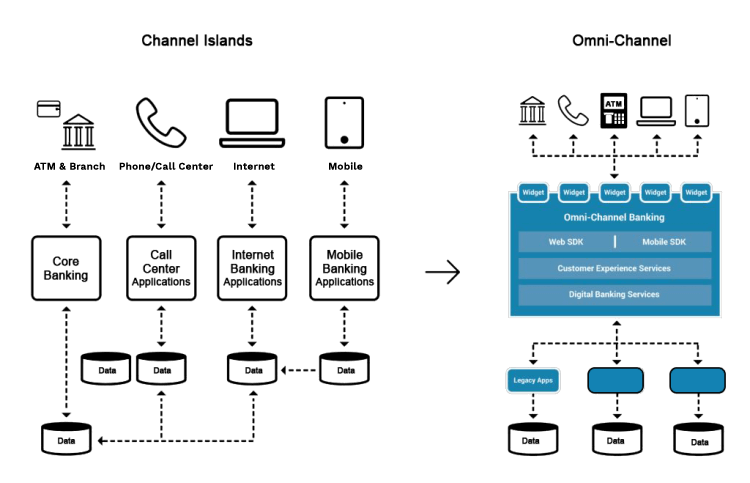 Online banking across the globe is increasing swiftly. Your customers are using mobile apps and desktops to handle their banking-related issues. Are you ready for your customers then?
Connect with your customers across multiple marketing channels and offer a consistent banking experience. With unified lead profiling, put all customer-information in one place tied to each other. Create lead-specific marketing messages to automate your customers' buying journey.
Use multiple marketing channels for customer activation, customer retention marketing, customer loyalty automation, referral automation, up-selling and cross-selling.
Build rich customer profile for better targeting
Your customers make 90% of their purchase-decision long before your sales rep has interacted with them. So, it is essential for you to provide tailor-made offers to each of your customers. Create rich customer profiles that resonate your customers, monitor their web and in-app behavior, and create marketing campaigns that to their interests and preferences. Implement multi-channel drip campaigns to ensure your customers have a unified digital banking experience.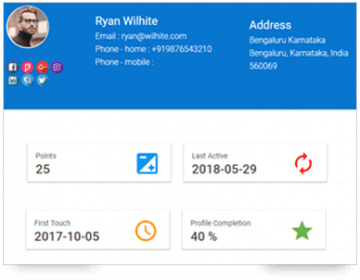 360 degree customer overview and management
Profile your customers based on various data sources and information like social media profiles, demographics, background, job profile, family structure, account balance, and behavioral tracking. Use dynamic segmentation of Aritic PinPoint to segment your customers based on events, behavior, demographics, and buyer's stage. Insert lead engagement forms, track anonymous visitors, capture leads, implement kiosk contact engagement and API integrations. Perform complete contact audit log to keep your campaigns updated.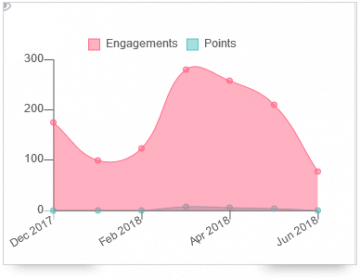 Upsell and Cross-sell your products
Engage your customers, both new and existing, to upsell and cross-sell your products like mutual funds, insurance, fixed deposits, PPFs, credit and debit cards, and more. Use intuitive landing pages and AI-based lead prediction to understand what offers will excite your new users. Analyse lead behavior and page-based lead scoring for your existing customers as well to trigger a cross-selling. Create A/B split tests to identify what will work, opt for progressive profiling to know exactly what your customers are looking for, and create dynamic emails that align with your customer profiles.
Empower your customers with a smart digital banking system
With over 50+ integrations, including bi-direction Salesforce Sync, know your customers from the beginning of time. Create a unified banking system that is smart, intuitive as well as transparent. Use easy drag and drop editor to customize your landing pages, email templates, and other marketing templates. Create drip campaigns across web and mobiles, manage your marketing assets, and build a brand presence on social media platforms. Aritic PinPoint offers multi-user management and role management to make things smooth from the admin end.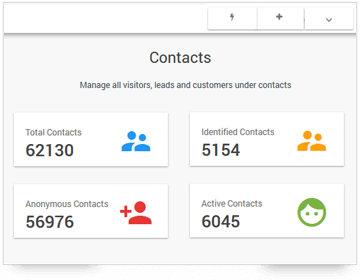 Omni-channel automation solution for banks
Aritic PinPoint offers an omnichannel customer experience to help you streamline all your customer conversations across multiple marketing channels, like web, front-office, mobile, call center, etc. Create your own marketing assets, save them in the cloud, and reuse them later across various digital touchpoints.
Aritic PinPoint offers bi-direction Salesforce Sync and also with core banking system, like Flexcube (on demand).
Multi-channel drip campaigns
Advanced user segmentation
Anonymous lead tracking
Ad orchestration
Omni-channel forms
Landing pages
Marketing analytics and reports
Social media marketing
Integrated CRM and CMS
Targeted campaigns
Re-engagement campaigns
A trusted partner for your bank's marketing
High-end data security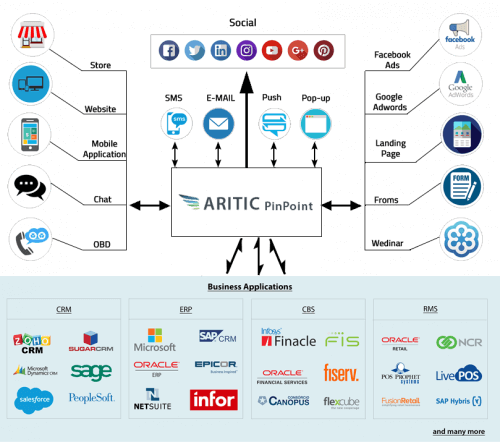 Track, monitor and design relevant automation campaigns - No IT or Design help needed!
Customer activation automation series: Send notifications (email and mobile) upon successful customer account activation. Create welcome drips after product purchase. Automate the entire onboarding series.
Event-based notifications: Engage your customers with important notifications and reminders, like loan processing, credit card payment due dates, pin change, etc
Unified lead profiling: Tie together all the information, both online and offline, of your lead and create a singular lead profile. Information includes behavioral tracking, demographics, social profiles, offline activities, and more.
Customer retention programs: Retain your customers with re-engagement campaigns, exclusive offers, customer referral programs, customer loyalty programs, and continuous follow-ups.
Customer journey automation: Help your customers to proceed from the awareness stage to the decision stage with relevant content marketing, email campaigns, push campaigns, and mobile targeting. Automate your customer's journey based on their behavior and buyer's stage.
Integrated SMS, phone call, and IVR automation: Create missed call campaigns, automate interactive voice response, and launch SMS campaigns to your existing customers.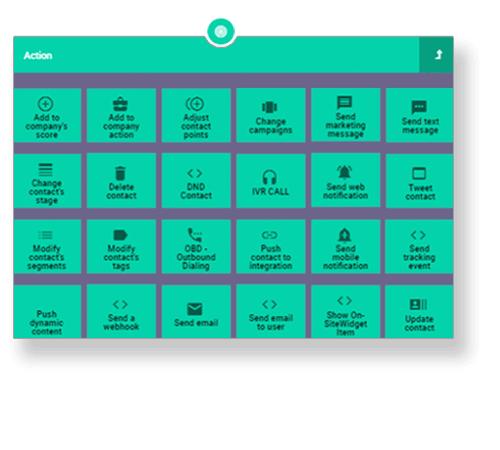 More than 50+ integrations to create a interactive banking system
CRM and mobile integration, social media monitoring, and online ads
Integration with a core banking system (on demand)
Forms and survey plugins, and more than 50 integrations
Marketing automation scenarios through secured IT infrastructure
Starting with web activities to mobile browsing/in-app browsing, track your customers' entire digital journey. Analyse their transactional behavior to identify their current location, map nearby ATM and bank branches for them. Dig in deep into your marketing automation campaigns to improve it. Know what worked and what didn't. Measure your campaigns' ROI and work to improve them in the next campaigns. Use features like email and SMS performance analytics, campaign decision analytics, automation stepping analytics, engagement drop reports, and contact monitoring reports measuring your overall ROI.
ATM screen based ads re-targeting

Incremental/progressive KYC

Cash in ATM alert where customer regularly use ATM cash withdraw

In-branch exclusive experience for customers according to their priority

SEO tracking and monitoring

Gated video lead capture from YouTube

Facebook and Adwords Synced ads re-targeting.

Keep track of customers online with Browser Fingerprint Tracking.

In-app messaging and push notifications
Omni-channel experience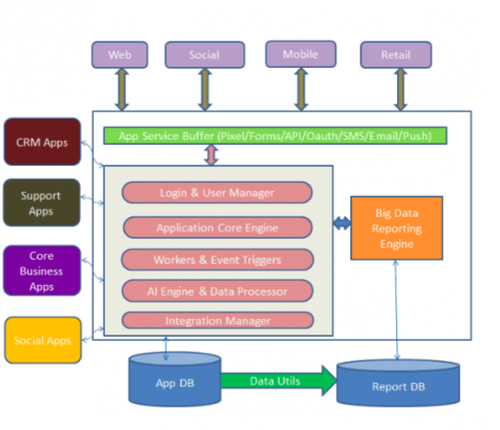 KYC reminders
Set automated reminders for your customers who are yet to finish their KYC submissions. Create customized alerts once the processing starts and once it is over.
Geolocation fencing campaigns
Set a geo-boundary and trigger alerts as and when any of customers leave or enter that fencing. Automate triggers and campaigns based on such activities.
Kiosk mode lead nurturing
Enable Kiosk mode to avoid multiple visitor associations by turning off cookie for your visitors.Implement kiosk mode on a per-form basis for more advanced banking experience.
Customer experience feedback automation
Automate feedback forms and emails for customers when they make a purchase or opt out of a campaign. Also, trigger feedback surveys time to time to understand your customers better.
Happy Customers Around The Globe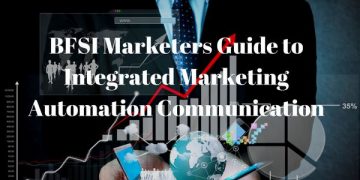 BFSI Marketers Guide to Integrated Marketing Automation Communication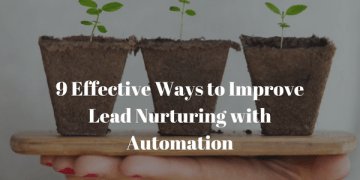 9 Effective Ways to Improve Lead Nurturing with Automation