Personalization
Build personalized relationships with your customers
Create and publish personalized automation campaigns
Build a personalized relationship with your customers across multiple marketing channels like emails, web, mobile, SMS, push and social media. Use contact information, behavioral activities, and engagement metrics to design relevant and personalized contents to nurture, engage, and convert more in less time.
Dynamically show content based on contact behavior and activities
Dynamically show landing pages and ad contents based on contact behavior, activities, demographics, and lifecycle stage with dynamic content. Personalize your marketing messages by creating various versions of the content, and showing only relevant messages to each individual customer. Nurture and convert more with personalized content across all marketing channels and devices.
Create personalized nurturing email campaigns for each individual customer
Emails have the highest conversion rates and are still the best communication channel to connect with your customers. Create and publish personalized nurturing email campaigns using our easy campaign builder and drag and drop editor. Simply pick a segment, set conditions, actions, and decisions, and start nurturing your contacts.
Use dynamic segmentation to keep your contact segments up-to-date based on contact's activities, browsing behavior, demographics, past engagement metrics, events, and more.
Retarget your contacts that have stopped engaging with your emails as well as anonymous visitors to convert them into potential leads and then customers.
Create personalized campaigns for your existing customers to retain them and make them your advocates.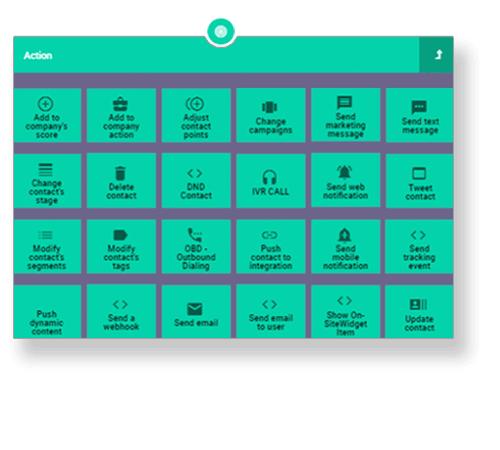 Personalize email templates based on individual contact fields
Edit your email templates based on the contact fields like name, company details, job profile, designation, and more.
Personalize email templates based on individual contact actions with emails activity
Modify your email templates based on the various contact actions that each individual contact performed like email opens, click-throughs, not read, unsubscribe, change of segments, and more.
Personalize email templates based on individual contact actions with website page visits
Track your contact's actions when they visit your website or relevant pages. Modify your email template based on their specific actions, like visiting pricing page, filling up a subscription form to download a marketing asset, browsing through feature pages, reading the blog, and more.
Behaviour based personalization of emails
Create email campaigns based on each individual contact's behavior in your website and related pages, and in-app. Monitor their browsing path, assign lead scores, and create emails that are relevant to each individual contact.
Time zone based delivery of emails
Modify the time zone for each individual contact based on their current geographical location and time zone. Engage each and every contact when the chances of opening an email are more.
Dynamic email based personalization with filters
Dynamically show email contents based on location, age, behavioral patterns, past purchase history, lead sources, etc. Add multiple email filters to create an automated workflow for a personalized drip series.
Progressive profiling to capture quality leads
Capture more quality leads with progressive profiling in forms. Ask questions that your leads want to answer and convert anonymous visitors into potential leads.
Personalized sales conversation for higher conversions
Monitor entire conversation flow of each individual lead with bi-directionaL CRM integration with Aritic PinPoint so that your sales reps stay updated on the entire customer journey, and engage in a personalized conversation aligned with your leads' interests and queries.