WhatsApp has been gaining popularity thanks to its end-to-end encryption and simple user interface.
In the light of WhatsApp for Business, consisting of a host of new features including business profiles, catalogs, automatic messages, contact labels, and more – it's no wonder that companies of all sizes-larger businesses or small business owners have started using this app for marketing purposes.
Jump Directly to
2. What is WhatsApp for Business?
3. WhatsApp Business: How to Create an Account and Get Started?
5. 8 WhatsApp Business Features To Use For Your Business
6. How can individuals connect with my company on WhatsApp Business app?
7. Will WhatsApp Business be the Future of Communication for Businesses?
---
Still Not an User of Aritic PinPoint Automation?
---
WhatsApp for Business is a collaborative platform that enables you to chat with your colleagues as well as clients.
It's now a new and improved way of communication that lets companies interact more efficiently and effectively with their customers and prospects. It also provides a new level of customer service for businesses.
WhatsApp for business is the ultimate marketing tool for business, and it is growing exponentially. For that reason, all marketers need to understand its benefits and how they can use it to promote their business using the power of WhatsApp for Business in terms of customer communications and business messaging.
This WhatsApp for Business 2023 go-to guide will provide an overview of the features you can use in order to get the most out of this platform.
---
What is WhatsApp?
WhatsApp is a free instant messaging app available for smartphones (including Apple iPhone, Android, and Windows Phone), PCs, and tablets.
It allows users to connect with each other using the Internet or through cellular networks, and it includes features such as voice calls, video calls, text messaging, and instant messaging.
In addition, many reviewers have praised the service for its high level of security.
WhatsApp was first launched in January of 2009 by Jan Koum and Brian Acton. It has since grown into the most popular communications app on Earth, with over 2 billion active users worldwide, sending more than 100 billion messages per day.
In addition, it offers end-to-end encryption for every message sent through the service, keeping conversations secure from snoopers. Facebook acquired WhatsApp in February 2014 for approximately US$19.6 billion.
---
What is WhatsApp for Business?
WhatsApp for Business is a business-oriented app from WhatsApp, which was released in June 2016.
It provides a reliable and secure communication tool for business users.
Companies can create a company profile on the WhatsApp for business app, which will enable them to communicate with their customers through one platform. They will also be able to offer customer support, handle orders and receive feedback from customers, among other features.
It is highly reliable and secure, with end-to-end encryption. It allows you to communicate quickly and easily with your contacts anywhere in the world.
The WhatsApp for business app also offers a range of tools that enable you to engage your customers even when they are not actively using the app.
---
Execute Effective Marketing Automation Workflows Now
---
Businesses have found their way to use WhatsApp in recent years with the WhatsApp for business app. The messaging service has become the go-to platform for many small and big companies to connect with their customers who are WhatsApp users.
It is an excellent alternative to SMS marketing and gives brands or companies the potential to grow exponentially.
---
WhatsApp Business: How to Create an Account and Get Started?
WhatsApp is a top-rated messaging app, and it offers a business solution. Creating a WhatsApp for Business account is easy and takes only a few minutes. Here's how to get started with WhatsApp for Business.
#1. First of all, you'll need to download and install the WhatsApp for Business app from Google Play Store or Apple Store. Although WhatsApp Business is similar to the regular WhatsApp in appearance, it has a few key differences that set it apart in terms of features.
#2. When you launch it, you will first have to accept its terms and conditions.
#3. Type in your contact information (business phone number recommended instead of the personal phone numbers) and confirm it with the gray button saying 'Next' as shown below. Now, you'll get a verification code on your phone number that the app will automatically detect to confirm your account.
#4. Now you'll be prompted to fill in your details. First, upload an appropriate image for the "profile photo" on your business account.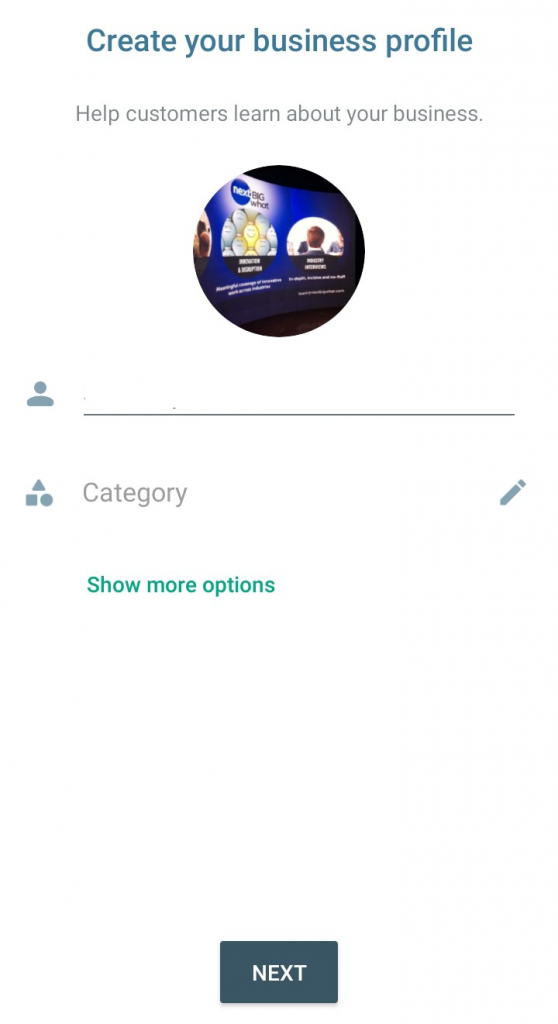 #5. You can navigate to the Business tools section in the app to learn more about the WhatsApp business tools.
#6. Bingo! You are good to go. Now, start connecting with your customers.
---
Why use WhatsApp Business?
1. Give your company greater visibility
The WhatsApp Business app's simplicity combined with its global reach makes it a popular choice for businesses looking to improve their business's visibility.
The app is now being used by over 100,000 businesses globally. While it may not have the same level of engagement as Facebook or Twitter, it does provide an alternative platform where users can engage with your business on a more personal level.
It's important for small companies to take advantage of this by making themselves more visible on WhatsApp when they're not present in your customer's physical environment – like at their store or office.
When customers use WhatsApp, they can get in touch with brands 24/7 and get fast responses to their questions. Your business will also be able to send them deals and promotions, so they don't forget about you while you're away from them physically.
2. Systematize your duties
WhatsApp Business is a splendid chat-based system that enables you to communicate, organize and engage with your contacts. With their business-centric app, you can manage your contacts using their label system.
It is a useful Lifehack that helps you organize your WhatsApp contacts. The label system allows you to organize your contacts into groups and easily share messages with a group of people at once.
Alternatively, you can easily import contacts directly from your CRM software to the app. This new feature is currently available within the WhatsApp Business app.
However, this is only possible with companies using CRM software that integrates flawlessly with WhatsApp.
WhatsApp is constantly increasing support to integrate more CRMs into the app. This feature can prove vital for lead generation via WhatsApp Messenger when it comes to small businesses and start-ups.
3. Speed up the response time
Through WhatsApp Business, organizations can connect with their customers directly, without intermediaries or agents in between, to provide customer service and answer inquiries.
When customers use WhatsApp Business, they can get in touch with your Business 24/7 and get fast responses to their questions.
Your business will also be able to send them deals and promotions, so they don't forget about you while you're away from them physically.
---
8 WhatsApp Business Features To Use For Your Business
We're now in a digital era where social media is an essential tool for companies to grow.
WhatsApp is just one of the many social media apps that have become popular among consumers, and it's steadily growing in popularity among businesses, too, given they can now leverage the benefits of WhatsApp Business.
There are many ways that companies are using this app to build connections with their customers and grow their businesses, as WhatsApp Business includes relevant features.
And while this list may not be exhaustive in terms of all the ever-growing features, it will help you learn more about the variety of features available on this platform.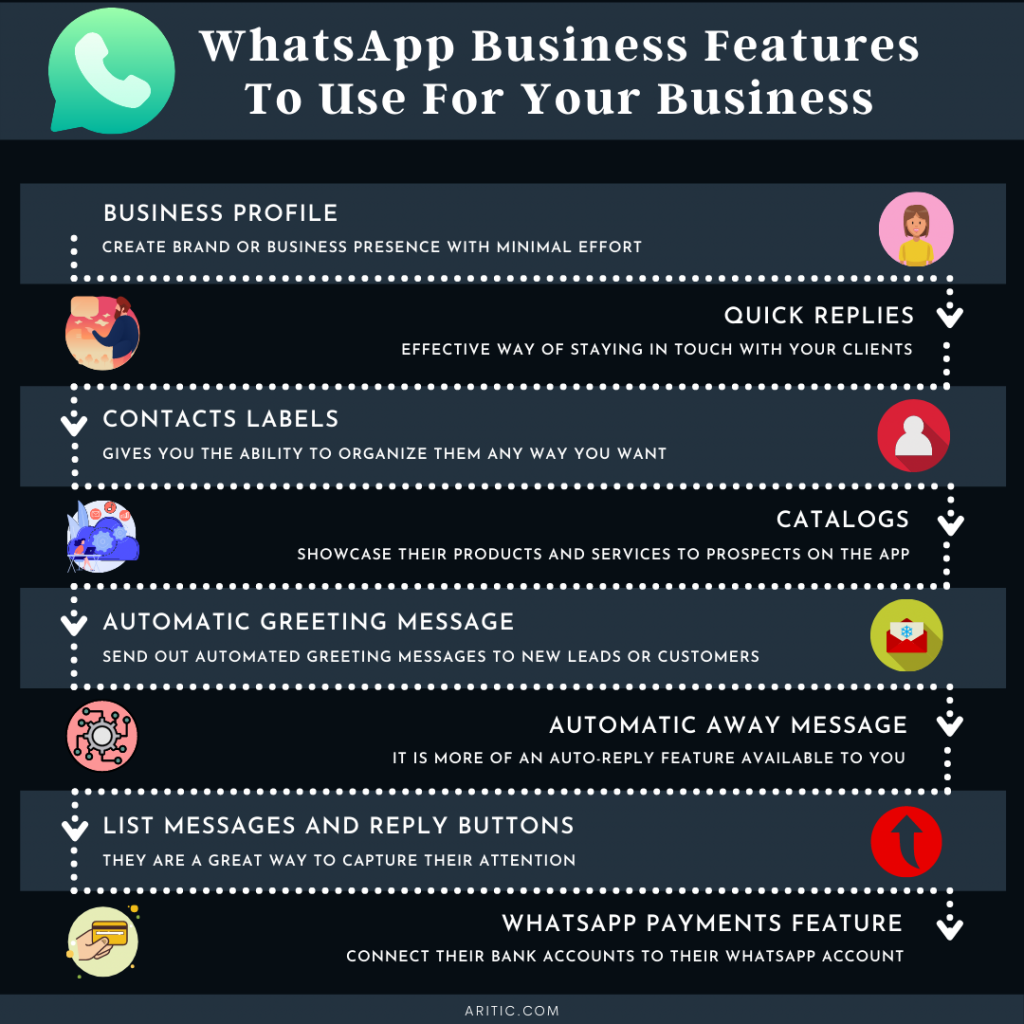 1. Business Profile
WhatsApp Business gives you the convenience of setting a WhatsApp Business Profile easily. This allows organizations to create their brand or business presence with minimal effort.
This feature is especially useful for not tech-savvy businesses and finds it challenging to maintain a website or push their content on social media.
The Business Profile feature can be accessed from the WhatsApp Business app Settings and has a simple interface to set up the business profile by adding business name, business description, profile photo, email address, and website.
2. Quick Replies
A lot of organizations around the world use WhatsApp to communicate with their customers and clients.
It is a simple and effective way of staying in touch with your clients while you don't have all day long meetings or phone calls.
Building your customer base through WhatsApp Business is one prime factor today. The business version of WhatsApp allows you to message your followers individually or create broadcast messages to send to all followers at once.
So if you want to promote a new product or offer, it's easy!
3. Contacts Labels
As earlier mentioned, WhatsApp Business gives you a super useful feature called the Labeling system. Labeling your contacts with WhatsApp gives you the ability to organize them any way you want.
Adding labels can make your conversations more efficient and help you reach the right contact you need for a particular reason. This is an excellent way for businesses to organize their contacts into categories.
You can then create custom groups on WhatsApp that are based on the labels you have created.
For example, say you want to set up a WhatsApp group for your team at work. You can create a label called "Work" and add all of your co-workers into that one group. It is just an example. However, you can do much more with a labeling system.
4. Catalogs
The company has ramped up its app with a refined Business Catalogs feature in WhatsApp Business. This certainly is an awesome feature for brands as they can create an easy-to-share catalog of products and services, which can be accessed directly through the chat interface within WhatsApp.
It is a go-to way for small business owners to showcase their products and services to prospects on the app itself without any hassle. You can add a picture of the product, along with the price and a link that takes them directly to your site or store page.
Then, when someone clicks on it, they'll be able to see more information about the product and even purchase it.
5. Automatic Greeting Message
WhatsApp Business lets businesses send out automated greeting messages to new leads or customers who either initiate a dialogue with you or join your business WhatsApp groups.
By sending an instant message, you have a perfect opportunity to welcome and introduce a company to any new prospect proactively and without any delay.
This will be a great chance to get to know your leads and start building relationships before making an effort in other channels like email and social networks. You could also use this information later on when creating personalized messages, which can amp up your growth efforts.
6. Automatic Away Message
If you are working in business, then you might need to be away for some reason at some point in time. So what happens when someone messages you and they don't get a response? Will they think that your company is unprofessional or that you aren't taking care of touchpoints with your customers?
No one wants to have this happen, which is why auto-away messages are so important. This works pretty much similar to greeting messages. You can understand it as more of an auto-reply feature available to you.
They give the impression that your company is still active outside the working hours while you are away. An automatic Away Message can be very useful for organizations that work from their phone.
7. List Messages and Reply Buttons
WhatsApp has constantly been evolving its business-centric app to bring new features for businesses around the globe, such as List Messages and Reply Buttons.
1 . List Messages: A new list message is now available for businesses to set up the options for prospects to use when interacting with the companies on WhatsApp. Enabling this option will allow you to show up 10 options for people to click on simply. This feature thus helps you create a more engaging and interactive chat experience for your users.
2. Reply Buttons: The Reply button is a simple but effective feature that can be used in all sorts of ways to make your WhatsApp presence more engaging. Reply buttons are a way for consumers to respond to an email quickly. They allow users to select from a number of preset responses, such as "Yes" or "No" or your own customized ones.
Reply buttons allow customers to choose from up to three options quickly. They are a great way to capture their attention and make the most of your limited time with them on the WhatsApp Business app.
8. WhatsApp Payments Feature
In February 2018, WhatsApp Payments was started in India as a testing mode for the first time. WhatsApp Payments uses the same infrastructure as bank-to-bank money transfers and more sort of peer-to-peer transaction system, which are used by consumers and businesses alike.
The platform allows consumers to connect their bank accounts to their WhatsApp account and provides a Unified Payments Interface (UPI) method allowing them to use the service to send money or purchase goods, or transfer money on the app.
This is interesting from a marketing perspective as it could change the way businesses market to consumers and how they accept payments from their customers. However, the WhatsApp Payments feature is currently only available in limited countries, and that too for specific devices.
1 . Brazil
Brazil is the first country where Facebook has a massive rollout of WhatsApp Payments. However, Facebook aims to roll out the service to the rest of the world, and Brazil is the one where this has happened on a full-fledged scale. As a result, WhatsApp Payments is now available in this country, competing with other mobile payment services like Apple Pay and Android Pay.
All it takes for users in Brazil to access WhatsApp Payments is a bank account and a phone number registered with their country's mobile operator, and obviously WhatsApp application. The service will be free for now as Facebook works on adding more features such as rewards and discounts and more ways of paying, including cash withdrawals from ATMs.
People can securely transfer money between bank accounts. The payment feature on WhatsApp is backed by Facebook Pay, Facebook Pagamentos – authorized by the Central Bank, and handled by Cielo in Brazil.
2. India
Since November 2020, WhatsApp has started its Payments services in India. The instant communications app has engaged five of the biggest banks in the country, including ICICI Bank, HDFC Bank, Axis Bank, the State Bank of India, and Jio Payments Bank, to make its payment service accessible to consumers.
The payment system will operate under the Unified Payments Interface (UPI) method, where money transfers can be made without the need for a bank account number and IFSC code. This initiative makes it easier for people who don't have access to a debit card or credit card.
People can securely transfer money between bank accounts. The payment feature on WhatsApp is backed by BHIM UPI and processed by payment partners in India.
---
How can individuals connect with my company on WhatsApp Business app?
1. Conversation Starters
WhatsApp Business allows you to start a chat with a number of people at the same time to help you efficiently respond. Whenever you receive a message from someone and want to know more about them, you can send a thank you message asking for information. The person will receive this message, and it will help you to build a new relationship.
2. Request helpful information
Users should be able to request valuable information on WhatsApp Business. This is the most basic and fastest way your customers can get helpful information and queries answered from your company or business. For example, let's say your customers have a request about shipping alerts or order details. Then you can quickly provide such information using WhatsApp Business.
3. Short Link
You can use the short link feature on WhatsApp Business to encourage consumers to connect with your business and start a chat.
The short link URL is automatically generated when you as a business first create an account on the WhatsApp Business app, which you easily share with the customers directly using the app.
4. QR codes
When people want to connect with your business through WhatsApp, you can simply provide a QR code by creating a link to the QR code so that they can easily start messaging you.
This can be very helpful for people who are new to you on WhatsApp. They can open the link of the QR code and scan the code to message you directly. One good thing is that your generated QR code doesn't expire unless you modify it or delete your WhatsApp Business account.
---
Will WhatsApp Business be the Future of Communication for Businesses?
The past few months saw some changes in how companies use WhatsApp for their marketing strategies. These changes are likely to continue, with some marketers predicting more widespread adoption of the app in the coming years.
In the future, WhatsApp Business will likely compete with other business-focused social sites such as LinkedIn and Facebook for Work.
Text-based marketing is on the rise, and smartphones slowly replace desktop computers as the preferred means of browsing through social media channels.
As more organizations start using WhatsApp Business to interact with their customers who are WhatsApp users, it's likely that this trend will only increase in popularity.
---
Over to you
The top companies use WhatsApp for Business because it is cost-effective and very efficient. Powerful features of WhatsApp Business are hard to ignore. And, it has revolutionized the way businesses communicate with their customers and prospects. That's why we've created this go-to guide to get you started with the most important features of WhatsApp for Business. Are there any specific features that you'd like us to cover in future blog posts?
We've tried our best to provide you with some ideas on how you can use them to your advantage in this article. But, if you would like more information, don't hesitate to get in touch with our experts today.