As consumers' expectations for a seamless, personalized customer experience have heightened in the past few years, the retail industry has been forced to evolve. One of the most popular trends in B2B eCommerce marketplace platforms. These B2B eCommerce Marketplace platforms aggregate online marketplace from many different online sellers and offer them in one place.
As a result, the number of new eCommerce startups with online marketplace business models has increased significantly in recent years to sell products online.
Nearly 41% of leaders say that eCommerce is their most lucrative channel of sales.
There are various types of B2B eCommerce Marketplace platform business models, each with its own advantages and disadvantages. Read on to learn which type might be best for you!
What are B2B Marketplaces?
Business-to-business or B2B marketplaces are online platforms that connect businesses. Businesses can use these marketplaces to improve their sourcing practices and make more informed purchasing decisions. They can also use them to sell their own products directly to companies within the umbrella of the B2B marketplace.
The most famous example of B2B enterprise marketplaces is Alibaba's Taobao, which is basically China's version of eBay. It has more than 2 billion listings for all kinds of goods and services you could imagine.
Understanding The Basics of B2B eCommerce Marketplace Business Model
An B2B eCommerce Marketplace business model is a type of business model where products get sold via the internet. This means that they are remotely accessible for buying, selling, or distribution. 
The term e-commerce largely emerged from "interactive shopping." It means that customers can shop from home, office, or any other place which is accessible by an internet connection. The emergence of such a trend has changed the way of doing regular shopping, and it has opened new avenues for traditional sellers.
An B2B eCommerce Marketplace Business Model consists of many elements such as online stores, virtual malls, catalogs, presentations, and more. The most significant element in this business model is an online store where all products and services are sold and managed through websites.
There are six types of business models in eCommerce that we'll discuss in this article henceforth.
1. Business to Business (B2B)
When you first start an online business, you need to develop a plan to help your eCommerce platform or website grow and increase sales. One option is the Business to Business (B2B) eCommerce marketplace model.
---
Still Not an User of Aritic PinPoint Automation?
---
This method of selling products or services requires the buyer to be an organization rather than an individual. Organizations are typically larger than individuals and may have larger budgets for purchasing goods or services.
Some businesses prefer this sales model because they can offer their products or services at a lower cost, as they are not aiming for one-time sales but instead long-term relationships with their customers.
There are many disadvantages to this type of eCommerce model, including the difficulty in acquiring customers who are organizations, incompatibility with certain types of products, and difficulty in implementing marketing strategies that work well. In addition, B2B businesses generally deal with a small number of customers who carry out bigger transactions on top of longer sales cycles.
2. Business to Consumer (B2C)
A business-to-consumer (B2C) eCommerce model is one where the business provides goods and services to consumers. This type of eCommerce model stands in contrast to a business-to-business (B2B) model, often called "business online." A B2C eCommerce platform may also be referred to as "a consumer website." Customer volume is generally higher as a B2C business model, but income per customer is lower, and sales cycles are shorter.
The most common example of modern B2C enterprises is direct sellers, manufacturers, and online retailers capable of selling directly to consumers, such as Amazon, Walmart, Priceline Group, eBay, Netflix, and many more.
A B2C model also has an assortment of advantages. For starters, it can be much easier for the customer to find what they are looking for when they don't have to sift through items made for other industries or demographics. Additionally, the company will typically have lower operating costs than a B2B company since they are not dealing with any distribution or shipping logistics.
Kaleido predicts that cross-border B2C eCommerce will reach $1.2 trillion by 2022.
3. Business to Government (B2G)
This type of business model refers to a company that sells products and services to government departments through different online platforms. The government will pay for these products and services by issuing a purchase order, buying something outright, or paying a bill.
In this eCommerce Business Model, the company's inventory can get supplied from domestic or offshore sources to complete the ordering process. However, if the inventory management is from offshore or global sources, the company may have to deal with logistics issues such as import taxes and duties, complicating the process.
The B2G eCommerce model is also called the reverse channel or government-to-business (G2B). Examples of these include online auctions, rebates, tax incentives, reverse bidding, and more. These strategies can help small businesses tap into large government contracts while creating new revenue streams for the business.
4. Business to Business to Consumer (B2B2C)
The term B2B2C is used to describe a type of eCommerce business model where a manufacturer or distributor provides goods or services to other organizations that then sell them to consumers. There are three types of B2B2C models that are most popular.
The first type is where the manufacturer sells to distributors who then resell it to retailers or directly to consumers. The second type is where the distributor sells either directly or indirectly, even though retailers, into consumer markets. Finally, the third type is when both direct and indirect channels are used concurrently in order for manufacturers and distributors to distribute their products at all markets tapping into a large user base.
5. Consumer to Consumer (C2C)
C2C eCommerce is the new buzzword in the market. With the boom of the digital landscape and companies like Etsy, eBay, and Olx playing in this field, the C2C eCommerce model is an exciting addition. It has evolved as a result of increased demand for products and services by customers who are willing to pay higher prices for authentic products.
The consumer-to-consumer (C2C) eCommerce platforms involve the sale of goods or services directly between consumers, usually via an online marketplace. The model is often known as peer-to-peer eCommerce.
6. Consumer to Business (C2B)
Have you heard about the Gig economy? You've guessed it. That's a great example of a consumer-to-business (C2B) eCommerce business model. The C2B e-commerce business model involves individuals selling goods and services directly to businesses through online platforms.
We find this essential feature most often in a number of C2B eCommerce platforms that enable people (contractors, gig workers, or freelancers) to share the work or services in which they are skilled. Companies often make a request or offer for this individual's time and pay for it through a particular platform.
B2B marketplaces – depending on the type of business
Let's now look at the B2B marketplaces with the view of the type of business.
Vertical B2B marketplaces
A vertical B2B marketplace is a platform where many buyers and suppliers can connect, network, and do business. It helps companies with product development and business expansion by providing them an avenue to conduct transactions with other businesses.
Vertical B2B marketplaces are usually created around a certain industry or segment that requires specific products or services. For example, there might be a vertical marketplace for the automotive industry that allows car sellers and component manufacturers to find each other and conduct transactions online in terms of a purchasing process.
Horizontal B2B marketplaces
The horizontal B2B marketplaces are a new generation of e-marketplaces. In contrast to vertical marketplaces, the horizontal ones connect consumers with suppliers from different industries and segments.
Most horizontal B2B marketplaces are online marketplace-based and match buyers and sellers on an interactive platform. Some of the most popular horizontal marketplaces are LinkedIn, Upwork, and Freelancer.com.
B2B marketplaces – depending on the type of business model
Here we'll look at B2B markets from a business model perspective.
B2B product marketplace
A B2B product marketplace is a space for different buyers and sellers to trade products with each other. The most popular example of this is Amazon.com. Marketplaces are organized so that many sellers have the opportunity to sell their products or services wherever they are in the world.
The most common types of B2B marketplaces are classified by who can sell on them – business-to-consumer (B2C) or business-to-business (B2B).
B2B service marketplace
B2B service marketplace connects many buyers and sellers of services, by facilitating transactions between these two parties. It also offers a robust marketplace for business-to-business service providers to advertise their services.
The best benefit is that it widens the reach of trade beyond geographical boundaries. A number of start-ups are using this model as a way to provide an alternative revenue source to their existing business models.
Hybrid marketplace
The hybrid marketplace is a marketplace that combines features of both online and offline retail while also involving both B2B and B2C relations. The idea behind the hybrid marketplace is to make selling goods online more like selling in an offline store.
The hybrid marketplaces are able to offer customers the benefits of both types of markets by providing customers with choice, convenience, and accessibility.
---
Execute Effective Marketing Automation Workflows Now
---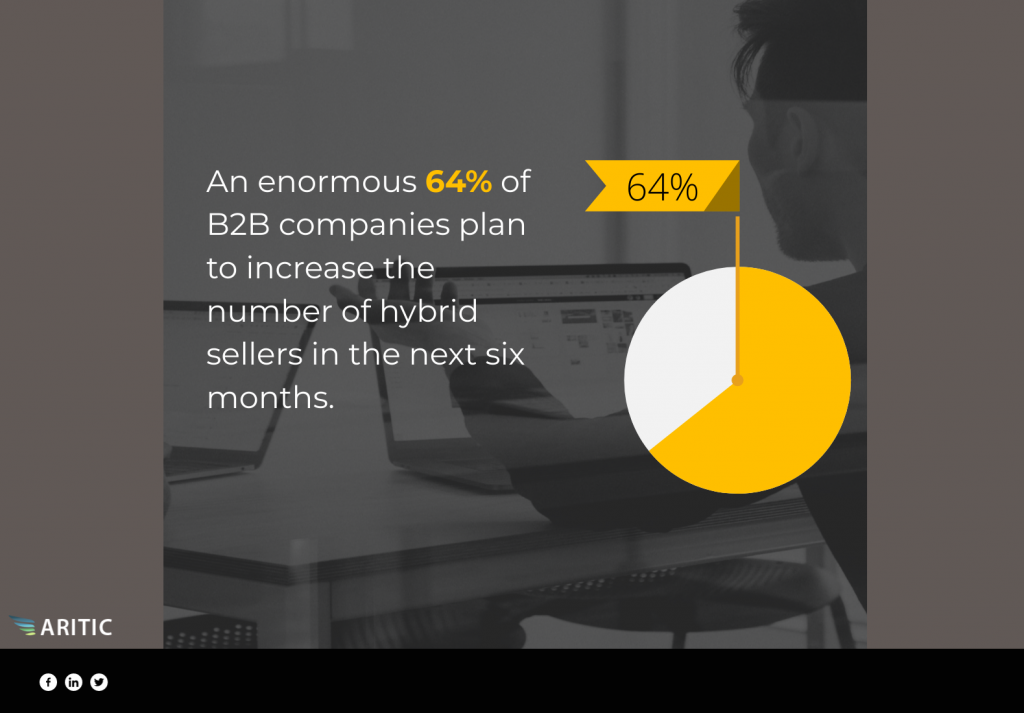 An enormous 64 percent of B2B companies plan to increase the number of hybrid sellers in the next six months.
B2B Business Model – 7 Crucial Aspects You Can't Ignore
The B2b eCommerce marketplace is a very vast and complex field to get into. Having a thorough understanding of the market, customer needs, and expectations can help you shape your business model which will then help you identify the most important components that you should be focusing on.
Here are 7 key aspects of a B2B business model that should be aligned to make sure that everything falls into place.
Key partners
A B2B business model has its key partners at the top of the supply chain. They include manufacturers, suppliers, and distributors. Below these partners are their suppliers, which include retailers and resellers (also known as channel partners). Then there are the end-users or customers that buy products from the retailers and resellers.
When building a B2B marketplace, you need to consider all of your partners. From the consumer level to the distributor level, there are many different factors that can affect your sales. The more channels you have available for people to purchase from, the better chance you have of making sales.
Key resources
A business model is a framework that helps entrepreneurs understand the basics of their company, plan their future performance and identify ways to generate profit. A business model can be defined as a set of activities that link resources (productive assets) and customers in order to provide the best product or service.
While there are many resources needed for any business, there are three main resources that form the backbone of any successful B2B business: Assets, Customers, and Suppliers.
For example, if you own an online store selling software, your assets would include your website, social media accounts, and search engine rank; your customers would include people looking for software – both professionals coming from other companies and consumers looking for home apps; your suppliers would be programmers who create an app-specific program or software.
Customer relationship
A customer relationship is a mutually beneficial exchange between a company and its customers. It is the long-term relationship that exists between a company and one or more of its customers or between two companies whose products or services are interdependent.
In business-to-business marketing, it means building up long-term relationships with existing clients as well as new customers and prospects. A customer relationship is a connection between a company and its client. A business needs to understand their clients on an emotional level in order to provide them with the best experience possible, make them feel valued, and create relationships that lead to repeat business.
Value proposition
While the term "value proposition" is most commonly associated with marketing, it is also essential for any business model.
The value proposition is the foundation of any business. Essentially, it's what you're offering to your market that makes you unique compared to others in your industry. Your value proposition should be directly related to the benefits offered by your product or service.
Revenue streams
The revenue stream of a business is how it generates income. Most businesses require more than one revenue stream to stay afloat. Revenue streams are the main sources of revenue for a company. They typically comprise four categories: direct sales, indirect sales, strategic alliances, and joint ventures.
A company's revenue streams will vary greatly depending on what kind of company they are. For example, a company that deals in the cosmetic industry will have different revenue streams than one that deals with IT services.
Cost structure
The cost structure in a B2B business model is the total cost of goods and services that a company provides to its customer base.
The total cost of goods and services is then divided by the number of units sold to find the average cost per unit. These costs typically consist of:
–Unit production costs: Individual expenses incurred in the production of one unit or service.
–Marketing Costs: Marketing expenses incurred in generating sales volume or marketing awareness.
–Administrative Costs: Expenses incurred in supporting day-to-day operations such as administration, office space rental, utilities, and payroll.
–General and Administrative (G&A) Costs: Expenses not directly tied to any one product or service that support all business activities such as hiring new employees, paying rent on office space, etc
Customer segments
Customer segmentation is a process of dividing the target markets based on their needs, wants, and characteristics into different groups. The goal is to divide the market into homogeneous segments that can be reached with a similar marketing strategy.
Understanding customer segments is a key concept of the B2B business model. It's important for the company to know the difference between different types of customers and how they can each be satisfied.
Knowing your customer segments is a crucial part of your marketing strategy because it helps you tailor your efforts to specific groups of people.
Click To Tweet
For example, if you have a product suited to an older audience, you'll want to market this product to seniors more than anyone else.
Aritic PinPoint makes customer segmentation easy — even for marketers who haven't done it before. With Aritic PinPoint's analytics-driven platform and notable features, you can build strong relationships with your customers by identifying key demographics, psychographics, and behavioral trends across all communication channels – social media, email, web, chat, and more.
How to Find an Effective B2B Marketplace Software Right Away!
B2B marketing is a vital aspect of most business operations, especially in the current climate where the customer is king. For order management to market effectively to potential customers, B2B marketers need to know who their target audience is, how they can reach them and what products or services they should offer.
As with any form of marketing, finding the right marketing tools for the job is key. But it's not always so easy to find tools that are suitable for B2B marketing. There are a plethora of options when it comes to finding the perfect B2B marketplace software, but with all those choices, you can't always figure out what will work best for your company.
Look for an ideal solution, probably a complete single platform that allows you to manage your entire business in one place. For example, you can run your social media, marketing campaigns, and customer support all from the same system at the same time. And above all, it should be easy enough for anyone in your company to use in order to reap out real value.
To Sum Up
Many different eCommerce business models can be used to start an online store. We've outlined the top 6 eCommerce marketplace models here, so you have a better idea of which one might work best for your business goals.
We hope this article has addressed crucial aspects of the B2B eCommerce marketplace and provided you with insight into the top 6 eCommerce marketplace models. If you would like more information on either of these models or need help getting your business started, do schedule a call below.
⭐ What type of industries can B2B eCommerce be applied to?
Many companies are finding a way to take advantage of B2B e-commerce. In fact, there are many industries that can benefit from this type of website. Some examples include the automotive industry, food and beverage industry, and even medical equipment wholesale suppliers! Any business that sells products online is a good candidate for using B2B eCommerce.
⭐ Why is B2B eCommerce so essential and successful?
With the increase in online business, B2B eCommerce has become an essential tool for companies to achieve their marketing goals. Innovations in technology allow businesses to reach out to consumers more than ever before. B2B eCommerce is important because it helps companies showcase their products and services on the web which allows them to be seen by consumers who would not see them otherwise.
⭐ What are some examples of B2B?
B2B, also known as business-to-business, is when a company offers products or services to another company. This can include anything from consulting firms, software development firms, and of course manufacturers. B2B marketing strategies are very different than their consumer counterparts.
⭐ What are the characteristics of B2B eCommerce?
Although the behavior of B2B purchasing has changed over time, there are still some most notable features or characteristics that should be present in any successful B2B marketplace, such as Innovation, speed, reliability, and communication!
⭐ What are some critical features of B2B eCommerce sites?
As the B2B eCommerce industry continues to grow, there are many different avenues that these companies can take to succeed. One of the most important things is creating a user-friendly site that is easy for customers to navigate and purchase items on their own. However, it is also critical that businesses provide excellent customer service because once they've made a sale, there's no guarantee they'll make another one.
⭐ How does B2B differ from consumer marketing?
The main difference between B2B and consumer marketing is the target audience. Consumer marketers are focused on the end-user or buyers who will purchase their product or service while business-to-business marketers focus on the purchasing department in another company.
⭐ What are the challenges of B2B marketing?
The challenges of B2B marketing are many. The most difficult one is to constantly produce creative content that gets noticed among the endless noise of the digital world. Once you make an impact, you need to convince potential customers to inquire about your product, and then provide them with enough information for them to make a decision.
⭐ Why B2B sales is better than B2C?
Business-to-business (B2B) sales are better than business-to-consumer (B2C) selling for many reasons. First of all, B2B sales lead to long-term relationships with your customers. A company that buys your product will continue to use it again and again, making them a steady source of revenue. Secondly, because B2B companies have extensive buying cycles, you have more time to build relationships with the customers before asking for a sale. Finally, B2B businesses are much larger than consumer-focused businesses.