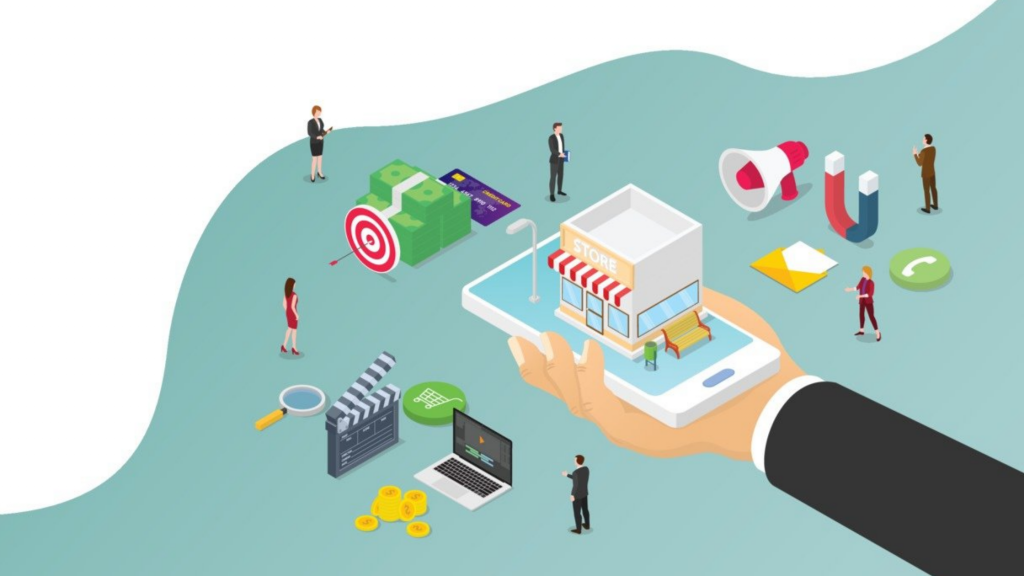 The retail industry is constantly in flux, but it will shift towards omnichannel retailing in the next decade. As a result, businesses will have to be more agile when they are trying to connect with their customers.
In the future of omnichannel retailing, shoppers will expect to be able to have a personalized experience at any time and on any device. To maintain this level of customer service, companies will need to invest in building a strong omnichannel retailing brand.
Thus, the future of retail is going to require omnichannel optimization as the foundation of its strategy.
Click To Tweet
Here's a look at how to create one and some omnichannel trends and challenges associated with omnichannel retailing.
What is Omnichannel Commerce?
Omnichannel commerce is not a single retail channel, but a complete approach to the consumer journey. It includes multiple touchpoints between the customer and your brand – from the moment they first become aware of you through their interactions with you across every channel (online, in-store, and mobile).
The worldwide market for retail omnichannel commerce platforms will grow to US$14.5 Billion by the Year 2027. In the context of the COVID-19 crisis, the worldwide retail omnichannel commerce platform market is estimated at US$5.
Omnichannel is about understanding what the consumer wants when they want it, and how they want it. Through this complete experience, brands can create loyal customers for life.
From multichannel towards omnichannel retailing
In recent times, retailing has been shifting from multichannel to omnichannel retailing. As a result, one of the hottest marketing buzzwords in retail right now is the omnichannel approach. Omnichannel, which refers to a cohesive, consistent experience across all touchpoints (physical store and online), isn't a new idea—in fact, it's been around for quite some time.
However, with today's technology, the concept has evolved. The emergence of omnichannel retailing has been primarily due to the advent of digital technology and its subsequent influence on consumers' shopping habits. Technological advancements have changed the way consumers shop for goods and how they wish to purchase them.
Personalization in Omnichannel Commerce
These days, consumers want and expect a personalized experience. They search for products online, read reviews to get opinions on which product is best for them, and then buy the products from an e-commerce site. Omnichannel commerce is the future of shopping — a seamless transition from digital to a physical store and back again.
Personalization can mean so many things for brands and retailers: offering customized rewards programs or tailoring inventory based on consumer habits. Personalization is a highly effective way to earn customer loyalty, increase sales and improve customer experience. By delivering individualized experiences across channels, retailers can capitalize on what matters most to each unique shopper. The possibilities are endless!
Nike's "Find Your Greatness" campaign that coincided with the 2012 Olympic games in London, England, is a successful example of personalization. The campaign was an innovative one as it focused on everyday athletes.
What makes omnichannel retailing different from multi-channel commerce?
To clearly understand the difference, let's loop in different types of commerce known:
---
Still Not an User of Aritic PinPoint Automation?
---
#1. Omnichannel commerce
Omnichannel retailing integrates all types of channels to provide a seamless experience for customers. This includes marketing, advertising, and communications on different platforms, including e-commerce and mobile shopping apps. Thus, it is an excellent way for brands to make more money because they are able to promote more products using newer channels.
Omnichannel retailing offers customers convenience, reduced costs, and enhanced customer service levels when integrated effectively.
#2. Multichannel commerce
On the other hand, Multichannel commerce uses different channels to sell products. This can include online stores, mobile applications, and social media for marketing and advertising purposes.
Although this model uses many different channels simultaneously, it doesn't necessarily integrate them into one cohesive marketing strategy as omnichannel retailing does.
#3. Single-channel commerce
Single-channel commerce is a type of retail that only uses one kind of selling channel. This includes anything from traditional storefronts to online stores.
It's important to remember that you are giving up on some growth opportunities by adopting single-channel commerce. You are not able to see results from other marketing channels and then use them for your strategy.
How Do You Create an Awesome Omnichannel Strategy?
The key to omnichannel retailing approach success is to build a cohesive strategy and put the customer at the center of everything you do. The best way to capitalize on this opportunity is by creating an omnichannel retailing strategy that emphasizes consistent messaging across all channels. This will help make it easy for customers to work with your brand, no matter what channel they are engaging with you through.
Here is what specifically you should consider doing:
Embrace Customer Segmentation
In the new world of retail, it is more crucial than ever before to segment your customer. Every customer has different needs and will respond differently to a company's message and offers.
Companies need to figure out who their customers are and then use that knowledge to send them messages that they'll be more likely to open and read just because they know the sender.
Segmenting customers can help you in so many ways, such as
-streamlining communication with the right people at the right time
-increasing response rates
-creating a better experience for your customers all around
Don't Skip Customer Journey Mapping
The customer journey is crucial in that it shapes customer experience and business performance.
The idea of the "omnichannel retailing" strategy is a new way to describe the relationship between online and offline channels, focusing on how they influence each other. Omnichannel is a marketing strategy that requires different methods to engage with customers at different customer connection points. This means there needs to be a clear understanding of where each customer is in their journey and map out which channel they are most likely to respond best to.
A business or brand needs to have a well-defined customer journey; otherwise, it could lead to confusion and less engagement. An omnichannel retailing strategy aims to make customers feel like the brand is there for them no matter where they are in their purchase process.
Identify the channels utilized by each customer segment
Customers typically use different channels for different needs. For example, they might be more likely to make a purchase on a mobile device but prefer to use the desktop version of the site for research.
Channels used by customers vary depending on customer segmentation.
Some customers might prefer a brick-and-mortar store experience, and others may not feel comfortable making purchases online.
This is why it's crucial to determine which existing channels people from each customer segment tend to use most often and then tailor the omnichannel strategy accordingly.
Back on integrating your technology
Brands must build an omnichannel strategy as it helps them be more efficient and make sure they are not missing any opportunities. In addition, technology can help them integrate their channels and make sure content is available to the consumers on whichever platform they choose.
Technology has a significant influence on how consumers interact with brands. Consumers expect brands to have a solid digital presence via digital channels and guarantee that they will be easily accessible through different platforms.
Thus, your team needs to identify which technologies are best suited for integrating with your system, figure out what data needs to get transferred, and ensure that any software or hardware updates are done smoothly without causing any downtime or errors in the system's performance.
Add Cross-channel Support for Customers
Providing cross-channel customer support is a key part of any omnichannel strategy. Customers have come to expect this level of service from businesses and being able to provide it will help your business compete in today's market.
In order to provide an excellent customer experience across all channels, you need to be able to handle customer inquiries quickly and efficiently. In addition, you need to have the right team in place that can respond quickly across all channels. And with a little help from cross-channel support software, customer service teams can deliver on this expectation.
---
Execute Effective Marketing Automation Workflows Now
---
Use automation to your advantage
Automation is an effective way to increase efficiency, reduce the cost of customer support, and provide a better customer experience. This is what Aritic PinPoint does for you by providing full-suite automation and enabling you to grow a deep relationship with your customers.
Currently, e-commerce companies are using the omnichannel strategy to create a seamless customer experience. They do it by integrating various existing channels (e.g., mobile app, desktop website) to make the purchase easy for the customers. Furthermore, they can reduce human intervention and increase operational efficiency with automation.
For example, if an online e-commerce company is launching a new product category for their customers but they don't have enough personnel to manage those departments, it would be beneficial to use automation as a solution.
Make Testing A Routine Instead Of A Chore
A crucial part of any omnichannel strategy is testing. Testing is the only way to know what works and what doesn't and which strategies are going to generate the best results.
Going into a new channel without testing first can be a costly mistake. Some channels may not have the kind of engagement you're looking for, or a channel might have a different audience that doesn't mesh well with your brand message. But if you test the channel before diving in, you'll have more confidence in your decision, greater results from your efforts, and less wasted time doing things that don't pan out.
What are the challenges associated with omnichannel retailing?
Omnichannel retailing is a form of retail that combines the strengths of all channels and formats to create a cohesive customer experience. The concept is based on the belief that customers will buy what they want, where they want, and when they want. As such, omnichannel retailers need to provide an online and offline seamless shopping experience to help customers make their purchase decisions.
Challenge #1
The main challenge for omnichannel retailers is creating a seamless cross-channel customer experience.
Challenge #2
The other main challenge for omnichannel retailing is the need for improved inventory data strategies.
Read on below for solutions to these challenges.
How to tackle the challenges of omnichannel retailing?
The solution to Challenge #1:
For overcoming the challenge of creating a seamless customer experience, merchants need to create an omnichannel strategy through research and testing to determine which channels work best for their target audience.
Aritic PinPoint enables you to easily run campaigns on a preferred channel(s) or simultaneously – Email, SMS, Social Media, Push, or On-site. In addition, monitoring results on channel-specific campaigns is equally simple with Aritic.
The solution to Challenge #2:
Retailers will need to invest in improved technology and prioritize enhancing their inventory management to have real-time inventory visibility.
5 Omnichannel Trends to Make Your Brand Competitive in 2022
In the digital era, the customer journey is no longer linear. But if you don't have a solid omnichannel strategy, you might be missing out on potential customers. This section will look at some of the latest omnichannel trends and how they can help your brand stay competitive in today's market.
1. Adopting Innovation
Embracing innovation and being updated with new advancements is the need of the hour. A company that embraces innovation in its omnichannel strategy will have a better chance of success than a company that doesn't. It is because they focus on being agile and speedy when responding to customers. In addition, they do so by leveraging their data to create personalized experiences for customers throughout the whole customer journey.
2. Improved Personalization
Personalization is more than a trend, and it's not going anywhere. It is, in fact, the future of marketing and content marketing.
With content personalized for individual customers, retailers can create a more engaging experience for their customers. The most effective way to achieve customer personalization is through targeted content. In most cases, retailers provide advice and information based on customer preferences and their purchase history.
Yet, personalized content goes beyond product recommendations and marketing campaigns. It also includes things like the website's design and navigation, its layout on different screen sizes, or even the tone of voice used in emails or call center conversations.
3. Enhancing your Social Integration
In the past, brands might have had a presence on social media, but they lacked an integrated approach to the customer experience. Today that is changing. Customers expect to see your brand's personality reflected in every aspect of their interaction with it—from social media to digital ads and website design to the product packaging and in-store displays.
Social media channels play a vital role in an omnichannel strategy. They allow customer service teams to quickly provide timely responses and solve any problems, streamlining the customer experience and boosting sales.
4. Prompt and Efficient Payment Checkouts
The number of people choosing to shop online is rising every year. This trend is fueled by several factors, including the convenience and efficiency of shopping online and the fact that it's often cheaper to purchase goods online rather than in physical stores.
Nowadays, people are overwhelmed by the number of online shopping options that they have. Thus, to make the customer experience easier and more convenient for them, businesses need to provide a seamless checkout process accessible from multiple channels.
5. Expert Customer Service 24/7
Customer service has changed from being reactive (responding after a problem arises) to proactive (dealing with customer issues before they happen). And, this trend is very true for omnichannel strategy success.
Customer service is a big deal. There are more options for customers to interact with your business today than ever before. They can choose from social media, chatbots, phone calls, and more. As a result, customers have more options than ever when it comes to getting help with their problems and issues in dealing with your company's products or services. It means that customer service has to be 24/7, available wherever the customer may be, whenever they need you.
Omni-channel retailing can help you capture growth opportunities
Omni-channel retailing is a phenomenon that has been around for a while now. It is a strategy that integrates online and offline channels to create a seamless shopping experience. By using technology to integrate these channels seamlessly, companies can offer customers a unified shopping experience.
For example, online shoppers can buy products and book services on the company's website or mobile phone app. They can also interact with staff at the company's brick-and-mortar store to either pick up their order or receive customer service.
This seamless integration of channels simplifies the process for customers and helps retailers capture growth opportunities.
​Is Your Business Omnichannel-Ready?
Omnichannel is not just about being "ready" in terms of having a website and mobile shop. It also means understanding the customer journey and optimizing their experience to drive more conversions across all channels.
In this day and age, consumers want one unified experience where they can purchase products easily. For your business to succeed, you need to be ready for the future by embracing the omnichannel strategy.
So, what does it take to be omnichannel-ready? An impeccable and robust platform to streamline everything from A-Z for your business.
Need help with the same? Schedule a quick demo today!