The bye-bye year was pretty crazy, primarily due to COVID. But it has led to significant change- the 'Social' essence of Social Media became bold in 2020 and is continued to turn much bolder in 2021.
Emerging social media platforms for marketing are an ongoing scenario now. Besides this, many other things have changed, right from algorithms to voice search tattling to control almost 50% of the searches in the United States, according to Comscore.
Jump Directly to
2. New Social Media Platforms Marketers Should Watch
But now, the year 2022 has ended, and it is time to look towards what 2023 has brought along with it. The digital marketing landscape is now more saturated due to COVID, as more and more people have involved themselves in digital acceptance and adopted online mediums extensively.
Emerging social media platforms for marketing have made it a marathon for digital marketers. Thus, it has immensely pushed all businesses to embrace the online world like never before. That means, now online mediums are more crowded and have toughened the competition in digital marketing. Check out this post on which social media channels to get more customers.
---
Still Not an User of Aritic PinPoint Automation?
---
Nevertheless, changes happen, and digital marketing changes bring trends on the social media world's canvas.
---
2023 Social Media Trends
Are you, as a marketer, have your social media marketing strategy well aligned with the latest social trends that are spontaneous?
1 . Social Commerce
In the coming days, more platforms will be implementing ecommerce. For example, Facebook and Instagram have already tapped into the ecommerce industry.
Fundamental reasons for platforms to integrate eCommerce into their crown are pretty straightforward.
Also Read: How Social Media Marketers Are Getting Ready for AI-Driven Networking and Branding
According to Igor Avidon of Avidon Marketing Group, "To successfully compete in the social commerce market, businesses can utilize the call to action, influencer marketing, and encourage their followers to create user-generated content. Implement an automated bot checkout that can engage the audience and prevent cart abandonment by improving the overall shopping experience"
More and more people are buying products through social media, and since the pandemic, this trend has boiled up tremendously. Also, people find social media platforms very useful for buying products because it helps make decisions faster.
2. Future of AR/VR
Virtual reality (VR) software and hardware's global market size is set to jump to $3.7 billion in 2021, $4.6 billion in 2022, and 5.1 billion by 2023.
Nearly 32% of consumers use Augmented Reality (AR) while they shop.
AR/VR's most significant advantage is that these technologies allow marketers to generate rich, immersive, and engaging experiences for consumers.
Leveraging these technologies, marketers can create content that engages and excites audiences, builds brand awareness, and drives product discovery in remarkable ways.
Nearly 65% of the U.S population prefer visual learning. In the last year, there have been 4 times more global searches for Virtual reality alone. (Social Media Today)
It goes without saying that the future of AR/VR seems brighter than currently eclipsed scenarios as these technologies are yet to flourish on a bigger scale.
3. Video Marketing
About 84% bought a company's product after watching one of their videos.
The world of social video is pacing up. Video as a social media marketing tactic is powerful because it is the most engaging content format across all other social media marketing tactics. Why?
According to G2 Crowd, Social video generates a whopping 1200% more shares than text and image content format combined.
Doesn't video marketing seem like a giant magnet able to generate incredible attraction force?
The future of video marketing is highly promising for digital marketers. The best bet for marketers will be rethinking video content and investing in creative strategies when bringing videos to life for audiences.
4. Social Conversion
Social Conversion is an essential metric of your social media campaigns. It determines the percentage of customers that actually purchase your product via social media platforms. Conversion is the sole objective of any marketing strategy, and it applies to your strategy for social platforms as well.
As a matter of fact, 32% of Americans are more likely to buy from optimistic and comforting social ads than otherwise.
Thus, Businesses must develop social conversion optimization techniques that are effective and are laden with perceived value for the social audiences. That includes posting content regularly, using post planner apps, running polls, being the source of news, etc.
---
Emerging Social Media Platforms Marketers Should Watch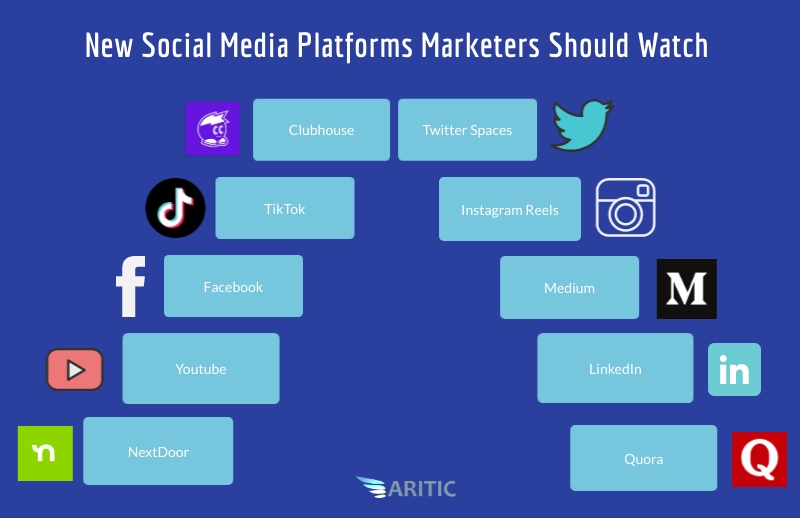 1 . Clubhouse
Daily Active Users: Unspecified
Best use for: Voice Chat
Year Launched: 2020
Clubhouse is an iPhone-only virtual voice-chat app that allows users to join or host audio conversions.
Clubhouse disrupted social media first with audio-chat buzz and began the battle of social audio chat platforms. Indeed, it gained first-mover advantages, and as of January 2021, Clubhouse's valuation reached $1 billion.
---
Execute Effective Marketing Automation Workflows Now
---
2. Twitter Spaces
Daily Active Users: Unspecified
Best use for: Voice Chat
Year Launched: 2020
Like Clubhouse, Twitter Spaces is the virtual chat room that allows users to join or host audio chats. The beta version was very recently released in December 2020 for broader testing purposes.
Twitter Spaces will be available as an intrinsic feature of the Twitter platform, so users don't have to download a separate app for using Twitter Spaces. Think of Twitter Spaces (rivaling Clubhouse) as internet-based clubs; sounds interesting, Ain't it?
3. TikTok
Daily Active Users: Unspecified
Best use for: Video Sharing
Year Launched: 2016
Tiktok is a favorite app for creating and sharing short-form videos. This platform allows users to utilize a plethora of music and dialogue options that can be lip-synced on top of various other special effects and filters to create and post funny or entertaining videos.
This platform is adapted to modern usage trends and serves as a medium for audiences to find new and exciting ways to connect in the social world.
Also Read : Will Artificial Intelligence in Social Media Marketing Replace B2B Marketers?
4. Instagram Reels
Daily Active Users: Unspecified
Best use for: Video Sharing
Year Launched: 2020
Similar to Tiktok, Instagram Reels provides its users short-form video creation and video sharing platform. Unlike IGTV, Instagram Reels is the intrinsic feature of the mainstream Instagram interface.
You can think of Reels as amplified version stories on the platform.
Businesses can leverage this feature right from sharing product releases to how-to-informational guides for their user base.
5. Facebook
Daily Active Users: 1.85 billion
Best use for: Social Networking
Year Launched: 2004
On average, more than 1.8 billion people around the world use Facebook on a daily basis.
According to Forbes, Facebook is the largest social networking platform globally and the world's fifth most valuable brand.
Facebook was initially designed for college students but now has tapped into the lives of almost every person in the world. This social networking site makes you connect and share easily with friends and family in the online world.
6. Medium
Daily Active Users: Unspecified
Best use for: Online Publishing
Year Launched: 2012
Medium is the fifth most popular in the United States in the blog category.
Medium is the online publishing and blogging platform. It is the best place for writers that want to start their blog without any overheads as it allows them to write and share articles.
Besides this, writers can also contribute to publications of curated stories on the platform. This platform is loved because it is minimalistic, featuring effective use of white space and perfect formatting options.
7. Youtube
Daily Active Users: 30 million+
Best use for: Online Video Distribution
Year Launched: 2005
Youtube is the most popular video sharing and distribution platform that allows users to upload and share content, obviously for free. YouTube caters to everyone, whether you're an individual seeking a creative space of your own or the marketers looking for a video ad campaign for your organization.
When it comes down to sharing content on the platform, it spans a wide range of areas, right from music videos to online tutorials, movies, vines, and more recently, live broadcasts.
8. LinkedIn
Daily Active Users: 100 million+
Best use for: Professional Social Networking
Year Launched: 2003
Linkedin gained momentum as the world's most versatile social networking sites focussed on the professional landscape.
Linkedin has a large user base where Individuals use Linkedin for professional networking and job searching, and companies use it for brand positioning and recruitment.
LinkedIn is the most trusted social network in the U.S., where 73% of social media users agree that LinkedIn actively safeguards their privacy and data.
Also Read: 7 Powerful Multichannel Marketing Practices Mobile Ecommerce Businesses Must Adopt Immediately [Guide]
9. NextDoor
Daily Active Users: Unspecified
Best use for: Hyperlocal Social Networking
Year Launched: 2011
NextDoor is the hyperlocal social networking platform that allows users to connect with their neighbors and communities on a local level. On NextDoor, users can post updates, recommendations, and information about their neighborhood or local topics.
NextDoor coincides with a lot of similarity with Facebook with slight variations such as instead of 'like' reaction, it provides the 'Thank' option that is a more graceful way to interact with neighbors, I suppose.
10. Quora
Daily Active Users: Unspecified
Best use for: Online Q&A Website
Year Launched: 2009
Quora is the most popular question and answers platform that intends to share knowledge. This platform is laden with crowd-sourced information that means all knowledge-based content pieces are created, edited, and organized by users on the website. Quora users include students, professionals, journalists, and industry leaders, all keen to share their knowledge.
More than 35% of Americans use Quora, 65% of users have a college degree, and 28% have a graduate degree.
---
Keeping up with Social Media Will Be The Key
Despite the adverse events of 2020, social media remained strong and is set to upsurge in terms of social media users and in combination with emerging social media platforms for marketing. The better picture for you will be when you keep adapting to new trends spontaneously.
⭐ What is the impact of personalization?
Personalized marketing campaigns are becoming increasingly common, as consumers become savvier and more privacy-conscious. Personalization is big business. It's a tool that can be used in almost every facet of the marketing process – from CRM to content creation, email marketing, SEO and social media. 
⭐ Is AI the future of marketing?
Artificial intelligence is the future of everything, and marketing will definitely not be overlooked. The AI revolution has been going on for many years and does not show any signs of a halt in the near future.
⭐ How is AI used in social media marketing?
Step one of using AI is to define the purpose of your social media campaign. You must know what you want from it before you use the AI technology properly. The next step consists in developing a plan for the use of AI techniques.
⭐ Why has TikTok become so popular?
Tiktok offers the possibility of going viral by connecting with like-minded people instantaneously. Teens believe it has outperformed social media predecessors and captured the eyeballs of millions.
⭐ What is TikTok?
TikTok is a Chinese video-sharing application that allows users to showcase their creativity and share short-form videos on any subject.
⭐ What is a native post on LinkedIn?
A native post is one type of promotional content that LinkedIn offers to companies to share on the platform. It is similar in format and looks to a post on the user's own news feed. A native message can be shown to relevant users, depending on the enterprise's targeting preferences for scope and frequency.
⭐ How often should you post on LinkedIn?
Marketers should post twice a week on LinkedIn, with a maximum posting frequency of five messages per week to avoid being at bay.
⭐ How do you grow on LinkedIn?
The key to growing on LinkedIn is to share quality content that will be liked and shared by others or that will drive them to some kind of action. If you're interested in using LinkedIn to grow your business, raise awareness of your brand.