Channel loyalty is a myth. Even with promos, your ideal buyers will check and compare on other channels. Hence, eCommerce cannot stay put on one channel.
Jump Directly to
1 . What is Multichannel Automation?
2. Multichannel automation for mobile eCommerce – An Overview
3. Part 1: Why mobile eCommerce businesses should be doing multichannel automation?
4. Part 2: Using multichannel automation for mobile eCommerce businesses
5. Part 3: How And Where to Start With Multichannel Automation?
6. Building a multichannel automation strategy using Aritic PinPoint
This is exactly why eCommerce needs to be on multiple marketing channels and be selling on every channel where their customers are interacting on. And this is also why we have designed this multichannel automation guide for mobile eCommerce businesses specifically.
---
What is Multichannel Automation?
Multichannel marketing refers to using more than one marketing channel to acquire, nurture, and convert target buyers. Broadly, it can be classified between web and mobile.
---
Still Not an User of Aritic PinPoint Automation?
---
However, with the evolution of marketing automation, multichannel automation includes automation campaigns across mobile, web, landing pages, emails, SMS, push notifications, and social media. Businesses want to be everywhere to create digital touchpoints for their target buyers on all channels.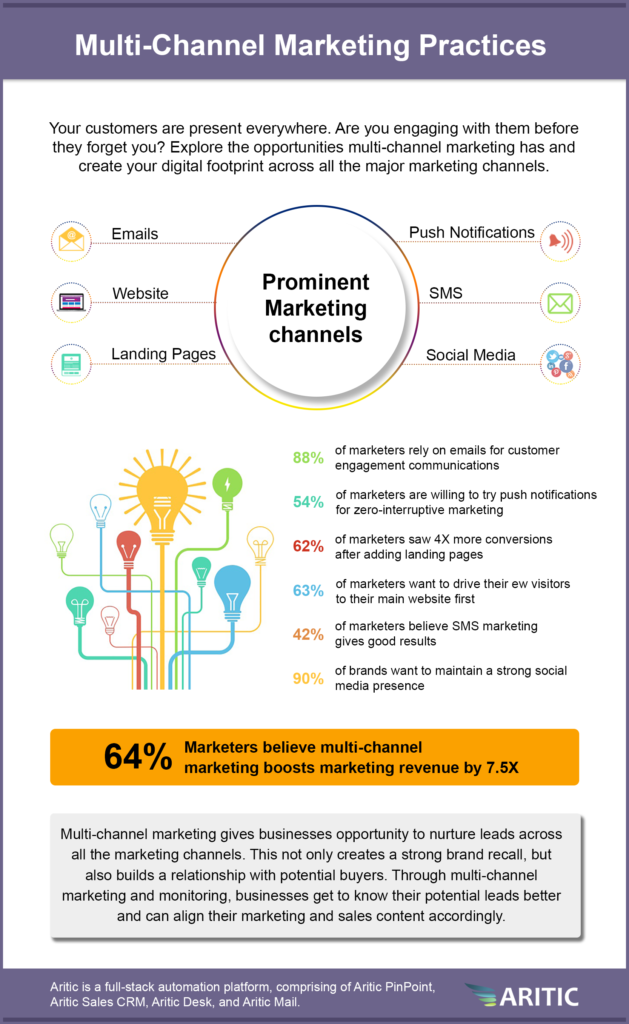 ---
Multichannel automation for mobile eCommerce – An Overview
The B2C realm has undergone a huge shift in the past five or six years. And, just like the B2B buyer journey, the B2C consumer journey is also no longer a straight-line path. It's nothing new to say that the way consumers shop online has drastically changed, involving multiple touchpoints.
Because they have access to multiple devices and are exposed to multiple channels, they will without a doubt, choose the most convenient platform to browse and/or buy. This change in the way we as consumers shop has perched marketing automation in the B2C realm.
In this multi-channel Automation Guide, we'll take a look at how B2C automation has now become indispensable for successfully engaging, re-engaging, and converting the complex, spoilt for choice online shopper.
In times when everyone is looking for the best service, tailor-made experiences, and wants to be absolute satisfaction out of their purchase experience, marketing automation cannot be ignored in B2C, at any cost.
---
Part 1: Why mobile eCommerce businesses should be doing multichannel automation?
A number of e-tailers are taking to mobile to attract shoppers on the go. With more than half of the whole internet traffic shopping on their mobile devices, if you aren't on mobile, you are missing out on half the share of the pie.
Moreover, in 2017 mobile eCommerce accounted for nearly 35% of total eCommerce sales. By 2023, this percentage is expected to hit more than 54%. Going by what these stats say and predict, going mobile is the only way to go strong.
However, when you carefully gauge customer buying behavior, you'll realize that most people only browse products on their mobile. When it comes to making the final purchase though, they'll take to the good old laptop.
This doesn't mean in any way prove desktop's superiority over mobile in eCommerce though. A strong takeaway here though is how can you use mobile marketing better to get more traction.
A multi-channel marketing approach is a must where you can run email campaigns for those who've visited your mobile eCommerce store but haven't added any products to cart, push notifications for those who've shown interest to buy something on your mobile eCommerce store by adding it to wishlist, or a retargeting ad on Facebook to someone who might have visited and browsed, say, category 'plus size clothes', and then bounced off.
Your shopper isn't thinking of mobile as a 'separate' channel. He is viewing it as a 'point' in a multi-touchpoint journey. So should you. Mobile, desktop, tablet, Facebook, Twitter, or any other – it's all just one thing – a unified, seamless shopping experience!
And, this holds true beyond the online realm as well. If you are a mobile e-tailor with a brick and mortar store as well, don't miss out on the vast potential that mobile marketing has to increase your in-store footfall.
All this brings us to two conclusions:
Mobile eCommerce needs a multichannel approach

A multichannel marketing approach depends on B2C automation in times when customers demand truly personalized, seamless shopping experience.
---
Part 2: Using multichannel automation for mobile eCommerce businesses
Instant service is the need of the hour, or else people will switch. Personalization is no longer a luxury; everyone's entitled to it.
---
Execute Effective Marketing Automation Workflows Now
---
Plus, there are tons of other mobile eCommerce brands eagerly waiting to snatch away your customers in case you fail to constantly engage with them with the right messages that keep their interest alive. It's too much work. It's challenging work also.
Thankfully, B2C automation (and this Multi-channel Automation guide) can be of help. With automation at your side, you can:
Engage with your customers relevantly, contextually, and on a highly personalized level.

Access a pool of user data to create immaculate customer profiles based on their demographic and behavioral data.

Facilitate one-on-one communication with your customers, at the right moment, using the right channel.
The idea of multi-channel marketing is to create a seamless experience, and thus a seamless brand story, across platforms.
It all begins with identifying the most ideal marketing channel to create automation templates, and then create an identical experience across all the other channels – emails, landing pages, social media, push notifications, and SMS.
Before we start building an ideal automation flow, here's a catch.
Despite all the hype and praises, mobile eCommerce can be frustrating for consumers and businesses alike. If we go by the reports, last year, mobile shopping was the fastest growing segment, with a 54% y-o-y growth.
Again, desktop accounted for 44% of traffic and still saw 61% of sale during the holiday season last year, as reported by Adobe Digital Insights 2018. This brings us to one of the surprising conclusions:
Mobile browsing does not mean mobile buying
However, one brand did prove otherwise. Shopify, last year, saw 64% of all sales on mobile on Black Friday and Cyber Monday 2017. It reported a 10% increase in sales y-o-y.
Confused now? Well, let me help here.
Mobile buying can happen only when you are focusing on the right kind of mobile optimization. Your eCommerce platform may offer endless discounts, but if the user experience is not good, sales will not happen even if you have visitors flocking into your application.
Going by this note, it is mandatory to understand that mobile optimization does not mean mobile responsive. Although responsive design is essential, it still does not optimize your portal for mobile visitors.
Yes, your visitors won't have to pinch and zoom all the time, but it continues to fail the specific needs of your mobile visitors. At its core, I'd say, responsive mobile design only goes about to make your desktop version look good.
What you need to do here is, put your consumers' need into your need for building a mobile portal. These two should align pretty well, with not a single straw out of the hay.
One amazing resource you can use here is the matrix that Inflow released in its last Mobile eCommerce report, stacking up how top eCommerce brands host mobile design and optimization criteria.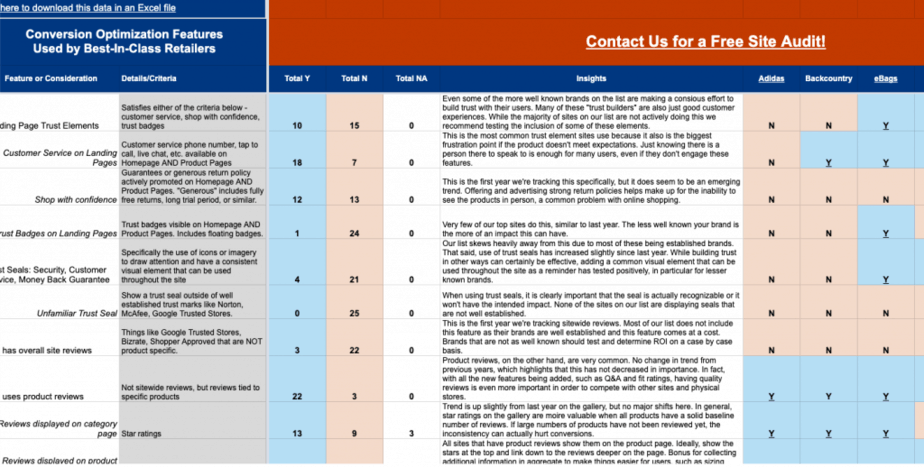 Access the entire matrix by Inflow
---
---
Part 3: How and Where to Start with Multichannel Automation?
To grow and scale your mobile eCommerce business, it is essential that you understand your buyer's journey. Ideally, your buyers will pass through four inbound stages – awareness, consideration, decision and purchase, and post-purchase.

You will have to identify the most fruitful channel for each of these stages based on your buyer profiles and business requirements. For instance, the awareness stage can happen over social media.
Post this, they may choose to visit your website, check reviews on other platforms, and then proceed to decision and purchase stage. Alternatively, they can simply not choose to purchase at all.
Your buyer's journey can never be a straight line. Each of your buyers will interact on multiple channels until they reach the decision phase. Chances are they will hit the purchase button, or they may make an exit as well from that point.
This reinforces the fact that your mobile eCommerce business HAS to be on multiple channels. You need to monitor each of these channels, do cross-channel marketing, and understand what and how your customers are interacting with you across all these touch points.
Another challenge is to STAND OUT. It is not just you who is aware that a buyer's journey includes multiple touch points. Competition is high, and your multichannel strategy has to stand out; not just that, it has to be effective for your mobile eCommerce platform.
Thinking that a mobile eCommerce customer will visit only on a mobile device is the biggest blunder you can make.
Your customers will look for information about your platform on all available resources. It includes web-based reviews, social media ads, search engine ads, landing pages, emails, videos, and mobile messaging.
You must have your multichannel automation strategy in place.
---
Building a multichannel automation strategy using Aritic PinPoint
You've seen so many eCommerce platforms merging their online and offline stores. For instance, Sephora, a cosmetics brand, has an offline store as well as online beauty tutorial videos for its users.
It is an indirect way of showing how the Sephora products work real-time, how skin-friendly they are, and obviously, give a slight nudge into buying the same, either online over its mobile app or website or simply walk into the offline store.
If you see minutely, the entire shopping experience is maintained across all the channels. You will find Sephora ads on your social media channels based on the products you've viewed earlier or a purchase you made or a tutorial you've watched.
That's how multichannel automation works.
If I take Sephora's use case – Sephora probably has segments based on only offline consumers, both online and offline users, only mobile users, behavior-driven, purchase history driven, video watching based, and so many more. And it surely automates its messages for each of these segments, to drive engagement and conversions.
The first thing to do is to opt for an advanced and integrated marketing automation tool. I'll save your time here because you've already got Aritic PinPoint.
[If you are not yet subscribed, quickly take a tour of how multichannel automation works, and get your free account asap.]
⭐ What is multichannel automation?
Multi-channel marketing Automation permits you to connect with qualified leads on multiple platforms for improving customer engagement and getting higher conversion rates.
⭐ Should every business use multichannel automation?
Businesses can create and execute marketing campaigns to promote their products or services on different social media platforms with the help of multichannel marketing automation software.
⭐ What is the difference between Omni and Multi Channel Marketing?
Omnichannel marketing focuses on consistent messages across all social media platforms whereas multichannel marketing concentrate on several social media channels.
⭐ Why marketing automation is useful for e-commerce marketing?
Marketers can streamline and simplify the processes of lead generation with the help of marketing automation tool for eCommerce Marketing.