Customer engagement is as important as gaining a customer in the business. In this enormous pool of people, how do you keep track of each user to provide them with the perfect content at the ideal time?
Quick Links
1 . The Ws and how of the drip email campaigns:
2. Why should we use email drip campaigns?
3. When should we use email drip campaigns?
4. How do we set up email drip campaigns?
5. The etymology of Drip Email Campaigns
6. Do Drip Email Campaigns Work?
7. Advantages of using drip email campaigns
8. Types of Drip Email Campaigns
9. Let's see how others are doing drip email campaigns: Drip email campaigns examples
---
Still Not an User of Aritic PinPoint Automation?
---
10. Setting up the Drip Email Campaigns
11. Useful Email Drip Marketing Hacks that you must know
12. Email Marketing Workflow Tips
Email newsletters are the best way to communicate your team's latest announcements. However, a new user will see only those emails that edit out after they have signed up. It is not possible to send the new user all the emails from the start.
Does that mean your new users will not get converted? Nope. That's not how email campaigns work. Enter drip email campaigns or automated email campaigns, which are easily designed so that when a new user joins, they will get the same set of email according to the timeline of their signing up.
Drip email campaigns comprise a certain set of email that are sent out automatically on a schedule. The first email is sent out importantly high when a new user signs up, which can be an excited welcome email; the next email follows a response within 3 days.
Then it can be on the weekend and followed with weekly updates along with the important ones. Many times, drip campaigns are triggered based on user behavior eventually taking familiar competition into consideration.
These campaigns probably often go by the exclusive members name of behavioral emails such as drip marketing, automated email campaigns, lifecycle emails, autoresponders, and marketing automation.
---
The Ws and how of the drip email campaigns:
What are drip email campaigns?
Drip campaigns are a set of automated emails that are sent out to nurture leads. These emails are sent either based on a fixed timeline or based on user behavior.
Email drip campaigns don't require designing when a new customer joins regardless of each phase of their journey.
It can be pre-prepared emails customized according to your business for all users, which also helps maintain synchrony and can be modified with just a pinch of personalization such as formal details like email address and user identifying credentials.
Drip Email campaigns are an effective way for brands to stay connected with their users during various events like when a user signs up, or when sometimes, when offers are released, when a user makes a purchase, or updating users about new products and services, etc.
---
Why should we use email drip campaigns?
Email drip campaigns have been a powerful marketing tool since the internet boom of the 1990s. The idea is to send out a series of emails to your subscriber over an extended period.
This technique is not just for eCommerce sites, but for any company that wants to grow their customer base and give them a reason to return. Email drip campaigns are also fantastic for email analytics – they allow marketers to see what content resonates with their audience and what doesn't.
In recent years, email marketing has been disrupted by social platforms like Facebook and Instagram. But don't be fooled – the email will always be one of the most reliable ways to reach your customer base because it avoids algorithms that can block ads or make them harder to find if you don't pay for advertising access.
Surely you wouldn't want to sit and type each email to all the customers, which can get hours and energy-consuming tasks. These automated-emails can send the same message required at a particular time to those on the email list. It also ensures none of your customers are left behind. Using these tools will simplify the process of engaging your customers at various phases across the strategy. It can also help bring back the lost or inactive ones.
---
When should we use email drip campaigns?
Drip campaigns are a great way to stay in touch with customers and provide them with content that is relevant to their interests. They toil by sending out emails at regular intervals, gradually releasing more information about the product or service that is being advertised.
---
Execute Effective Marketing Automation Workflows Now
---
The timing of email drip campaigns depends on the company's goals. Some may want to use them to drive traffic to their website while the rest may want to use them as a tool for collecting customer information.
Brands go as far as personalizing these emails by using the customer's first name in the email contents. Every drip email sent out is a part of an already written and scheduled email. In short, drip email campaigns can be defined as the art of sending the appropriate information to the right audience at the right time.
The critical thing to keep in heed here is that we don't want to annoy our customers by overdoing it. The perfect way is to design it to deliver the just proper content at the given time.
---
How do we set up email drip campaigns?
Email drip campaigns can be a great way to promote your products or services. It allows users to get the information they need when they are willing to do it, instead of having to go through a lot of unnecessary information.
Drip marketing is any technique that delivers content or offers over time, rather than them all at once. Drip campaigns can be used in many different ways, from selling products and services to educate customers about your brand.
We can keep the design so that we keep a good hold of the old customers and update the new customers with important information, making sure to do it without overwhelming them and at the good pace.
The new subscribers can be greeted with welcome emails and provide them with the essential contents and other regular email updates to ensure the best engagement drip when they become paying customers, giving them all the essential updates on the product with the buyer's journeys.
---
The etymology of Drip Email Campaigns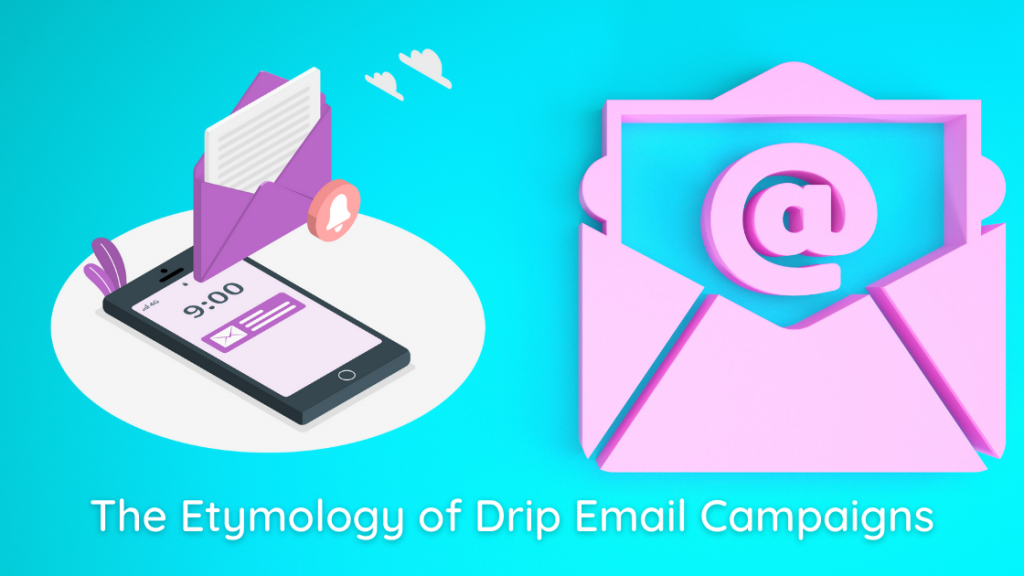 It is an interesting fact to note that drip email campaigns get their name from irrigation. In a manner, how a farmer nurtures a sapling, a drip-email campaign nurtures every lead and helps in conversion. The dripping is used because of its efficiency to save water and effort just like here to save energy and time to reap the best of results.
---
Do Drip Email Campaigns Work?
Drip email campaigns are usually a great idea because they keep the customer engaged with your business and make you seem more reliable. These kinds of campaigns are also usually pretty cheap.
A drip email campaign is an automated email sent out on a schedule, which continues to deliver content to the customer over a set period of time. Usually, these emails are used for promotions or as a follow up to an initial contact.
According to a research compilation by email marketing suite Emma–
Relevant emails drive 18 times more revenue as compared to broadcast emails.
Click To Tweet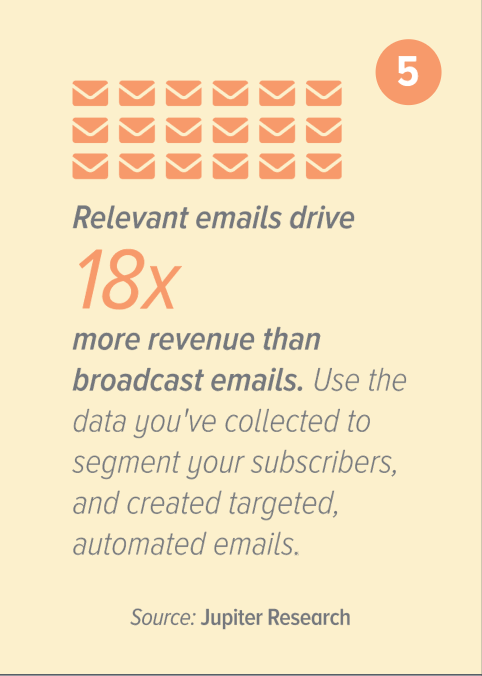 Now that is quite huge. This research guide also reveals:
These points only validate that drip campaigns can generate better results than email blasts without spamming your customers. You can segment your users and send drip email campaigns accordingly. For instance, you can have drip campaigns to educate your users or reward them or convince them to try a new product or service, and so on. Customer list segmentation goes hand-in-hand with the success of your drip marketing campaign.
For instance, suppose a user has been viewing your 'premium plan' page for some time. You can automatically trigger your drip campaign to send such users an email on how they will benefit by switching to the premium program.
That is just one part of how behavioral automated emails can work. The right message at the right time!
---
Advantages of using drip email campaigns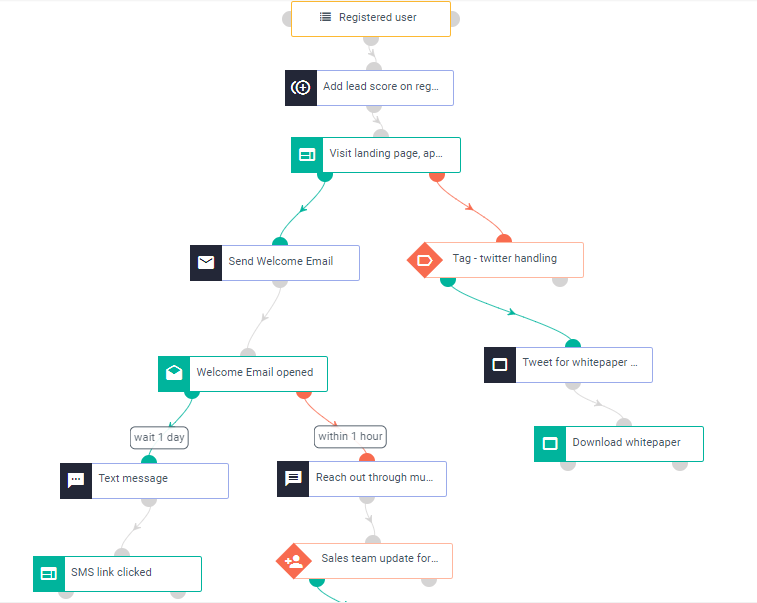 Email campaigns have become a standard way of marketing a product or service. It has been used as an effective tool for generating revenue for quite some time now. Drips are a novel twist to this campaign and they have many advantages associated with them.
This is why more and more companies are turning to drips as the preferred option of email campaigns.
Drip email campaigns are easy, effective, and time-saving. It helps you engage your users better and boost your user conversion. The main aids that email drip marketing brings to the table are increased open rates, engagement, and loyalty.
It increases brand awareness and promotes the relevant content, nurturing the marketing funnel and re-engaging with the unengaged clients. You can also attract those who had abandoned cart by informing them with offers like a discount code to get them to pull the trigger or some benefits of the product leading it to its sale.
Easy retargeting and on-time follow-ups: Cases may be where many leads have subscribed but are non-active or lack engagement. These leads don't close. You don't delete these leads. Instead, doing a drip campaign can help you keep these leads' warm' (slightly active).
These are leads that will take a lot of time and many drips to drive them to sale. However, when they are willing to make buys, you will still be around.
You can use drip email campaigns to upsell better products and services to these leads. You can cross-relate them or ask them to recommend to friends. The catch here is- there must be an incentive to this engagement.
Remember, they were inactive. To make them active, you need to offer them something that will push them to attract.
1 . One-click campaign automation:
Adding and deleting subscribers.

Moving lists in and out of the campaigns.

Applying tags
There is so much to a drip email campaign. All of these can be set seamlessly with just a click. It is an endless stream of possibilities customized to fit your needs.
2. Drip email campaigns workflow designing: Did you see the Lead Nurture Essentials video from LearnPad? LearnPad had created a 10-step drip email campaign to convince their educators to adopt their latest technology. Drip campaigns are automated and one-click affairs.
Once you have set the schedule or email flow and/or behavioral triggers, you are done. There is no putting an end to creativity here.
3. List segmentation based on prospects' interests: Sending out personalized emails enhance more conversions. You can segment your prospects based on their interests and accordingly schedule the drip campaigns. The more personalized is your drip email campaigns' content, the better it is.
4. Effective nurturing for Sales-ready leads: Like mentioned earlier, drip email campaigns are about sending the right information to the audience at the right time. Hence, if you are sending drip emails to sales-ready leads, it will show instant results.
Drip email campaigns are a great way to nurture high potential leads and get them converted. For sales, Drip email marketing plays an essential role in attracting customers like a light to a moth!
---
Types of Drip Email Campaigns
Drip email campaigns are effective, but too much of anything never works. Drip emails are no exception. If you overdo your drip emails, the chances are high that your users will unsubscribe from your email list.
Sending a balanced drip campaign using an email sequence software can be just flawless for reminding your users about your brand, creating awareness for your services and products, announce new launches, get users, and keep them posted about what's happening.
You can use this area with a lot of creativity and follow minimalism to deliver what is enough to do the desired work and reap the results.
Drip email campaigns are mainly used during these specific purposes-
1. Welcoming new users – it works well when a user receives a welcoming email from you as soon as they sign up, giving them a heads up to proceed with more involvement.
Onboarding of customers – introducing your customers to valued information like introductory or about brand values and the benefits of engaging with you.
2. Nurture Leads – nurturing them in many forms like newsletters, sticking to throughout a buyer's journey with valuable content relevant to them, and encouraging and convincing your product's purchase.
3. Shop cart abandonment – People go all the way to add items to the cart but change their mind at the last moment for various reasons and leave without actually buying the product. To get back such customers, you can pursue them again with new offers on those products, and here you must make sure it catches your reader's attention and instills curiosity in them to fetch them back to the purchase.
4. Recommendations – It's good to know what your customer likes and dislikes; some algorithms show the desired suggestions to their similar searches and buys to increase their engagement of your website and lead to more sales.
5. Renewals and confirmations – Here, you can assist them with providing renewal dates of their subscription or giving them resourceful links to update their content or contact if needed any assistance. Confirmation mails also play a significant role after a purchase is made. They assure that the purchase was successful, and it can also act as tracking the product's delivery. Also, a thank you note after a purchase shows the politeness of your company.
Educating customers is crucial to educate your customer about your brand and its values, the products it caters to, and any new updates that the customer must know.
6. Unsubscription of users – sometimes subscribes slip off but to keep the engagement and attempts to bring them back, you can follow them up from time to time if they catch up to something they grow interested in your feed.
---
Let's see how others are doing drip email campaigns: Drip email campaigns examples
1. Welcome Email from SemRush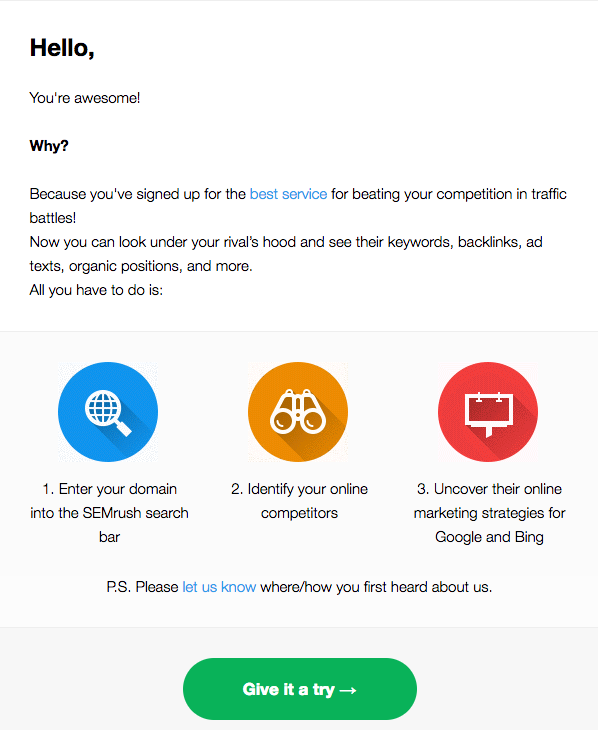 Welcome emails are an ideal way of manage to saying, "Hi, it's great to meet you."
According to the whitepaper updated on Welcome Emails by Experian, automated welcome emails received a 58.7% open rate on average, while that of regular emails was just about 14.6%.
It also slowly revealed that the open rate spikes up higher to 88.3% if a welcome email is sent instantly after the user signs up finally.
2. Onboarding of new Customers from Cloud storage app Box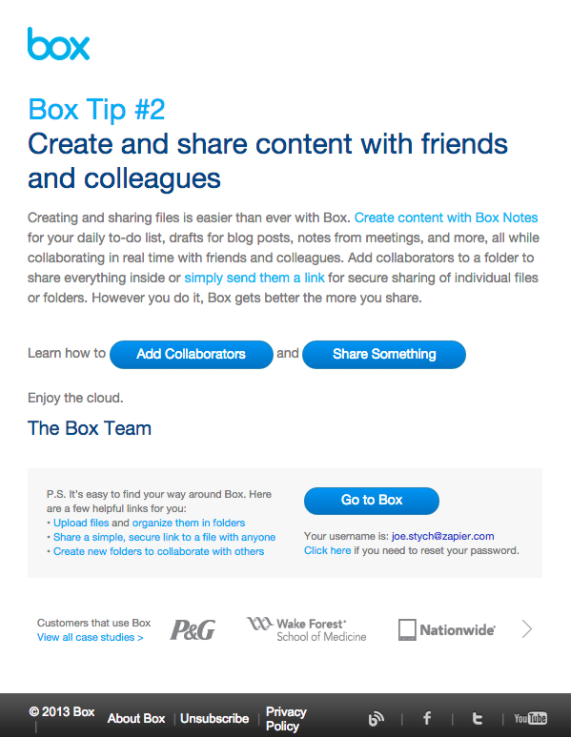 You can get many page views, and many users will sign up for the free trial. The real catch is to convince them to sign up for a paid plan and be with your brand for a longer time. It is where drip onboarding emails help. Such drip email campaigns offer a small 'sell' that is highly targeted. Smaller goals and baby steps go a long way.
3. A confirmation email from Medium, a blogging platform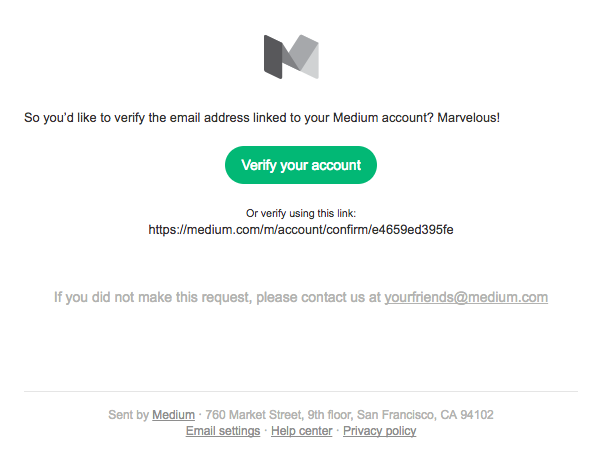 Brands today use emails to confirm user registration after they make a purchase or sign up for free trial. It is more like closing the deal, but that doesn't indicate that support from your drip emails are no longer needed.
Once a user has signed up, you can either schedule drip email campaigns to give it a shot to say a thank you, or use as a reminder to them about the renewal of purchase, or especially include links to your products or services first place first step.
Be opened to sending out receipts away (or automatically sent) of any purchase made instantly is essential. That actually validates customer support and offering that creates a base for customer certitude and interested point.
This approach of corroboration emails on ticket or train bookings or hotel room bookings followed behind by basic reminding users that they found about that upcoming trip a few days before the trip is a perfect necessary example.
---
Setting up the Drip Email Campaigns
Setting up your drip email campaigns is not as daunting as it may look like. A drip campaign can be set up in a few simple steps. Below is a guide to setting up a drip email campaign.
1 . Spot your target audience first.
You cannot send many emails to your existing user list about something they did not sign up for. You can sub-divide your lists into various segments based on demographics or actions, or interests. Drip email campaigns are more like niche email marketing.
2 . Draft your content carefully.
Once you know which user group you are sending out your emails, you will need to carefully draft your message that is helpful and grabs the eyeballs. You need to be sure of what you want to communicate or rather the purpose of your drip email campaigns- is it to educate your users? or sell a product? or re-engage existing users?
Bonus Read: Jimmy Daly, the content editor at Vero, broke down a promotional email from Evernote to highlight the importance of content structuring.
3 . Plot out your campaign.
Before you set a drip campaign, you will need to chalk out the plan of action. Which email will go after which and when must be pre-decided. All your email templates must be prepared accordingly. For instance, for user nurturing, you can include emails like:
Send updates
Weekly newsletters
Educational content
Offers and discounts
4. Start your campaign.
You have everything ready- email list, email content, and email sequence. Now, you get going. You will need to implement drip software for this purpose or opt for a marketing automation tool that offers all the automation features.
5. Evaluate and Modify.
Drip campaigns got to be automated. True. But if you want to make this automation function, you will need to supervise and monitor the whole functioning. You will need to see if a particular drip sequence to a list is giving you the desired results.
If not, you will need to modify the email sequence or may edit and write the email content.
Sometimes a good informative subject content or problem specific content might work wonders that recent meet their expectations, while other times, it will not. So, it is important to evaluate your drip campaigns running, adjust and repeat.
---
Useful Email Drip Marketing Hacks that you must know
99Firms, a digital marketing agency, has recently put together 15 awesome email marketing hacks in an infographic. Each of the hacks is practical and is sure to drive real results to your email marketing automation campaigns. P.S. Implement them properly.?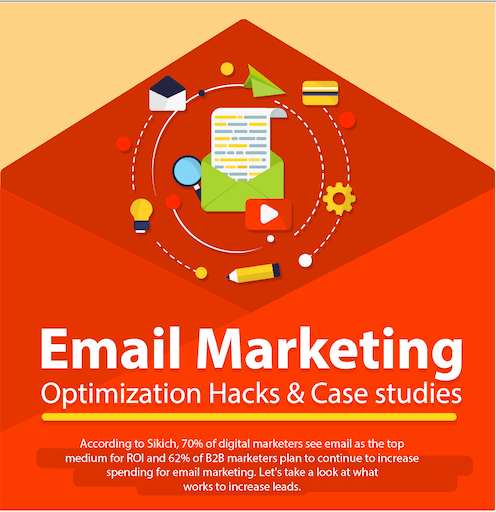 Source: Infographic by 99Firms
This infographic will take you through the hacks that will help you draft the perfect email campaign. Be it subject line or sender's name or personalized email content – each aspect of your email plays a pivotal role in helping you drive engagement, followed by acquisitions.
Drip email campaigns are not only about creating a series. You must also pay equal attention to how you are drafting each email in terms of tone. It is at this stage that this infographic will come in extremely handy. Check out the entire infographic here.
---
Email Marketing Workflow Tips
Below are a few simple guides to what kind of emails can be used for each event.
Welcome campaign
Once the user signs up and you send out a welcome email, you can follow up with emails on:
Tips
Various industry trends
Free eBooks
Case study compilations
Webinar invitations (if applicable)
User onboarding
After welcoming users, next is helping users to onboard seamlessly. User Onboarding involves small goals and niche 'sell' tactics. Often such email sequences consist of emails like
Tips and best practices
Offers and discounts
User nurturing
Whether the user is new or inactive or active but old, nurturing can never be over. You will need to send out emails that will keep them engaged with your brand. After all, out of sight means out of mind! User nurturing emails include emails on
Product updates
Weekly newsletters
Informative contents
Product engagement
The more engagement on your product, the better are the chances of conversion. For elevating product engagement, drip email sequence can have emails on
Product feature highlighting
Informative content about the industry in general
Regular email workflows
While above are some specific user events, a regular email sequence can email like
Newsletters
Feedback emails
Drip email campaigns are effective when you are using the right drip email marketing software
Aritic PinPoint can help you do drip email marketing automation campaigns effectively without consuming much of your time.
It is a full-stack marketing automation suite that includes email drip campaigns. You can build an automated drip email sequence within Aritic PinPoint using the drag and drop email drip builder.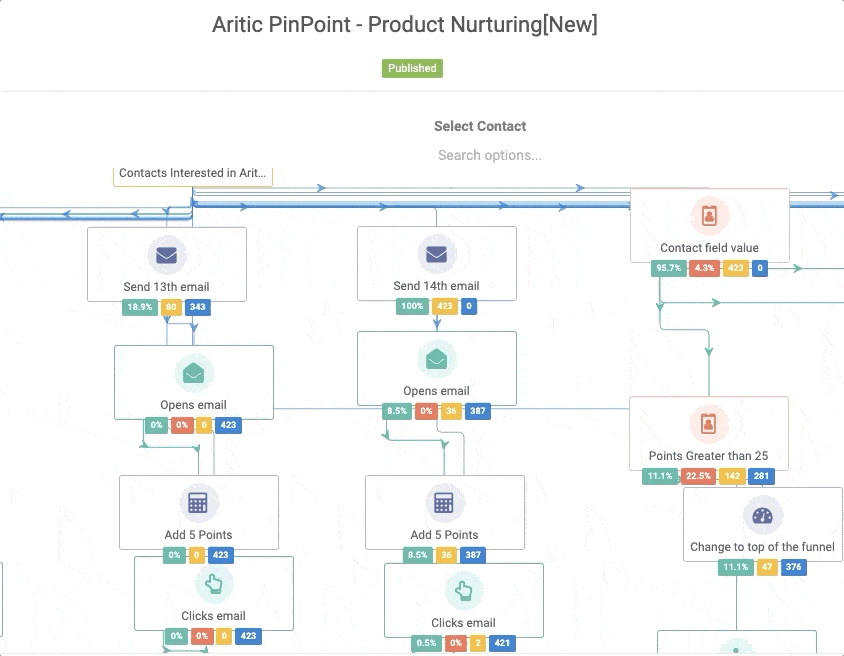 On top of this, Aritic PinPoint has beautiful and responsive drip campaign email templates that are ready-to-use. You can customize them if you want to. Analytics and tracking are strong and gives you real-time overviews.
Drip email nurturing is essential, and Aritic PinPoint has all the drip email campaign tools that you'd require. Take a quick demo to see how drip email campaigns can be built within Aritic Pinpoint or straightaway sign up for a free account today.
⭐How many emails should a drip campaign have?
There is no exact number of emails to send, but we do know that it should be a series of at least three or more. The goal of the drip campaign is to keep the person interested and engaged in your business.
⭐What is the most important KPI for email marketing?
In the world of marketing and advertising, there are numerous metrics used to measure success. But there is one that reigns supreme above all others: conversion rate. It's easily the most important metric for any business interested in growing their revenue through email marketing.
⭐What should we look for in email marketing analytics?
Email marketing analytics is made up of four necessary components. Some of the most important ones include open rates, click-through rates, unsubscribes, and bounce rates.
⭐What is a good email engagement rate?
The emails with the highest engagement rates are those that have a clear purpose, a personal touch, and a sense of urgency. Depending on the industry, a good email engagement rate is between 10-20% or more. It means that out of 100 people who open your email, at least 10-20 will take some type of action.
⭐Is email marketing more effective than social media?
One of the biggest debates among business owners is whether email marketing or social media is more effective in reaching customers. Both are effective, but each has its own set of advantages and disadvantages that should be weighed before deciding on a marketing strategy.
⭐Is email a performance marketing channel?
Performance marketing is the use of digital marketing channels to drive measurable impacts on business results and, ultimately, business growth. And, yes, Email has become a key performance channel for clients and agencies alike.
⭐Is email marketing growing?
The short answer to this question is yes. The longer answer takes us back to the early days of email marketing when most businesses were sending very generic emails that did not relate directly to their customers and were not tailored for mobile devices.
⭐Is email marketing underrated?
Email marketing is one of the most effective marketing channels out there. It has an ROI that blows other channels away, and it's still growing at a rapid pace. That said, email marketing is often underrated. And with good reason – it can be really tough to get your email campaigns right.