Looking for marketing automation examples that you can follow? We've got you covered, but before that, here's why we are discussing marketing automation, and how to do it.
A recent survey establishing the state of marketing automation points out that 80% of the respondents already have marketing automation deployed for work. And, though there were a number of reasons why these respondents were using marketing automation for, the predominant three reasons why they use it include lead generation, lead nurturing, and account-based marketing.
Valuable insight from the same survey is that 19% of people said that the biggest challenges to successfully implementing marketing automation are lack of good quality content and the complexity of using these platforms.
Marketing automation is, however, extremely widespread and popular because its advantages outnumber the complexities. If you are able to wisely pick a tool easy to use, built exactly for your business, and is in your budget, marketing automation presents little or no challenge. Forrester predicts that Business spending for Marketing Automation tools will grow to reach $25.1 billion annually by 2023 from $11.4 billion in 2017! Needless to say, you should be putting your money in smart marketing automation tools.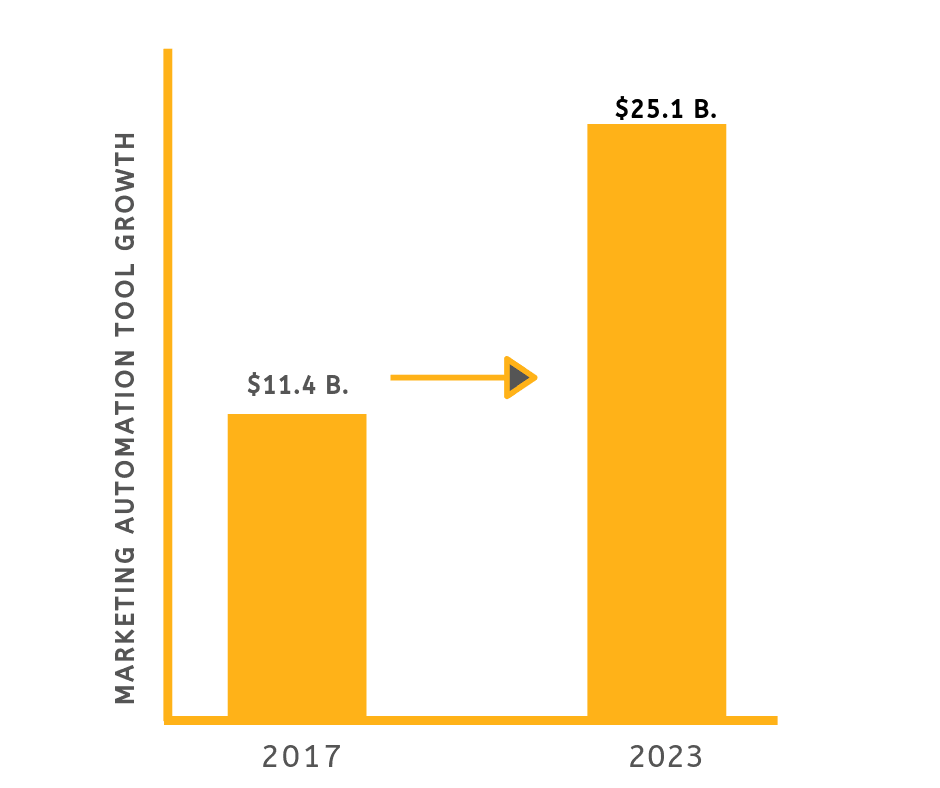 If you are still considering whether marketing automation is the way to go, here are 11 b2b marketing automation examples to read through. Know for yourself how automation helped people take their campaigns on new heights.
11 high performing B2B Marketing Automation Examples
Bonus brownie: In most of the below marketing automation examples/case studies, you get an analysis on what could possibly be better about the B2B campaigns in the discussion.
(1) CentricsIT boost lead generation by 59% with marketing automation
The first marketing automation example is of CentricsIT.
Prior to automation, CentricsIT didn't have any proper or structured method of tracking leads or nurturing them. Leads were thrown into the email marketing person's inbox to be checked, sorted, and manually forwarded to Sales. Initially, they engaged in approaches like batch and blast emails, for instance, "Holiday emails" like one below: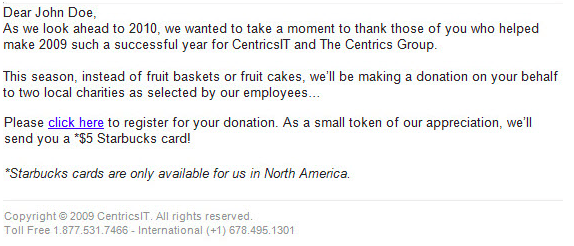 This unstructured, unfruitful method was put an end to with the introduction of marketing automation in the process. Leads were, thereafter, automatically directed from landing pages to sales reps. Post implementing a marketing automation tool, the CRM of CentricsIT looked something like this: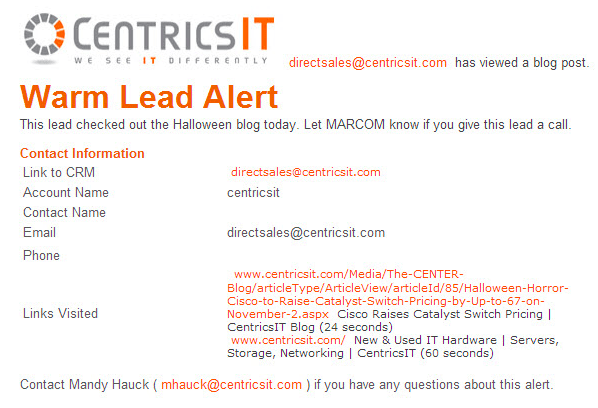 As a result, CentricsIT's lead generation increased by 59%, and $1.5 million in revenue was directly attributed to the implemented marketing automation technology.
What's good in this case study: CentricsIT moved on from sending blast emails to the right approach of sorting leads and then running more intelligent, automated campaigns for them. Another good thing that the company did was integrating email with website lead tracking. Therefore, now emails could be sent based on users' web activity. Leads could now be directed directly from landing pages to sales representatives, instead of first being directed to the marketer's inbox.
What could be better: Qualifying leads is something that the sales reps would have to take up. Instead, with lead scoring in place, CentricsIT could identify the potentially most valuable leads, thereby making the process even crisper, shorter, and efficient.
(2) Marketing automation example improved lead volume by 200%: SmartBear
Another amazing marketing automation example comes from SmartBear who triggered rapid lead volume using automation.
SmartBear Software, a B2B cloud mobile software company, was witnessing rapid growth. Processes became difficult to manage manually, and the need for automation was felt.
With Automation in place, the team first starting implementing and testing a few email campaigns. Having learned from challenges and successes, SmartBear quickly began to implement lead nurturing to handle a high volume of leads. As a result, lead volume grew by 200%. The whole idea to have marketing automation in place was to ensure that there would be a scalable infrastructure to match the expected growth.
You can read the complete case studies on the different challenges and the solution that SmartBear took to implement automation, here.
What's good about this case study: SmartBear had three product groups at the time, so to nurture the high volume of lead generation, nurturing paths were created for each product group.
What could be better: Along with generating a good volume of leads, SmartBear should also have focused on quality lead management with gated content, progressive profiling, and other capabilities that a smart marketing automation platform offers.
(3) Personalization Increased online registrations by 15%: Brainshark
Third, in our list of marketing automation examples to follow is Brainshark.
Brainshark is a B2B software provider offered a freemium product for a product of its enterprise solution and a free trial for a different product. The challenge was converting their non-paying users into customers. To convert freemium users into paying customers, Brainshark first ran some analysis to understand the why behind 'freemium' users would not convert.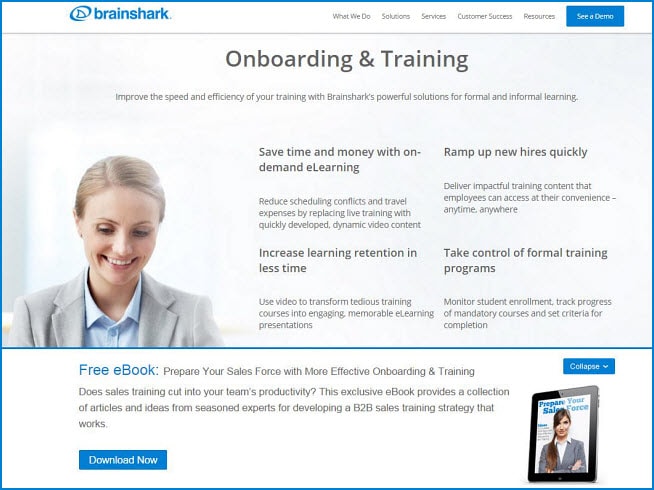 Source: MarketingSherpa
They discovered that:
Those users who signed up for the free product weren't always using it

Users would register, but never even start using the product

Users who registered and uploaded presentations weren't going further ahead and sharing them
With this analysis at hand, Brainshark knew it had to create 'pipelines' to get non-paying customers closer to buying at every step of the pipeline. Marketing automation was the only logical approach to get people to respond to in-trial messages.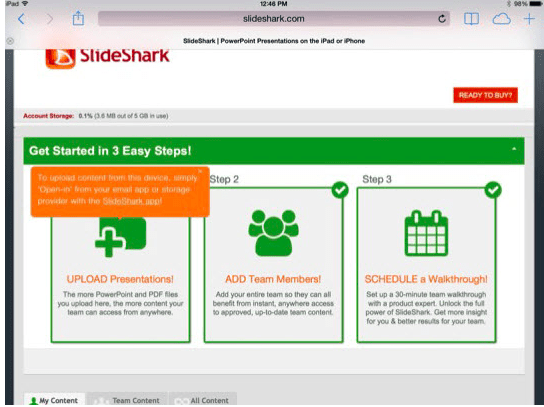 Source: MarketingSherpa
They started by showing users messages inside the product interface, to guide them through the steps. This communication expanded to ads and pop-ups on their site to communicate with existing users. These messages were educational in nature, such as tips and tricks.
Here's the entire case for you to read.
What's good in this case study: From basics, Brainshark moved to 'personalized' messaging. Personalization began when a visitor landed on one of the three main areas on Brainshark website: sales enablement, marketing solutions or onboarding and training. These messages were shown based on data points such as time on site and pages engaged. Brainshark also intelligently used personalized messaging to upgrade existing users.
What could be better: At the time, Brainshark was running personalized messaging only for 'logged in' users. They were planning to take this a step further by trigger personalized messaging via email also. The who campaign would take to a whole new level with personalized drip messaging for communication across all channels.
(4) 200% Increase in conversions with email personalization: The Expert Institute
The Expert Institute's marketing automation campaigns made to our marketing automation examples list because of its sheer brilliance.
The Expert Institute has been constantly growing (not just in size) but also in the span and smartness level of its operations. The legal service platform that matches experts in their database with attorneys and investment firms who might need them. With the growing database, The Expert Institute saw and sought opportunity in marketing automation.
They started out by running just one email marketing campaign. They imbibed personalization in their campaign by sending out all emails from the vice president of client relations, George Cuchural. They further ensured all subscriber first names were used in the email.
You can read the whole case study here to find out how the company earned a 60% email open rate, 20% click-through rate, and a 200% increase in conversions by personalization. For instance, here is an email that was sent to the most engaged group, post segmentation of users into less active, moderately engaged and most engaged groups.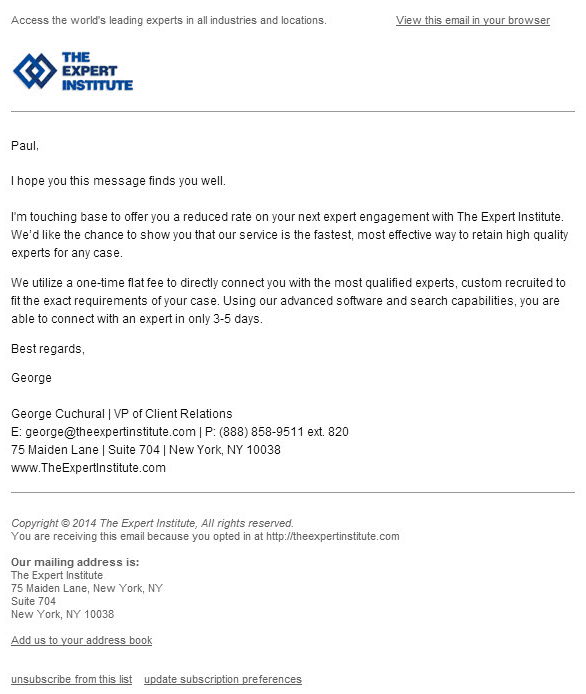 What's good in this case study: Taking personalization a step further, The Expert Institute, bifurcated users based on their engagement levels. And, emails were sent according to this segmentation. For example, the least engaged people were sent free e-books. And, those who were most engaged received messaging that directly addressed their need for services.
What could be better: Nurturing leads could be done using multiple channels and not just email. The Expert Institute could have used SMS, push notifications, web notification, on-site widget, and social media, for the same.
(5) Marketing automation helped in a 175% increase in revenue: Thomson Reuters
Just like most big organizations that are rapidly growing, Thomson Reuters was also failing to align sales and marketers. They were also running blast, broadcast campaigns. Segmentation was nowhere in the picture and leads were being sent without being qualified, from the marketing team to the sales team.
To improve the processes, marketing automation was implemented. With this step being taken leads were first consolidated using a CRM. Thereafter, a lead scoring criterion was put in place. Next, ideal customer profiles were created.
All these changes, thanks to automation, were resulted in a 23% increase in leads being passed to the sales teams, and a 175% increase in revenue attributed to marketing generated leads. This is exactly why Thomson Reuters is here in our marketing automation examples list.
(6) Behavioral segmentation improved open rates by 9%: Mailigen
Mailigen was struggling to get a higher open rate on its emails newsletters. To accomplish more and better than the industry average rates, Mailigen implemented behavioral segmentation in email marketing.
To start with behavioral segmentation, the company first selected those subscribers who hadn't opened the email. Then the email title copy was optimized and resent to the list of those people who hadn't opened the email in the first go. They first started with sending out an email to the group who did not open their emails. They drafted an email on using symbols in emails, and the email looked like this: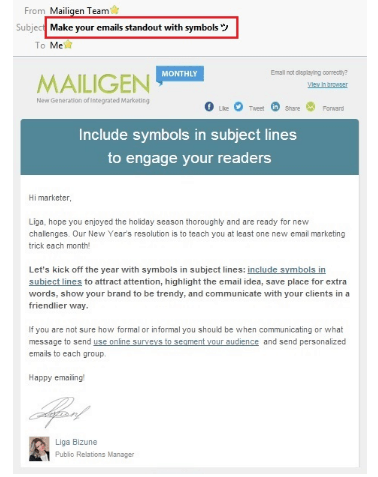 However, the open rate was only 20.5% which did not appease Mailigen. So they opted to send out the email to the group who did not respond to the first draft, but with a slight change in the headline. Their new draft headline read: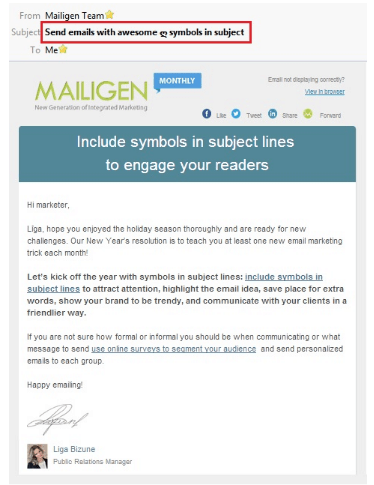 Around 8.6% of subscribers who did not respond to the first email responded now, leading to an open rate of 29.1%. A simple change in the headline and behavioral segmentation helped Mailigen improve their email open rates.
What could be done better: To further get more value and clicks out of the campaign, Mailigen could have run behavioral targeting using web push notifications as well.
(7) Dell saw a double-digit increase after testing templates: A/B Testing and Automation
The team at Dell wanted to optimize and give their email templates a fresh new look. Another goal of optimizing these landing pages was to improve results on key performance indicators as well. Getting more specific, they first wanted to determine the impact of making changes to the typical email top navigation that most companies stick with.
As per their hypothesis, shifting the traditional top navigation to the email footer could lead to greater hero engagement, and improve results.
If you look in the industry, there's different industry research and case studies. Some support the usage of the header along the top and others take it out. That was something we hadn't tried before at Dell. ~ Jessica Vogel, Senior Global Marketing Manager, Dell.
The team decided to split test their navigation bars in the emails – The control version had links to various products of Dell placed at the header space. This matched the navigation on Dell website. The variation had the navigation bar at the footer of the email. In this version, instead of plain links, the team decided to try placing iconography within the footer.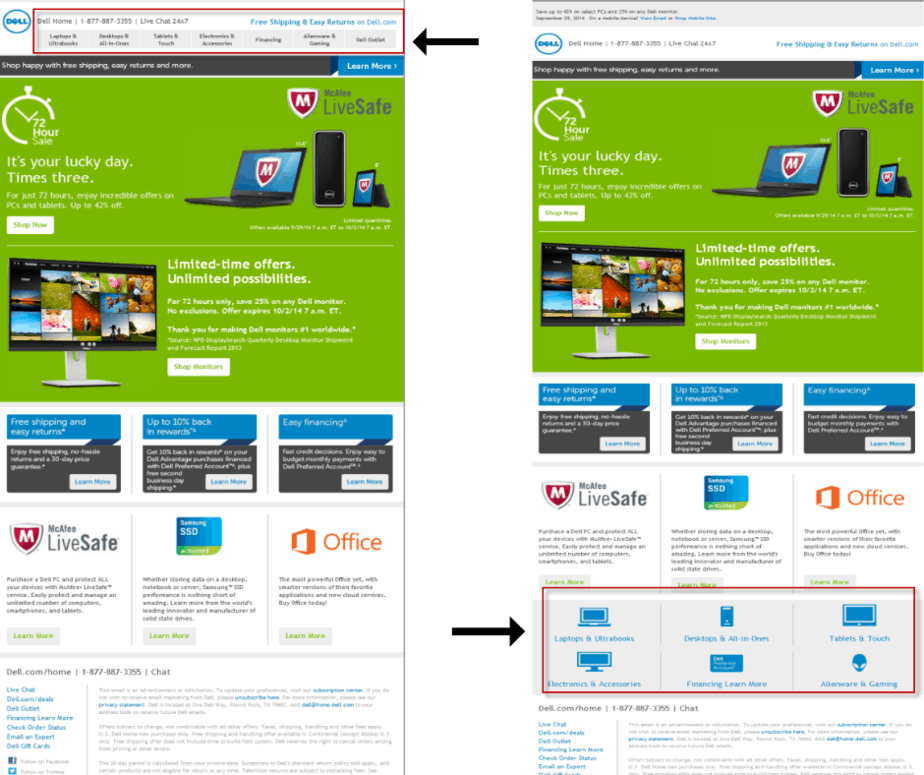 As a result, they were able to reduce the noise before the recipient sees the actual message in the email.
We did not want our recipients to just come and browse through our main website. That wasn't the aim of the emails. We wanted them to see the hero message and take action against it.
With an added focus on creating the designs mobile responsive, Dell saw a double-digit win by simply testing their navigation bars in the emails and aligning the same with their global customers.
What's good in this case study: They ran an A/B split test to learn and understand the results of these new email templates. And, to find out if the new template design helped customers navigate more consistently to the primary call-to-action.
(8) Live chat improved B2B relations for a manufacturing business: Hunter Engineering
Customer support is key to long-term relations. Hunter Engineering, a leading manufacturer, wanted to improve its B2B relations and thought wisely of investing in live chat. By automating on-site chat, this manufacturer wanted to provide on-the-go service for its clients.
The company realized that a huge number of people before picking up the phone and calling to reach the service representative were going to the website. That's where the opportunity for automating support came into the picture. The conducted a webinar with Comm100 to reveal how Live Chats became their best option in steering customer conversations and improving their B2B relations further.
The key improvements Hunter Engineering made with live chat were:
Smooth and immediate interaction with leads or customers
Reduced sales cycle
Read the full story here which also includes the risks of implementing live chats and automation.
(9) Five9 increased conversion rates by 300% with an ebook effort
Five9 is a call center software that wanted to align their content and funnel their prospects onto their sales teams. To achieve this goal, they ran a complete campaign using marketing automation.
They started out by creating customer avatars, by interviewing their current customers. Next, they created an eBook using the feedback from the interview/survey. Additionally, they used sections from this eBook to be repurposed and republished on different social media marketing platforms, as well as blog posts. They even used re-purposed content for lead nurturing.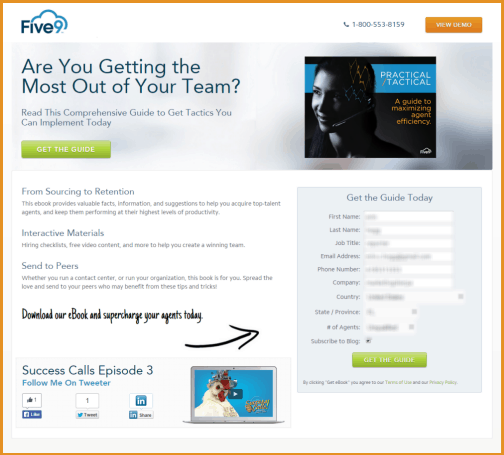 The eBook was divided into 9 sections, which were then recreated as blog posts and social media posts. Pat Oldenburg, Senior Manager of Content Marketing, said
We had a whole social plan. We had a blog plan, where we had 10 blog posts total and several social posts for each of those. We also turned it into a nurture campaign. This included:

11 blog posts
33 social posts
2 e-book download
9 assets in the nurture campaign (9 guides with 9 landing pages and emails
6 emails
Read their complete success story here.
(10) Automated Email Drips can convert non-paying customers: Box
Box, a software company, wanted to run an onboarding campaign to convert more trial users into paying customers.
To do so, the company created what they call "Box Tips". These were a series of email-based content based on key product features. Creating such education content and serving it at relevant time periods makes sure that the user keeps moving closer to completing all steps, one-by-one, till he becomes a billable user.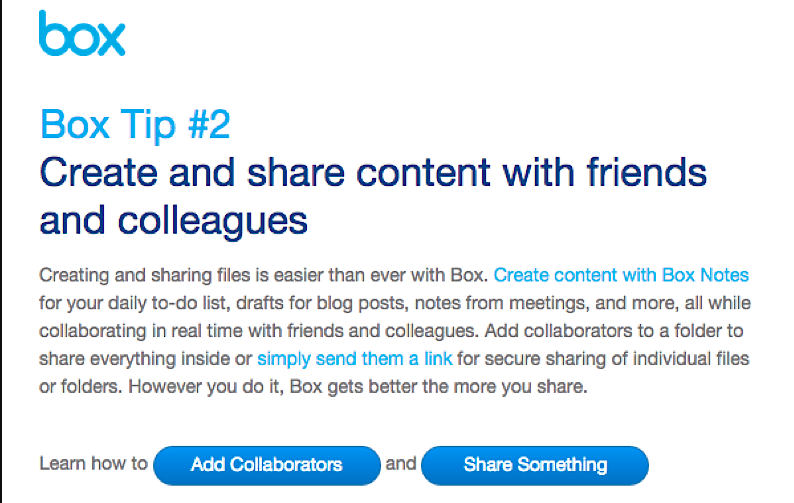 What could be improved: Probably instead of focusing only one channel, which is email, companies like Box can run drip campaigns on multiple channels.
(11) Optimizing forms can increase conversions
A basic and now a well-known finding is that forms that require you to fill out all fields will increase bounce-offs. On the other hand, forms that don't require you to fill all fields will have a higher registration rate. Sometimes, the shorter the form the better. And, even the automated form filling option saves users the time and effort of registration. These are some of the form optimization case studies that show which version won.
In one of the three case studies that we've linked to, the question being asked at hand was whether you should ask users to fill out all form fields. The result, however, proved that you don't really need prospects to fill out all fields to get all data about them.
Additionally, reshaping your forms into more interactive experiences such as a calculator, assessment or quiz can get you 2x more conversions than static forms. You still collect the data you need and lower the threshold in doing so by offering useful, personalized information in return.
By analyzing the way your visitors answered the questions in the quiz, you might even discover additional insights about their preferences that can help you in the nurturing process. There are lots of assessment tools out there that could help you achieve this.
Build a successful B2B marketing automation workflow
All these marketing automation examples allude to just one thing – you need to build your marketing automation workflow right. Each brand in the above marketing automation examples used marketing automation to break down the blocks that were keeping the leads from becoming customers. But you can make your marketing automation strategy pitch-perfect by implementing an advanced automation suite. Try Aritic PinPoint not because I am saying but because this tool is comprehensive, fully integrated and is user-friendly. Here are whats more:
Easy onboarding and user-friendly UI.
Advanced lead management features including lead source analysis, anonymous lead nurturing, 360-degree lead profiling, predictive lead scoring, and lead tracking
Progressive profiling for better lead capturing
Multichannel marketing – emails, landing pages, push campaigns, SMS campaigns, mobile marketing, social media marketing, and web.
Multichannel drip automation campaigns
Detailed analytics and A/B testing
Ready to use and responsive landing page templates, email templates, social templates.
Advanced social media marketing with social bots
Deals and Pipeline features for sales team exclusively
Improves team productivity and aligns marketing-sales.
Account-based marketing for enterprise clients; and more.
Take a full tour of Aritic PinPoint to decide for yourself or straightaway sign up with a free account to build your ideal marketing automation strategy now.