Push notifications are engaging messages that gently reminds you that you have an app installed on your smartphone. These are short messages that are sent based on your app-behavior (as well as behavior on the website). They are non-interruptive and does not interfere with your browsing even if you are not on the app.
Push notifications have become sophisticated and targeted now. However, it dates back to the time when Blackberry became the first one to launch simple alert messages targeted at business contacts. Blackberry was followed by Apple who launched push notifications for iOS users. Later Google followed suit when it launched its Android devices.
Today, push notifications have become an integral part of an automation strategy. Marketers are clubbing push campaigns with other marketing campaigns like emails, Facebook ads, and SMS campaigns. Infact, the new-age marketers are creating touchpoints across multiple marketing platforms to ensure that engagement keeps happening throughout.
In a time when consumers have so many options and so many distractions, push notifications serve the innate purpose of nurturing leads and customers. After all, marketers can't take the risk of 'out of sight, out of mind' in business.
Once again, what are push notifications?
Push notifications are a smarter way of communicating with your target audience even after they have logged out from your app. A study by Localytics revealed that 52% of smartphone users have push notifications enabled on their smartphones.
These notifications are often confused with pop-up messages. However, these two are poles apart from each other.
Push notifications are broadly of two types:
Web push notifications

Mobile push notifications
As the name suggests, web push notifications are browser-based notifications that are shown to your visitors and leads. They don't need to be browsing on your website to receive one, but yes, they have to give their prior consent to receiving them.
Mobile push notifications are those that you get on your mobile phones. You may get mobile push notifications from brands that do not have a mobile app. This is possible because marketers use website traffic information to create another set of touchpoint on your mobile devices to keep you engaged.
To do web push notifications, you have to HAVE a website but to do mobile push campaigns, you don't always have to have an app.
Mobile push notifications have their own set of benefits, like –
Building a better brand reputation by delivering valuable content

Promoting products and services in a quirky way

Engaging users who aren't on the website
This feature comes more handy for eCommerce platforms, especially in triggering actions post cart abandonment.
Yet, legendary entrepreneur, Gary Vaynerchuk, had once proclaimed "Marketers ruin everything".
Brands have already realized the potential of mobile push notifications but they tend to overdo it at times. The overdoing goes to an extent that annoys their users and forces them to turn off push notifications permanently.
According to PushCrew, more than half of the respondents in the survey said that push notifications irritated them.
Almost 62.75% of subscribers said that these notifications are too many in numbers.

44.82% of subscribers said that they received them at odd hours.

The primary revelation was that almost 55.74% of subscribers found push notifications invalid and irrelevant.
Source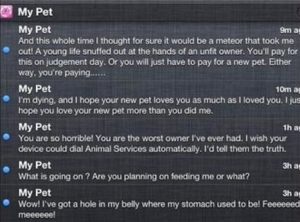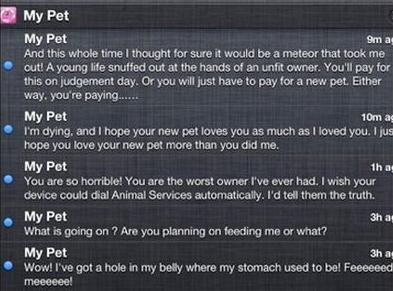 For instance, My Pet app received harsh criticism after sending out continuous notifications to its users. Apparently, a 9-year-old girl received these notifications which were offensive and downright dark. Messages like "You are horrible! You are the worst owner I've ever had" was not very appropriate for young children. Ouch.
Segmentation is crucial.
Push notifications trigger 26% more app open rates and 92% higher retention. Urban Airship took data of users who opt-in vs. users who didn't for a period of 6 months after the initial download of the app. Their study saw the following results:
30% of the users were still using the app after receiving push notifications.

20% of the users were still using the app who did not opt-in for push notifications.
The study revealed a clear picture that push notifications managed to retain 10% of more users.
Similarly, a study by Localytics revealed that only 15% of users were converted from broadcast messages. In comparison to this, almost 54% of users converted from a segmented push.
Conclusion: You end up having 300% more chances of converting your users with proper segmentation and analytics.
N.B.: If you are thinking of using emails rather than push notifications, I'd say, pause a bit. What if I told you, push notifications to trigger 10X more opt-in rates than emails?
The decision of using push notifications has, for most, been overpowered by the idea of using emails. Yes, mobile emails are a great way to nurture your subscribers. But expecting your subscribers to take note of your emails instantly is vague. You can schedule your email according to your subscribers' time zone but whether or not they will see it immediately is never in your discreet.
That is one problem push notifications handle seamlessly. Since these mobile alerts peep-in the notification bar of your subscribers or customers and then sit there silently unless action is taken – You can expect immediate visibility for them. People are on their phones almost half of their waking time. So, a notification that slides in like an alert, that is crisp and can be read at one go, will obviously do the trick.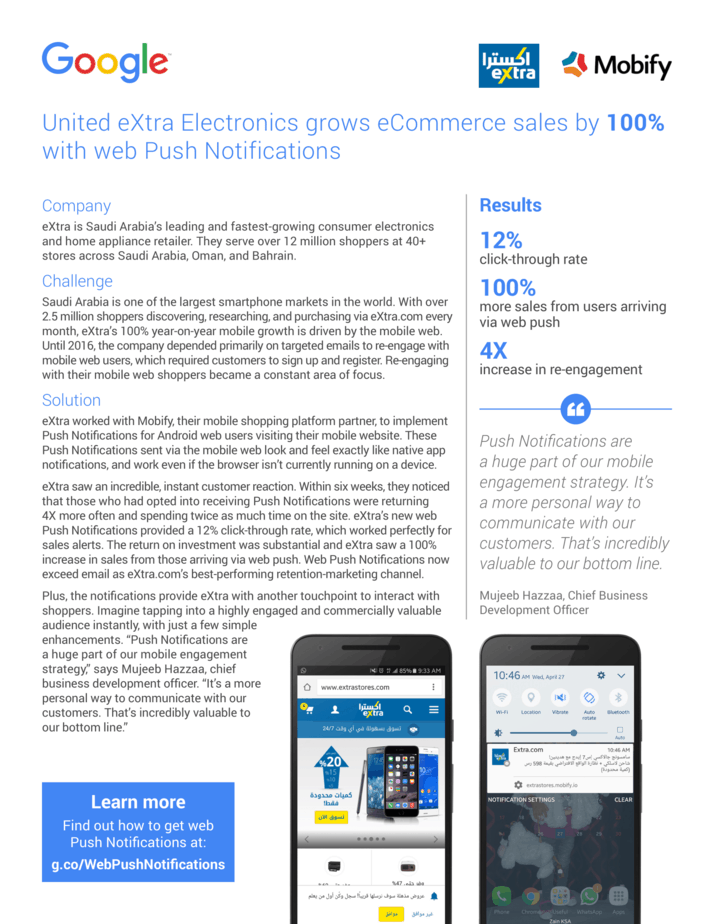 One of the raging examples is eXtra. eXtra is a Saudi Arabian company into consumer electronics. It has been experiencing a 100% year-on-year mobile growth ever since it has started implementing push notifications.
Earlier, the company used only emails to engaged and nurture mobile users. But when they started implementing push notifications, they saw massive turn over in their mobile sales. In six weeks' time, those who had opted in for their push messages returned to their app 4X more.
eXtra is an example of push notification drafted correctly and re-engaging mobile users massively.
This leads us to our next segment – what drives sales when it comes to mobile push notifications?
4 Key Elements To Drive Sales Using Mobile Push Notifications
Sending out generic and random push notifications should be avoided at all costs. You have to take into consideration that mobile devices are used by almost all age groups. Your segmentation should include that in greater details and so should your content creation.
A blunder like My Pet will cost heavily in terms of brand loyalty and reputation.
So, before you jump the gun, here are the 4 key elements to drive sales with a mobile push notification campaign.
(1) Ask your users to opt-in
Here we are talking about consent. Your users have to give you consent to receive push messages post downloading your app. In some cases, Android users automatically opt-in for push messages.
However, post the GDPR implementation, I think almost all apps, be it on iOS or Android, ask for permission.
It is important to get your users to opt-in organically. This helps in avoiding the risks of annoying your users and leading them to uninstall your app.
Here is how you can successfully get your users to opt-in for your push notifications:
Ask them to opt-in immediately after they download your app. This is very crucial – asking to opt-in immediately after they download your app and open it is proved to show the highest opt-in rates.
If you are sending out an invite to opt-in after half an hour or four hours or days later, you lose your chance. Who will want to opt-in to messages when they are accessing your app very well with it for all this time?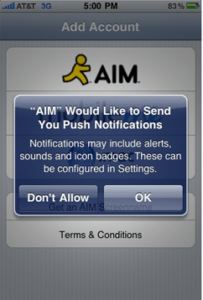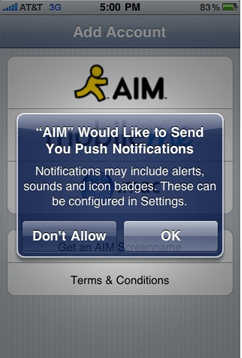 So, ask it IMMEDIATELY. Check out the push opt-in message from AIM.
This brings us to the next key element
(2) Your push notifications should have some value addition.
Your users will not opt-in for your push messages just like that. Only if you promise to deliver something that is valuable to them, you can get them to opt-in.
This is not something that works on guessing. It is important for you to understand what will your users find of value. It may be something far different from what you thought was valuable. Hence, your first step is to find out what are they expecting from your app – are they looking for promos and offers? or maybe recommendations? or probably some sort of advice? You cannot know unless you talk to your users directly. Implement analytics to your best ability to learn what they really want.
Accordingly, present your benefits. Tell them loud and clear that they will get exactly what they want once they opt-in for your push messages.
For instance, don't just tell them they will get deals. Tell them that they will be entitled to special offers with exclusive discounts of up to 60%.
Your conversion rates will be high if you are specific with your offer.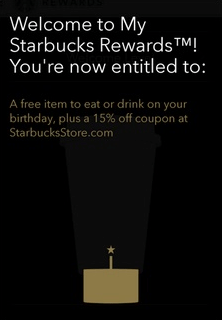 For instance, Starbucks clearly states what you are gonna receive immediately after you download their app.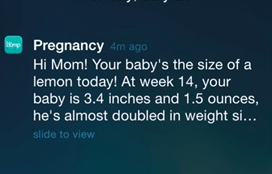 The Bump is another brand that does push notifications brilliantly. If you are a parent-to-be, there can be one thing you can't stop obsessing about – your child, ofcourse. This app designed for first-time moms delivers push notifications containing the status of the ongoing development and growth of the child.
The Bump uses fruit references to indicate the size of the baby and also highlight what to expect in the next few weeks. This is a great example of sending push notifications to your users that speak of exactly what they want to hear about. It is obviously more important for a first-time mom to know about her child's development and growth. That's exactly what The Bump does.
Specification comes through detailed analytics and proper communications with your user. This brings us to the third key element to drive higher sales.
(3) Give your users the option to choose what kind of deals or messages they want to receive from your app.
Analytics do help but if you can get your users to pick and choose the category of their choice, that gives an added bonus. They are most likely to select options that appeal to them. This is a definitive guide to segmenting your users well and sending out hyper-targeted and personalized push messages.
For instance, a user may want to receive updates on "deals". He/she may not be interested to know about the company or feature release updates. On the other hand, another user is interested in knowing new feature releases and updates as well as access exclusive deals. Obviously, these two users will be in two different segments and will see different push messages.
Why giving an option to choose is a good idea?
Many times, users feel vulnerable in accepting to receive push messages. This goes hand-in-hand with the common thinking that you will spam them with irrelevant messages. This drives them to not opt-in at all.
Also, research shows that 78% of users feel like uninstalling an app or deleting push notifications immediately after they receive an irrelevant message. Instead of driving complete opting out, you can enable the option to choose what they want to receive. This gives better engagement results and conversion success.
Use analytics to find out which notifications are performing well. Accordingly, you can modify your options to get higher opt-in rates.
Another practice that enables higher opt-ins is of using the official Apple or Google Opt-in. You can use the 'official' Google or Apple opt-in to get a "yes" for your push messages once your users confirm subscription.
Allow your users to edit their preferences. They can choose to turn on or off whenever they want. Your users should always have control over what they see and what they don't. If they want to opt-out completely, make it easy and smooth. This will keep them from uninstalling your app altogether unless you force your push messages onto them.
Our next crucial element that aids in driving higher sales is-
(4) The right timing for your push notifications
Sending out push messages when your user is sleeping may not go down well with your user and your brand. What's the point of sending an exclusive 2-hours "deal" message at mid-night to your user?
You may want to counter stating about "mid-night deals". Yes, there are several mid-night promos that happen and they do see a lot of sales. But if you've noted, you get intimidation of this offer almost days ahead before it starts. This means you ensure that your min-night campaign is not a midnight surprise. Usually, these campaigns continue throughout the following day so that users can engage and make a purchase. Mid-night sales are a common practice for eCommerce platforms. 🙂
What I mean here, you must know when to send out your push notification to your users. You have your user segmented based on their engagement and interests. If you are overdoing push campaigns, you will see uninstallation spiking up. If you under-do it, you will still see uninstallation, because you failed to engage your users.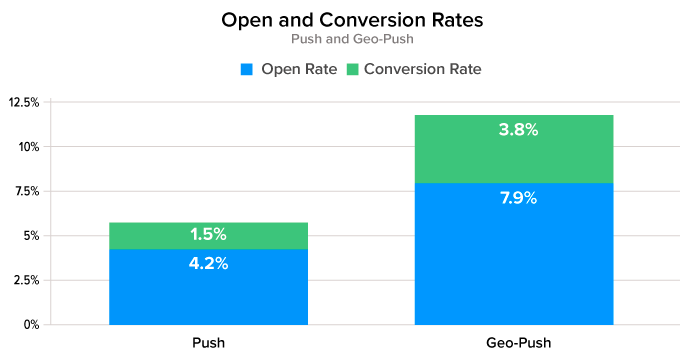 One of the rewarding practices is to aim for geo-based push messages. Research shows that geo-based push messages have an open rate of 7.9% and a conversion rate of 3.8% as compared to non-geo-messages with open rate and conversion rate of 4.2% and 1.5% respectively.
So how much should you post?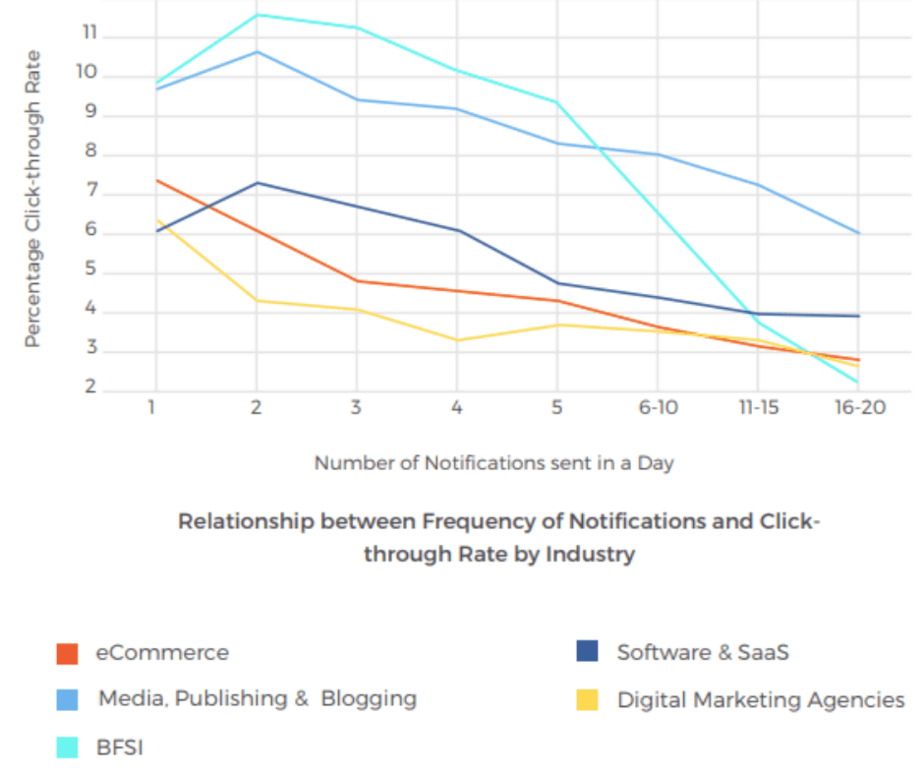 There is no fixed number to this. It depends largely on your target audience and their preferences. However, PushCrew revealed in a survey that five push notifications seem to cut off the engagement. The survey suggests "three" as the magical number, giving better results than two. As you can see below, careers and training apps can send multiple push messages. But those in arts or sports must have some restraints.
Source
What is the best time to send push messages?
In a survey, PushCrew saw that "downtime" are when users like to receive push notifications. In this survey based on people who know what they want, the results were as follows:
38.66% of users like to receive push notifications in the morning.

15.13% of users like it on their way to work.

36.69% of users prefer in the evenings after work.

38.38% of users like it during the weekends.
Source
Accengage also revealed the peak reaction time to be during lunch hours and evenings.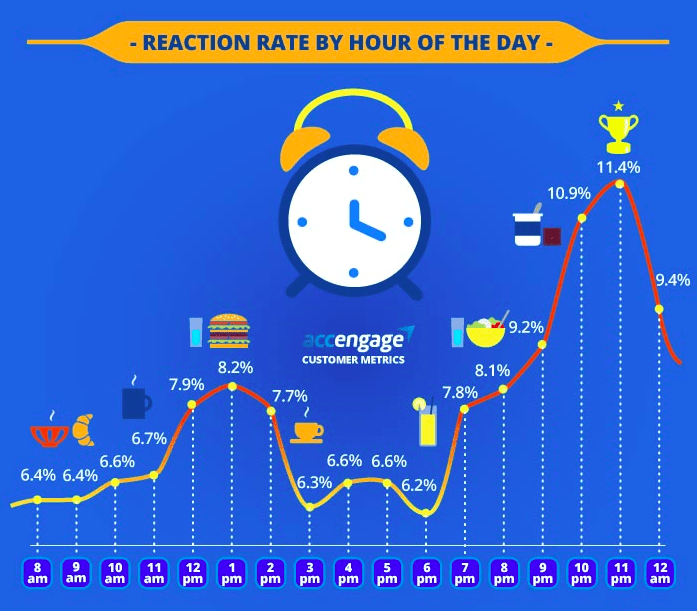 This finding goes hand-in-hand with the results of "perfect time to send push notifications – industry-wise" as below:
eCommerce: 3PM-4PM, Wednesday

Media, publishing & blogging: 9AM-10AM, Tuesday

BFSI: 3PM-5PM, Tuesday

Software & SaaS: 4PM-7PM, Wednesday

Digital marketing agencies: 2PM-7PM, Tuesday
Surely, this helps you in identifying the best time slot to opt for.
N.B. It is important to note that these surveys are subjected to a specific set of data. The accuracy is high but whether it will turn out to be exactly true for your mobile app, depends on factors like:
Target audience

Brand type/industry
Bonus: Strategies to improve sales with your next mobile push notification campaign
Make it easy for your users to turn off push notifications

when they want to. Try implementing customized sound for your push notifications. Your users can choose to turn off the sounds incase they want to. However, a customized sound has its own benefits – it grabs attention. After some time, your users start recognizing the sound, increasing the open rates.
Limit your offers and deals to make them engage immediately. An offer that's ticking away will give a sense of urgency and need to check immediately

Make sure to delete old push messages that are no more relevant. For instance, push messages on deals will expire after a certain date. So better delete it rather than accidentally sending it out and annoying your users. Set an expiry date for your push notification in your marketing automation tool to avoid any such hazards.

Last is, set reminder messages. Reminder messages can be anything – to buy an item added in the cart sometime back, or maybe a reminder to complete a form or reminder about an upcoming campaign or event.

Try drip push notification campaign along with your SMS campaign to drive better results. While an SMS is longer in nature, push notifications often come with crisp messages.
You can also use emojis in your push notifications to make it a lot more fun, or maybe a little bit of humor like Simon Circles can never hurt, isn't it.
In conclusion:
Mobile push notifications are a brilliant way to empower your mobile marketing and drive high sales. It results in increased brand loyalty and a chance to trigger long-term revenue for your brand.
Have you used push notifications? What results did you get? Let us know in the comments below.
⭐ What is Mobile Push Notifications?
Mobile push notification is a great marketing tool, which you can receive on your mobile device. The app publishers can pop up product updates, reminders and personalised offers at any time on your mobile app for staying in touch with the users.
⭐ How to automize Mobile Push Notifications?
Steps to create automated mobile push notification:
a) Focus on targeted groups of new users.
b) Track the activities of users at different lifecycle stages
c) Set the right timing for sending messages
d) Craft personalised content
e) Finally, you have to automate it
f) Send a test message
⭐ Does Mobile Push Notifications differ from business to business?
No, push notification doesn't differ from one business to another business.