The B2B eCommerce market is becoming more competitive by the day. As buyers seek an increase in efficiency and optimized processes, B2B sellers are now expected to continually innovate to win new business and keep their existing customer base engaged. But with their global worth reaching a whopping $6.6 trillion by 2020, there are a number of challenges that B2B eCommerce companies are facing.
In this article, we are going to talk about the different challenges in B2B eCommerce as the industry grows. Additionally, we're sharing how automation is the answer to these challenges along with examples.
B2B eCommerce challenges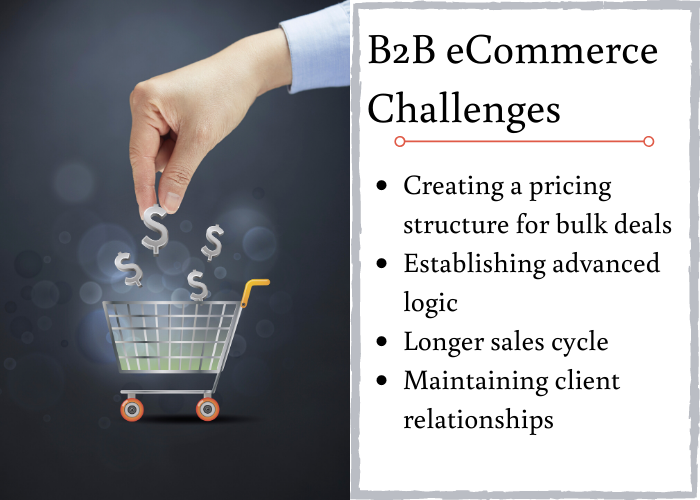 1. Creating pricing structure for bulk deals
A typical B2B eCommerce company will base its product/service pricing on the volume of the order. While the pricing structure is created to improve customer satisfaction, it often challenges the order processing systems and requires manual intervention for completion. The going gets tougher as the business increases its inventory.
But businesses can automate their pricing structure for bulk deals with a content management system. All they need to do is define what discount they want to offer to customers ordering a specific amount of a product.
2. Establishing advanced logic
Most B2B eCommerce companies need to set up an advanced logic for their products and services. It is to help them offer different discounts, deals and shipping options on different product ranges and services. But the process gets more overwhelming as the B2B eCommerce company increases its inventory.
With automation, these companies can keep track of inventory and what products/ services are the most loved. This way they can offer discounts and shipping options based on demand to increase conversions and also improve customer loyalty.
3. Longer sale completion cycles
A B2B eCommerce sales cycle is as long and complicated as that of enterprise software. It often requires the business to meet the search needs of the B2B buyer as they conduct research, and then create multiple quotes to suit their needs and approval processes. This requires timely follow-ups from the business to ensure smooth nurturing till conversion.
Here's where a B2B eCommerce business needs a smart CRM. It helps them keep track of prospects and current accounts, and also makes processing large transactions easier.
4. Maintaining client relationships
Another common challenge that most B2B eCommerce companies face is keeping their customer base engaged. They are not able to keep track of different customer accounts and their activity, often resulting in a churn or losing them to competing companies.
By integrating CRM into the system, a B2B eCommerce company can automate client relationships. Based on their last activity or engagement, the company can have a follow-up strategy in place to remain at the top of their minds. Additionally, they get an opportunity to understand their changing needs and behavior to offer better services.
5. Creating a user-friendly experience
In B2B eCommerce, every customer is different and they have different purchase behaviours based on business requirements. Some might prefer setting up automatic purchase orders to restock inventory, while others may ask for 24 hours shipments for immediate needs. In addition, they also expect a business to offer flexible payment options for larger orders.
Setting up a self-service system in this scenario takes care of efficient order fulfilment. Having to manually keep track makes things only complicated.
To conclude it all, B2B eCommerce now needs automation.
There are multiple business processes that can be automated. Right from connecting payment gateways to your ecommerce websites, marketing to supply chain optimization, technology can make it all efficient.
But we're going to get you started ten simple automated campaigns and programs that will help you nurture leads, welcome new clients and even get repeat purchases with increased engagement.
10 must-have B2B eCommerce automations
1. Welcome your new clients
Whether you're making your first outreach to a lead or touching base with a new client, welcome campaign automation sets the tone of your relationship. It helps your B2B eCommerce business start a conversation.
Let them know what to expect of you and how to reach you when there's a need, introduce your brand's USP or simply take the opportunity to understand their challenges and preferences better.
Here's an example from Ferguson. It lets their newly subscribed or converted customers know what to expect from them in the upcoming emails, and the benefits of being associated with the brand.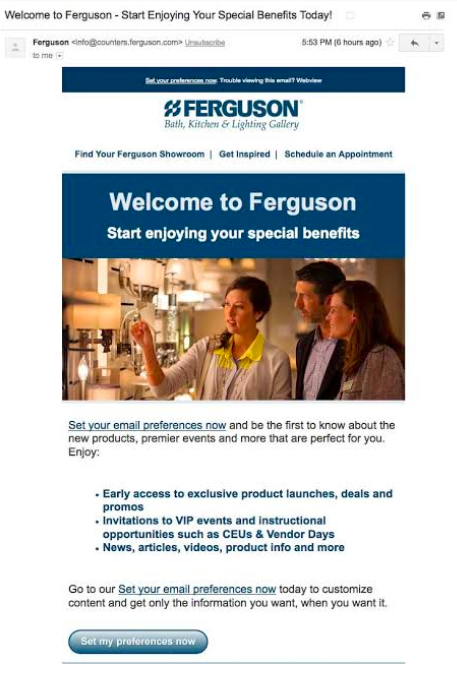 You can build a welcome automation workflow easily. Aritic PinPoint has set templates to help you get started. For instance, below is a simple welcome automation sequence that you can replicate for your B2B eCommerce: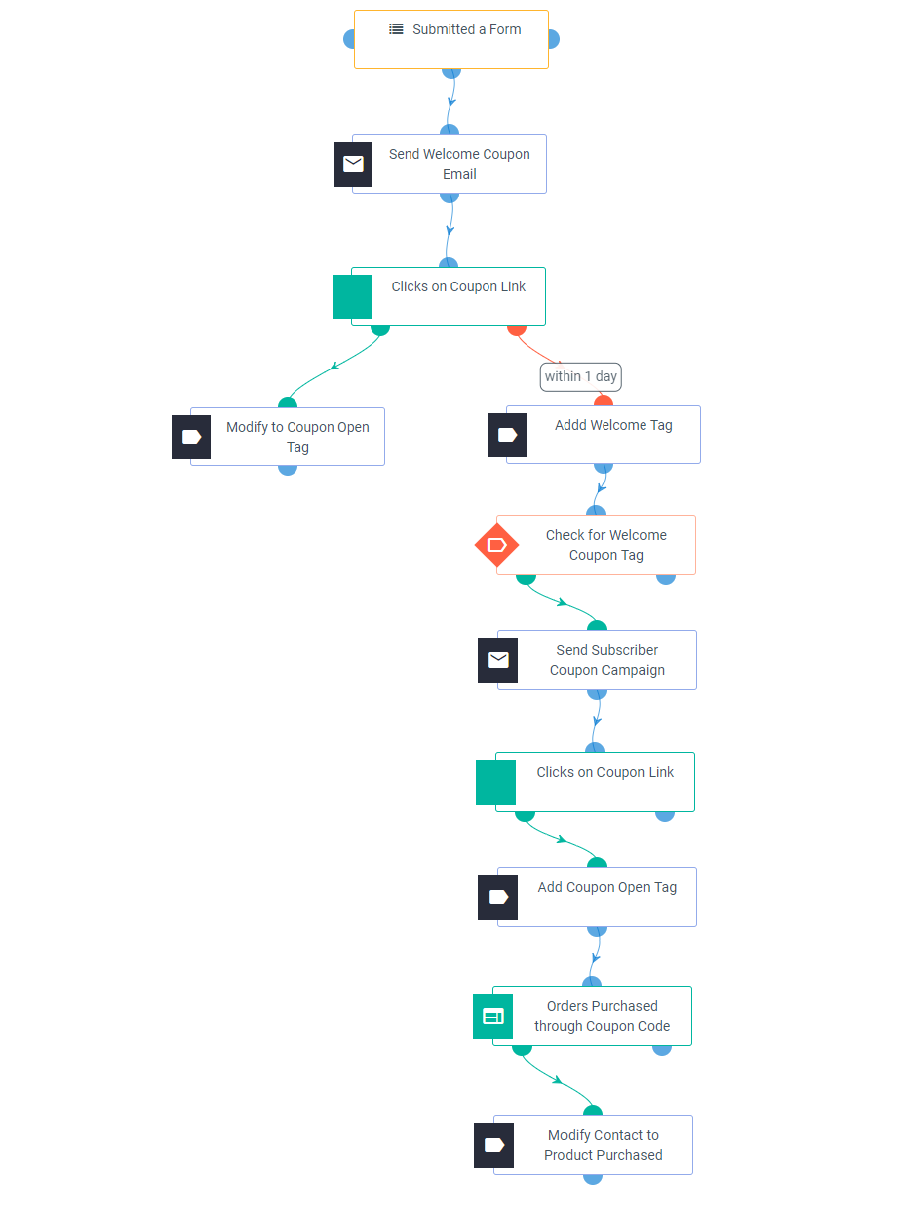 [lightbox_content background="#6c648b" color="#fafafa" shadow="0px 0px 15px #fdfdfd"]The above
workflow template is designed for
scenarios such as sending out welcome coupons and thereby setting up a flow based on user engagement. [/lightbox_content]
2. Nurture your leads
Not all visitors turn into leads, and not all leads turn into customers. The reason being that each one of them is at a different stage in the B2B eCommerce sales cycle. While some are aware of their needs and need only a little nudge to convert, there are others that are still exploring what they need. That's where automating your nurturing campaign becomes critical.
The automation ensures that the moment a prospect registers as a lead, they are fed the information they need to turn into a buyer. The campaign uses different content formats to walk the user through the different stages of the sales cycle. But more importantly, it ensures the message reaches the right person at the right time – be it promotional, educational or editorial.
[Also Read: Effective Lead Nurturing Setup for Modern Marketers]
Here's an example of Lumi. They use email to share resources that will further help their prospects with an educational approach. This also lets their subscribers and customers know of the content they frequently share on the blog.
Now, it is not just an email campaign that you require to nurture your leads. There are several stages of monitoring, tracking, and multichannel automation campaigns to activate a lead from one buying stage to another. Below is a lead nurturing workflow template that you can use for your B2b eCommerce. It starts with the welcome email to scheduling a sales call.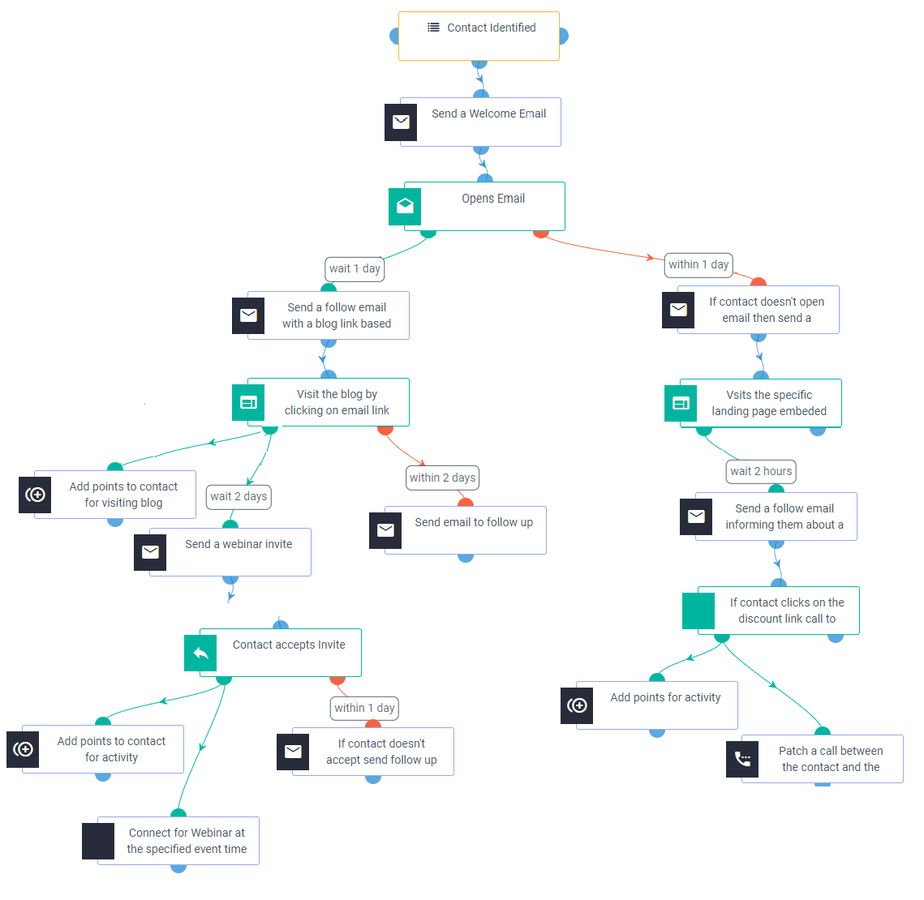 3. Browser abandonment recovery
The way a visitor interacts with your website is a clear indication of what they're interested in and what they're looking for. But more importantly, it lets you know what stage they are at in the buying cycle.
Let's take an example. The prospect was last seen browsing through your bulk pricing deals. You can then set up an automation to trigger an email or retarget them on social media with a campaign that nudges them to contact you or book a demo. Based on what you offer, you can even ask them to give a free sample a shot to start your relationship and bring them back to the site to convert.
But remember that a visitor who has abandoned your site while browsing can be brought back with a contextual campaign only.
4. Abandoned cart recovery
Similar to B2C, B2B eCommerce can benefit from automating their cart recovery campaigns. These are campaigns that get triggered in a hyper-targeted manner to reach only those who have placed items in the cart but not completed the purchase before leaving.
These are prospects who should be sent an automated email within 24 hours. The campaign should be simply targeted at reminding them of what they've left behind by pulling in product imagery and details for better recall. The first recovery email should then be followed up at least two more timely emails creating a sense of urgency around the products they showed interest in.
You could additionally add an offer that your B2B eCommerce business can give to make the cart total friendlier. Here is a cart abandonment requirement automation workflow for your reference.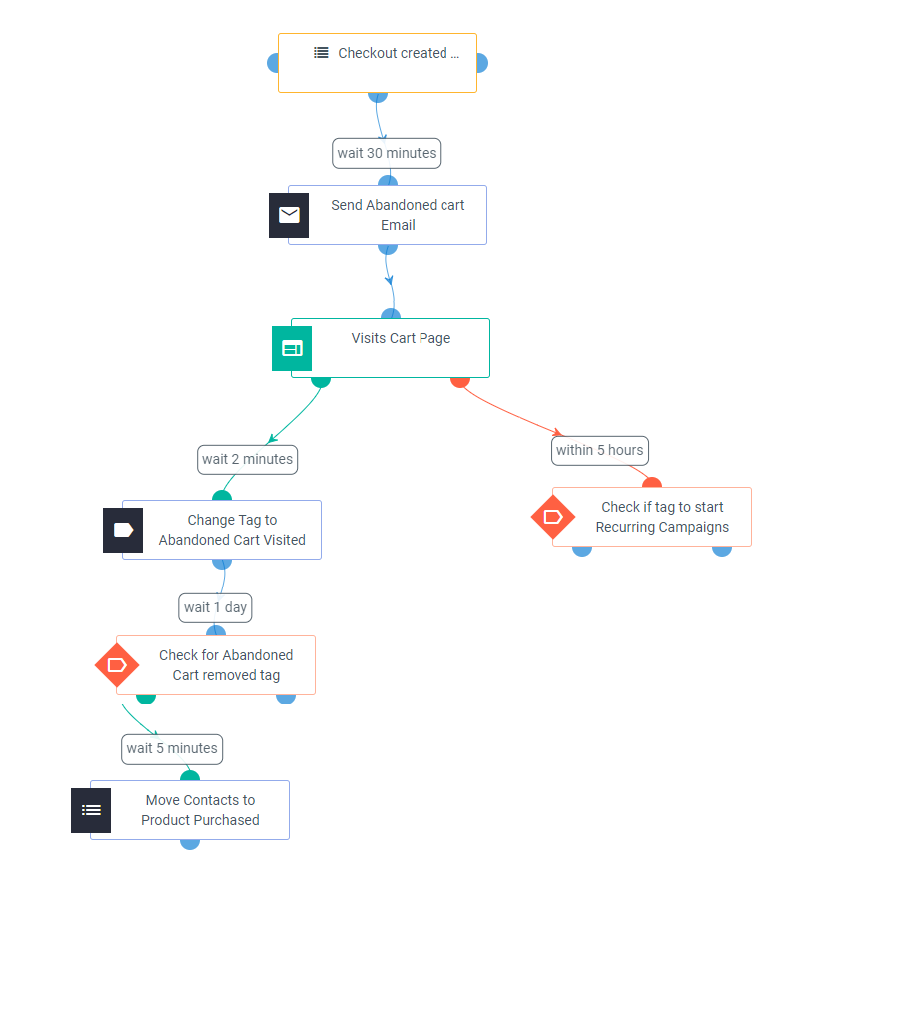 Here's an automated cart recovery email from New Pig. They quickly remind the customer of what they've left behind. The email also includes a clear call-to-action button that takes them straight back to the cart to complete the purchase. They also add their contact number to let the shopper know they're around to help if they need any assistance in making an informed purchase.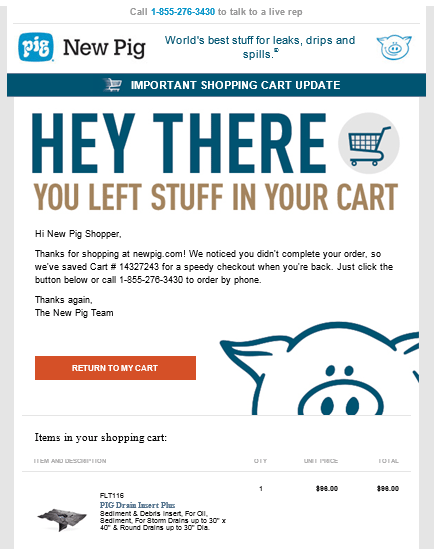 5. Post-purchase
Another important B2B eCommerce automation that often gets overlooked is the post-purchase communication. This is the period where you need to ensure that a prospect who has just converted, is happy with the purchase. If not, it is your responsibility to help them out so that they don't churn.
Pay attention to what the newly acquired customer does or how they interact with you post-purchase. Thank them for trusting your brand, ask them if they need help with something or even request a review so that you can make the experience better for them. You can use the below automation workflow to request for feedback.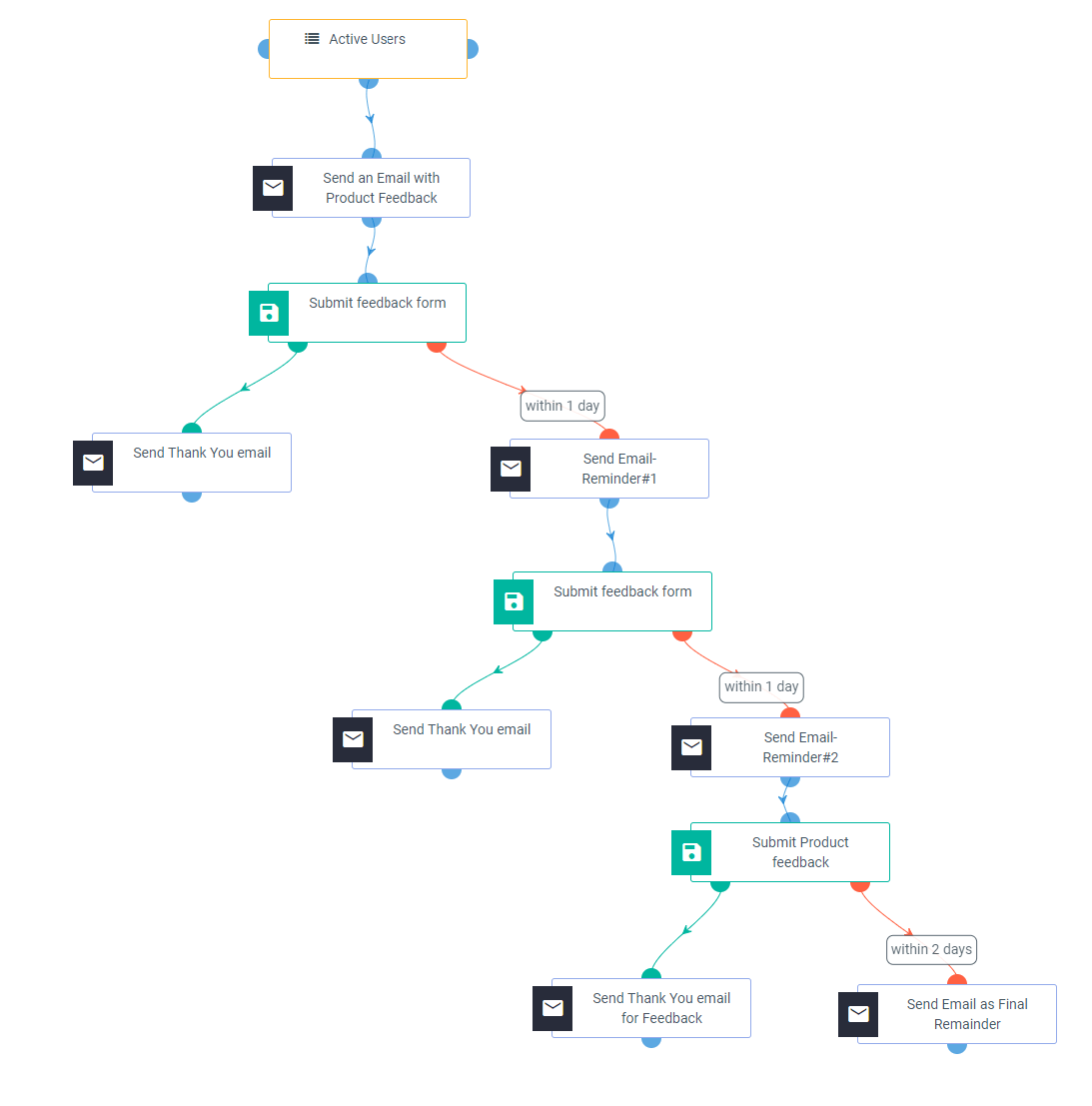 [heading]Sending out post-purchase communication is one good way to
increase sales
because your existing happy customers are 9X more likely to spend than your new clients. [/heading]
Here's a quick post-purchase email from GoDaddy. They let share important information about the order placed and use the remaining space to make an offer on the next purchase. This seals the deal to ensure that the customer comes back for more.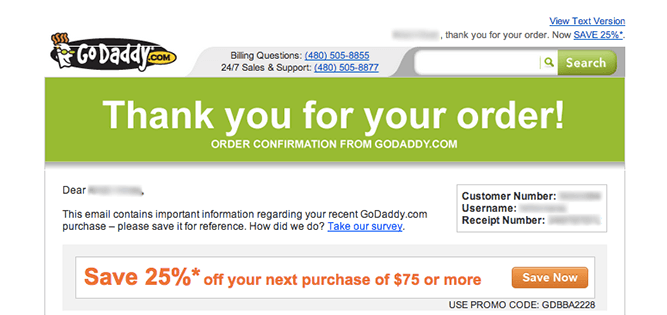 Remember that the more valued the customer feels, the more likely they are to continue with your B2B eCommerce business.
6. Upsell
Similar to B2C, there's always an opportunity to upsell products/ services in the B2B eCommerce industry. All you need to do is put the customer's data to use and make recommendations that further add value to them.
Promote products/ services that complement their previous purchase and match their interests, preference and purchase behaviour. Be customer-centric when making these recommendations to not sound all too salesy and offer to give them a demo to show why you're making a suggestion. We call it recommendation-based automation. A typical automation workflow for this scenario looks like this: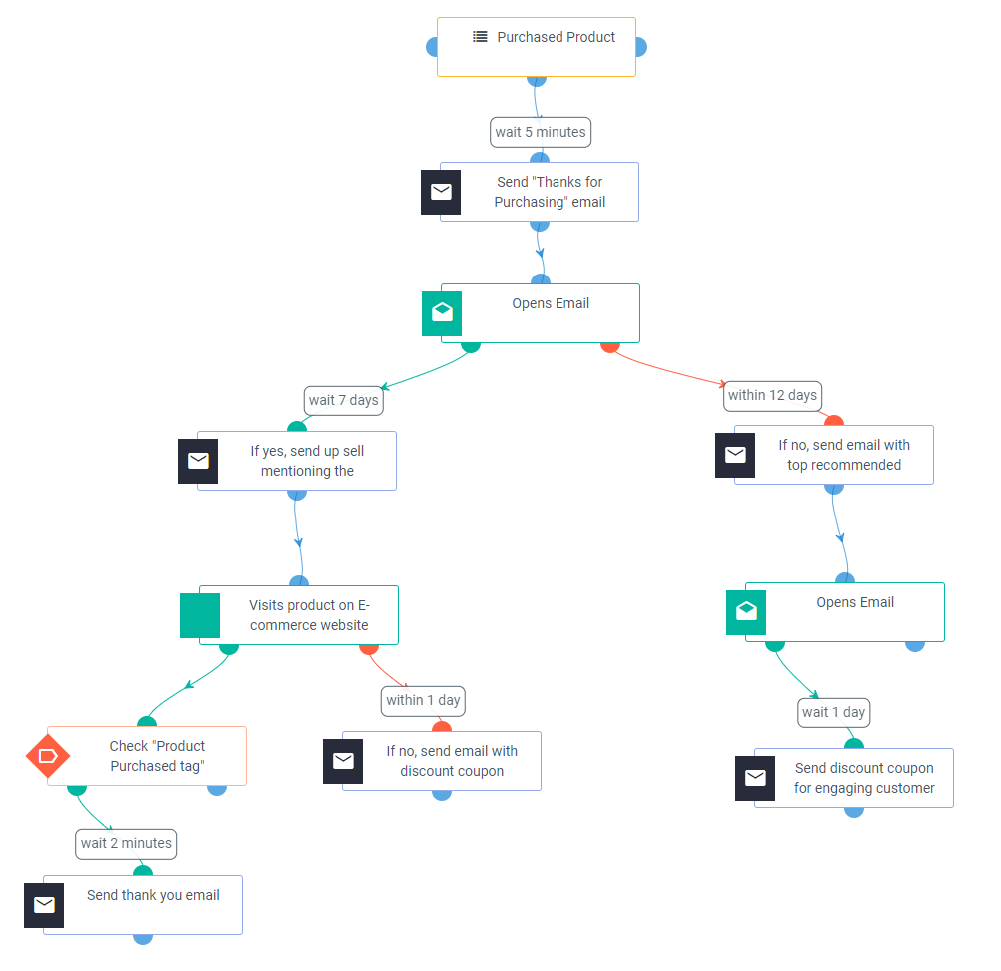 You see, it's more like going back to where everything started. A thank-you email, upselling or cross-selling, or exclusive coupons can win your clients/customers back. For instance, look at this email from Groove. It is a classic way of pulling in your existing customers once again by offering an exclusive discount to celebrate one year of association.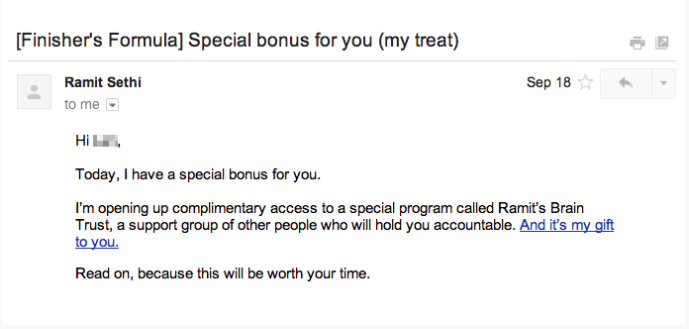 Upselling is a proven way of initiating purchase cycle for a B2B eCommerce. After the first sales, it is important that your clients come back again to make a purchase from you or rather have an upgrade in case of a B2B eCommerce. Check out Amazon's technique of comparing items showing "the better version" side-by-side right when you are looking through products. This is Amazon's way of upselling or in simpler terms pushing you to buy the product with the highest price but simultaneously justifying why – by showcasing the features and added benefits.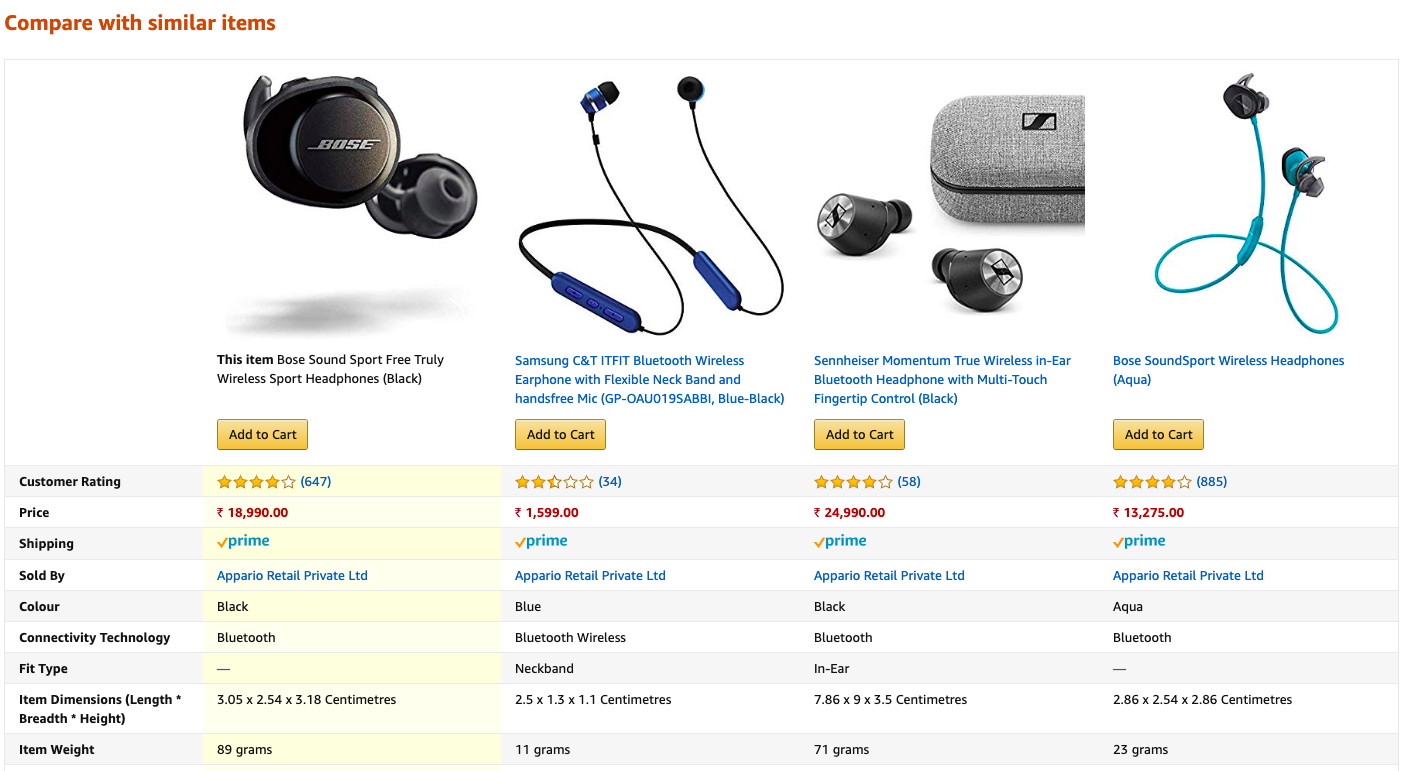 7. Customer loyalty
Acquiring a new customer is five times more expensive than retaining an existing one. In fact, an existing customer is more likely to convert on your campaigns at a higher average order value. Simply put, a loyal customer brings more revenue to the table for your B2B eCommerce business.
Automating your customer loyalty campaign is hence, a must. Award your repeat customer with bonus points or a special gift to acknowledge their faith in you. You could also invite them to exclusive events or offer them special discounts on bulk deals to strengthen your relationship. Incentivize their loyalty to keep them hooked to your brand.
8. Customer recovery
With the increasing competition in the industry, you're bound to lose some customers over time. They could be simply exploring a new brand and its products/services or finding their pricing a lot better than yours. But that doesn't mean you've lost your chance to re-engage this customer and bring them back.
Nudge these dormant customers with attention-grabbing automated campaigns. Tell them you miss them and then take the chance to show them what they've missed out on. You could use the opportunity to show how a similar business has benefited from yours in the period or ask these customers for feedback.
Remember to continually check how these customers are responding to your campaigns. If they remain inactive over a prolonged period of time, don't hesitate to move them to your cold pipeline.
9. Data-driven engagement
Don't stop at the above campaigns to keep your prospects and customers engaged. Use more of their data to create custom campaigns and automate them.
For example, if you've seen the customer show more interest in other products/ services that you offer, start educating them about what they're meant for. Let them know how they benefit from them in the long run.
Similarly, you could also use their location data to promote events close to them. It lets them know that your B2B eCommerce business wants to interact with them. Face-to-face interaction always goes a long way.
Now while you're automating campaigns for your B2B eCommerce business, remember to follow a customer-centric approach. Read our article on the 9 deadly marketing automation workflow mistakes you must avoid.
Do you need B2B eCommerce automation?
An average of 51% of companies is currently using marketing automation. In fact, 58% of B2B companies plan to adopt automation in the coming future. The reason being that automation helps them optimize their resources and generate 15% more revenue.
So no matter how big or small your B2B eCommerce business is, you need automation. The more you keep your resources optimized and your prospects and customers engaged, the more consistently you grow in your target market.
[button url="https://app.aritic.com/customer/guest/register" target="blank" size="7″ center="yes"]Get
Started with
Automation Workflows For Free [/button]
⭐ How automation can benefit ecommerce?
For eCommerce business, you have to manage end number of customers. Meanwhile, marketing automation tool would help to streamline the repetitive tasks and save ample time to execute other works and increases sale.
⭐ Can we automate the whole process of purchase journey?
You need to understand the different processes of buyers' journey to maintain a long-lasting relationship with the customers. Well, you can automate the whole process by streamlining the customer journey touchpoint processes.
⭐ Can we do multi-channel automation for e-commerce?
Definitely, you can utilise multichannel marketing automation for eCommerce strategy for brand awareness and reaching out to a large number of audiences.