We are surrounded by bots. Whether it is Apple's Siri or Google's Voice Search, or even Amazon's Alexa Echo – we have already forayed into the time when virtual assistants are becoming our regular companions. These bots are getting intelligent day by day, so much that it is posing a different threat to content marketers now.
B2B content marketing strategy has always been dynamic in its approach. Starting with using various ways of writing a content to automatically customizing the content based on user behaviour (using dynamic content), content marketers have come quite far. While content marketers are leveraging the potentials of a marketing automation tool to automate, update, and build customer relationships, automation content bots are playing their best cards to take the limelight.
We've already argued that bots cannot replace human writers in our last article. But the issue is not just about who will replace whom. The question is, are content marketers ready to cater to bots' searching along with human audience? If not, then what should be done next?
Once upon a time, content marketing for b2b companies, was thinking about getting found against certain keywords that users might type in Google or Bing or any other search engine. Now, things have escalated to a time when humans are giving voice commands and bots are doing the search. Although a majority of us are still typing out our queries to Google, it isn't far when this number will come down and bots will take over.
Companies are making bots extremely intelligent. Not just that, they are handing out powers to people to dictate what their bots will say. One such example comes riding high on Amazon's recent announcement for Alexa Echo. As per this new announcement, Alexa Echo will now say what you want it to say. It rolled out the Blueprints feature that even non-coders can handle and build customized skills for their Echos. Below are few such 'skills' of Echo.

This is a serious leap from Amazon into the AI-world.
So what does all this mean for a content marketer?
Human interaction in business is slowly reducing. Intelligent bots that are built to learn "skills" over time have started playing a pivotal role in how content marketers will redirect their content efforts.
By next few years, we will witness minimum human interaction in business.
Click To Tweet
As bots take the lead in searching up things for humans on the web, it is understood that they will not use keywords like we do. They will take in verbal commands and proceed to crawl all the available resources for you. It is evident that common SEO tactics will not work in the near future. The world is fast evolving. Content marketers HAVE TO look beyond traditional SEO and keyword ranking to stay in the game.
Where do you start then?
Businesses will need to make certain changes in order to stay relevant. Here are a few things that can be (or should be) your starting point.
The connection between AI and SEO
It is impossible to discuss the relationship between SEO and AI without talking about Google RankBrain which is an AI program, crucial for processing search inquiries. The AI is data trained. It can thus understand the patterns and behaviors of users. This way, it can determine whether or not people like the content. It also establishes whether your site should get more traffic from search engines.
With AI in place, the game changes for marketers. The RankBrain will look at the results of a search profoundly and uniquely. Greg is a senior research scientist at Google. He once explained the operating principle of RankBrain. In his explanation, he said that when you use ambiguous queries or talk to Google as you would speak to a person, the computer will break down.
The processor may not understand the phrase. Therefore, it will tend to generalize what you say. You can compare this situation to communicating with a person in a crowded bar. They will not hear everything but can guess what you are trying to say. Sometimes, this reminds me of Dumb charades! 😛
When it comes to the ranking of web pages by search engines, RankBrain plays a vital role. It can perform an analysis of a query and give back relevant content without necessarily demanding keyword phrases.
---
Still Not an User of Aritic PinPoint Automation?
---
Therefore, here is what you have to do to enhance your SEO and make B2B-content friendly to bots and AI.
1. Always have great snippets. The titles of your pages and the meta descriptions ought to stand out. They should entice the user so that they can desire more from you. Take time to create content to feature in the snippet position within the results of the search. I will share more on this in a while.
2. Always think twice about your keywords choice. Yulia Khansvyarova, digital marketing head at SEMrush said something striking about SEO keywords.
Do not focus on one keyword or phrase. Have different variations of that keyword to get maximum effect. Develop a systematic kernel of extra words that are consistent with your target keyword.
3. Always relate to your customers. With AI, you need to write for the customers and not for some machines. When your content is human-friendly, users stay longer on your page.
4. Always have RankBrain in your mind during optimization. In past years, there were rules that you would follow for this. However, the AI is evolving. There are no checklists for you to use. There are times when you have to create new or in-depth content. Whatever the case, have your users and their likes in mind.
AI and intelligent assistants play a significant role to enhance the SEO. There are so many things that you can do to ensure that it yields excellent results. Even so, first consider new ways that prospects are searching for products and services.
Artificial Assistants and their relationship with search queries
Intelligent assistants are significantly influencing how people use search technology. The searches come in two categories.
Category #1:
Facts and information. You can ask Alexa, "What is the speed of XYZ's hardware?" She will give you an answer from the search results she gets. Take note that the words you use during the voice search are not what Alexa will type in the Google inquiry. This means that there will be an exposure to more opportunities. We will look at this later.
Category #2:
In case of local guides, you may pose a question like, "where is the nearest McDonald's within 50-miles in New York?" The assistant will conduct a rapid search and give you the befitting results. This search will also yield more opportunities.
For the above situations, the search technology will pull the results from snippets that rank at the top of the page. Therefore, when your content is at the top, you will be the answer to a lot of voice searches. But for you to be top, some strategies must be in place. When you are planning to rank for local search results you have to optimize your content for local SEO. It can help them to improve their local SEO result
Go for high ranking for snippet ranking
During snippet ranking, the highest-ranking page will be the one that answers a specific question. Google will detect this page. For instance, for a search like, "what is a snippet in SEO?" What I get is a Google search result listing for "born Dinah loafers" which is a rich snippet outlined in red….." The explanation goes on.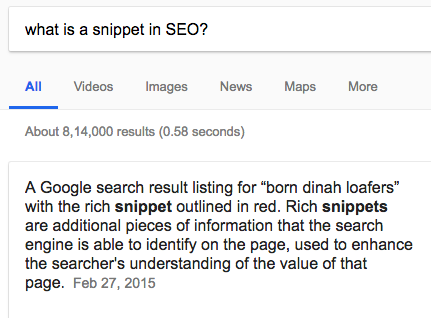 This response is Google's snippet, and it takes position zero. It comes before other results of the search. Like this: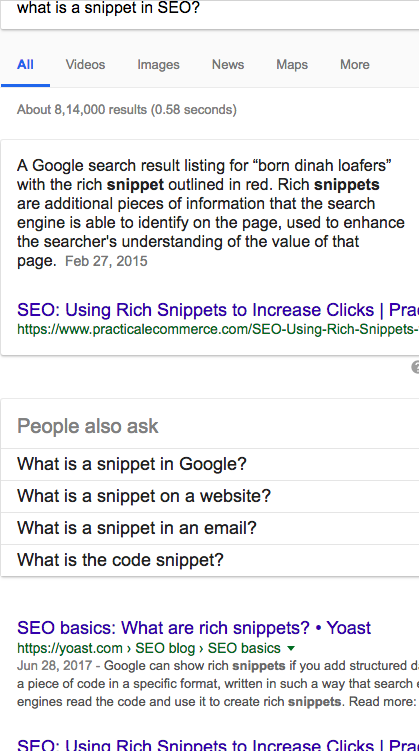 For you to get this prestigious position, there are a few things that you need to have in place.
Ensure that your words have higher search volume
Have long queries that have at least six words
Start with words that ask questions. Snippets always focus on answering questions. Therefore, use words like "who," "why," "what," and "where." If you deal with processes, use words like "does," "making," and "doing."
Almost 20% of searches that ask questions will have search results that have snippets. If you are not sure about the questions that your target audience asks, social media is a place to start. You can also check groups on LinkedIn and listen to your prospects. You can also use a tool like Seed Keywords.
By using tools, you can comprehend the kind of questions that people usually ask. All you should do is create a search scenario. After this, send your URL link to your contacts. Ask your contacts to type in the keywords that come to their mind as they try to resolve the scenario. You will be amazed at how the seed keyword list will grow. This gives you the potential questions you may need.
Final words for B2B content marketing plan
As you finalize your B2B content marketing plan that incorporates AI in SEO, there are a few key points to keep in mind:
Focus on providing value to your target audience: AI-powered content marketing can help you create more personalized and targeted content for your audience. Make sure that the content you create is valuable and relevant to their needs.
Use data to inform your strategy: AI can help you analyze data and gain insights into what works and what doesn't. Use this information to refine your content marketing strategy and improve your results over time.
Collaborate with your team: AI is a powerful tool, but it can't replace the creativity and expertise of human content creators. Make sure that your team is involved in the process and that you are working together to create the best possible content.
Monitor your results: Use analytics tools to track the performance of your content and adjust your strategy as needed. This will help you ensure that you are achieving your goals and getting the most out of your content marketing efforts.
By following these tips, you can create a successful B2B content marketing plan that incorporates AI in SEO and drives results for your business. Good luck!