Show right content for the right customer using dynamic content
Engage your customers with the right content at the right time always. Use dynamic content (or HTML content) to trigger personalized engagement with your landing pages, forms, emails, and other marketing messages.
Dynamic content based on lead behaviour
Let your customers see what they want to see. Send targeted and relevant content based on web lead behaviour, app behaviour, demographics, recent search, and past purchase pattern.
Use predictive content in your videos and eBooks
Trigger more engagement by using dynamic content in email template
Multi-language support for dynamic content
Boost ROI with higher engagement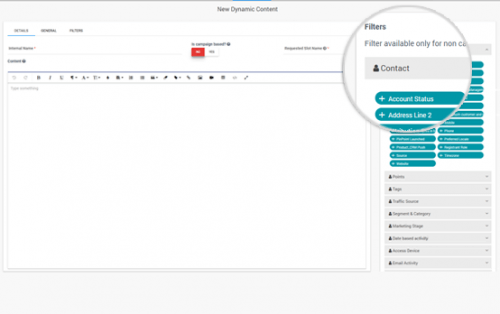 Trigger relevant push notifications
Drive your push notification campaigns (on web and mobile) based on lead behaviour, purchase history, demographics, and firmographics. Design behaviour-based drip push campaigns.
Know what content will work
Analyse all your resources within Aritic PinPoint and test your content. Know which content will work for which customer.
Increase email engagement with dynamic content
Trigger more engagement with relevant email content that aligns with your customer behaviour. Give them resources that they want to read.
Boost your ROI
Leverage content consumption, use your content resources to the maximum and create more conversions than before. Show your customers marketing message that they can't ignore.