It is remarkable how B2B content marketing has transitioned from a shiny new object to a position where it has become a gold standard. After all, it started off as a new trend, and many people doubted if it will sustain its charm or it will quickly die out. Seth Godin says
It is the only marketing left for the reason that it is a marketing strategy that is perfect for the internet generation we have. This generation turns all their attention to the internet when they need information about any product or service.
Many B2B marketers are making substantial investments in this strategy. But they still ask about the best way forward as well as the crucial information they need concerning content marketing.
Below are 27 facts that are interesting and worth your consideration about B2B content marketing strategies.
The current B2B content marketing scenario
1. Decision-makers in business love content. Over 80% of decision-makers in business always wish to get a company's information in a series of articles as compared to through advertisements.
2. The buyer's journey is becoming digital. Over 60% of the B2B buyer's journey gets completed digitally. Nine out of ten buyers claim that online content impacted their purchasing decision either moderately or majorly.
3. Numerous brands are creating a significant amount of content. Around 60% of marketers strive to create a minimum of one content in a day.
4. Majority of the marketers are optimistic about creating more content in the coming year. Approximately 70% of the markets are planning to develop more content in the next year.
5. Majority of the companies show more commitment to content marketing as compared to the past year. Approximately 62% of these companies usually state that they are now more focused on content marketing.
6. Many marketers are worried that their efforts are not so successful. Around 22% of the marketers engaged in the survey stated that their approach to content marketing for b2b companies was "minimally successful."
7. Few marketers have their b2b content marketing strategy documented. Around 37% of the marketers have recorded their business's b2b content marketing stats and strategies.
Key points: A lot of content marketers are creating B2B content marketing statistics and strategies at an alarming rate. The sad thing is that more than a third of the marketers have no documented plans. Create a strategy that aligns with your consistent efforts. You will ensure that every dollar spent is fully utilized.
Challenges in B2B content marketing
1. There is still a gap between marketing and sales. 40% of marketing materials lay unused by the sales team as stated by IDC.
2. The top challenge is to measure the ROI of B2B content marketing strategies. Around 52% of content marketers of B2B businesses state that measuring content marketing's ROI is one of their top challenges. They suggest that more than half of the marketers can hardly prove the success of content marketing.
3. Marketers contend with a lack of enough time. 52% of the marketers claim that the stagnating success of content marketing is due to the lack of enough time dedicated to content marketing.
4. Marketers are having a hard time creating content marketing strategies. Almost 50% of B2B marketers which is nearly a half claim that the stagnation of content marketing success in the previous years is because of the lack of strategy or the trouble of creating an effective plan.
5. Some marketers feel like their progress is stagnant. Around 28% of the marketers claim that their success matches the previous year.

Reference reading material: B2B content marketing rules for marketing success.
Types of B2B content created
1. A lot of B2B marketers create blogs that are ongoing. 80% of marketers use blogs as part of their content marketing strategy.
2. Majority of the marketers send newsletters via email to create a connection with prospects and customers. Approximately 77% of marketers send email newsletters as part of content marketing.
3. More than half of the marketers take time for infographic creation. 58% connect with their target audience using infographics.
4. The show is getting stolen by videos. Around 82% of traffic to the internet will be video content in 2023.
5. A lot of B2B marketers have not implemented the use of videos to establish connections with customers. 60% of the marketers are the ones using videos.
Note: Brands are also using dynamic content in their landing pages, emails, push notifications, and forms. With dynamic content, marketers are able to make content relevant based on user demographics, buyer's stage, and other such user information.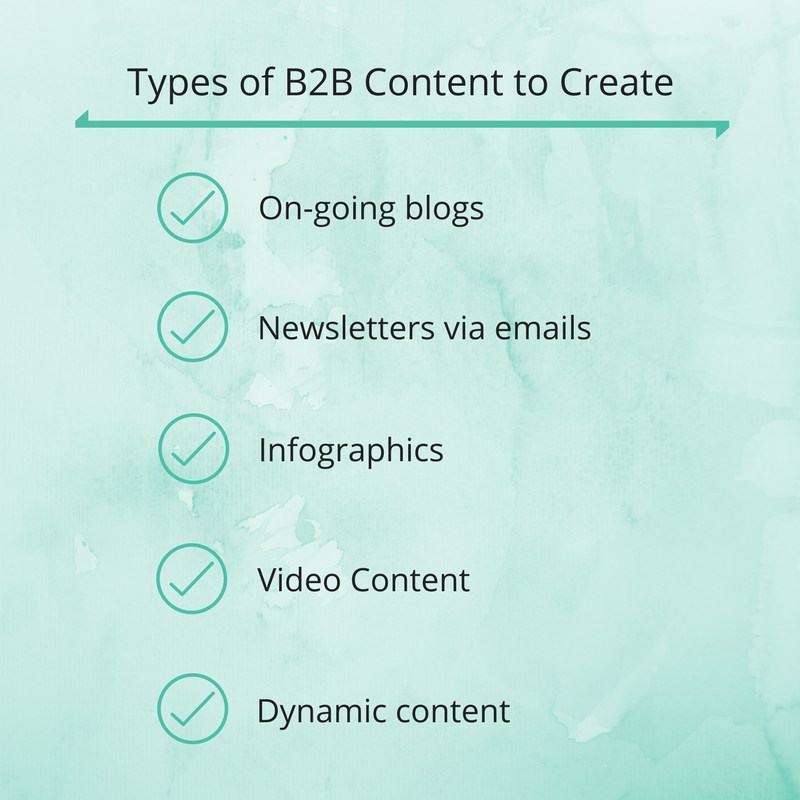 Key points: Studies indicate that video content is demanded by prospects and clients yet not so many marketers are implementing it. Put video content to the test to see whether or not it will resonate with your audience.
From there, you can measure the results. You can check this article from VideoToOrder on the benefits of video marketing for your B2B brand.
Reference reading material: Engineer your B2B Content Marketing towards Bots and AI.
What B2B content marketing plan looks like now
1. B2B content marketing strategies are very cost-effective. As compared to traditional marketing, content marketing costs over 60%, and it generates thrice the number of leads.
2. Content marketing for b2b enterprises generates higher traffic rates. Content marketing leaders generate around 7 times more traffic to sites as compared to non-leaders.
3. Latest Content marketing trends results in higher rates of conversion. Marketers that adopt content marketing have almost six times more conversion rates as compared to their competitors.
4. Long-form content is more effective. Content with a word count ranging between 3,000 and 10,000 got the highest number of social shares. However, 16 times more short-form content gets published as compared to long-form content.
5. Content creation that is efficient and high quality forms part of the top factors for successful companies. Around 85% of the companies surveyed stated that high-quality content creation and a dynamic process of creation impacted their overall success over the years.
---
Still Not an User of Aritic PinPoint Automation?
---
Key points: Jason Miller, the Senior Content Marketing Manager at LinkedIn, stated that
Content marketing is not a game of numbers but relevance.
This marketing strategy is advantageous. It requires that you start with the customers and you understand their pain points. Also, identify the most relevant and vital content they need. Strive to come up with content that they desire and identify essential metrics to measure success immediately.
The future of B2B content marketing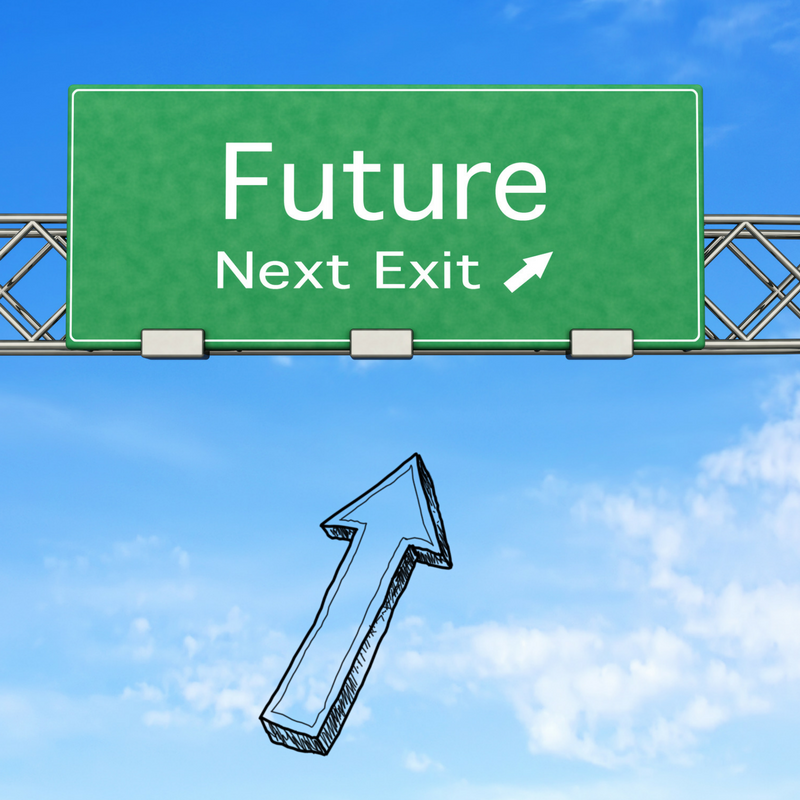 1. The budget for content marketing keeps increasing. 0ver 90% are planning to either maintain or improve their content marketing budget in the future.
2. Repurposing is greatly increasing. Almost 60% of marketers reuse content up to five times.
3. Majority of CMOs claim that the future is content marketing. Over 75% of CMOs claim that the future of marketing is custom content.
4. Majority of marketers anticipate creating more original content come next year. 70% of marketers said they would come up with more B2B content that is original in the next one year.
5. In the following year, blogs and email newsletters will be most crucial. Over 50% of B2B marketers said that in the next year, blog content could be critical for content success. Forty percent claimed that email newsletters would be vital.
Key points: Ann Handley, a content-marketing keynote speaker as well as a best-selling author, says
You should create content that is ridiculously good, useful, enjoyable, and inspired. In the future, we will have increased amount of content. Even so, it is vital that you create content after the cravings of your audience. After creation, deliver the content through the channels where they are commonly found, and they prefer.
Reading material: B2b Content Marketing Bots will not replace Human Writers
Conclusion
All our B2B content marketing trends in 2023 are centered around the customer. Consider what is the pain point of your customers right now. Strategize on how you can position your products and services as their solution through content marketing. Leo Burnett says
What helps people consequently helps the business.
Content marketing is structured to help the customer. Therefore, when your focus stays on this objective, excellent results and revenue will flow.