Customer loyalty rides in on the back of a fantastic customer experience. A customer experience that brilliantly merges offline and the online world takes the winning cup. Why? Because your customers are spending hours scouting over multiple channels. If you are not yet thinking of a multichannel marketing strategy, you are not thinking about your customers.
But I know I am wrong. Because, like always, you want to build the best customer experience for your customers. So, I will move straight away to doing multichannel marketing that will work.
As outlined in 7 Common Myths About Multichannel Marketing –
Multichannel marketing refers to all the efforts a brand puts together to interact with its customers across multiple channels and platforms. Multichannel marketing is followed by Omnichannel marketing which offers a seamless and integrated customer experience irrespective of how or where the potential lead is engaging with the brand.
Multichannel marketing is not the same as omnichannel marketing. However, the line of difference is quite blurred. It is because Omnichannel marketing puts the customer at the core. If you look at the definitions of both, you will hardly sense a difference. Infact, you may get confused as well. But to make things more clear for you, take the below image for reference: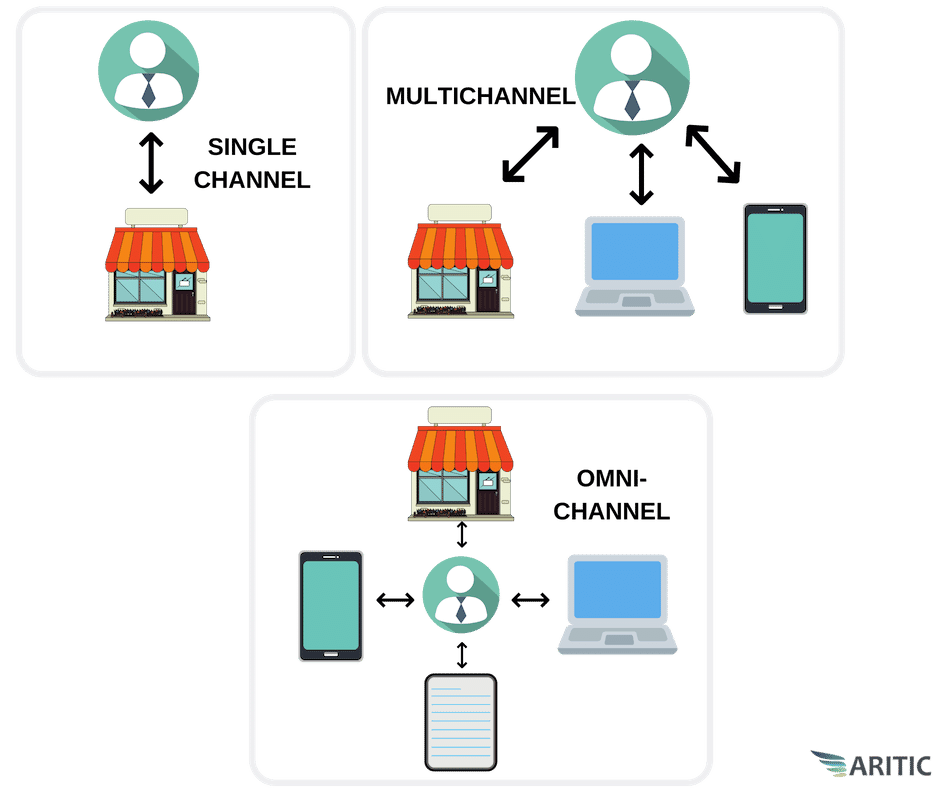 Multichannel is MANY CHANNELS and Omnichannel is ALL [including the customer and the channels].
Having said that, we'll come back to building an effective multichannel plan. To develop an efficient multichannel marketing strategy, you will first need to identify the channels that you want to focus on. Some brands are present online and also has a physical store. Some are only on the web.
Whether you have a physical store or you are a completely digital business or dealing with niche product marketing, you will need to first figure out where are your customers. Are they mostly on social media channels? If yes, which channels? Are they on their mobile devices more? Then maybe you need to think about SMS and push notifications more. Where do you see the maximum conversions happening – mobile, desktop, or tablets?
You see, when you sit to answer all these questions, you will see yourself transiting from single channel to multichannel to omnichannel. That's exactly how you build amazing customer experience.
This article will talk about 7 tried and tested multichannel marketing strategies that have given us excellent results. Before we succeeded, we also faced a few challenges. It is not rosy at the start. So, before you jump the gun, here are some common challenges that you will face.
Developing a 'Single Customer View'
Almost 89% of respondents of a survey said that linking customer data is a big challenge. You may have trouble gathering all user data and merging them under one customer profile.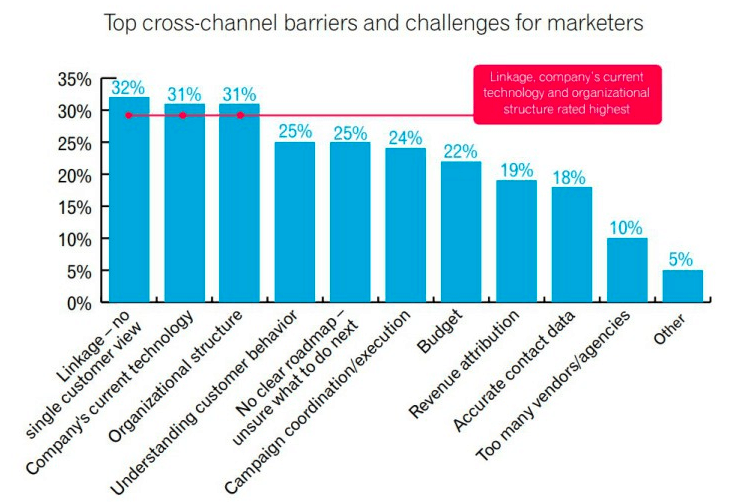 We call this building a unified customer profile. This profile consists of data about –
The channels visited
Each action of the customer
Devices used
Time spent on each channel and/or device
Browser used
Personal and professional details
If you are not using a proper automation tool to tying all customer information in one place, you cannot do multichannel marketing. The unified lead profiling in Aritic PinPoint helps you to tie together online and offline activities. Merging all data of a single customer under a single profile dashboard helps in segmentation. With a unified lead profiling feature, Aritic PinPoint also can identify duplicate profiles. It means, if a single user adds two different email IDs while accessing our product, we will know that. 🙂
---
Still Not an User of Aritic PinPoint Automation?
---
Not all organizations have the budget to implement multichannel marketing successfully. Most SMBs don't embark on this journey because they are simply can't afford it. Hiring an expert or outsourcing a consultant to take care of multichannel marketing are both costly approaches to running sophisticated marketing campaigns.
P.S. It is one challenge we did not face 🙂 but our clients did before they opted for Aritic PinPoint. Aritic PinPoint, luckily, encompasses multichannel marketing features within your budget. Plus, you get an integrated automation tool for analytics, lead nurturing, campaigns, and so much more.
Developing a consistent experience, consistently
While you might always plan your campaigns perfectly, it can be quite challenging to keep your messaging consistent across all platforms. So, everyone should always be on the same page about sending out the same 'core' message across all channels. It goes alongside the fact that you should tailor your content promotion as per the medium you share it on and the audience that majorly uses that medium. An Instagram Sponsored ad and a Google search ad could have the same core message but need to be shown differently.
Who's doing it right – Multichannel Marketing Examples
A multi-country survey revealed that 74% of businesses saw a spike in sales after implementing a multichannel marketing strategy. The same survey also revealed a 64% rise in customer loyalty and 54% increased customer experience.
Despite the positive numbers, only 16% said multichannel marketing helped them meet their analytical and business needs in terms of customer experience.
It highlights one of the significant challenges of multichannel marketing – managing it. The key to multichannel marketing properly is to know how to apply all the data acquired from customer interactions.
Brands need to re-think how best they can sync their activities – online and offline. Multichannel marketing should enable users to have a brand recall. So, who should you follow?
Apple
It is no coincidence that Apple as a brand has a distinguished customer base. It is one of the most valued brands globally, and why not.
Apple is not valued just because of its product or its features. It is valued because Apple connects to its consumers' lives. Ann Green, the Senior Partner at Milward Brown, explained that Apple's USP lies in the fact that it drives leads through innovation that attempts to make its users' lives easy.
If you look at these brands, they are all successful in making themselves relevant to people's lives, providing a point of difference in a sea of sameness and amplifying what they stand for in a meaningful, clear, and consistent way.
Apple's multichannel marketing is the living proof of that. From how the products are boxed to how their stores are designed, from their website to an office building – everything is designed to create an end-to-end journey for each of their customers. Take a look at this brilliant opening film from September Keynote 2018. It combines a Mission Impossible track at the backdrop, giving a tour of the Apple Office and, of course, the Clicker. It is one opening film that will keep you glued to your seats just because it is brilliant and there is a sense of mystery that is to unfold at the end.
That was an online campaign. Now, if you walk into an Apple store, you'll see how the store transmits the feeling you'd get when using an Apple product. It never goes loud on its products but emphasizes more on the 'experience' you're about to get.
Most Apple stores encourage an interactive purchase. You may check the product online, come to an Apple store, take a demo or a class for free. And all this is just the beginning of the relationship. Follow them online, purchase additional Apple merchandise online, get your own iTunes account – all seamlessly. Consumers can avail these add-ons at a lower price outside, but then Apple provides a seamless journey between their touchpoints in the modern marketing language.
P.S. Apple is my personal favorite.
However, if you are looking for a more social media-based multichannel scenario, then I have Burberry here.
Burberry is tagged as one of the exclusive brands in Asia. It has achieved multichannel retail successfully, and how.
Burberry's social media goes beyond the normal Twitter, Facebook, and Instagram. Along with this, it has China's WeChat and Japan's Line.
It has successfully incorporated Asia's two most popular social channels into live-streaming and real-time consumer experience. Check out how Burberry engaged their consumers using WeChat.
Burberry has tried experimenting with Snapchat and Periscope as well. However, in the current date, Burberry's multichannel marketing strategies in Japan and China are being followed across other markets. Burberry has also made significant investments in getting its mobile site and payment gateways sorted.
7 New Breed Multichannel Marketing Strategies to Implement ASAP
Despite the various challenges that we've talked about, marketers are increasingly steering their time, effort, and investment towards multichannel marketing. You got to be where the consumer is. The consumer today is everywhere – on the mobile, browsing Instagram, switching screens every minute. In fact, a new study points out that 90% of users move between two screens every single day. You can't deny how important going multichannel is. It's important is to figure out is how you win at it.
(1) Track users and user activity across all channels
Nearly 75% of consumers use multiple engagement channels for interacting with a retailer of choice. When it comes to creating a consistent and contextual experience for these users across all channels, businesses must first collect all data about these users and their cross-channel behaviors and activities.
If you glance through the State of Multichannel Marketing statistics, you'll discover that 51% of companies today use at least eight channels for communicating and interacting with their customers. However, only 9% of marketers can engage their users across channels consistently.
Most marketers fail in cross-channel engagement because they aren't able to effectively track their users and their activity. While Google Analytics can help, tracking users is not that easy at all. People today turn off cookies and deny disclosing information in forms. So, how do you get the information that you need?
Progressive profiling and browser fingerprinting are two advanced solutions that have helped marketers solve the 'user tracking' problem. You can track something as complicated as user identities, behavior, and activities with browser fingerprinting even when they switch their browsers.
On the other hand, with progressive profiling, you can get people to disclose their information easily without getting turned off by the length of your form.
(2) Develop a channel focus
Multichannel marketing by no means is about targeting all channels. If you are a B2B business with little or nothing to with Facebook because your audience doesn't use that channel, it isn't very reasonable to spend on it. On the other hand, if you are an eCommerce business, marketing on Linkedin makes little sense.
Into real-estate and eyeing the new-age millennials? You need to develop a focus for online selling. Probably, you'll need to go multiple steps ahead by exploring Facebook Live and Instagram Live, with VR and AR coming into the picture. It's all going high-tech for real-estate.
To develop a channel focus, you need to understand:
Who is your audience?

What are their education, career, and income?

Where in their career stage are they?

Where do they live?

What's their age?
Having clear answers to these questions will empower you more to reach out to them with the right messaging at the right time, through the most powerful channel. For example, Snapchat isn't the best channel of engagement for people that are in their mid-thirties today, who occupy managerial positions, earning seven-figure salaries.
---
Execute Effective Marketing Automation Workflows Now
---
To run marketing campaigns with a channel focus, you can utilize the power of marketing automation tools such as Aritic PinPoint. Such tools allow you to run campaigns on a preferred channel(s) or simultaneously – Email, SMS, Social Media, Push, or On-site. Tracking results on channel-specific campaigns is also simple with automation tools like Aritic to your rescue.
(3) Utilize the power of a CRM platform
Multichannel marketing runs on technology. The better the technology you use to execute your multichannel campaigns, the better results you'll get. You can load your barrel of content on multiple channels every day, but if you fail to target your campaign to the right audience, it's a complete waste.
11% of marketers believe that it's difficult to execute multichannel campaigns properly. In comparison, 45% of consumers say multichannel experiences are not being delivered fast enough, while 21% of marketers say they lack the understanding of developing a multichannel experience. All these areas where marketers may lack are effectively addressed with a good CRM platform in place.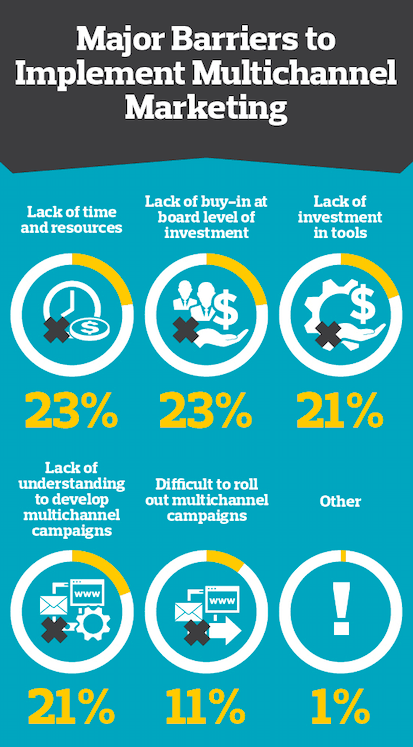 A smart CRM platform allows you to keep an eye on all customer-related data, bringing it all in one place. As such, it helps address the challenge of developing a single view of the customer. Furthermore, because a CRM allows you to track how users move across your channels and discover trigger events, you can run targeted campaigns for users to improve sales and conversions.
A 360-degree overview of your customer is what awesome CRMs and marketing automation tools help you achieve with absolute ease. Further, lead scoring helps you focus on hot leads in your CRM. When it comes to CRM, businesses often use Insightly as their go-to platform, but it's essential to explore other Insightly alternatives to ensure that you're using the best platform for your business needs.
(4) Run dynamic re-targeting across platforms
People exhibit unpredictable browsing and buying behaviors. It's no use forcing them through a predefined customer journey path. Take things to the dynamic level, delivering real-time relevance to your audience.
Using dynamic retargeting, you can show personalized ads based on users' past engagement, such as categories or products they browsed through on your website. Furthermore, your users' behavioral data can help you identify the optimal time to deliver a message to individual consumers for fetching maximum engagement and avoid interrupting them. Marketing automation can help you run dynamic retargeting campaigns successfully.
Several brands and businesses have witnessed tremendous success by running dynamic retargeting. Netshoes, for example, doubled their ROI with dynamic retargeting.
(5) Run automated multichannel drip campaigns
Like dynamic remarketing, drip campaigns also focus on specific timelines or user actions ( behavioral triggers). From one buying stage to another, drip campaigns effectively engage users, moving them closer towards conversion. As compared to broadcast emails, relevant (behavior based) emails win 18% higher conversions.
However, drip campaigns are only as relevant as your customer list segmentation. Here's a complete read on creating smart customer list segmentation using Aritic PinPoint's capabilities and techniques such as micro-segmentation.
(6) Personalize your multichannel marketing strategy
More than just a buzzword, personalization is instead the key to multichannel marketing. It makes messaging highly contextual, relevant, and emotionally-engaging across all your platforms. Brands that create personalized experiences increase their revenue by 10%, two to three times faster than brands that don't. That's why big names like Sephora are working hard towards personalized multichannel marketing.
Smart marketing automation tools and advanced technology such as AI-assisted personalization have enabled marketers to address the hurdles that otherwise hindered companies from creating relevant, contextual, and real-time experiences.
(6) Measure results across all platforms
As important it is to track your users and their behavior across all channels, it is also critical to keep a check on your campaign success. Knowing user engagement levels, click-through rates, and conversions from different platforms can show which channels to focus on specifically. It will also give you insights on which campaigns require optimization for fetching more conversions.
For example, your Instagram ad showing a 50% discount on your products might win you a lot of "Instagram followers" and engagement. However, your website banner that highlights the same discount might not be getting any clicks. Chances are you need to place it right. Check if the image is making the text unclear and experiment. All this will help you improve the overall ROI from different channels.
Based on your campaign performance results, you can optimize content for improved engagement using smart techniques such as 'Dynamic Content.' In the above example of the website banner, dynamic content can help you automate changes in your call-to-action, messaging, etc., to get better results.
Conclusion
Multichannel marketing is not an option. It is a requirement.
Click To Tweet
With the right technology and tools, you too can see a splurge in your sales, conversions, and ROI. Ready to take on the multichannel marketing bandwagon? Aritic can be of help. Sign-up for a demo to see how we can help you succeed.
⭐ What is multichannel marketing?
Multichannel marketing is the method of interacting with customers through direct and indirect communication channels and enabling them to make buying decisions.
⭐ How can you create a multichannel marketing strategy?
Steps to create a multichannel marketing strategy:
a) Understand your audience
b) Concentrate on core messaging
c) Use marketing automation
d) Monitor your results
⭐ What are the benefits of multiple marketing channels?
Advantages of Multiple marketing channels:
Join with your customers on all channels
Capture higher engagement rate from consumers
Move ahead of your competitors
Build long-lasting relationships with positive brand awareness
Provide engaging content to your customers
⭐ What is difference between retargeting and dynamic retargeting?
Retargeting is a form of advertising which allows you to present ads to people who have previously visited your website. Dynamic retargeting takes that concept one step further by allowing you to serve ads based on a user's specific actions—or inactions—on your site.
⭐ Why is CRM necessary?
A business needs to take care of its customers. Customer relationship management (CRM) is the best way to do this is through customer relationship management (CRM). With CRM, all the information about your customers can be stored in one place, making it easier to get in touch with them and to understand what they want. This means that you can have a better marketing campaign if you use CRM.
⭐ How does a drip campaign work?
A drip campaign is a series of emails sent out to customers at certain intervals. This can be used for customer relationship management (CRM) or lead nurturing. Drip campaigns are usually triggered by an event such as:
-Webinar registration
-Newsletter signup
-Contact form submission
-Social media share/tweet/like
-Purchase behavior, and more.
⭐ Are drip campaigns effective?
Absolutely, Drip marketing campaigns are a great way to keep your target audience engaged with your brand. It helps to create awareness, generate leads, and increase sales.
⭐ What is the difference between omnichannel and multichannel?
While the two terms are often used interchangeably, they shouldn't be. Omnichannel is a strategy that involves offering a seamless experience for customers across different channels, such as online and in-store. Multichannel is more about using different channels to provide access points to your company. At its core, omnichannel requires both multichannel marketing and multichannel merchandising strategies to work seamlessly together.