Customer engagement is as important as gaining a customer in the business. In this enormous pool of people, how do you keep track of each user to provide them with the perfect content at the ideal time?
Email newsletters are the best way to communicate your team's latest announcements. However,  a new user will see only those emails that edit out after they have signed up. It is not possible to send the new user all the emails from the start. Does that mean your new users will not get converted? Nope. That's not how email campaigns work. Enter drip email campaigns or automated email campaigns which can be designed in a way when a new user joins, they will get the same set of emails according to the timeline of their signing up.
Drip email campaigns comprise a set of emails that are sent out automatically on a schedule. First email is sent out the moment a new user signs up which can be a welcome email ; the next email follows within 3 days or so. Then it can be on the weekend and followed with weekly updates along with the important ones. Many times, drip campaigns are triggered on the basis of user behavior, for which these campaigns often go by the name of behavioral emails as well such as drip marketing, automated email campaign, lifecycle emails, autoresponders and marketing automation
The Ws and how of the drip email campaigns.
What are drip email campaigns?
drip campaigns are a set of automated emails that are sent out to nurture leads. These emails are sent either on the basis of a fixed timeline or based on user behavior. .
Email drip campaigns need not be designed each time a new customer joins or at each phase of their journey with you. It can be pre prepared emails customised according to your business for all users which also helps maintain synchrony and can be modified with just pinch of personalisation such as formal details like email address and user identifying credentials. Drip Email campaigns are an effective way for brands to stay connected with their users during various events like when a user signs up, or when some time, when new offers are released, when a user makes a purchase or updating users about new products and services, etc.
Why should we use email drip campaigns?
surely you wouldn't want to sit and type each and every email to all the customers which can get a time and energy consuming task. These automated-emails can send the same message required at a particular time to those on the email list. This also ensures none of your customers are left behind. Using these tools will simplify the process of engaging your customers at various phases. It can also help bring back the lost or inactive ones.
When should we use email drip campaigns?
Brands go as far as personalizing these emails by using the first name of customer in the email contents. Every drip email sent out is a part of an already written and scheduled email. In short, drip email campaigns can be defined as the art of sending the right information to the right audience at the right time. The important thing to keep in mind here is that we don't want to annoy our customers by overdoing it. The perfect way is to design it in a way which delivers the just right content at the given time.
How do we set up email drip campaigns?
We can keep the design in a way that we keep a good hold of the old customers as well as update the new customers with important information, making sure to do it without overwhelming them and at a right pace. The new subscribers can be greeted with welcome emails and then providing them with the most important contents and other email regular updates enough to make sure of the tough engagement. As it when it comes to paying customers giving them all the important updates on the product with the aspect of buyer's journey.
The etymology of Drip Email Campaigns

It is an interesting fact to note that drip email campaigns get their name from irrigation. Just the way a farmer nurtures a sapling, a drip email campaign nurtures every lead and helps in conversion. The dripping is used because of its efficiency to save water and efforts just like here to save energy and time to reap the best of results.
Do Drip Email Campaigns Work?
According to a research compilation by email marketing suite Emma–
Relevant emails drive 18 times more revenue as compared to broadcast emails.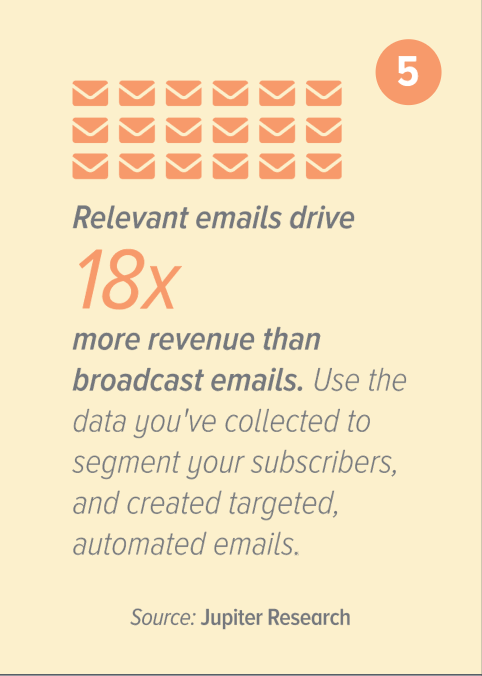 Now that is quite huge. This research guide also reveals:
Automated emails get 119% more click rates than broadcast emails.
Nurtured leads catalyze about 47% larger purchases.
Companies that use automated emails are 133% more likely to coincide with the purchase cycle of the customers.
Personalized emails generate about 6 times more revenue than non-personalised emails.
These points only go on to validate that drip campaigns can generate better results than email blasts without spamming your customers. You can segment your users and send drip email campaigns accordingly. For instance, you can have drip campaigns to educate your users or reward them or convince them to try a new product or service, and so on. Customer list segmentation goes hand-in-hand with the success of your drip marketing campaign.
For instance, suppose a user has been viewing your 'premium plan' page for some time. You can automatically set a trigger to your drip campaign to send such users an email on how they will benefit by switching to the premium plan. That is just one part of how behavioral automated emails can work. The right message at the right time!
Advantages of using drip email campaigns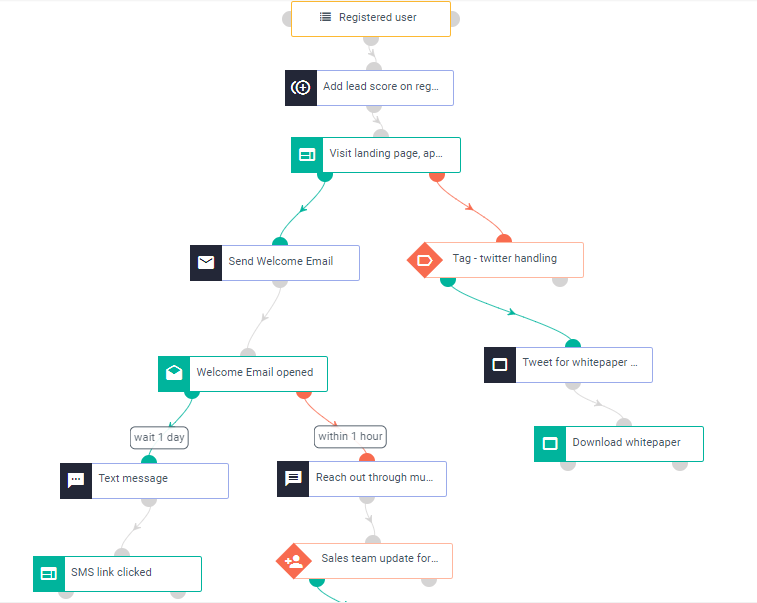 Drip email campaigns are easy, effective and time-saving. It helps you engage your users better and boost your user-conversion. The main aids that email drip marketing brings on the table are increased open rates and engagement along with loyalty. It increases the brand awareness and promotes the relevant content which also nurtures the marketing funnel, re engage with the un engaged clients. You can also attract the ones who had abandoned carts by informing with offers or some benefits of the product leading it to its sale.
Easy retargeting and on-time follow-ups: There are many leads that have subscribed but are non-active. These leads don't close. You don't delete these leads. Rather, doing a drip campaign can help you in keeping these leads 'warm' (slightly active). These are leads that will take a lot of time and many drip emails. However, when they are ready to make a purchase, you will still be around.
You can use drip email campaigns to upsell better products and services to these leads. You can cross-relate products or ask them to recommend to friends. The catch here is- there must be an incentive to this engagement. Remember, they were inactive. To make them active, you need to offer them something that will push them to engage.
One-click campaign automation: Adding and deleting subscribers, moving lists in and out of the campaigns, applying tags- there are so much to a drip email campaign. All of these can be set seamlessly with just a click. This is an endless stream of possibilities customised to fit your needs.
Drip email campaigns workflow designing: Did you see the Lead Nurturing Essentials video from LearnPad? LearnPad had created a 10-step drip email campaign to convince their educators to adopt their latest technology. Drip campaigns are automated and one-click affairs. Once you have set the schedule or email flow and/or behavioral triggers, you are done. There is no putting end to the creativity here.
List segmentation based on prospects' interests: Sending out personalized emails enhance more conversions. You can segment your prospects based on their interests and accordingly schedule the drip campaigns. The more personalized is your drip email campaigns' content, the better it is.
Effective nurturing for Sales-ready leads: Like mentioned earlier, drip email campaigns are about sending the right information to the right audience at the right time. Hence, if you are sending drip emails to sales-ready leads, it will show instant results. Drip email campaigns are a great way to nurture highly potential leads and get them converted. For the sales, Drip email marketing plays an essential role in attracting customers like a light to a moth!
Types of Drip Email Campaigns
Drip email campaigns are effective, but too much of anything never works. Drip emails are no exception. If you overdo your drip emails, chances are high that your users will unsubscribe from your email list. A balanced drip email sequence can be just perfect to remind your users about your brand, educate them about your services and products, announce new launches, get new users, and keep them posted about what's happening around. You can use this area with a lot of creativity and follow minimalism that is just perfect to deliver what is enough to do the desired work and reap the results.
Drip email campaigns are mainly used during-
Welcoming new users – it works well when a user receives a welcoming email from you as soon as they sign up, giving them heads up to proceed with more involvement.
Onboarding of customers – introducing your customers to valued information like introductory or about brand values and the benefits of engaging with you.
Lead nurturing – nurturing them in many forms like newsletters, sticking to throughout a buyer's journey with useful content relevant to them and encouraging and convincing the purchase of your product.
Shop cart abandonment – when people go all the way till putting products in the cart but at the end moment change their mind for various reasons and leave, to attract back such customers you can pursue them again with new offers on those products and here you must make sure it catches your reader's attention and instills curiosity in them to bring them back to the purchase.
Recommendations – It's good to know what your customer likes and dislikes, there are algorithms that show the desired suggestions to their similar searches and purchases so that it increases their engagement of your website and leads to more sales.
Renewals and confirmations – here you can assist them with providing renewal dates of their subscription or giving them resourceful links to update their content or contact if needed any assistance. Confirmation mails also play a big role after a purchase is done. They provide the assurance that the purchase was successful and it can also act as tracking the delivery of the product. Also a thank you note after a purchase shows the politeness of your company.
Educating customers – this is an important thing to do to educate your customer about your brand and its values, the products it caters and any new updates which seem to be vital to be known by the customer.
Unsubscription of users – sometimes subscribes do slip off but to keep the engagement and efforts to bring them back you can still check upon them time to time if they catch up to something they grow interest in your feed.
Let's see how others are doing drip email campaigns: Drip email campaigns examples
Welcome Email from SemRush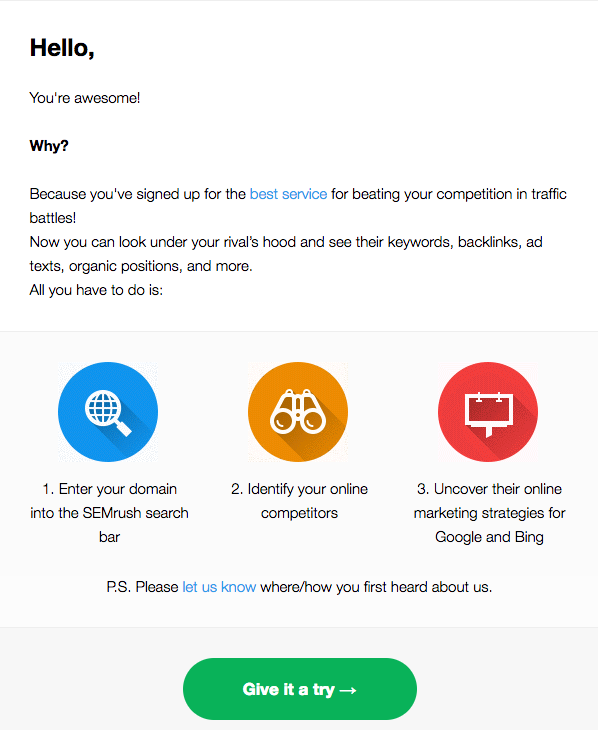 Welcome emails are a nicer way of saying "Hi, it's great to meet you." According to the whitepaper on Welcome Emails by Experian, automated welcome emails received 58.7% open rate on an average while that of normal emails was just about 14.6%. It also revealed that open rate spikes up to 88.3% if a welcome email is sent instantly after the user signs up.
Onboarding of new Customers from Cloud storage app Box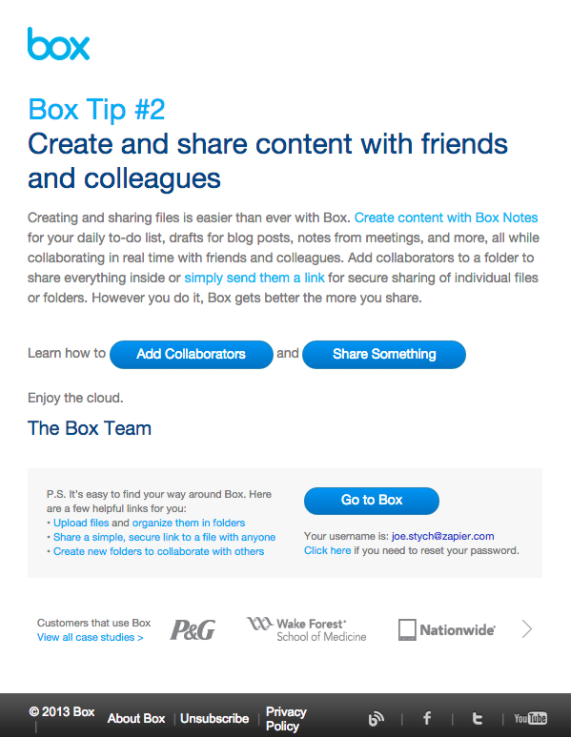 You can get a lot of page views and many users will sign up for the free trial. The real catch is to convince them to sign up for a paid plan and be with your brand for a longer time. This is where drip onboarding emails help. Onboarding drip email campaigns offer small 'sell' that is highly targeted. Small goals and baby steps go a long way.
Confirmation email from Medium, a blogging platform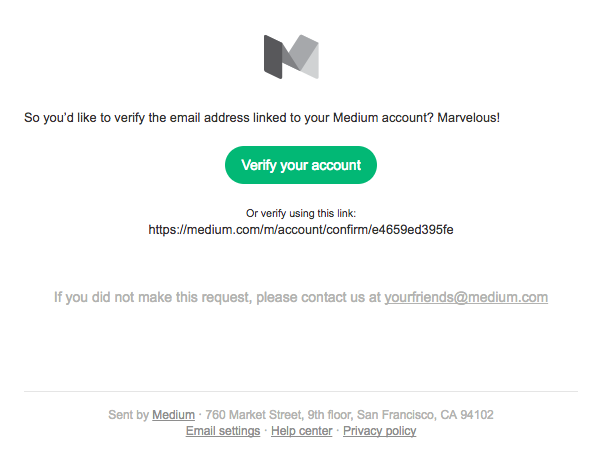 Brands use emails to confirm user registration. It is more like closing the deal, but that doesn't mean your drip emails are no longer needed. Once a user has signed up, you can schedule drip email campaigns to say a thank you, or remind about the renewal of purchase, or include links to your products or services. Sending out receipts of any purchase made instantly is essential. That validates customer support and creates a base for customer trust. Confirmation emails on ticket or train bookings or hotel room bookings can be followed by reminding users about that upcoming trip a few days prior to the trip.
Setting up the Drip Email Campaigns
Setting up your drip email campaigns is not as daunting as it may look like. A drip campaign can be set up in a few simple steps. Below is a guide to setting up a drip email campaign.
Spot your target audience first.
You cannot send a bunch of emails to your existing user list about something they did not sign up for. You can sub-divide your lists into various segments based on demographics or actions or interests. Drip email campaigns are more like niche email marketing.
Draft your content carefully.
Once you know which user group you are sending out your emails, you will need to carefully draft your message that is helpful and grabs the eyeballs. You need to be sure of what exactly you want to communicate or rather the purpose of your drip email campaigns- is it to educate your users? or sell a product? or re-engage existing users?
Bonus Read: Jimmy Daly, the content editor at Vero, broke down a promotional email from Evernote to highlight the importance of content structuring.
Plan out your campaign.
Before you set a drip campaign, you will need to chalk out the plan of action. Which email will go after which, and when must be pre-decided. All your email templates must be ready accordingly. For instance, for user nurturing, you can include emails like:
Send updates
Weekly newsletters
Educational content
Offers and discounts
Start your campaign.
You have everything ready- email list, email content, and email sequence. Now, you get going. You will need to implement drip software for this purpose or opt for a marketing automation tool that offers all the automation features.
Evaluate and Modify.
Drip campaigns are automated. True. But to make this automation function, you will need to supervise and monitor the whole functioning. You will need to see if a particular drip sequence is giving you the desired results. If not, you will need to modify the email sequence or may edit the email content. Sometimes educational content might work wonders while other times it will not. So, it is important to evaluate your drip campaigns, adjust and repeat.
Useful Email Drip Marketing Hacks that you must know
99Firms, a digital marketing agency, has recently put together 15 awesome email marketing hacks in an infographic. Each of the hacks is practical, and are sure to drive results to your email marketing campaigns. P.S. Implement them properly. ?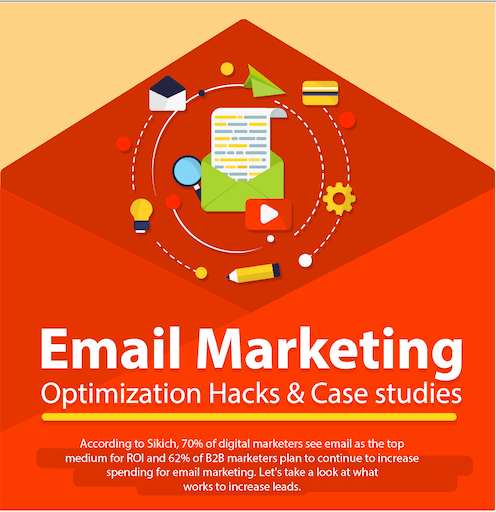 Source: Infographic by 99Firms
This infographic will take you through the hacks that will help you draft the perfect email campaign. Be it subject line or sender's name or personalization of email content – each aspect of your email plays a pivotal role in helping you drive engagement, followed by acquisitions.
Drip email campaigns are not only about creating a series. You must also pay equal attention to how you are drafting each email. It is at this stage that this infographic will come extremely handy. Check out the entire infographic here.
Email Marketing Workflow Tips
Below are a few simple guides to what kind of emails can be used for each event.
Welcome campaign
Once the user signs up and you send out a welcome email, you can follow up with emails on
Tips

Various industry trends

Free eBooks

Case study compilations

Webinar invitations (if applicable)
User onboarding
After welcoming users next is helping users to onboard seamlessly. User Onboarding involves small goals and niche 'sell' tactics. Often such email sequences consist of emails like
User nurturing
Whether the user is new or inactive or active but old, nurturing can never be over. You will need to send out emails that will keep them engaged with your brand. After all, out of sight means out of mind! User nurturing emails include emails on
Product updates

Weekly newsletters

Educational contents
Product engagement
More the engagement on your product, better are the chances of conversion. Product engagement drip email sequence can have emails on
Product feature highlighting

Educational content about the industry in general
Regular email workflows
While above are some specific user events, a regular email sequence can email like
Newsletters

Feedback emails
Drip email campaigns are effective when you are using the right drip email marketing software
Aritic PinPoint can help you do drip email marketing automation campaigns effectively without consuming much of your time. It is a full-stack marketing automation suite which includes email drip campaigns. You can build an automated drip email sequence within Aritic PinPoint using the drag and drop email drip builder.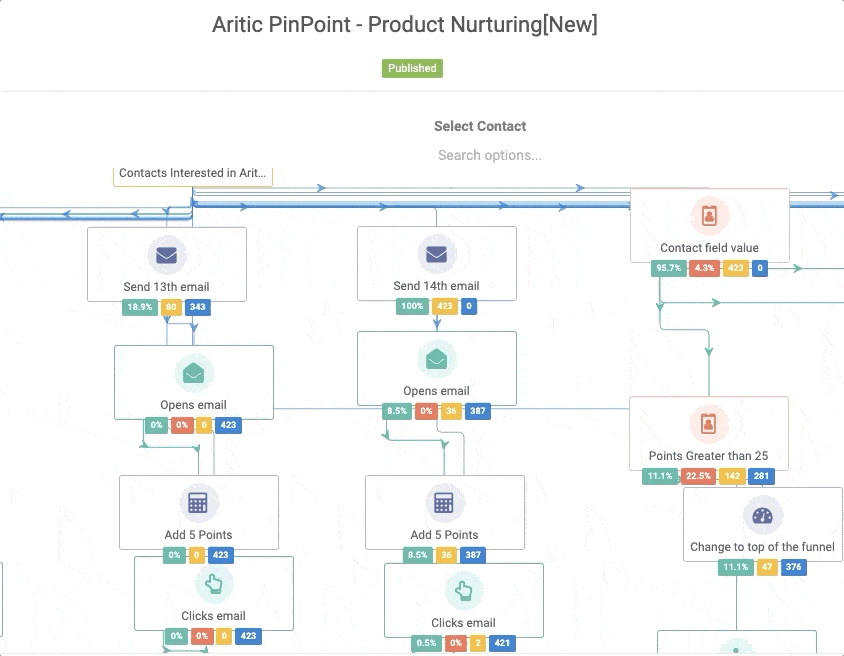 Add to this, Aritic PinPoint has beautiful and responsive drip campaign email templates that are ready-to-use. You can customize them if you want to. Analytics and tracking are also strong and real-time. Drip email nurturing is essential and Aritic PinPoint has all the drip email campaign tools that you'd require. Take a quick demo to see how drip email campaigns can be built within Aritic Pinpoint or straightaway sign up for a free account today.