The knowledge of the various types of mailboxes used can help in organizing a successful email marketing program. In 2021, on average, each email subscriber has 1.7 email accounts per user, and by 2022 it will increase to 1.8 email accounts per user. This data shows that an average email user maintains more than one mailbox to receive emails as per their different priorities. Based on this data, we tried to segment all subscribers' mailboxes into eight different types of mailboxes.

Why do you need to know about different types of mailboxes?
Let's assume you have around 100 email IDs signed up for your emails. It is not possible that all these 100 users are equally active. When you add a new lead to your email list, it isn't necessary that lead subscribed to purchase anything. In most cases, subscribing to a newsletter is just the first step to know your brand in details. Whatever information you have shown via your landing page or social media campaign has triggered a sense of interest, based on which they have subscribed for your newsletter.
Your email list will consist of different types of users – those who are extremely active and engage regularly with your emails, those that do not engage at all from the first day, and then those who were once active. Then comes the list of invalid emails or emails that have become dormant. Based on all these, inboxes are majorly categorized into 8 different types.
An adequate knowledge of the audience who are reading your emails is needed beforehand for success along with other factors. Below are the different types of mailboxes used by subscribers:
8 Different types of mailboxes:
1. Super Users
This is a subscriber that loves reading the emails sent to him and makes sure to read each one of them. They usually do not have any promotional emails in their inbox as they are picky about what they subscribe. They only read 8% of your messages and are almost 6% of your total subscribers.
2. Engaged Personal
They read emails which are of interest to them. They love to read emails. This group consists of 10% of your users, and they read around 23% of your emails. They do not read everything on their inbox and hence less picky on whom they subscribe.
3. Super Subscriber
These subscribers always have an overloading inbox. They receive bulks of promotional emails, and they read a tiny amount of it, as they receive so many emails. They consist of 9% of your audience and read 25% of your emails.
4. Engaged Secondary
Engaged secondary subscribers are somewhat active. They read few emails which they receive in their inbox. This email address is given only to businesses for fear of spams and is not always used by the user. They account for 9% of your total subscribers and read only 13% of your emails.
Overall email subscribers are distributed along 7 different kinds of mailboxes and open rate widely depend on their activity.
5. Unengaged Secondary
Unengaged secondary subscribers only engage with their account a couple of times a month or week and read very little mail that you send. This is likely their secondary account which is used sporadically for specific subscriptions as they fear spams and do not want to be bothered with promotional emails. They consist of 9% of your subscribers and read 12% of your messages.
6. Inactive Personal
These types of mailboxes are not used for over the past one month, but they receive an extremely high amount of personal email. They consist of 0.5% of your subscribers and read only 1% of the emails you sent.
7. Inactive Secondary
These types of mailboxes are usually not used for the past one month, and they look like they were never heavily used accounts. The higher than normal promotional emails in their mailboxes are a reason for these email addresses were made to separate promotional email from personal emails. They consist of 25% of your subscribers and read less than 1% of your emails.
8. Idle Account
These types of accounts have never interacted with you nor have received emails for the last one month. They account for 35% of your subscribers and read 0.25% of your emails.
---
Still Not an User of Aritic PinPoint Automation?
---
Dealing with Different Types of Mailboxes
You know the different types of mailboxes your users have. You have an advanced marketing automation tool at your disposal. So, let's put Aritic PinPoint in full use to deal with these types of mailboxes. [PS: Aritic PinPoint is equally efficient when it comes to capturing leads, lead management and collecting lead information].
We will club the different types of mailboxes into three major categories.
Active Mailbox
Users that have an active mailbox are most potential users. A little more lead nurturing can quickly get them converted. These are the leads that are genuinely interested in your product or services, and might as well recognize you/your brand immediately if they receive a phone call. That's a major boost. Talking to users who can identify you instantly means your marketing tactics have paid off and you have genuinely given enough resources to push the interest of those leads.
For these leads, you can create a more targeted and personalized email campaigns. Automated drip campaigns and promotional campaigns will keep them hooked. Add to this, webinar invitations, emails on why they should make a purchase, and likes of such can work. Use the lead scoring feature to keep assigning scores for each activity they do. Higher the lead score, better are the chances of conversion.
Those with highest lead scores can be put into your sales rep's bucket. They can either convert with one phone call or may require personalized email campaign to seal the deal. You can also opt for account-based marketing wherein you design an entire marketing workflow revolving around these accounts. Aritic PinPoint lets you schedule autoresponders, launch SMS campaigns, and automated drip push notifications for further lead nurturing. Create automated email workflows for these accounts only and see your conversion rate going up.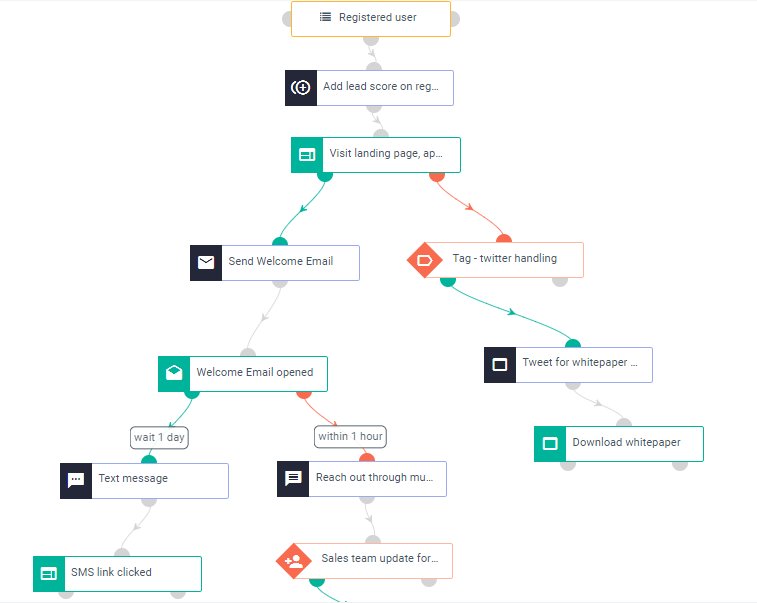 'Once upon a Time' Active Accounts
These are the accounts that stopped interacting with your brand after a certain period. They either did not get what they were expecting or maybe their choice just changed in a snap. What you can do here is, launch re-engagement campaigns via Aritic PinPoint. If these leads were once interested but got disappointed with your emails, you can nudge again and see if this time they found your email interesting.
If they unsubscribe from your list, its all said and done. But if they still choose to remain inactive after an automated drip email campaign series, maybe they are not worth your time as of now. You can keep them in your bucket and send them regular newsletters. Or, you can opt for another re-engagement campaign sometime later.
Somewhat Active and Idle Mailboxes
This is the most common (and a majority chunk) set in your contact list. Since Aritic PinPoint offers dynamic contact list segmentation based on lead behavior, you can easily see a list and know which are the active ones and which are not. This list will most certainly have your potential users who need more information, resources, and convincing before they start investing time, trust and interest in your brand. eBooks, gated video content, dynamic content, SMS campaigns, push notifications, new discount announcements, webinar invitations, drip campaigns, mobile marketing – all of these put together, will help you nurture these leads step by step (We call it Multi-channel marketing).
Lead nurturing comprises of three stages: awareness, consideration, and decision. And for each stage, a different type of content contributes in pushing your leads down the marketing funnel. You can track email metrics like email opens, bounce rates, and unsubscribes to understand if your content is correct or not. Experiment with your subject lines and A/B testing to ensure you send the most plausible content before your audience.
Conclusion
Now that you know end-users have about eight different types of mailboxes, you can quickly figure out the profile of your overall email subscriber base. Although, a majority of the email subscribers fall under Engaged personal and Ideal account category; Aritic PinPoint can easily differentiate between these subscriber mailboxes; courtesy behavior-based segmentation, website tracking, and lead tracking feature.