You have a good influx of organic traffic. With dynamic contact list segmentation, you now have properly segmented lists. Now tell me, are they actively engaging or just sitting idle? If you haven't automated your email campaign, probably they are sitting idle. Did you know high email delivery has a lot to do with how engaged your leads are? Yes. You read it right. To achieve high email delivery service, you will first need to automate your email workflow.
You can relax because Aritic PinPoint already comes with automated email workflows. With an automated workflow, you don't miss out on nurturing your leads and get rid of email delayed delivery. When your leads engage with your emails, it improves your email sender reputation. Thus, you have fewer chances of being marked as spam and more chances of reaching your recipients' inboxes.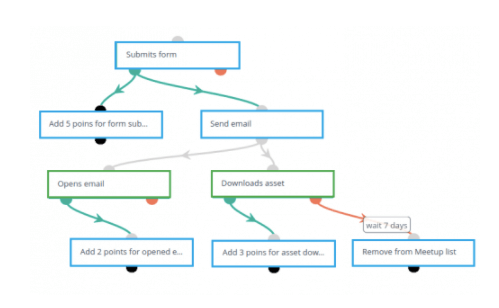 High Email Delivery with Marketing Automation
Automation helps in nurturing leads with email campaigns. Aritic PinPoint, ofcourse, gives you the option to launch multi-channel campaigns (landing pages, SMS, push notification, mobile, and social media). With the personalized multi-channel approach, you create a brand image that your target audience can relate to. And when they receive emails from you, they instantly connect with you or your brand. This means, your emails make way for a healthy and long-term customer to brand relationship without email delivery failure.
Add to this, Mailbox providers also analyze how their users are reacting to emails they receive. Hence, more active and engaged user means fewer chances of reaching the spam box. However, along with user engagement, there are other technicalities that play a pivotal role in achieving high email delivery.
You have a few seconds to convince a person to open your emails. You have worked hard on your email marketing campaigns and subject line, but if you fail to land your emails into the inbox, then you have failed. Email deliverability and email delivery tracking is essential to the success of your program. Previously we wrote about 48 Reasons Why Your Emails Have Low Open Rate and Effective Email Subject Line – Marketers MasterGuide, which gave you fair insight on how to combine the art and science to achieve high email opens. Now, for improving your inbox placement here are a few tips to land emails into the inbox and achieve high email delivery.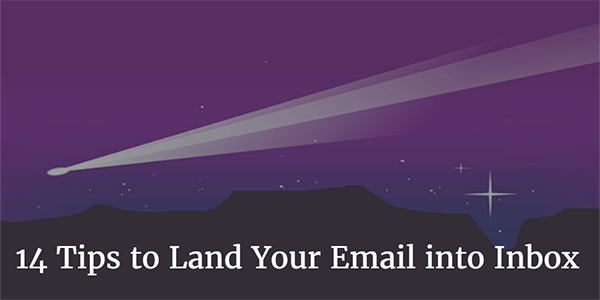 Tips to land emails into the inbox for high email delivery:
1. Find out your sender score
Sender score is a credit score that tells email providers and spam filters how wanted your emails are and trustworthy they are. It can range from zero and hundred. This score changes every day. Checking this score on a daily basis is important to avoid any deliverability surprises and email delivery tests. You can check the sender score, using these services- SenderScore and SenderBase.
2. Try to send emails from a dedicated IP address
Using a dedicated IP address can help to land emails into inbox thereby increasing your deliverability rates. When your emails send rates reaches a certain volume, it is advisable to switch to a dedicated IP address. This can help you in gaining control over your reputation and subsequently helps in gaining high email delivery and getting the delivery confirmation email.
3. Optimize your emails for all devices
Marketers need to design email programs and check email delivery service which can be read on multiple devices. A responsive email template ensures good rendering on mobile devices too. Apart from this, make sure you are sending a text-based email too; these emails render quite well on any mobile device.
You can use Litmus Email Testing and Rendering Tool.
---
Still Not an User of Aritic PinPoint Automation?
---
4. Try to identify problematic reputation metrics
Mailbox providers look into a variety of signals; they are not just content to determine if your email should be sent into the inbox or the spam folder. These parameters include complaint rate, the number of non-existent addresses you send mails to, blacklists, spam traps, and many more. Try to find the factors that you need to address before your next email campaign. Request you a customized report to get an idea about your email metrics.
You can use these services- mail-tester, MXtoolbox, Multirbl, Hetrixtools.
5. Make sure that your users have the option to unsubscribe
Give your subscribers the option to leave when they sign up to your updates. This is an important factor to make your audience stay. Make sure your outgoing email campaign has an unsubscribe link. Also, make sure that the email campaign has Link-unsubscribe: in the email header. Having Link-unsubscribe: in header enables subscribers to unsubscribe the emails quickly.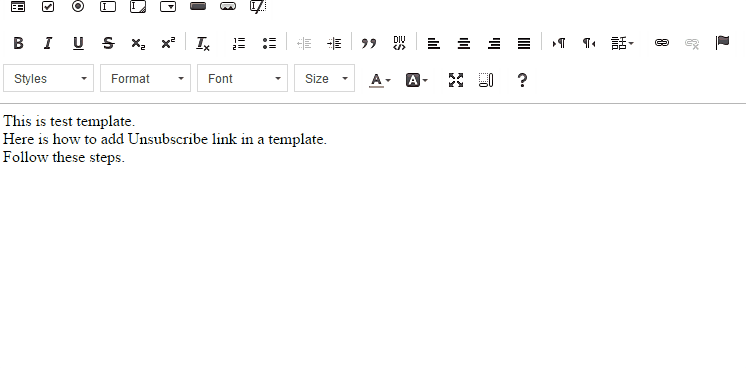 Related: 7 Advanced Ways to Reduce Email Unsubscribe Rates
6. Make sure that unsubscribe buttons are visible and in working condition
It is a law to have a working unsubscribe link. CAN-SPAM requires unsubscribes to be valid and working, and unsubscribe requests be honoured within ten business days.
7. Make it mandatory to authenticate your sending domain
To protect your brand from fraudsters consider authenticating your sending domain. Authenticating helps to identify ownership of your mailing domain. Your sending domain should have proper SPF, DKIM, and DMARC records implemented. You should follow this guide for proper implementation. Using these records escalates the sending domain reputation thus, in turn, helps you achieve high email delivery and email delivery receipt.
8. Attend to your customer complaints
Every time a subscriber marks your email as spam, or you get a request for an unsubscription, act on it. Receive a report and act on the complaints. This should be observed on priority, and make sure the reporting emails should never include in the list emails where a new campaign is being sent.
9. Monitor your email sending reputation from Google Postmasters
You should configure your sending domain name with your Google Postmasters account, then, keep an eye on domain reputation and IP reputation tab. High domain and IP reputation in Google Postmasters, ensures high email delivery. Feedback Loop and Delivery Error are another important options; you should also keep a close eye.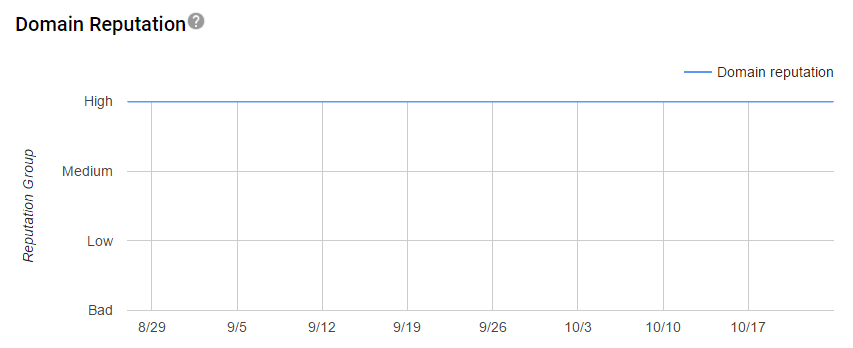 10. Try to know the devices your subscribers use to read the emails
Knowing the devices that your subscribers read emails can be beneficial in crafting your overall email marketing campaign. Having known about the mail opening activity on the different device; you can focus on proper email template optimization according to the campaigns being opened on different devices.
11. Segment your email list for high email delivery

Segment your email list according to your subscriber engagement. It would help you to avoid falling into mail traps. Mailbox providers usually use engagement spam filters along with content and reputation filtering to determine and block your incoming emails .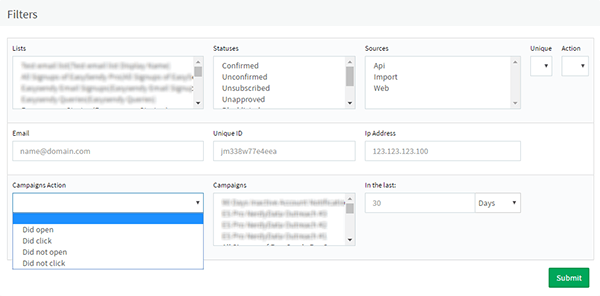 12. Double check if all your URL's are working
Use an automated URL tester and blacklist checker to run your URL's and discover potential issues before you hit send. A non-working link inside the email, cause very bad reputation in front of the subscriber. Also, this raises suspicion to the mailbox provider and decreases the email delivery to the inbox.
13. Ask users to add you to their contact list
This method is useful in targeting high email delivery and ensures they enter your customer's inbox. Microsoft mailboxes- MSN, Live, Outlook, Hotmail, take this on priority before it enables emails to land in the inbox of the subscriber.
14. Try sending test emails before sending to the main list
Sending test emails can help you determine the reactions of the subscribers beforehand. These test emails could be sent to the small group to test if you land emails into the inbox. In the case of a failure, report the program could be changed easily, and this would ensure lower damages. Or, you can also send a test email to mail-tester.com service, which enables you to check any potential issues with your campaign at once!
These tips will certainly help you achieve a high email delivery rate and help land emails to the inbox of the subscriber.
Are there any other tips that you've discovered while sending mail campaigns? Share with us and we will update this article ASAP. 🙂 Till then happy emailing!
⭐ How is email delivered?
We can consider an email is delivered when it gets delivered from the sender's mail client, received by the mail server, then opened and read by the recipient.
⭐ What is a good email delivery rate?
We can consider 95% or above as a good email delivery rate, and the bounce rate should not cross 3%.