Marketers are using GIF emails a lot. GIFs have come across as a great way for marketers to tell their story in a more visually engaging way. Remember that GIF for Father's Day where the dad saves the child from falling? A lot of brands had used this GIF for their Fathers' day email template. Imagine if this whole thing was written in plain texts, it would've taken away the charm of this email. The GIF expressed the story, and all the marketer had to do was include a few lines of texts to complete this email. A perfect stroke.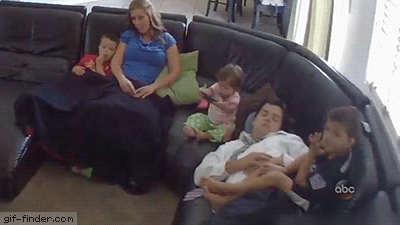 source: GIF-finder
Another catch point is personalization. You immediately connect with the content, the email is properly personalized with your name, and is totally related to the event and your previous purchase patterns. If these were not in place, probably only a GIF could not trigger so much engagement.
The need for personalizing marketing efforts and putting these messages across the best marketing campaigns in an instant has made way for GIFs. If you were in awe of email marketing automation features like automated email workflow, drip campaigns, and autoresponders, then GIF emails have taken email marketing automation to the next level. GIF emails have opened a new road for email marketers to establish a relationship via storytelling in a short, crisp and visually enriched way of a great marketing campaign ideas. After all, marketing is now customer-centric and emails acre behavior-based. To keep them engaged and glued to your brand, what better way than leveraging the most liked mode of communication through the marketing campaign elements(i.e. emails) visually?!
The world just cannot have enough of the animated GIFs. Recently when NASA announced about its new account on GIPHY, GIFs have reached another level. With its beautiful pins (on Pinterest) and GIFs, NASA is looking forward to engaging with people more on social media. If this was not enough, Whatsapp is also now streaming animated GIFs on Android devices. Both NASA and Whatsapp are poles apart, but it looks like animated GIFs are something that has garnered everyone's attention equally. Talking about engagements, animated GIF emails have also become the talk of the town!
GIF: The Etymology
GIF stands for Graphic Interchange Format. It is a bitmap image format. It is an image file like the PNG and JPG files. These animations vary from scene cuts to slideshow style animation which features multiple still frames from different images. Gifs date back to the year 1987 when American Software Writer Steve Wilhite developed it. He was working for the Internet service provider CompuServe at that time.
GIFs rapidly display a series of images that produce an illusion of motion. Earlier, GIFs were added primarily to add movement to a web page. However, this has changed since the 90's. GIF's have been very popular on the internet and in email marketing. Usually, these images are compressed with the Lempel–Ziv–Welch (LZW) data compression technique which is used to reduce the size of the file without degrading the visual quality.
GIF Emails – Does that Work?
If you have noticed, most of the emails sent out by brands contain GIFs. Now GIFs are somewhat dreaded by marketers as well, because it may take away the attention from the original message of the email.
The reason why animated GIF emails have become popular is not that they are fun to look at, nope! It is popular because brands have now a better way to showcase the functionalities of their products or explain their services. For instance, this GIF email from on Father's Day had hit the bull's eye.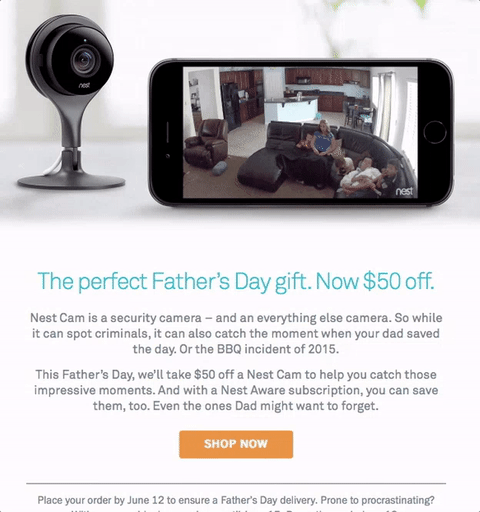 GIF emails have become a bolder way to communicate and engage with the customers with its great marketing campaign plan. If you are still wondering whether animated GIF emails will work or not, you already have an answer! Ofcourse, this does not mean that the email will have an overdose of GIFs. Like we take caution with the amount of content we add in an email, same goes for the GIFs. These Animated GIF emails have managed to provide better engagement rates than a static image in the same email.

Pros and Cons of Animated GIFs
GIF emails allow you to use a series of separate frames that can be put together to create a type of animation. Animated GIFs have many advantages and a few disadvantages.
Loads faster: GIF animations load much more rapidly than other forms of animations. However, adding too many gif animations can make your email load slowly, and your subscribers may lose their interest.
Better customer engagement: Customers engagement levels are more with adding gif animations. For example email template of LOFT which shows watermelon seeds that come down as rain and reveal the keyword "Sale" had been efficient in being more visible to the subscribers and had generated large scale interest.
Amuses the audience: GIF animations entertains the audiences and keep the customers engages.
Animated GIFs are one of the best email marketing campaigns which make up to a point in explaining the concept or point.
Using GIF emails can increase click-through rates.
GIF animations support greater transparency when employed in emails.
Email campaigns with GIF animations give better results as they are more attractive and engaging. An animated format can hold a lot more content that is almost impossible for an average image. That gives you an edge over static images.
Creating an Animated GIF
One of the easiest ways is to use the GIF maker inside Aritic PinPoint email builder.
Aritic PinPoint lets you create GIFs for your email campaigns right within the email campaign studio. The new GIF builder is an easy drag and drop GIF block that you can just drop into the template.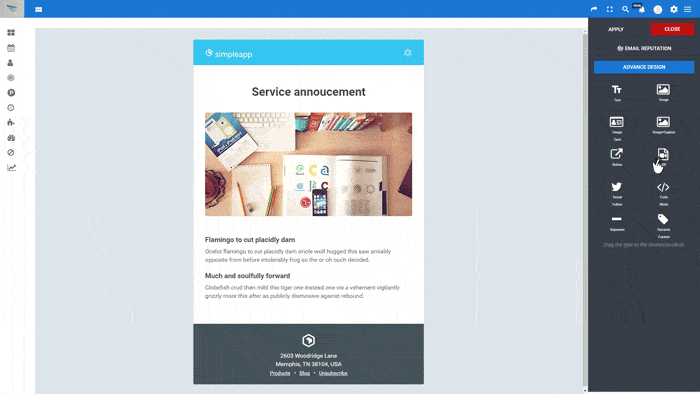 The GIFs inserted in your email templates does not disrupt the template design. It, infact, enhances your content. You can measure the length and size of your GIF so that email loading is not hampered. You can also monitor the number of frames and the resolution of your GIF. Putting these in place ensures that your GIFs load completely when a user opens your email, whether on desktop, mobile or tablet.
How to use GIF Generator inside Aritic PinPoint?
Login to your Aritic PinPoint Dashboard, go to Campaigns > Email Campaigns > Create new email campaign.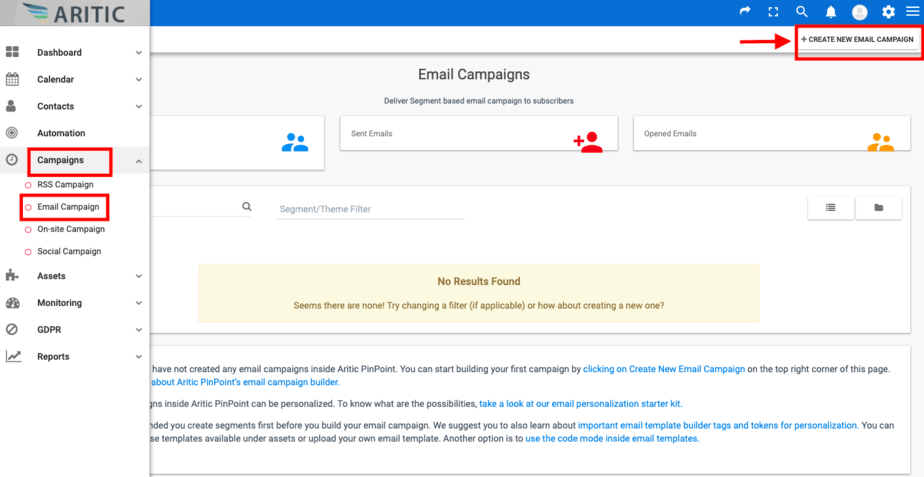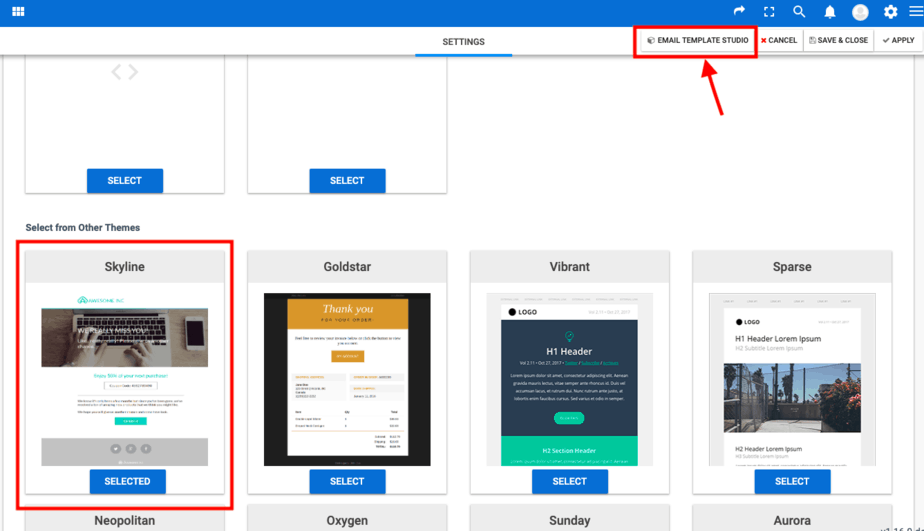 Now select a theme. For demonstration purposes, we have selected a pre-designed theme – Skyline here. After selecting a theme, open the email design studio.


Here you will find the GIF generator block. Drag and drop it as shown in the GIF above. Once you have dropped the GIF Generator block, you will see an option to edit the GIF. Click on the edit symbol.

Inside Aritic PinPoint, you can make a GIF from an existing video. You need to mention the start and end time within the video so that the GIF generator can crop that portion of the video and use it as a GIF. You will need to mention the padding details on all four sides for a smooth GIF experience.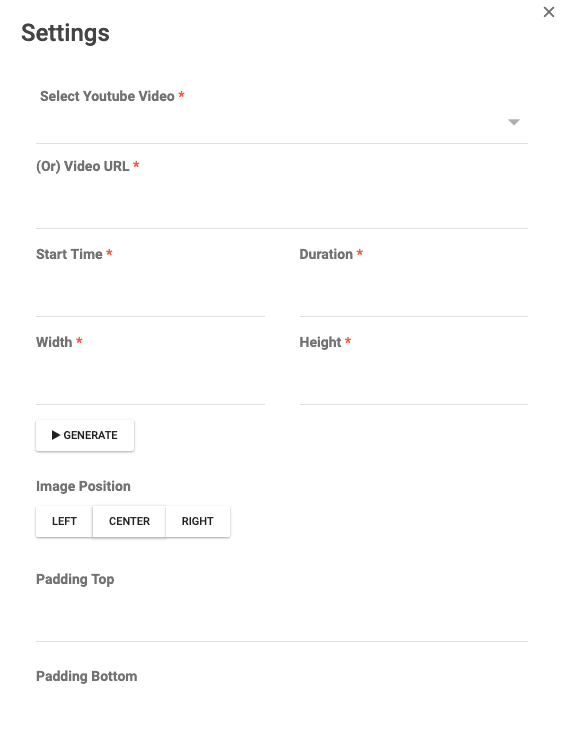 If you want to create a GIF first and insert it as an image in your email template, then you can take a look at the below steps and resources to get started.
There's a host of tools and websites that help in creating animated GIFs for emails, blogs, etc. Below, we will go over a few tools, websites and a detailed step-by-step procedure for creating an animated GIF.
External Tools to Use
Few of the best tools that you can check out are:
Photoscape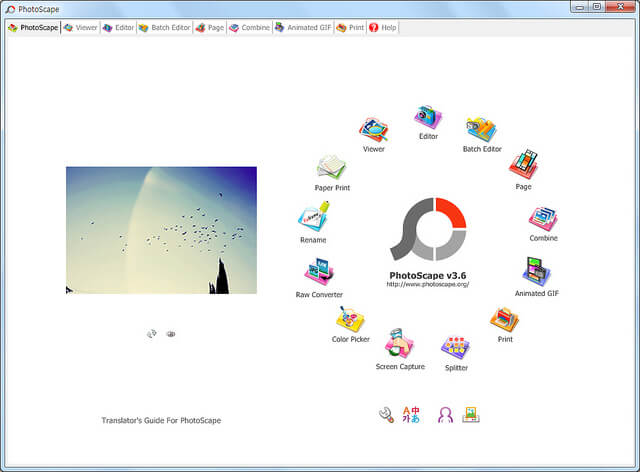 Photoscape is technically a free multi-purpose photo editor. It comprises of a photo editor, GIF animator, color picker, splitter, image converter, screen capture, photo layout, and other tools. Its functionalities include the viewer, rename, raw converter, editor, screen capture, etc. You can use the Animated GIF feature of Photoscape to create your animated GIFs. Multiple frames can be added in a GIF by adding multiple pictures. You can quickly set up the time between every frame. With this software, you can add various transition effects to your animated GIFs. You can even change these transition effects to sliding a frame, and the program will automatically add necessary frames to that effect. However, this will undoubtedly increase the GIF file size.
Microsoft GIF Animator
Microsoft GIF Animator is an entirely free software that can be used to create animated GIF files. With this software, you can easily drag and drop multiple GIF files to create an animated GIF. You can set up duration of each frame and also re- order them, creating transparency and a horizontal loop. The up/down buttons help in reordering the frames. If you need advanced features, there are settings available for animation width, border, and height. It is small in size and easy to use.
XylemStudio's Animate Gif
XylemStudio's AnimateGif is one of the best software that helps in creating very simple gif animations. The user interface is seamless, courtesy the drag and drop feature. It is very easy to balance set loop, output gif quality, and frame delay time. You can create an animated GIF from JPG, JPEG, PNG, and GIF format. The frame delay between images in seconds can be easily set. You can also adjust the loop option. XylemStudio's AnimateGif does not require any installation and can be used as portable software.
GifApp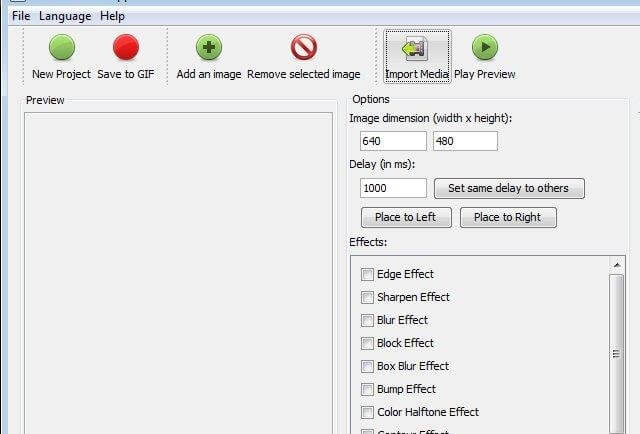 GifApp is a free mobile app which is supported by the Sourceforge project. It is one of the best GIF animation makers. You can quickly add multiple images to your frames and set similar and different timings for each frame in seconds. You can remove unwanted images from your project. Also, you can apply various effects to the pictures. Before saving it, you can watch the preview.
Websites For Animated GIFs
Various online services are available which allow users to make animated GIFs by uploading images from their computer or by linking them from the internet. However, issues like watermarks and privacy terms are some of the problems with these online services. Some websites do not support any watermarks and individual outputs. Let's look at several websites and apps that can help you to make GIFs.
GIFS.COM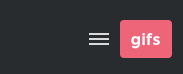 GIFs.com helps you create GIF animations. All you need to do is just paste the URL for the video that you would like to use for your GIF. This website supports YouTube, Vine, and Instagram. The users can upload their personal video files too.
Giphy:

Giphy has been the default search engine for GIFs for an extended period. It has a GIF Maker that helps you simultaneously create and share your GIF creations. Giphy is very easy to use. You do not need to be a professional to make an animated GIF on this site. Pick your source material from the internet. You can select any portion of a video online and turn into an animated GIF. The process does not take very long, and the resulting GIFs are uploaded to Giphy.com. You can then share them, and download them directly from the website.
Giphy also provides a host of GIFs ready to use. You can just copy the embed code and use it. For instance, we have already used an animation from Giphy above. Wherever you use it, the default linked text "via GIPHY" appears.
Picasion:

You can use Picasion to create GIFs, but it only allows a limited number of uploads. You have to select every image separately. This website provides custom options like control over the size and speed of each frame. GIFs produced are without watermarks; also it gives the full control over file privacy.
Inserting an Animated GIF in Emails
Adding a GIF animation is similar to inserting static images into emails. Below are the steps to add GIF animation in a personal email.
STEP 1: Create the animated GIF that you want to use in your email. Take permission beforehand to download and use any animated GIF that you locate online and is interested in. You can create your animated GIF using photo editing software like Photoshop if you do not get permission to use an already existing animated GIF online.
STEP 2: Save the animated GIF that you want to use on your local network or your hard drive. Give the file a name
STEP 3: Click on the space where you want to paste the image in the email message. Next, use the "Insert" option on your email client. Use the "Insert Image" icon or the "Insert link" in your email menu.
STEP 4: Select the animated GIF file from your local network or hard drive. Click "OK" after you have selected your file. Verify the animated GIF.
STEP 5: Test if the process was right and the GIF animation clip chosen, and then message yourself to check that the GIF appears in the email you receive before you send it to the recipient.
Ways to insert GIF emails designed for mass marketing emails:
STEP 1: Create or buy the animated GIF that you wish to use in your email marketing campaign. Get the rights for distributing the image in marketing materials, in case you have purchased the image online.
STEP 2: Upload the GIF to your server. Save the GIF to your hard drive and store the images for your email marketing campaigns. Note the full URL for the picture which you have hosted on the webserver.
STEP 3: Insert the source code of the GIF animation in the HTML version of your email marketing message. To refer to the full URL for the hosted image, use the "img src" HTML code.
STEP 4: Make sure to test your full HTML and text versions of your email marketing campaign beforehand. Verify the GIF animation functions correctly in your test HTML message before you send the email campaign to your subscribers.
Tips for inserting Animated GIF in Email Templates
The animated GIF should not be larger than 40 kb in size. Keep the size of the GIF small. Maintain the number of frames used in GIF animations minimum.
Adjust the colors employed in GIFs; this keeps the file size of an animated GIF small.
The GIF should only be 15 to 20 seconds long.
Consider the content of the animated GIF before uploading the emails.
Test the animated GIF yourself before uploading it.
Try to increase the number of cycles in the animated GIF.
Keep the animated GIF more relevant and avoid random flashing.
Never overuse GIFs in emails. Your readers may get annoyed, get overwhelmed and lose interest.
Make sure to save the animated GIF without metadata.
Create
Responsive

GIF Emails

It is no secret that people are steadily making a shift from desktop to mobile devices. They need everything on the go, and marketers are hell-bent in providing exactly what their customers need. Hence, it is only justified that email marketers are more concerned about making their email templates mobile responsive. Now that GIFs have become a great way of engaging with users, brands need GIFs that are mobile compatible.

We are not saying this because everyone else is saying. The recent data and research all indicate the high rise of mobile usage. Businesses are gaining more profits from mobile devices year-on-year. According to the latest research report from Criterio, mobile apps have managed to facilitate twice the amount of new user retention. It has been seen that compared to mobile browsers, mobile apps have fared well. In Q2 2015, the mobile app's share of transactions was at 47% which grew to 54% in Q2 2016. Consequently, the proportion of mobile browsers fell from 53% (Q2 2015) to 46% (Q2 2016).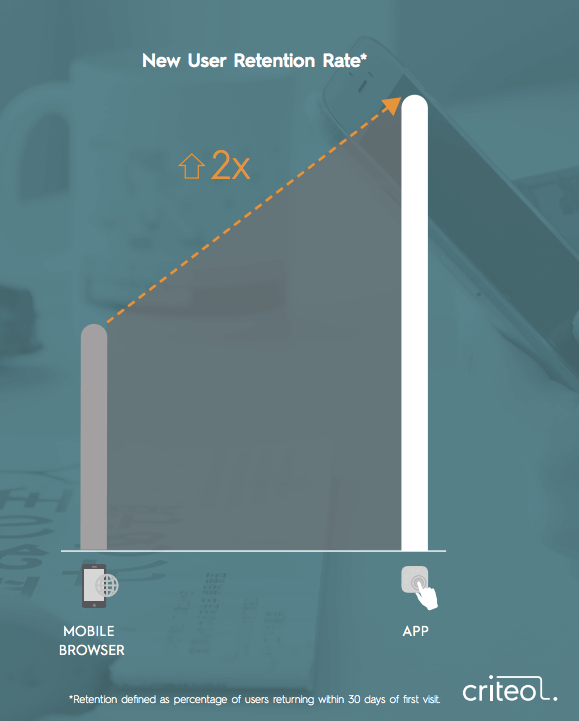 App conversions are soaring high. Every single mailbox provider has an app that functions probably better than their desktop versions. Whether it is Gmail, Yahoo or Outlook, mobile apps are way more convenient, fast and a great experience.
All these discussions bring us to a conclusion: Since people are checking emails on their phones (a majority are using apps), we cannot ignore the need for mobile responsive GIF designs.
GIF emails have already made way to the inboxes; they are way apart! A GIF does not just speak volume about your product or services, it gives a real-time sneak peek into how you are providing the same.
Below are a few impressive email marketing campaigns that used GIFs in the best possible ways:
The launch of New Book by Brit+Co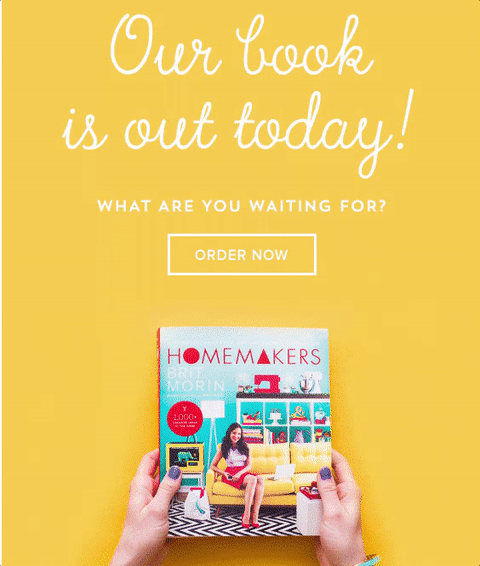 Brit+Co announced the launch of their new book by placing a GIF of the book in the email. The potential buyers got a preview of what the book has got to offer. The whole yellow backdrop, short and crisp text and the font used- together they made a mesmerizing and convincing impact.
Winter Wears from American Eagle Outfitters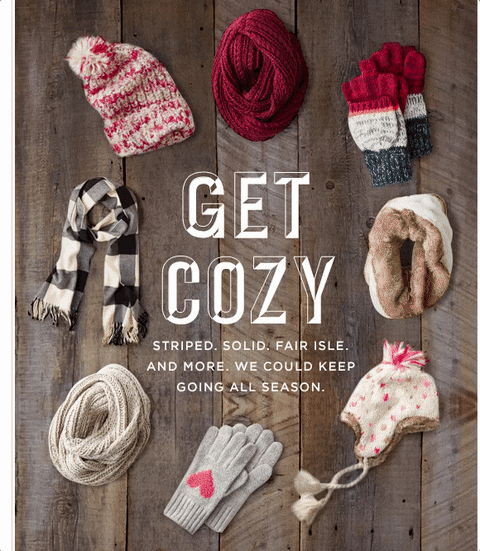 Winter season means colorful knitted clothes. Thanks to the increasing popularity of online shopping, this email campaign announcing the arrival of winter wears was irresistible. The GIF manages you to provoke you to hit the buy button almost immediately! If you are a shopaholic, this email campaign is sure to give you a 'cozy' feeling. Minimal text and excellent animated GIF- just the thing you were looking for!
The Non-Literal GIF from Anthropologie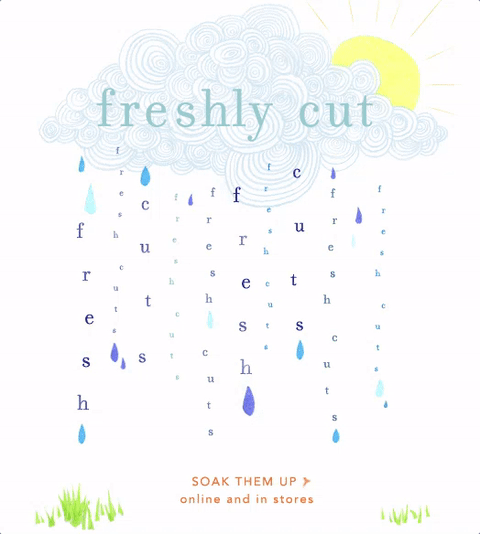 This email campaign stands out specifically for their concept. Apparently, you see letters falling like raindrops. You cannot help but keep looking at the illustration, only to realize the message "Fresh Cuts" falling repeatedly. The illusion is captivating. It urges you to get soaked in the new range of clothes from Anthropologie. Living up to its name, this clothing brand nailed it.
Mailboxes Support Animated GIF Emails
Most email clients support GIF emails. Apple Mail, AOL, Lotus Notes, Outlook 2000, Outlook 2003, Yahoo Mail, AOL Mail, Gmail, and Outlook.com support GIF animations. Mobile email clients like iPhone, iPad, (iOS), Android, Blackberry and Windows support GIFs.
Microsoft Outlook 2013, Outlook 2007, and Outlook 2010 doesn't support GIFs in email messages. But, you can still put GIF images and view these images in your email messages. If you insert images into your emails, you will just see the first frame of the file. However, recipients using web-based email or HTML-enabled email program can see the full animation.
To add a GIF in Outlook:
Select "New Email" from the ribbon.
Put the address on.
Click the "Insert" tab, and click "Pictures" on the ribbon.
If the animated GIF is online, then click on "Online Pictures.
Select the file, and then click "Insert."
It will insert the file into your email message.
Viewing GIFs in Email Messages on Outlook
You can see GIF animation by viewing the message in your browser. Double-click on the email message to open it in a new window. Then click on the "Actions" of the ribbon, and select "View in Browser." It will start playing the video.
[Microsoft Outlook Update 2019]
Since 2007, GIFs have appeared as static single-frames on Outlook emails. GIFs would play automatically in Outlook versions 2000, 2003, or Express. But since 2007, GIFs in Microsoft Outlook has become frustrating for users.
So, first, check which version of Outlook you are using to identify the problem.
Now, the challenge here is, as a marketer you cannot guess which version of Outlook your users are on. This means, your GIF email may or may not function properly if any of your email receivers are on the 2007-2016 version.
Why do Microsoft Outlook versions between 2007-2016 not play GIF in emails?
Since 2007, Microsoft started using MS-Word as its text editor. Since Word cannot read HTML elements in emails, GIFs get displayed as still image of the first frame of that GIF. Although in 2013 they moved to a new text editor, the GIF problem persisted.
So, what changed now?
Only recently, Microsoft Outlook users got a ray of hope the following details came into light:
Office 365 subscribers using the desktop Outlook client will get GIF support.
Outlook's mobile apps already support GIFs. However, the 2019 version is not yet supporting animated GIF emails.
Starting February 2019, support will roll out for Office Insider subscribers first.
GIFs in emails will play automatically. However, the loop will play only three times after which it will pause. Users can replay by manually clicking on it again.
Animated GIFs in emails will have no size limitations.
Animations will be turned on in Outlook by default, and users can manually disable it from the Outlook settings.
What does this mean for Marketers?
The new update from Microsoft on Animated GIFs work on versions 2010, 2013, 2016, 2019 and Office 365. If you are using Microsoft Outlook for your email campaigns, then you can start by updating to the versions compatible with GIFs [if applicable].
Add to this; marketers will no longer have to deal with "blank first name" when they open emails on Outlook. Outlook has finally allowed the full display of the animated GIF. Infact, users won't need to be online to see the GIF in action.
Ensure that people on your email list are on new versions of Outlook.
Challenges of Using GIFs in Emails
No trend is devoid of its cons. GIFs in emails is not an exception. It is true that the popularity of Animated GIF emails is increasing pretty fast. However, email marketers must be cautious of not overdoing it. There are some restrictions to adding GIFs in emails. Marketers must take note of the following:
GIFs have a limitation on colors. The quality of colors may not be as high as you expect them to be.
GIF emails are surely very engaging but then there is a particular set of audience who prefers plain text. We call them the "readers." So if you are overdoing the GIF in every email campaign of yours, it can affect negatively to your sending reputation.
GIFs explain your products well; true! But when you have many products to talk about, a rapid animation is not a great way to do so. Your campaign might backfire in this case.
Call-to-Action may be hampered. While success stories are ablaze of using Call-to-action GIFs, it is still a huge risk. If the clickable button that will make sales or subscription happen is not static, your recipients might lose focus and leave!
Future of GIFs in Email Marketing
Long thing short, GIFs are here to stay. Email marketers are constantly analyzing the impacts and results of using GIFs in emails. Developers are working round the clock to create marketing templates that have GIFs embedded in it by default. The whole process is like a continuous chain reaction:
Consumers are shifting to mobiles-> marketers are focusing on mobile responsive email templates.
Consumers are loving GIFs and are engaging more than ever-> Marketers are keen on adding GIFs in email templates and also have the whole thing device compatible.
GIFs will rule the future of email marketing. According to The Future of Email Marketing- 2017 Edition from emailMonday:
Optimizing emails for great visuals and using emojis strategically will appeal to an age group that increasingly relies on visuals to communicate.
The Graphic Interchange Format is almost 30 years old, but this will rule the future of email marketing for a long time. If you ask me why, its because marketing will get more and more personalized, customers will be more empowered than now, and email automation will have a more advanced face to it.