According to a study by eMarketer, the median email marketing ROI is a whopping 122%. This number is proof that no matter how many other marketing channels come into play, email will remain at the core of a business marketing strategy for growth.
Jump Directly to
1 . Why should you even use GIFs?
2. GIF emails – Do they really work?
4. How to build a GIF email for your marketing campaign?
5. Watch out for glitches in Microsoft Outlook!
But email marketing has changed a lot in the last few decades – there's more personalization and focus on making them engaging and interactive. For instance, it has come to businesses not being afraid of using GIF emails to reach their subscribers and customers.
Email marketing has been continually evolving over the last few years. What used to go out as broadcast messages, are now targeted and personalized on a 1:1 basis for each subscriber.
---
Still Not an User of Aritic PinPoint Automation?
---
Businesses are experimenting with different tactics and approaches to make the age-old emails more interactive.
Enter, GIF emails.
---
Why should you even use GIFs?
Google recorded millions of searches for GIFs every day. In fact, Tenor, a GIF platform that was acquired by the search engine, shared that it has more than 300+ million monthly active users. The searches on their platform alone run into billions!
So when you think about it, those millions of users could have at least 60% of your target audience.
Considering how important it has become for businesses to 'bond' with their target consumers, using GIFs comes naturally
Click To Tweet
Remember that GIF where a dad is seen saving a child from falling off the couch, despite being half asleep himself?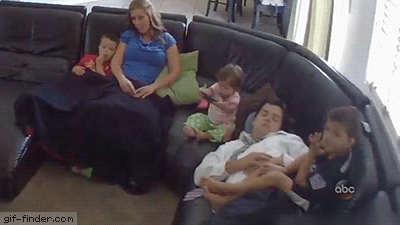 Brand marketers from across the world used this GIF for campaigns around Father's Day. In fact, we still see it trending whenever there's a custom campaign for being promoted to fathers.
Everyone loved it. But more importantly, everyone shared it and campaigns saw huge success from using just one GIF.
Think about it.
Sending across a Father's Day email campaign with a text message and a discount coupon is effective. But turning it into a GIF email has its own charm – you're conveying the same message without having to fill the email with text.
Less talk, more relatability. More relatability, higher interactions. Higher interactions, more conversions.
It's just as simple as that!
To conclude here's why GIF emails and other marketing campaigns are gaining popularity:
GIFs allow businesses to express their emotional responses without having to put it all down in words.

They help convey a sense of identity on the user's behalf through popular pop culture references and more.

GIFs capitalize on the meme culture in the digital landscape that turns popular references into day-to-day relatable posts.

They can compress a lot of information into something easily shareable, as compared to texts and still images.
---
GIF emails – Do they really work?
Using a pop culture reference or a meme GIF for marketing – Is it even possible for businesses to tie their products and services to them?
Let's take the above GIF as an example. It didn't just go viral on social media, but also saw brands like Net Cam use it in their emails. Here's how they did it to promote their security camera – father protecting the child and security camera – smart placement, right?
Now imagine how boring the same email would have been had they only included the features and the pricing of the camera. No way for the recipient to visualize how the camera really secures their surroundings!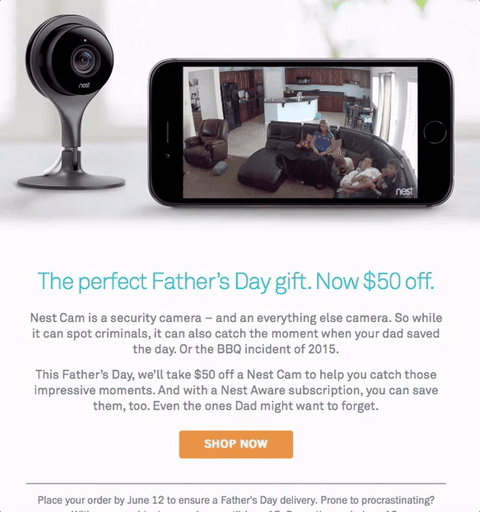 They're not the only ones.
---
Execute Effective Marketing Automation Workflows Now
---
If your business has been using social media, you're well aware of Buffer. Now the company ensures they send you an email whenever one of your tweets start to perform well.
But instead of the boring 'congratulations, your content is being shared' message, they opt for GIF emails. It shows the user how happy they are seeing them succeed using Buffer. The GIF adds a human touch to their emails, making even the automated campaigns look more personalized.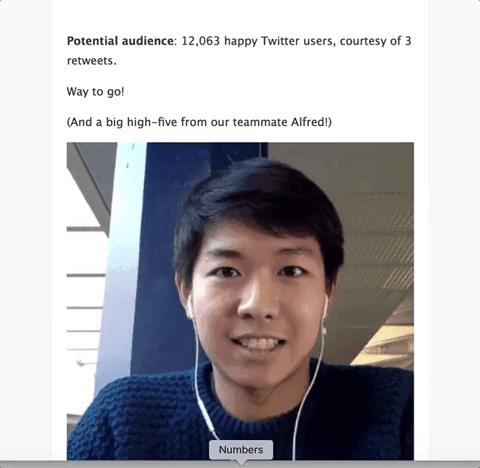 GIF emails have proven to display an increase in conversions by a whopping 49%. In fact, Dell used GIF emails back in 2014 and saw a 109% revenue lift from the marketing channel.
While GIFs are definitely more engaging than static images and text, they're also distracting. When you see the above GIF emails, you're more likely to have noticed the GIFs first and not the core message. Now, that's a bummer for marketers!
---
When do GIF emails work?
GIF emails are best used when you're trying to nurture your leads from the awareness stage to conversion.
They're also effective when it comes to post-purchase customer engagement to drive repeat sales and improve customer retention.
Here are a few marketing instances where GIF emails can work wonders!
1. GIF emails to welcome new users and customer
When a consumer chooses to interact with your business and convert, they're showing a level of trust in what you offer. It's important to engage these customers with an automated welcome email that thanks them and reiterates the value they will be getting from the purchase.
For example, Spotify. When a user signs up for their Premium plan, they use a minimal GIF email to list down all the benefits they will be getting. The email further builds upon the excitement of the purchase, making the user feel he's invested in something valuable.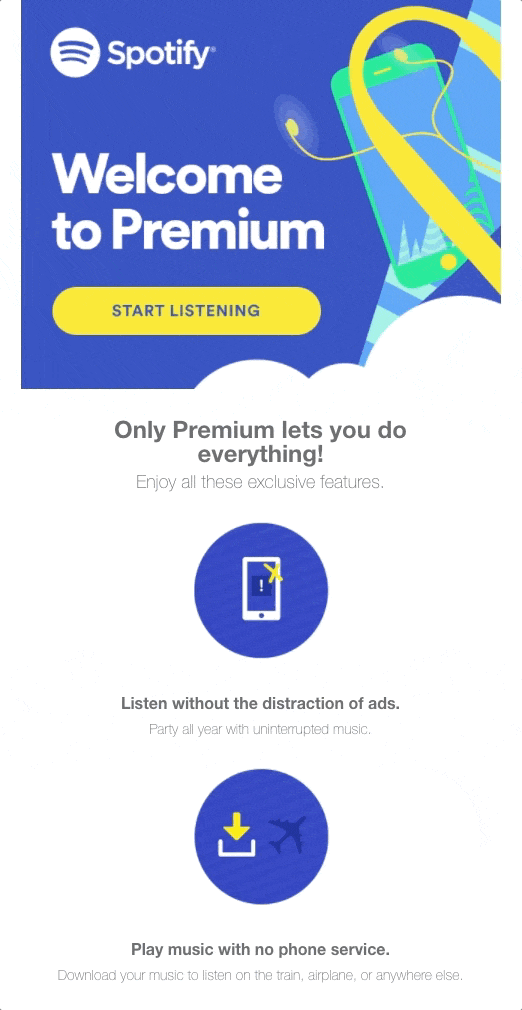 2. GIF emails to promote new products and deals
More often than not, you'll see businesses sending across a simple alert to let subscribers know of a new product range or an upcoming sale.
Make it look more exciting to enchant the recipient of the email and stimulate their interest with GIFs.
Here's an example from Nest. instead of using one image to let subscribers and shoppers know of their Black Friday sale, they used a GIF email – one that showcased all their popular products.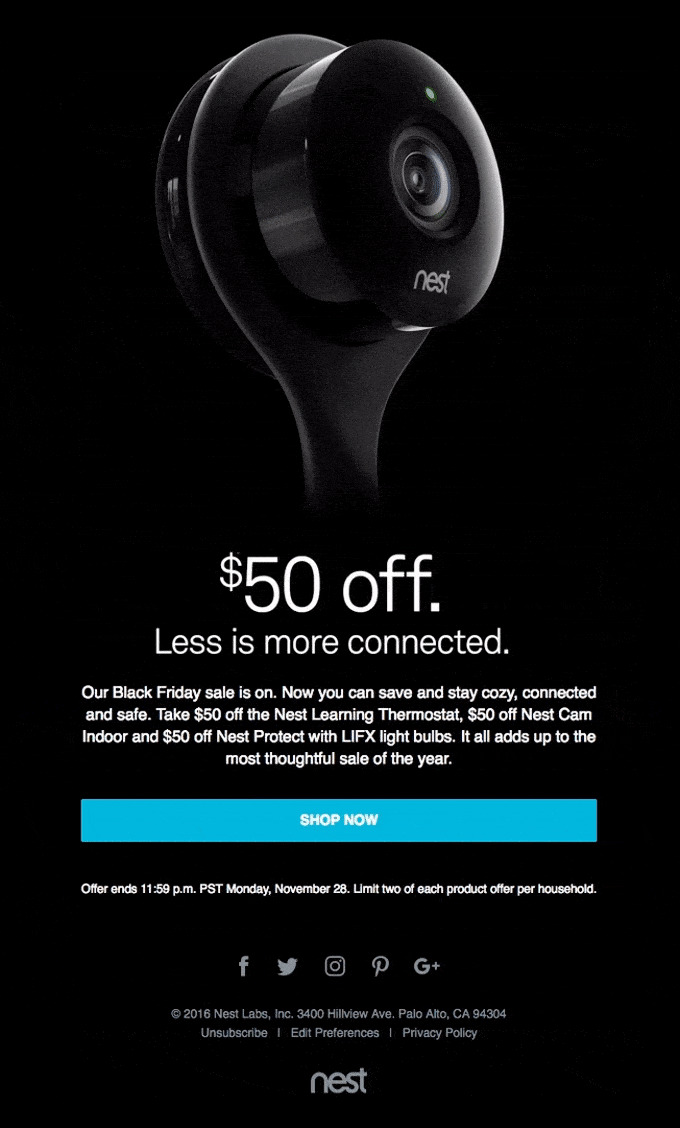 Here's another example from Loft. The store simply uses GIF emails to promote their Flash sale and make it look all the more enchanting!
3. GIF emails for customer engagement campaigns
Acquiring a new customer has become five times more expensive than retaining an existing one. That's why it is important to automate your email marketing campaigns for customer engagement.
But what you didn't know is that you can use GIF emails to keep these customers hooked to your brand for being interesting. Use them to promote your contests, competitions or even events and see your interaction and conversion rate increase.
Here's an example of Sweet Treat running a simple contest that nudges the recipient to 'find out' how much discount they have won!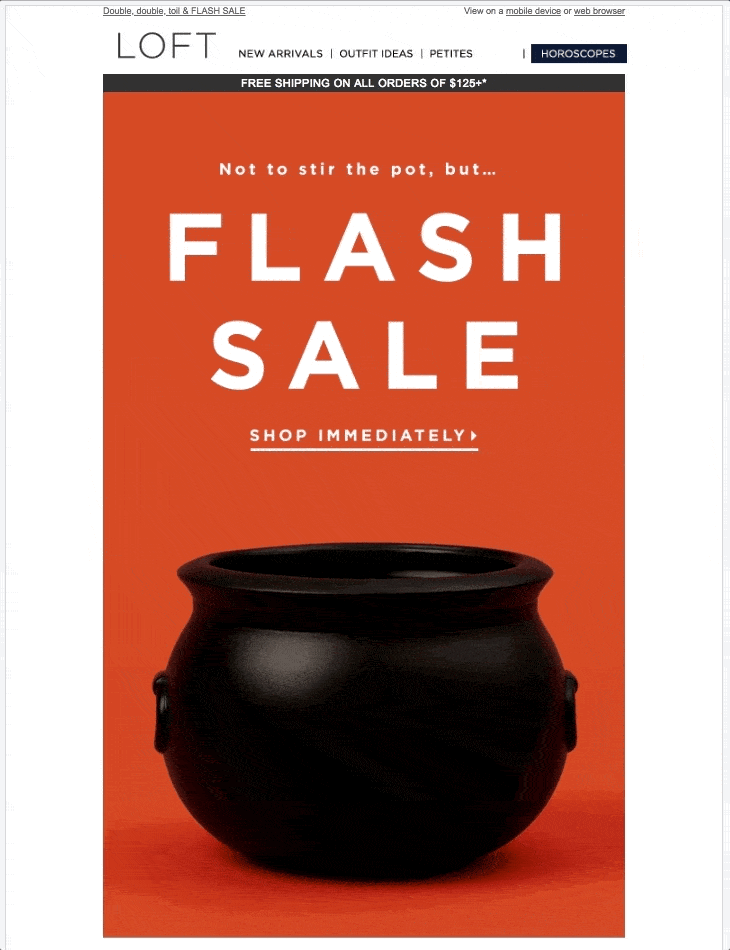 4. GIF emails to nurture shoppers into becoming customers
Most online shoppers will not convert into customers on their first visit. They'd rather explore all deals available to them and then make a purchase decision.
But these are shoppers who are definitely going to make a purchase – they just need a little nudge.
GIF emails can work really well to re-engage these shoppers and bring them back to complete the purchase. You can use an interesting storyline around the product range they were exploring or the sale they were browsing through to hook their interest again.
We absolutely love how UrbanLadder created a GIF email to promote products from their Christmas sale. They used multiple call-to-action buttons within the email to lead shoppers to the respective product categories, nudging them to make an interaction.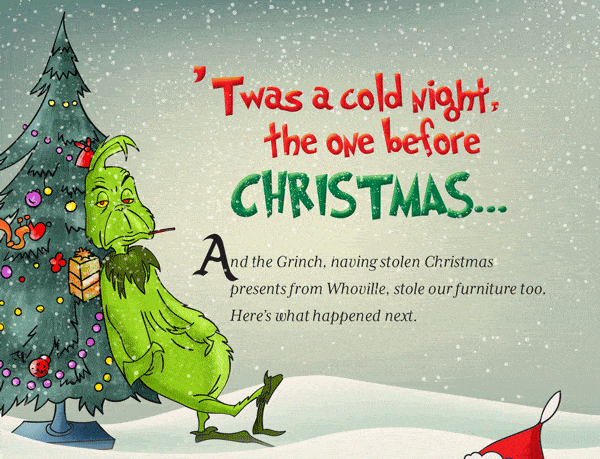 5. GIF emails for product recommendations and upsell campaigns
Everyone loves lookbooks. It helps consumers put together a unique look with product recommendations that are based on their previous purchases. But instead of the usual emails that simply share a product image and a little description to upsell items or recommend products for repeat purchases, use GIF emails.
Here's an interesting example from Kate Spade. The GIFs of each product being recommended here also give the customer a better perspective of how they look.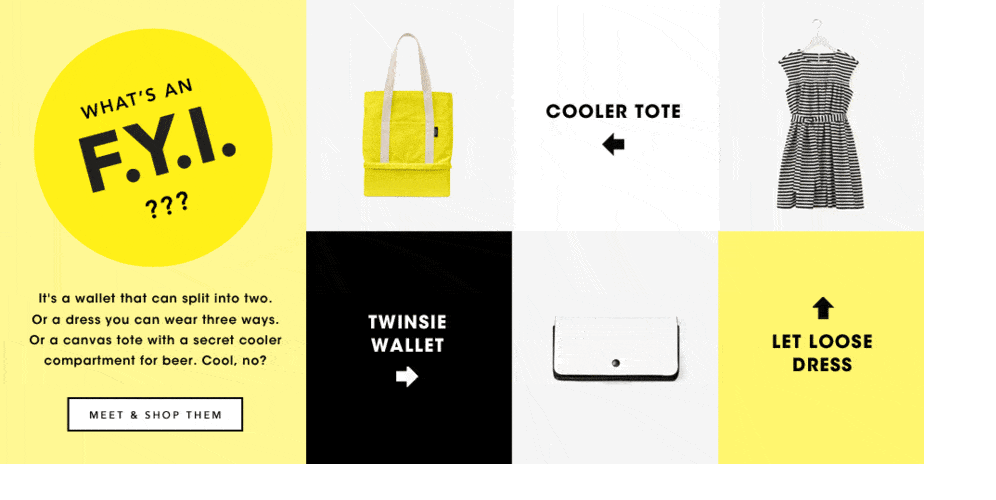 6. GIF emails for automated cart recovery campaigns
Whether you're in B2B or B2C, cart abandonment is one of the biggest challenges that online businesses face. Considering that a consumer has at least five brands to choose from when making a purchase, it's only obvious that even the best of products and deals get abandoned. But a timely sent email for cart recovery can save these sales from getting lost.
Upgrade your cart recovery campaigns and make them more engaging with GIF emails. It makes your cart reminder more engaging!
Here's SugarBearHair showing you how to recover abandoned carts with a GIF email. Of course, all other email marketing best practices still apply to get maximum conversions from the campaign.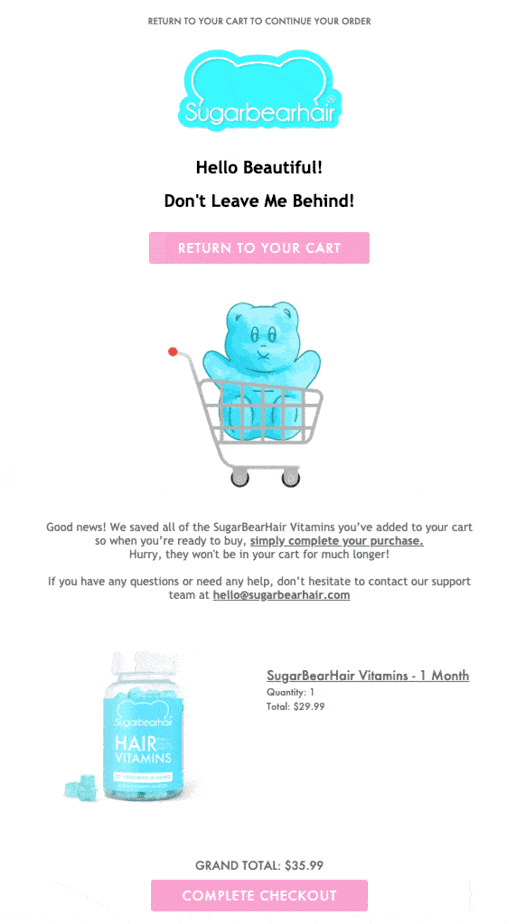 7. GIF emails to share social proof
72% of consumers change their brand perspective and purchase decisions based on positive reviews.
So if you've been seeing more and more site visitors turn into subscribers who are interested in your products, but are not converting, pull out your social proof. Show them how loved your products are to nudge them into trying them out too!
Here's Casper showing you how it's done. They share the news of their mattress winning awards across the globe and getting acknowledged by popular publications in their newsletter.
Instead of using a GIF to promote their product here, they use the GIF to showcase the different sites that have featured them.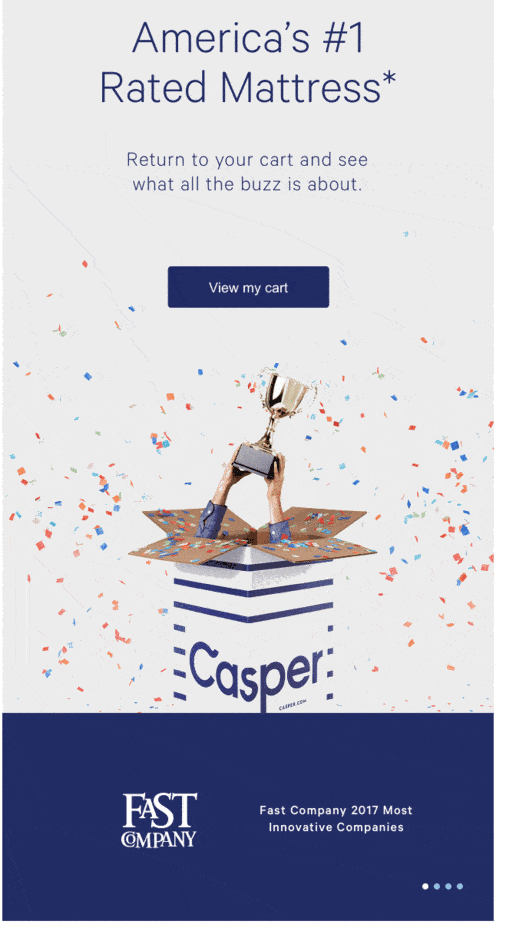 Simply put, there are a number of ways to use GIF emails in your marketing campaign. All you need to take into account is who you're addressing, what you want the recipient to pay attention on the most and how they're more likely going to view this email or interact with it.
Once you have the answers for above, start testing different campaigns with GIF emails. Improve your brand recall, promote a limited-edition product, cross-sell items and more – continually test various marketing campaigns to see which GIF email gets you the greatest number of conversions and sales!
---
How to build a GIF email for your marketing campaign?
GIF emails are easier to create when you have email marketing tools like Aritic PinPoint. It ensures that your emails are well-optimized for conversions and at the same time, have the look and feel you want to offer to drive more interactions.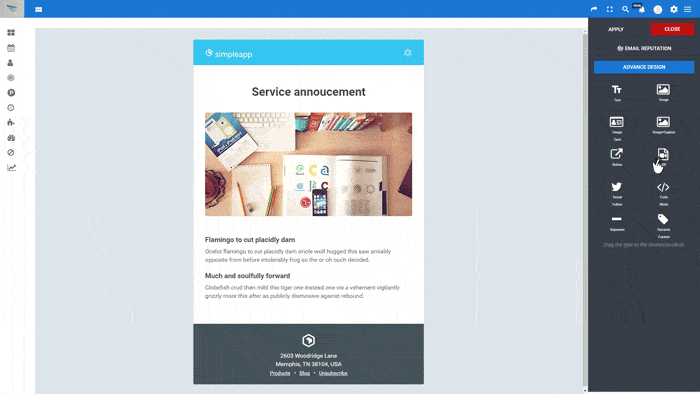 Step 1: Login to your Aritic PinPoint account to access the dashboard
Once you login to your account, head over to Campaigns > Email Campaigns and select Create a new email campaign.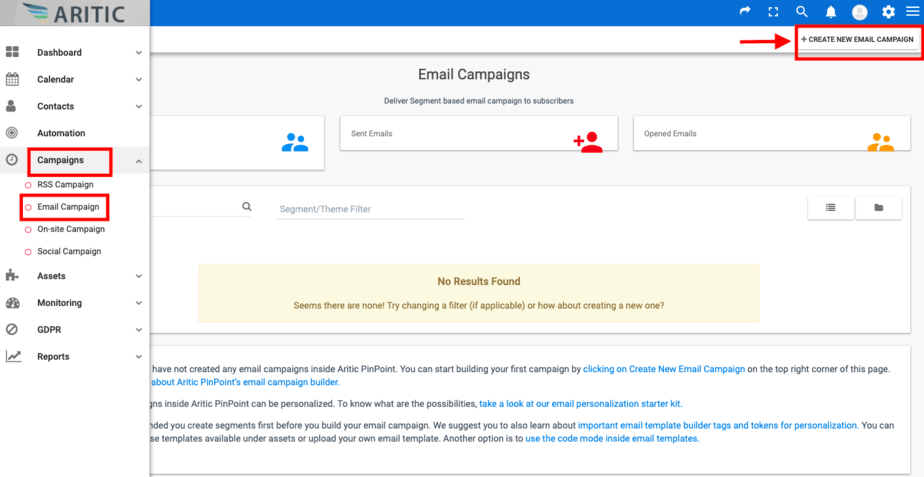 Step 2: Select a theme and open the email design studio
Now the next step is for you to select a pre-designed email theme from the Aritic PinPoint library. This is what you will be building your GIF email on.
[heading size="17″]For demonstration purposes, we have selected a pre-designed theme – Skyline here. After selecting a theme, open the email design studio.[/heading]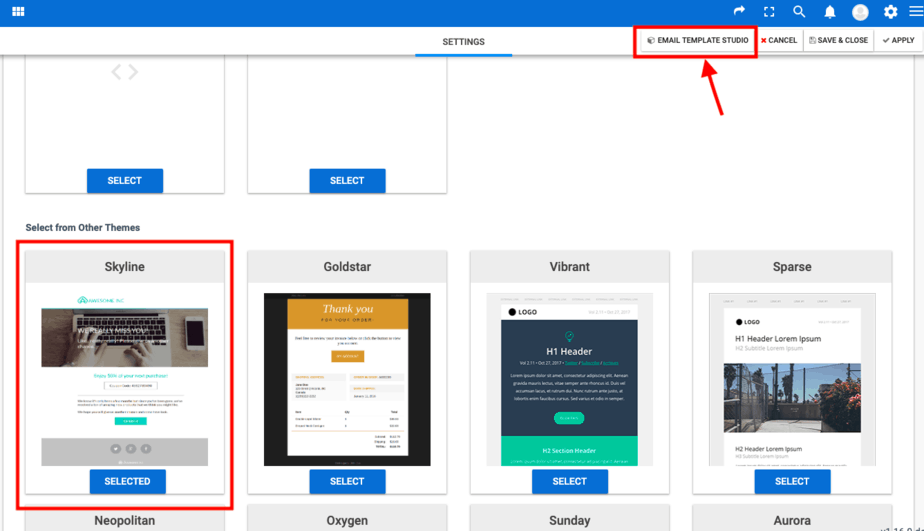 Once you enter the email design studio, select the GIF generator block. Drag and drop this block to where you want the GIF to be in your email. After that, click on the edit symbol shown on the block.

Step 3: Create your GIF for the email
Inside Aritic PinPoint, you can create a GIF for your email from an existing video. You simply need to mention the start and endpoint of the video so that the GIF generator automatically crops it to present that portion as a GIF.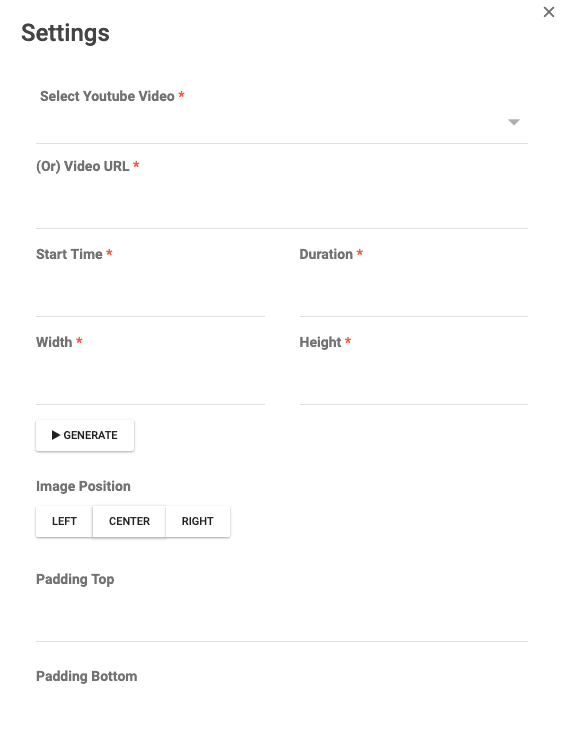 Pro tip: Mention the padding details on all the four sides of the GIF for a smooth experience.
Alternatively, you can also choose to create a GIF outside the Aritic PinPoint dashboard. You can then insert the GIF as an image while editing the template.
Tools like Photoscape, Microsoft GIF Animator, XylemStudio's Animate Gif, GifApp and even Typito are great places to start. You could also use popular memes and pop culture references for your GIF emails. Find the right GIFs on sites like Giphy, Tenor, Gifs.com, and Picasion.
Want a detailed step-by-step guide on creating a GIF and inserting it into your email marketing campaign? Read our complete guide on how to send GIF emails in marketing campaigns.
While GIF emails work perfectly across all email platforms, there is one that marketers need to watch out for – Microsoft Outlook.
---
Watch out for glitches in Microsoft Outlook!
While GIFs would auto-play in Outlook versions during 2000, 2003 or Express, things changed in 2007. They now appear as static single-frame images on Outlook emails, killing their interactiveness.
Now a marketer can test GIF emails on their version of Outlook to suit the campaign. But it is impossible for them to know which version their subscribers and customers are making use of. This only goes to say that GIF emails may or may not function properly if you have Microsoft Outlook users on the 2007-2016 version.
But as of 2019, things are starting to look up for Microsoft Outlook users. Even though GIF emails are not yet supported, Outlook's mobile app supports GIFs. This means that GIFs in the email will play automatically – however, the loop will play only thrice. Post which, the recipient will need to click on them again to play.
What's more? Animated GIFs in emails will have no size limitations and users won't need to be online to see a GIF in action.
But all you need to ensure as a marketer is that subscribers and customers using Microsoft Outlook are using the latest version. You can create a segmented email marketing campaign to target these specific consumers, requesting them to upgrade and showing them the benefit of doing so.
---
Final Takeaway – GIF emails are great for engagement!
Like every other marketing tactic, GIF emails too have their own set of pros and cons. There is no way of knowing whether it will work or not unless you test it across some of your campaigns and audience.
But in general, GIF emails are a great way to re-engage your subscribers and customers. They add more interactiveness to your marketing campaigns, hooking the recipient's interest and ensuring your message is consumed well.
Optimizing emails for great visuals and using emojis strategically will appeal to an age group that increasingly relies on visuals to communicate.
– The Future of Email Marketing, Emailmonday
All it takes is choosing the right platform for your email marketing campaigns and knowing when to use GIF emails.
Ready to give GIF emails a spin for your marketing campaigns?
⭐ How GIF email works?
Static images in the emails engage audiences, but Gif emails are incredibly more powerful to draw the attention of the subscribers and customers towards your product.
⭐ When to use GIF email?
You can use GIFs for product launching and special email marketing campaigns. Don't embed Gifs for all the campaigns; otherwise, subscribers will get bored.
⭐ Can I Automate GIF email?
You can use Aritic PinPoint to create Gifs for email marketing campaigns with the help of drag and drop GIF block and embed Gifs into the template.