What if you can jump directly to engaging High end leads, saving your time, efforts and energy from the unfitted ones. It's time to kick off with delighting target accounts, boosting revenue potential, satisfying customers and fatten the business.
What is Account Based Marketing ABM?
Account based marketing ABM is flipping the funnel of Traditional marketing.
Instead of putting bait on large number of leads and nurture them for a while to land on the target leads in the last, with account based marketing ABM, start with high value targeted accounts and build lasting relationships. This Highly efficient way of building quality and relationships with high value key accounts. Identifying the Key Stakeholders and targeting their business with the right marketing Strategies mediums.
Account based marketing or ABM can be defined as integrated marketing ABM. As marketing campaign strategist Mike Gospe states, consumers are more interested in engaging in a relevant and meaningful dialog on a valuable topic, rather than facing direct sales. ABM is highly personalized and targeted marketing sales . You do profiling of your customers/clients and then design marketing strategy aligned to their profiles. As Mike Gospe puts it, Account based marketing for enterprise key accounts = Victory!
A recent report from Research and Market revealed that the Account based Marketing industry is predicted to touch $1,196.9 million by 2023. It is estimated to have a Compound Annual Growth Rate of 12% between 2018 to 2023. In 2018, the valuation was recorded to touch $651.6 million. Just 4 months into 2019, Account based marketing is surely going to keep the marketing community on toes. The research report also indicates that large enterprises will dominate Account based marketing practices in the forecast period. Ofcourse, we aren't surprised by that!
Exemplary:
Marketingsherpa had reported how SAP created about $27 million in new pipeline opportunities after implementing Account based marketing or 'ABM.' SAP implemented the ABM for their top 10% of the  ABM customers who contributed to a third of the revenue in the America region.
We knew that we were touching them regularly through marketing activity, but what we found when we really looked across it was that those marketing touches were not being conducted in a way that was personalized or customized to that account, typically. ~ Eric Martin, VP of Marketing at SAP.
Like Eric Martin mentioned, despite tedious marketing efforts somewhere, there was a lack of personalization. This was more challenging because a company like SAP has a huge customer base. Enterprises often face this problem. That's when they turn to account based marketing.
Does Account Based Marketing Fit Your needs?
To be explicit with you, it leads to much more effective delivery of results and is also a great way to implement as its less in cost compared to inbound marketing. People have been following the inbound marketing methods from quite some time which can now serve as perfect feed for account based marketing, so the efforts put in developing the traditional marketing would not go in vain and serve in a much better way for the account based marketing. With having the perfect foundation laid by traditional marketing in which you create great amount of personalised relevant content, content marketing, digital marketing, and attract large numbers of crowds, curate them and then filter, this existing audience which are high value clients can then be provided with personalised campaigns, direct mails helps you milk the long term benefits of Account Based Marketing.
These marketing tactics on specific accounts when implemented with the best fit practices leads to the best customer experience. Marketing ABM makes it easier for us to target accounts where there are multiple decision-makers with the suitable marketing strategy to gain the high value result.
How Account Based Marketing Works?
Marketing tools or software that caters to businesses/enterprises are looking to incorporate account-based marketing steadily. Account-based marketing is essential for any and every enterprise. Let's find out how exactly account-based marketing functions-
Identify your targeted audience
Account-based marketing is more about narrowing down the focus on your potential audience and streamline lead generation. In doing so, the first step is identifying the high-value audience or rather accounts you would want to target. In this case, unlike inbound sales marketing, you are crystal clear about what you are going after. ABM ensures you have the right people in place making it a lot convenient to target sales and hit the right point. This form of outreach is seen mostly in B2B companies with B2B marketers who want to reach out to decision-makers in the industry. Understanding lead history is crucial to who they are, what problems they are facing is the key to this area. When we give the B2B marketers the confidence of being understood regarding their problems, their trust develops in us that we can provide them with the right solution which eventually results in long term relationship with the high values accounts. Account-based marketing ABM is highly targeted approach and here we need to keep in mind that we are targeting the accounts and not the markets or the industry. Set criteria to narrow down the accounts ABM according to your specifications and also keep the previous experiences and familiar references in account to lay down excellent solutions to win over the high-value accounts.
Do research on the prospect's pain points
Identifying the prospect's pain point is the next step in ABM. It should be clear that your product or solution should be the answer to the pain your prospect is facing because if not we won't be selling the product. Go ahead and figure out the challenge and its magnitude, before you offer your solution.You should have the clear view of all the aspects needed which play lead, supportive, and neutral roles in deriving the solution.They might also be using something similar, and you have to keep a tab on that as well, being well acknowledged with these things gives you a upper hand and better role to play. So your marketing message would be geared towards why your solution could be a breather and why it outstands the rest. Your sales team should focus on points that should be elucidated to close the deal laying the first victory flag.
Align your sales and marketing teams
This creates a common ground for people working in sales who focus on the people that are interested to buy and the people in the marketing sector focusing on attracting people to their products. With the help of ABM marketing, it makes their goals more specific, and doubles the force for the desired outcome. It is important to have a sales and marketing aligned on the same page while driving an account-based marketing campaign. Or else you end up burning your midnight oil unnecessarily. They have to come up with strategies to keep a clear understanding of the aspects in the whole process. The marketing team can craft their messages without even understanding who they are reaching out for and that results in dumping useless content. So while the sales team does the research on prospects, the marketing team should know the same history and craft the message based on that same thing. There is no place for being generic in Account-Based marketing alignment. Surprisingly this also yields a great revenue potential.
Attract your prospects with some offers
These are specifically customised campaigns for the highly targeted account abm where we not bluntly tell about the product and specification but also with deep research, personalising each phase of the buyer's journey with a customer centric approach leads to same desired results given by the ABM marketing. This will upgrade and advance the brand recognition and increase the relevancy among the audience which makes it easier to attract more high valued specific accounts. 90% of marketers are opting for account based marketing, and it elevates the B2B marketing strategy like digital marketing. It is more a team effort to bring about engagement and conversion. Reaching out to the prospect with an offer is the first step to engagement. When you offer them a personalized message and a solution that they can try or see, it creates the first impression. Like if you are providing a Retail Solution and you reach out to industry leaders, it would be efficient to send them a personalized video, molded for their business and also a free trial for them to play around.
Start with the right list and communication channels
How would you reach your prospects? You have to understand and analyze the channels so that you can do the targeting through them. It could be social, mobile or maybe offline. Sometimes even events are a great place to do this. Make sure that you know where your prospects are present and you can steer your campaign that way. For example, if you want to target decision-makers who are tech-savvy, you might want to use LinkedIn InMails. Facebook also serves as a great platform to know and understand your clients. It should work in a way that your creativity should hit their point of wow and attract so that they develop interests in your campaign. You can send personalized messages through this channel to all your identified prospects. This channel communication can be one to one, one to few or one to many. Based on this aspect you can choose the mode keeping the stakeholder requirements that if it should be in person, via email or direct mail or online like targeted ads, paid social platforms, webinars, e-news letterings and virtual events. The more creative, the better!
Setting and measuring goals is easier
Harp on the required iterative calculations to analyze and review the results and identify the pot holes all across the road from beginning and then fill in them for smoother journeys and delightful end result.Calculating the effectiveness of ABM campaigns is easy. You know you are looking at a set of targeted accounts, and you have plans for each account as well. At the end of the quarter, you can easily measure how many conversions happened. Since the focus is narrow, it is clearly visible what is the result. Best way to measure your ABM campaigns is to keep track of the strategies. Here you have to ask yourself many analytical questions to derive the accurate measurement of goals and results. Like what methods worked and what didn't. Responses by the clients for different set of phases, identifying the challenging parts and the hurdles. The engagement with stakeholders and the involvement of your team, time taken to create and close the deals, percentage of the successfully closed deals, the new revenue generated and lastly taking feedback from the clients.
For example, if you are using online ads to target, you can check how many people have clicked and what the CTR is. You can also set up conversion metrics for the same. This will help you optimize your personalised campaigns on the fly. You can also see if ABM is making your align sales process cycle shorter. The reach and awareness have a larger impact, and this reduces the typical sales cycle to get leads. This step should serve only to motivate us to achieve better in the next Deals. This is the way to evolve beyond the present into the great.
Be Consistent and a good storyteller
Prospects like stories and personalized offers. It is like you are only talking to them and the feeling of exclusivity is the key behind ABM marketing. This is the reason why till date email marketing automation is the best option to start with the outreach. It is, in fact, good for inbound and outbound. When you send them not just what you offer, but also explain how well you understand their pain points, it would have instant gratification. They will know you did your homework and will love you for that. It creates a long-lasting impression on their minds. This will initiate the first meeting that you are looking for!
Benefits of Account Based Marketing ABM
To sum up, the desired gains in marketing ABM keeps the alignment between sales and marketing to hold onto the common goal. It is Efficient and Easy. It spreads the Business awareness across the ground, things travel fast when the results are charming. It helps you give consistently good client experience. The personalised and optimised method of delivery is the key. It helps you keep track of your Goals, measuring all aspects of the project, measuring the investment and the revenue generated. Resources are efficiently used reducing the waste. The sale cycle helps you stay efficient in multiple places and builds a stronger area of expertise. In the end this all leads to concreted growth in the business of the resourses company.
Marketing automation tools make Account Based marketing easier
Earlier this was a hectic task and was used only by very large enterprises to drive ABM. But with the advent of marketing automation platforms, the effectiveness of ABM has become stronger. It is effortless to deliver messages to hundreds of accounts in no time. Automation is the key here to run larger ABM campaigns while offering predictive similar leads, predictive analysis, lead nurturing along with programmatic advertising measures. Reaching out to decision makers and also getting noticed is how marketing automation tools enable brands. Irrespective how big or small it gives the expected good output for the good growth.
Rather than looking for standalone account specific based marketing tools, it is easier to shift to an advanced automation solution like Aritic PinPoint. Aritic PinPoint, which is a comprehensive and all-in-one integrated tool, offers an account based marketing feature. It enables in tracking and monitoring accounts real-time to understand the buying intend of each account making it easier all the way.
In ABM, one account has multiple decision-makers in the loop. In Aritic PinPoint, ABM features marketing account based scoring which takes lead scoring to the next level. Each decision-maker under one account is tracked and scores are put. The total score of the entire account includes all the scores of each contact within the account. This helps in making a clearer decision on which "account" is moving ahead in the funnel and which one is stagnant or going backward. There are two major ways this is done:
Account-based contact grouping
Segment filters based on the filmography

You can also build account-based workflows within Aritic PinPoint when creating a new company profile. Based on the filters and tags, monitor and analyze how each contact within each account is behaving, understand their buying intent, and accordingly build relevant workflows that provide you with many sophisticated tools to simplify and enhance.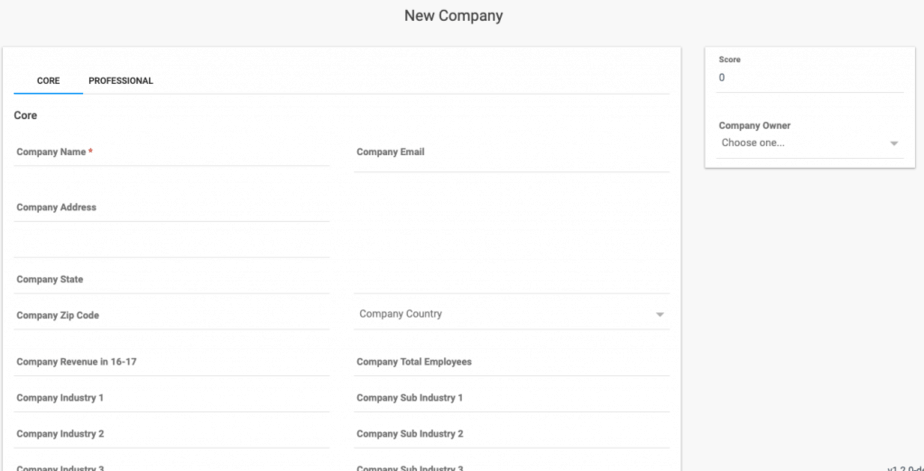 You can also lookup for a company right within the tool; i.e. do a quick Google search on the resources company profile, least you want to know more about your new client. The best part is, you can prioritize your contacts within each account as primary, secondary, and more based on the conversation flow you've had with the same for the more organised experience. If you find an account repeating, you can merge it with your existing company list Organised approach always makes the way more clearer to be built upon.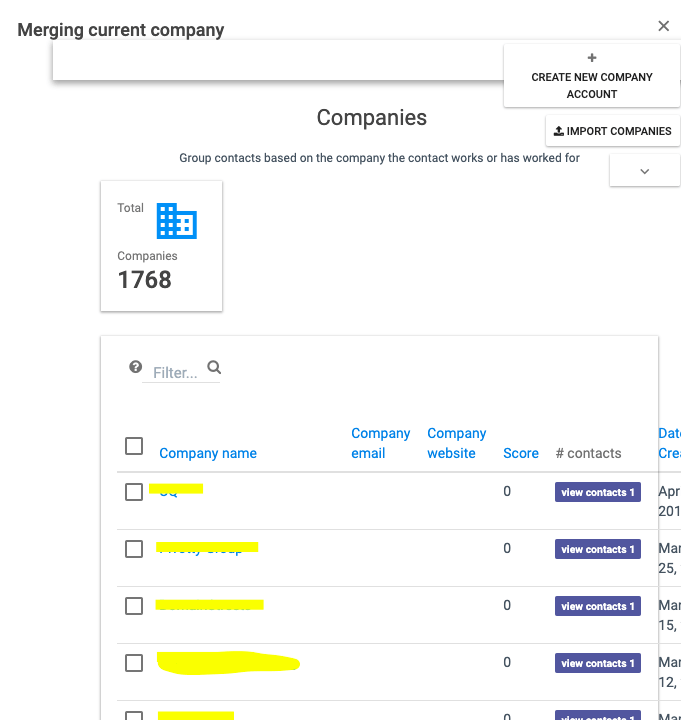 5 Best Account-Based Marketing tactics that you can look up to
Account-based marketing process is about engaging and expanding funnel. There are quite a few strategies that B2B companies with B2B marketing deploy for kicking this off. The basic and strong tools that can be used here are phone calls, simple and quick. The next one can be a direct mail which is formal and standard. Video call comes with the benefit of having facial and presentative interaction with each other. Chat tools or Chat boxes can be a creative way of approach. Social media on the other end provides good engagement between the parties. Here are 5 best tactics you could actually start leveraging.
If you have a blog, start writing around industry trends and mention target accounts in the same. It boosts their ego and also will show your appreciation. Also in social media it can be done with the use of hashtags and keywords.
Once you are done with the blog, go ahead and share this on social media and mention your target accounts. Tag them, and this will draw their attention. It also gives them a sense of importance and a platform to show off among their peers.
Leverage paid media like Facebook custom audiences and target this list of accounts for advertising. They have brilliantly made algorithms to perform these tasks and almost always works in the right direction and emerges successful in attracting the audiences.
Try out LinkedIn Company target advertising. Do research of all your target accounts and send them an InMail. LinkedIn offers a comprehensive audience targeting option. It is easy to make that first connection with a few marketing dollars. LinkedIn also easily gives the data to narrow down our list and target the most suitable accounts.
Lastly, of course, you have to go back to email marketing. Create highly personalized drip email campaigns to target your prospects. A personalised touch always hits the soft spot.
To kick off your Account Based Marketing Strategy, it is imperative to identify the set of right tools. Also, this will help you slice and dice data and create actionable insights from the personalised campaigns. Finding out a good Account based Marketing strategy stack is also very relevant in this context that helps you manage and nurture your lead prospect information.
On a general note Account-based Marketing efforts is actually a lengthy process with account managers in place, new vendors and risks involved. But automation can make this a no-brainer. At the same time, also make sure that your inbound marketing process is at par with the Account-based marketing activities you intend to do. It is in the nature of modern customers not to buy something they are being told to. They like to explore, and this is where you have to ensure that your brand is discoverable through emails, websites, social media and more.