The aim of Conversational Marketing is easy peasy: open dialogue, answer questions in real-time, optimize response time, and create personalized customer experiences. The organizations that focus on these factors better turn visitors into qualified leads.
Jump Directly
1 . What Is Conversational Marketing?
2. How Does Conversational Marketing Work?
3. The 5 Key Benefits of Conversational Marketing
4. Conversational Marketing FAQ
5. 3 B2B Conversational Marketing Tactics to Make it Easy for Customers to Buy From You NOW
6. Explore More About Conversation Marketing
If you read on, you'll know more about what conversational marketing is, how it works, what its benefits are, and B2B conversational marketing tactics that convert customers easily.
---
Conversational Marketing is the process of using one-to-one conversations across multiple channels to engage with your leads and potential customers in real-time.
Businesses utilize conversational marketing to build relationships and create authentic customer experiences because it enables them to up the personalization element in the buyer journeys.
---
Still Not an User of Aritic PinPoint Automation?
---
Also Read : Guerrilla Marketing Secrets- 5 Tactics That Worked For B2B
It's more of a personal inbound methodology, and the idea behind it is to provide different ways of communication to your prospects on an individual level and ultimately delight them.
Live chat, automated or AI Bots, and messaging apps are used to enable these personalized conversations.
---
How Does Conversational Marketing Work?
Traditional Marketing is primarily a one-way communication process with somewhat limited scope for businesses to provide more information or initiate interactive conversations to the prospects.
In contrast, Conversational Marketing enables businesses to streamline useful one-on-one conversations to move buyers through marketing sales funnels faster.
There are three key stages that drive Conversational Marketing.
Stage 1: Engage and communicate
Isn't it better to give your website visitors the ways for starting a friendly conversation instead of pushing them to fill out lead generation forms before they can actually start conversations with anyone?
Following this method, businesses can fetch more opportunities, provide a personal experience to the customers, and ultimately harness high conversion rates.
The Engage stage, as the first step towards your Conversational Marketing framework, allows you just to do that in a much better way. In this step, you can focus on employing well-programmed Bots to start a fluid conversation with the visitors who go through your lead capture forms or book a demo.
Doing this will let you determine buying intent, ask the right questions in real-time, enhance the potential customers' experience, and eliminate the probability of putting them off continuing their buying journey.
Stage 2: Understand and qualify leads
The next stage is all about the approach of analyzing the behavior and needs of the leads in a much faster way. In traditional marketing, response time acts as a major hurdle in a proper and quick response time.
Therefore, qualifying leads takes comparatively longer, so conversational marketing is your best bet for qualifying and segmenting leads faster.
You can utilize the power of bots, which allows you to give fast responses, be available 24×7, lets you collect data, and ensure that every lead is qualified in real-time. Bots are handy at understanding lead patterns like who those leads are and what they want by asking qualifying questions.
Interesting Read : 10 Emerging Social Media Platforms Which Are Great for Marketing
Yes, Bots can be programmed like that based on your initial conversions with the prospects.
---
Execute Effective Marketing Automation Workflows Now
---
Bots, live chat, and messaging apps as your conversational tools are powerful and lets you eliminate the hurdle of slower response time and eventually speeds up the lead qualification process.
Stage 3: Recommend and personalize
The last stage in the Conversational Marketing framework is all about recommendation and personalization.
With intelligent bots in your arsenal, you can let it automatically route leads to the appropriate sales team, and from there, your sales representatives can focus solely on conversion and selling. Bots are handy in automatically setting up a meeting with a potential customer for you on connected calendars.
Not only can they route leads to sales reps, but they can also channel out the relevant content and personalized recommendations for leads based on patterns, preferences, needs, and behavior.
Therefore bots can play a fluid role in providing contextual solutions on leads' timelines, can nurture leads, and further qualify leads by delivering relevant content over time.
---
The 5 Key Benefits of Conversational Marketing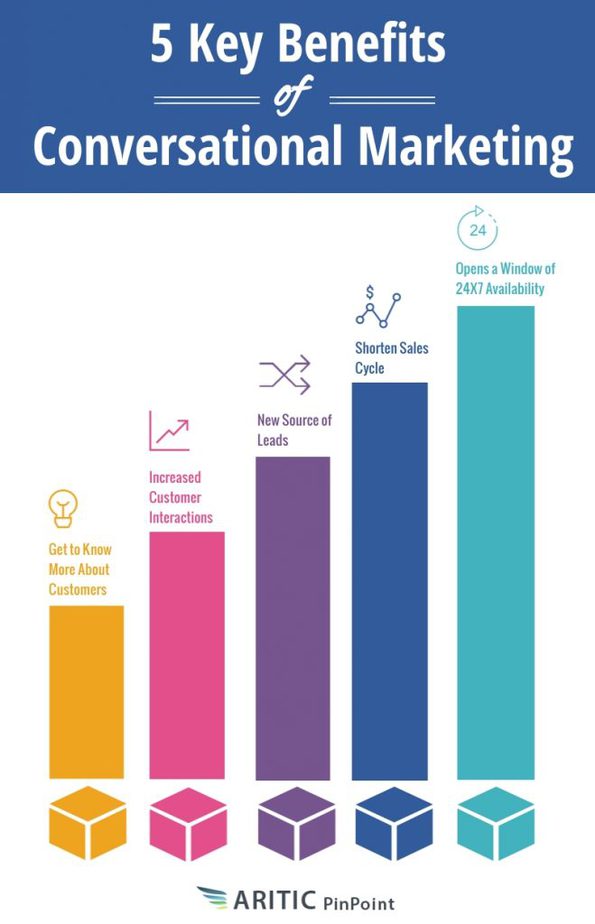 Having understood how Conversational Marketing works, you might be eager to know about its benefits. There are chiefly 5 key benefits of Conversational Marketing.
1 . Get to Know More About Customers
Conversation Marketing helps you learn more about customer expectations and get deeper insights about them as you get detailed and actionable information.
Conversational tools such as chatbots, live chat, and messaging platforms can actually give you an edge as you can determine what challenges your customers have, their preferences, and what questions they are asking so that you can improve efforts to optimize customer experiences.
2 . Increased Customer Interactions
Bots provide an extra channel to engage with your leads and lets you bring instant answers for your prospects and customers. Therefore, Bots can help increase lead engagement with better response time and exclusive offers.
Real-time communication with your customer is the plus point for you as a business. You can utilize bots to provide recommendations and suggestions to help the prospects find instant solutions and ultimately delight them.
Interesting Read: 11 Ways for Marketing Campaigns to Promote Virtual Event?
3. New Source of Leads
Conversational Marketing's essence is engaging and using conversational tools like chatbots, live chats, and messaging platforms to start conversations with prospects or potential leads. On top of that, these human-like conversations can enable you to build lasting relationships with your prospects and ultimately redirect them to sales reps to start converting them. Bots can determine which leads are valuable and qualified by asking them a range of questions. Therefore, these platforms can be your new source of leads.
4. Shorten Sales Cycle
Conversational Marketing lets you qualify leads, reduce lead traction, and effectively follow up, thus helping you get a quicker response from your leads.
Conversational tools eliminate the guesswork regarding when leads are ready to be passed to sales as sales accepted leads. Instead, these tools help route leads automatically to the appropriate sales team, and from there, your sales representatives can focus on converting leads.
As sales engage with leads showing buying symptoms, personalized emails and dynamic content can be channeled using conversational tools.
Conversational Marketing tremendously helps leads convert faster and therefore helps generate a better sales pipeline, thereby shortening the traditional sales cycle by replacing it with an automated system.
5. Opens a Window of 24X7 Availability
It goes without saying that the conversational tools make your business available to engage with prospects 24 hours a day and 7 days a week. It is beneficial for both you and your prospects. Not a dwarf benefit at all.
With prospects wanting to connect with businesses at their convenient time is quite understandable and should be welcomed.
Conversational tools such as chatbots or messaging platforms allow you to open a window to be available 24×7, providing prompt responses to your prospects' inquiries and questions.
---
Conversational Marketing FAQ
Q. Is Conversational Marketing a Sustainable Strategy?
Indeed!
Chatbots provide real-time and fast responses to the website visitors for 24 hours of the day and 7 days a week, specifically useful when your team members aren't present to attend to visitors' chat questions. As you control and compose the chatbot script based on historical data, it will adequately route the conversation to the right person.
Q. Can I measure how effective conversational marketing is?
Certainly, Yes!
The conversational marketing tools integrate metrics and dashboards that can enable you to analyze your marketing initiatives' effectiveness and progress. Therefore it is easier to track your efforts, analyze the number of leads generated, number of appointments booked, and how much revenue you generated in the entire process.
Q. Do I have to completely remove all of my lead capture forms?
Absolutely not!
Real-time messaging interfaces and bots are just an alternative to your lead capture forms for your leads that want to connect and talk with someone instantly. So, it is advisable to keep both kinds of channels open for prospects to engage with your business.
Q. Can I use conversational marketing & chatbots for customer support?
Undoubtedly, Yes!
The biggest benefit of using conversational marketing is that it helps reduce the obstructions for customers and, in turn, enhance customer support experiences. It helps your customers find the right kind of support documentation to self-help and therefore enables you to improve customer experience by multi-folds.
---
3 B2B Conversational Marketing Tactics to Make it Easy for Customers to Buy From You NOW
Dive into three B2B Conversational Marketing tactics that you as a business can use to make it easier for your prospects to buy and become your customers.
1 . Integrate Live Chat To Your High-Intent Pages
Analyze your high-intent pages touted to have the most significant influence on conversions and sales— ask yourself, are these your pricing pages, demo registration pages, or consultation pages.
Add live chat interfaces or AI chatbots to these pages of your websites instead of adding them on every page. High-intent pages are those pages where you will find the patterns of leads asking most questions or perform more consistent actions leading to KPI conversion. Simplify the path for them to get what they need with live chat or AI chatbots.
2. Replace the Obnoxious Contact Us Button
Today's tech-savvy prospects tend to avoid contact forms that they land up on when they click on the 'Contact Us' button on your website. It is boring for your prospects and creates a gap in response time which you can actually fill by replacing your 'Contact Us' button with an interactive chat interface.
Reduce traction and engage your prospects using chatbots instead of the 'Contact Us' button and make them feel that they can easily contact you and get information instantly. It will ultimately drive them closer to buying intent.
3. Develop 24×7 Chatbot Playbooks
Conversational marketing is powerful enough to transform your website into a real-time, 24/7 sales engine. You will agree that it may not work to have human personnel attending to customer chats 24×7. Yes, you guessed it right- Automated Chatbots or AI Chatbots can do it for your business.
Chatbots are intelligent enough to set up ahead of time that can welcome your website visitors, answer their queries, provide relevant information, and even book meetings on your sales reps' calendars. You can develop playbooks to run specific segments of your conversational marketing strategy even when you're offline.
---
Explore More About Conversation Marketing
To see how you can build an effective chat workflow for your bot and how Conversational Marketing tools like chatbots generate quality leads, check out the following resources: