Chatbots are all the rave in tech town. And not just because they are some far-fetched version of a futuristic tech gone right, but because they are simple and efficient enough to generate tangible results within no time.
Implementing chatbots for improved lead generation and lead experience can be game-changing for your sales reps, especially when the expectations of prospects are at an all-time high.
Google reports that 61% of the prospects expect brands to deliver personalized lead experiences. And marketers have caught up with the trend, with 90% of them agreeing that personalization significantly contributes to business profitability.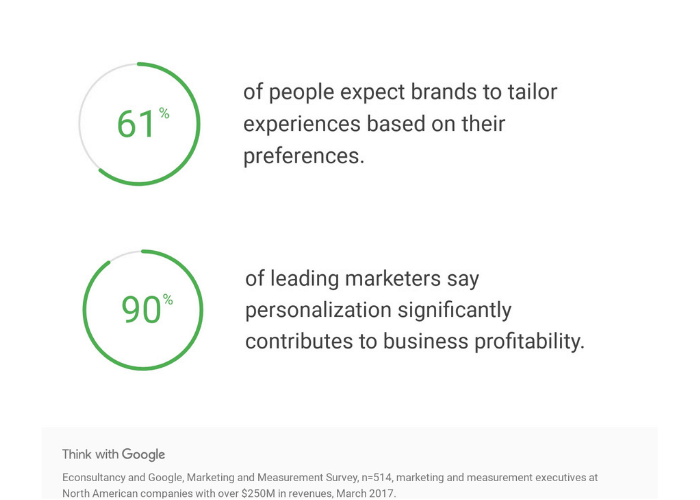 Source: Think with Google
When brands implemented chatbots to improve the lead experience, they saw massive growth. Why? The answer lies on the other end of the fourth wall.
When we dive deeper at the customer end (especially millennials), the degree of benefits they realize overshadows the inconvenience of interacting with a lifeless (but smart) virtual agent.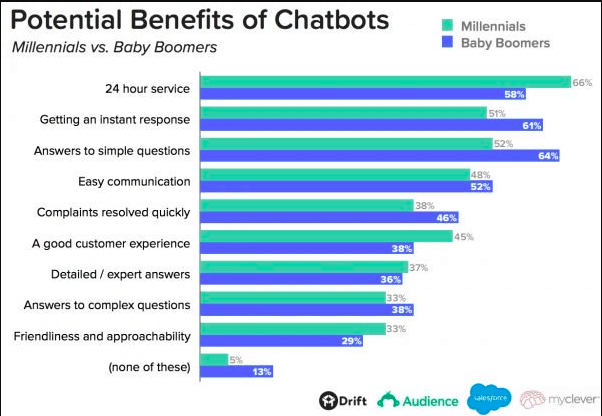 Source: Convince&Convert
Let's cut to the chase and understand the best ways to leverage chatbots to generate high-quality leads and enrich their overall lead experience across all channels.
---
Still Not an User of Aritic PinPoint Automation?
---
1. Tailor-Made Engagement Sessions for Enriched Lead Experience
Through chatbots, users can know who is visiting their website and which kind of messages are targeted for them. How? By leveraging the data of past chats and browsing sessions.
For example, when an old visitor comes back to your website, chatbots can automatically greet them by sending personalized messages such as, "Are you still interested in buying the X product?" or "We have slashed our prices on the product that you were checking out. Add it to your cart here!"
However, the interesting question here is, how's this possible? For instance, an AI-driven chatbot leverages machine learning to interpret customer inquiries, answer their questions, and constantly learn from new lead experience instances.
Since chatbots can tell apart new users from recurring ones, such targeted messages increase the relevance of shopping sessions. And as the progression of a natural conversation dictates (as depicted below), 'Relevance' acts as a precursor to 'Reward.'
Source: Winning by Design
The result is an immediate uptick in lead experience, engagement, and the number of captured leads.
2. Impeccable Timing
When it comes to acing lead experience, timing is everything. Precisely this is what makes chatbots a powerful prospecting tool in the first place, enabling it to trump other channels of engagement by leaps and bounds.
For putting this in perspective, chatbots can shorten your sales cycle from days to weeks.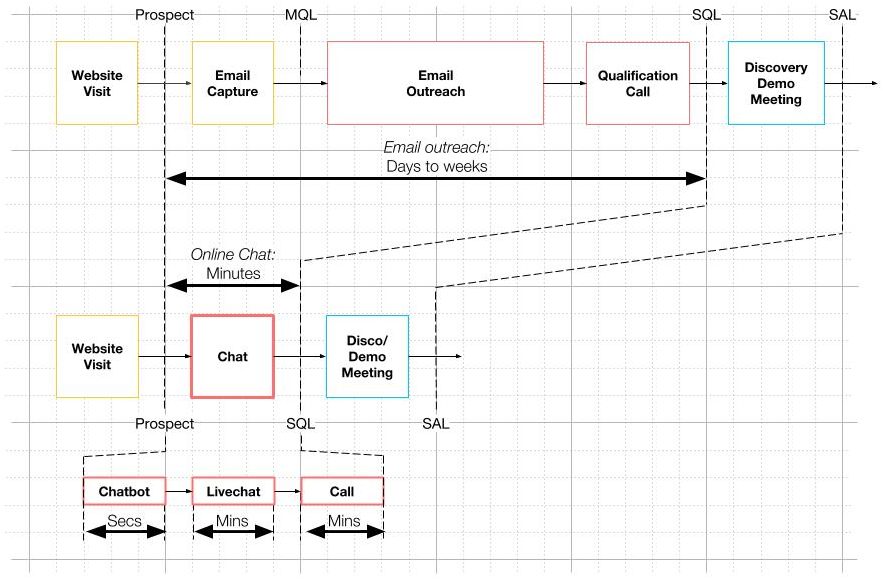 Source: Winning by Design
Chatbots can keep a tab of the exact moment when prospects are engaging, waiting to pop up at the most intuitive moment. For instance, a particular browsing pattern might indicate that the prospect is spending too much time on the details section of a product.
An automated chat can subsequently be initiated where the chatbot can sift through a pool of information at the backend, delivering the exact detail that the customer needs.
Armed with more information and backed by lightning-fast support, customers get empowered into making quicker decisions. Therefore, more leads can be generated with quicker turnaround times and an enriched lead experience.
3. Round the Clock Availability
One of the most obvious drawbacks of personnel-centric communication channels (such as emails, live chat, and voice calls) is 'human dependency.' While this is not necessarily a drawback, making live support available around the clock can be costly.
Hence, leveraging chatbots past the official working hours is a smart bet and ensures that your support never sleeps. It also doubles up as a neat lead-generating bot by capturing the details of every prospect it interacts with, intimating them that the support team would get in touch with them as soon as possible.
Chatbots can seamlessly capture details such as name, email, phone number, and the prospect's query right through the chat itself.
---
Execute Effective Marketing Automation Workflows Now
---
The presence of a front-end voice keeps prospects in the loop and assures them that their issues or queries are valued. Hence, the database of prospects clocks a natural growth over time, enabling sales reps to realize an influx of quality and targeted leads.
4. Battling Cart Abandonment
Cart abandonment is an issue in the world of digital sales that keeps everyone on their toes. It occurs when a prospective customer shows tremendous interest in products, adds them to their cart, only to the drop-off from the website without buying.
The SalesCycle 2018 Report points to some eye-opening statistics and pegs the cart abandonment rate to be as high as 75% for most industries!
The primary reasons for this trend include: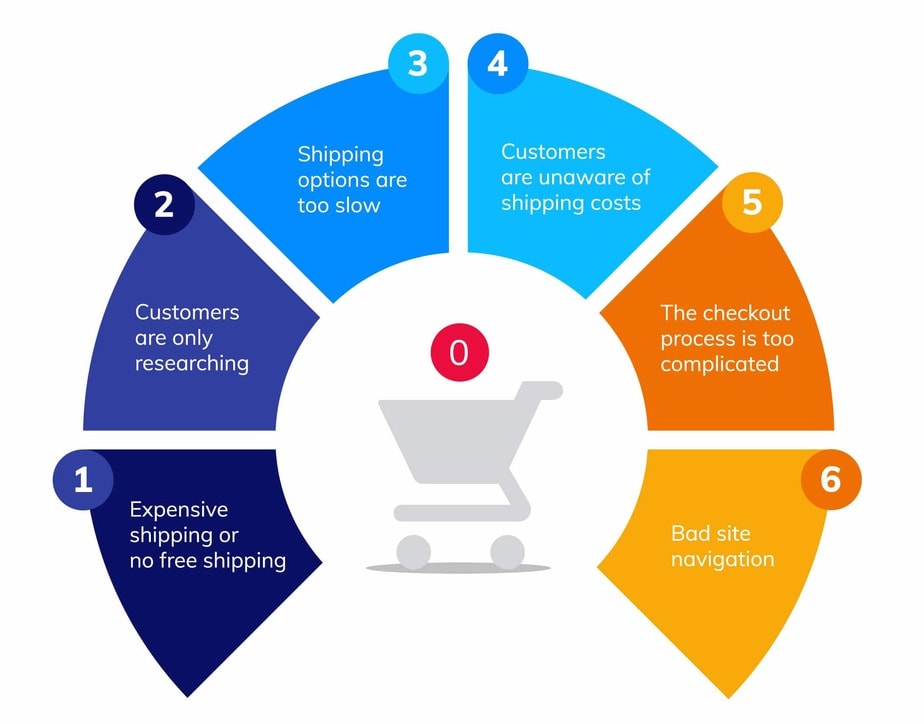 Source: Tidio
Here's how you can leverage chatbots to intervene and capture those lost leads effectively:
Use chatbots to provide reliable shipping-related information that prospects might have missed. You can even set up discounts and offers to be triggered based on navigational behavior, such as right before the prospect is about to close the shopping window/browser tab.
Engage with prospects even after they have added products to their carts. Chatbots can act as a channel of information post the decision-making stage to push for more sales.
Leverage chatbots as a navigational tool that points the prospects to the right product information, such as product categories, model variations, features, and more. It aids the sessions of customers who are having second thoughts about their purchase decision.
And when everything else fails, chatbots can ensure that they capture the contact details of prospects to get to reengage to bring them back to the website accordingly.
5. Functioning at Scale through Automation
Although chatbots are capable enough to work in isolation, they are seldom deployed with that in mind. In fact, they aim to work as a pillar of support for your customer support teams, enabling them to handle more prospects within the same time frame.
A chatbot can match the user's profile with the conversational data, enabling them to deliver personalized experiences.
Users can feed their entire FAQs content, chat history, and product knowledge-base to the chatbot to bring it up to speed within no time. It results in an ability to handle up to 80% of customer queries.
And for inquiries that go out of the current scope of handling, they can be intelligently handed off to live support agents. For instance, on Aritic.com, we have a live chat to handle all customer queries initially.
It automatically captures the name, email address, and phone number before the chat begins, and in the back-end, keeps tracking the page source of the visitor. All these data, accumulated, help in serving customer queries better.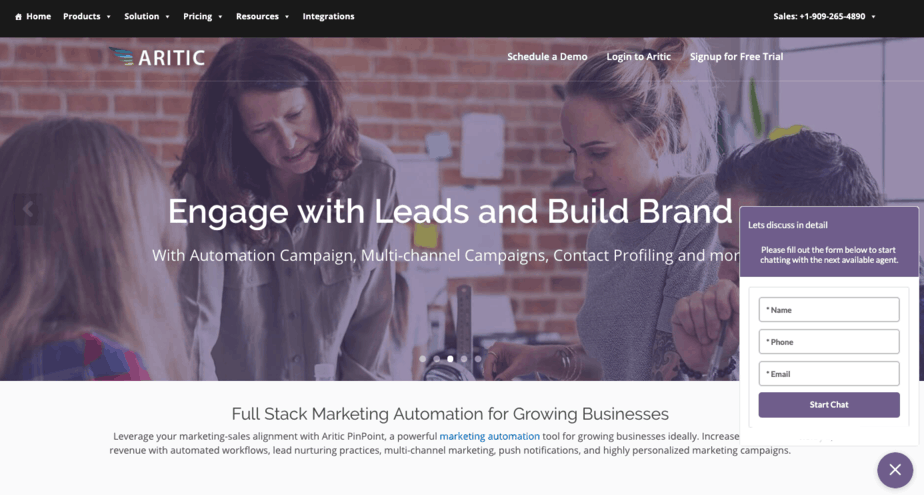 With such high-intensity functioning at scale, more leads can be captured, warmed up, and converted overnight.
---
The Verdict
Chatbots are here to stay, with far-reaching benefits for digital businesses in every space. With advanced capabilities such as lead routing, qualifications, smart suggestions, and overall enrichment of lead experience, they empower sales reps with more information about every prospect.
It results in a holistic transformation in multiple business verticals, including sales, marketing, customer support, and customer experience.
⭐ How to generate quality leads with chatbot integration?
Marketers can conduct surveys, quizzes and ask questions with the help of Chatbots, and this process would help to generate quality leads.
⭐ How to integrate chat bot in a website?
Steps to integrate ChatBot to Website:
a) Move the cursor to the Integration panel and then choose Chat Widget.
b) In the Chatbot section, you have to click on the Publish button.
c) After clicking on "Copy to Clipboard," you have to take the code from the box.
d) Before the tag, don't miss to paste the code to your website's source code.