Facebook has over 2.20 billion active users, making it the largest social media network globally. A little over a decade back, Facebook was not much known. Today, it has billions of active users logging in multiple times on Facebook. Do you know any other success story as huge as Facebook?
Moreover, with this momentum, can the active users go from billions to millions or thousands? Only Facebook marketing can prove to you the best way to gain great traffic.
Probably no. Facebook's craze is here to stay. Facebook is here to stay.
Think about it. Every single person you know is on Facebook, whether they understand the whole concept of it or not. People from every age group (13+ of course) are on this platform.
Hence, it is only natural that marketers cannot ignore this social platform. Whatever be your target audience, you can bet they are on Facebook daily. The question is: How can you target these users by amalgamating your marketing efforts with Facebook marketing?
---
Marketing on Facebook: How do you do it?
Brands are using Facebook marketing to create a brand identity and brand awareness among their target users. Facebook offers three specific tools to marketers: Pages, ads, and groups.
1 .

Pages
Almost all businesses, including many offline businesses, have a Facebook page. It is similar to a Facebook profile but is meant for businesses and public figures. Users can simply "Like" a page to receive regular updates about that page in their newsfeed.
Infact, users can also "mark" a specific page to immediately see all of its updates when they open their Facebook profile.
---
Still Not an User of Aritic PinPoint Automation?
---
For instance, I love the updates from Dogspot, so I have opted to see the posts from this page first, all credits to the adorable images and short videos of dogs. I love to see these posts the moment I open my Facebook newsfeed.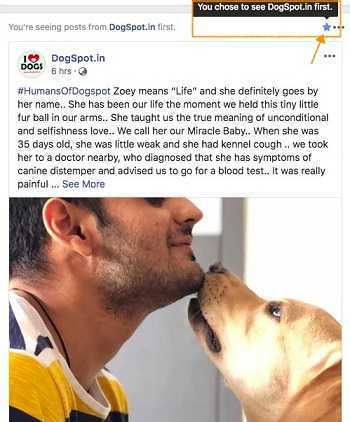 Facebook pages are free and can be set up easily. The challenge, however, is to maintain a strong foothold and have a consistent fan base.
2.

Ads
Facebook is great when it comes to making targeted ads. You can create ads based on various target specifications like age, location, education details, company domains, device types, and more. It lets you show your ads only to those users who match your specifications. In short, you can target better with your ads. Your users have the option to close the ads that they don't like and 'like' your page from the advertisement.
While ads have great targeting parameters, they can get costly at one point in time (especially if you are running your marketing on a tight budget).
3.

Groups
These groups are much similar to the online discussion forums. You can create groups related to your domain or your product offerings. These groups can drive high engagement, but Facebook groups consume a lot of time at the end of the day.
Whatever group you target, I can assure you that you will always have enough users to target on Facebook for Facebook marketing efforts. Facebook is not just a powerhouse for marketers; it is immensely flexible – no matter what kind of business you run, Facebook marketing will work for you.
Looking at the rapid pace at which Facebook is growing, it is needless to say that this social media platform is an indispensable part of any marketing strategy you build for Facebook marketing.
While you gear up to strike the iron while it's hot, I have compiled 6 Facebook marketing hacks that have given me tremendous results in terms of traffic, engagement rates, and conversions.
---
Six Tried-and-Tested Facebook Marketing Hacks
PS: Some hacks are self-discovered, while some I chanced upon while trying to learn the multiple facets of the social media giant's ad platform. Let's get started then.
#1. The Inverted Unicorn Strategy
It is one of my favorite strategies, not only because it gives great results but also because it is really fun to implement. I learned it from Larry Kim, founder and CTO of WordStream.
Larry Kim invented a new ad targeting strategy, which he calls the inverted unicorn method. His idea is to target correlated interests (like marketers with management job titles) and target two completely different interests and overlap them.
Larry Kim used this method for one of his case studies highlighting how Fake News being spread through Facebook ads can be a danger to society. He used two broad categories of an audience: Liberals and Star Trek fans. These two targets are in no way similar or related to each other.
Yet, it helped him get gazillions of views and high engagement metrics. He used an image showcasing a famous Start Trek character that helped him get the attention of his star trek audience.
And it was meant for liberals who'd understand his case study. Now many were both. Either way, his strategy gave him a win-win result, given that Larry Kim had set a budget of just $400 to promote this story.
His method is a crazy one, but honestly, this is worth all the effort. While Facebook lets you narrow down your audience segments as much as possible, sometimes such a strategy can help you increase your outreach.
#2. Search up specific wording and insights of your previous posts
Most social media marketers go over the standard post performance data available in the Insights tab.
---
Execute Effective Marketing Automation Workflows Now
---
It gives detailed performance insights of previous posts along with the statistics and engagement metrics like shares, comments, page likes, etc. many marketers seldom look into another great tool available under your Facebook page's 'publishing tools' tab. It is the place where you search for your published posts.
You can search previous posts based on certain topics and see what words or images, or combinations of both have worked for you in the past.
You can opt to re-post content, but make sure you repurpose the content to catch the attention of a brand new set of eyes.
#3. Know 'Audience Insights' feature better
Audience Insights is a hidden gem for marketers, especially when you are working on paid ads. Facebook's Audience Insights gives you comprehensive details on your target audience based on creating tailored content. The more relevant is your content, the better will your investment in paid ads fare.
Many brands use this data to create fun infographics, as SproutSocial did with their social media audience data. When you dig into the data or see other brands showcasing it on their platforms, you know – the opportunities with Facebook marketing are endless.
#4. Facebook Pixel is the bread-butter for your ads
Want to measure your social media ROI? Then, Facebook Pixel is the way to it. Facebook Pixel offers a detailed guide to set it up for the first time. For this, you don't need to be technically sound. Here are the steps:
Go to your Facebook Ads Manager
Click on Actions > View Pixel Code
Copy this code > Paste it between the header tags of your website
Incase you are working on WordPress, you can use the Google Tag Manager plugin to host all your website tracking codes.
What does this do?
Setting up Facebook Pixel can benefit you in ways such as:
You can

build a custom audience

for re-marketing activities

Tracking data can be used to optimize your ads and trigger more conversions

You can track the conversions and link them back to your ads
Spending money on Facebook ads is one part of the story. But without tracking your results, you are spending money blindly. And that's never good news for any marketer!
#5. Invite people who've liked your posts to like your page now
Like every other social media marketer, I'd always look to make the most out of each Facebook post that goes live on my brand's page. One such feature (that many marketers miss) is inviting people who've already engaged with your post but have not yet liked your page. You can directly send invites from a hidden option in your Facebook post.
How do you get to this feature?
Check out the hyperlink just below each post, where it shows how many people have liked your post and the number of comments you've received.
When you click on this link, it will open the entire list of people who've engaged with your post. On the right-hand side, a new menu will pop-up that highlights those people who've not yet liked your page. You can quickly invite them from here.
Why do I think this feature will work?
People engage more with brands that they are familiar with already. If a person has liked your post, there is a high chance that he/she will recognize your brand name and hit the 'like' button. It is called brand recall, where your target audience recalls your brand and starts engaging more.
#6. Make your Facebook page reflect your business
Facebook pages are not just great for capturing audience attention and increasing engagement. You can customize your Facebook business page according to your business type. Recently, Facebook has rolled out this feature to allow businesses to customize their pages. It gives you the option to rearrange your page and put the most important information first.
How to do this?
Go to the 'edit' option on your Facebook page. You will see a new option as "Templates" that you can edit.
Your page will be on the Standard template by default. Go ahead and edit it, choosing from various layout options like
Non-profits

Venues

Services

Restaurants

Politicians; and more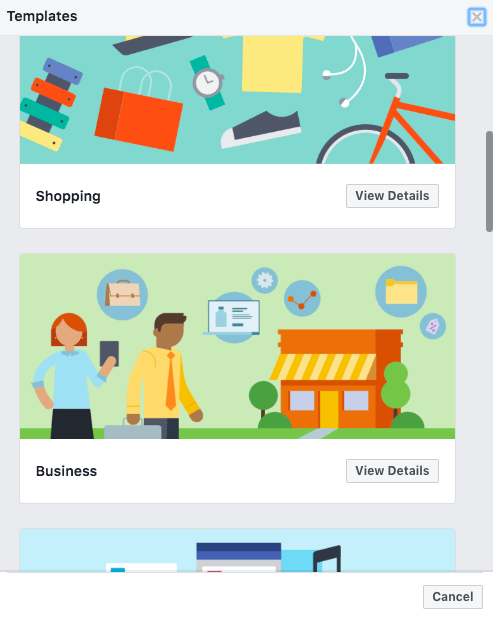 It is one great tool for businesses to reshuffle how they want their page to look. While we still have the standard version so that the reviews and recent posts are shown at the top, you can make your own choice.
Over to you now.
Are there any other secret hacks that you've tried? We'd love to know what made you stand out from the crowd.