For SaaS companies, the free trial is perhaps the most important acquisition tool of all time. It is good incentive for future paying customers.
The offer is easy to understand and transparent: try the software and see if you like it. If you do, sign up for a paid version. If you don't, no problem.
Of course, as marketers, we want to make sure people convert from free trial users to paying customers as often as possible. Unfortunately, that isn't always the case. Data shows that free trial conversion rates have a wide degree of variance.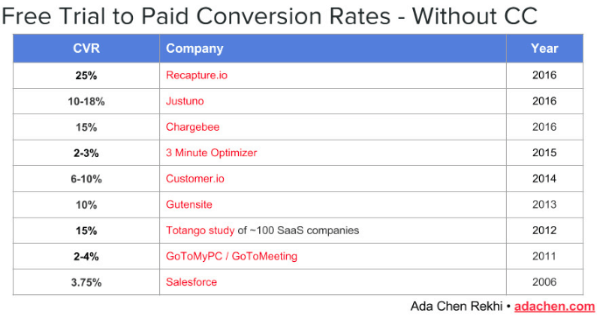 The table above features both strong conversion numbers and pretty terrible results. What's the difference between the good and the bad? It's almost certainly how the onboarding sequence is structured for free trial users that you hope to convert to paying customers.
As the SaaS industry gets older, (some) marketers get wiser. Enough research has been gathered to explain why some users leave and others stay.
The secret is getting people to have an "aha" moment with your product.
---
What is an Aha moment, and why does it matter?
An aha moment is the exact moment when the value of your product becomes crystal clear like a lightbulb turned on in their head.
They think, "Ohhh, now I see how valuable this is to me." When Facebook was first starting to take over the world, they realized if users connected with at least 7 friends in the first 10 days, they would stick around. That was when they felt connected and started getting real value from Facebook.
---
Still Not an User of Aritic PinPoint Automation?
---
At Slack, the product team noticed that joining multiple channels was the path to aha. In the beginning, this was difficult for users, so Slack's engineers quickly made it easier to create and manage channels. And then growth started to take off.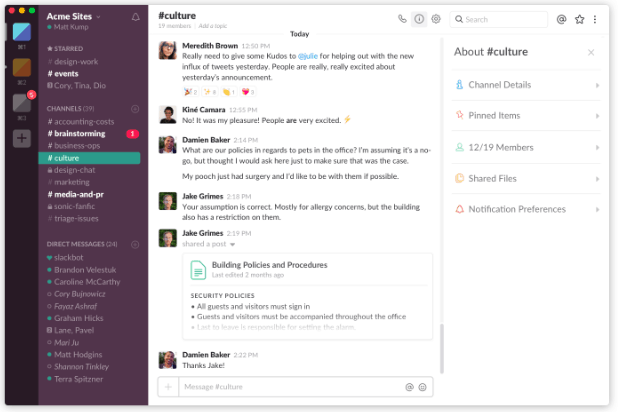 You can see how central channels are to Slack's user experience today. They've even built-in notifications on a channel level.

These are famous examples, but the principle is the same for any SaaS product.
For people to start paying for your software, they must develop a clear understanding of its value.
Click To Tweet
To improve the conversion rate of your free trials and keep generating paying customers, you need to do two things.
First, identify your audience's aha moment(s). Use behavior-based automation to guide people toward their moment of value discovery and finally hope to get paying customers.
Here's how you should do it.
Identifying your customers' aha moment
People typically only realize the value of products after a certain series of behaviors. Aha, moments are the culmination of experiencing the core features of the product. So how do you pinpoint yours? You have to study the data.
Quick note: you're going to need some kind of analytics platform, like Optimizely or Mixpanel.
Once you have your analytics set up, create a cohort of free trial users who would become paying customers. Then look for patterns in how they behaved with your product. For example, did they:
Invite other users to your product?
Interact with more than one core feature?
Return to the application a certain number of times during the first week?
Obviously, these are broad examples of behavior, but they give you an idea of what leads up to an aha moment. Here's a visualization of what that might look like exactly.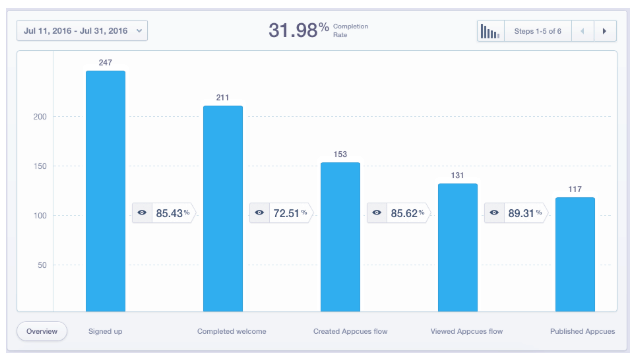 Using the funnel functionality in Mixpanel, you can create a view during their free trial. The example above shows a sequence of actions in the Appcues onboarding sequence.
After completing the welcome steps, users are directed to create a workflow and publish it. It seems that hitting publish and seeing the results is the aha moment Appcues is working towards now.
In theory, the sudden feeling of insight people get from Appcues software triggers the aha moment.
As you analyze your historical data, be sure to look for actions that correlate to paying customers. If people abandoned the free trial or were active until it expired but didn't convert as paying customers, mark their data sets as disqualified.
1 . Adding qualitative data
Your initial research should rely heavily on quantitative data. But you need to add qualitative data to the mix as well. Otherwise, you're not getting the whole story.
Qualitative data paints a richer picture of what's going on in your users' minds as they interact with your product.
It helps you understand why some people eventually paid for your software and others lost faith. To get these data points, you should need to schedule interviews with two groups: current paying customers and people churned after the free trial.
Each group will give you a different perspective on what's important to them about your software and why they did (or didn't) sign up for a paid version. This information is a gold mine for improving your onboarding process.
2. Segment by Persona
---
Execute Effective Marketing Automation Workflows Now
---
Personas are another consideration for your research. If your product serves different audiences, it's very likely they'll have different aha moments. If you already have your data segmented by persona, good job.
You're doing it right. If you don't, then that's alright. There are a couple of easy ways to get this data.
1. Have users self-identify during your onboarding
There isn't a way to do this retroactively, but you can redesign your user experience to have users self-segment during onboarding. Here's a simple example we designed at DePalma for a mobile e-commerce app: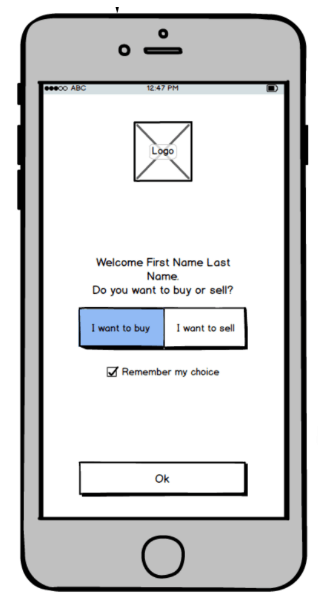 The app connects buyers and sellers, so to personalize the onboarding experience, we ask about each user's goals. It gives us a clear set of data to analyze to improve the onboarding process.
(The example is a wireframe version, not the finished design.)
If you don't want to hire a professional UX design firm, you can also accomplish a similar result by asking for someone's job title when they sign up for a free trial.
2. Use data enrichment
If you already have a horde of paying customers but don't have a good data point for segmentation, there is an answer. Just use a data enrichment tool like LeadGenius, Clearbit, or RocketReach to enhance your data.
Boom.

Now you've got demographic and firmographic data to segment your personas.
3. Optimizing your onboarding for conversions
Alright, so you've done all the hard work to identify aha moments for each of your personas. Nice work. That's the most important part.
The next step is to optimize your onboarding sequence to guide people to aha moments and ultimately increase your conversions, aka get paying customers. Again, you have a couple of options here. You could redesign your onboarding workflow around aha moments. It is a good move because the ROI of UX is huge.
However, if you're looking for a quicker result, you can focus on using marketing automation to set up behavioral emails. This medium works best because it pulls free trial users back into your product. Push notifications rely on people to already be using the software.
To do this, map out the actions that lead up to an aha moment. Then create email automation that directs people to each of those moments.
For example, HotJar calls their onboarding sequence an "action plan." The emails clarify what action they want you to take next and why you'll benefit from it.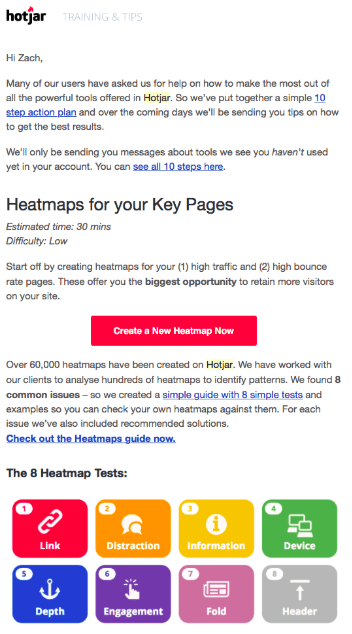 This example provides a lot of good best practices to follow. The first paragraph explains that HotJar will be sending me a 10 step action plan to get the most out of the software.
I'm sure each of these steps is related to aha moments or are indeed aha moments themselves.
HotJar also notes they'll only be sending me emails about tools I haven't used in my account yet.
It is a critical piece of your automation campaign. You need to make sure your onboarding campaign is smart enough to skip steps that your users have already taken. That way, you're always nudging them to find new value in your software.
Asana is another good example. As soon as I sign up, they have three easy steps for me to take.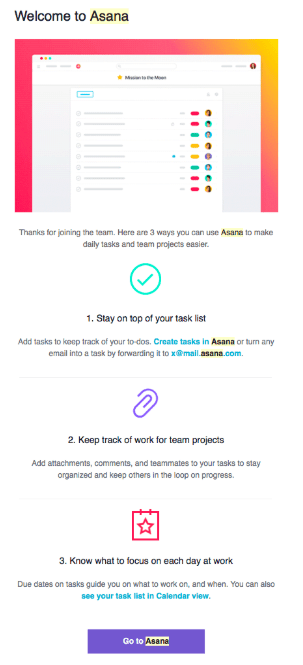 A few days later, Asana's email campaign noticed I hadn't been using the calendar feature. So they sent me an email about it.
They didn't send me anything about setting up tasks in a list view because I'd been using that feature like a madman. Instead, their goal is to get me to engage with as many software features as possible.
By the way, Asana's aha moment is when you invite teammates. Their strategy is to get you to engage with their excellent project management software and invite your team.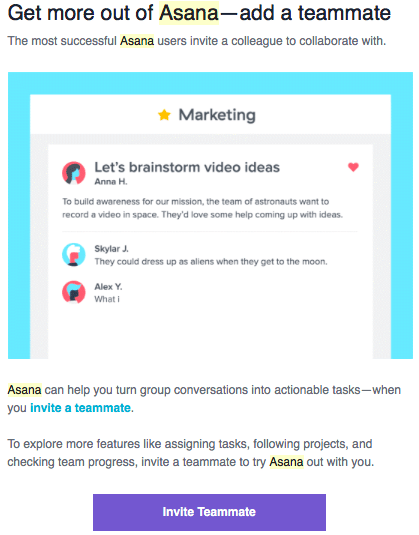 People are attracted to try-before-you-buy offers. Free trials are perhaps the best example of this concept available today.
But no free trial is a magic potion.
To consistently convert more paying customers from your free trial sign-ups, you must understand the value your software provides to people. And then, you must set up an onboarding campaign that makes that value crystal clear.
The best part is any marketer with quality (or even just decent) SaaS products can. The key is to accurately identify aha moments and use smart automation to help your audience experience them.
⭐ What is free trial?
When customers get any product or service free of cost for a limited period, it is called a free trial.
⭐ How long should your SaaS software trial period be?
The most common trial period for SaaS software is the number of days in a month. If a trial exceeds two weeks, then it falls under a long trial duration.
⭐ Should I offer free trial?
If you offer a free trial for your product or service, then it's a win-win situation for
your company to showcase the utility and advantages. Even paying customers get a chance to understand the product or service in the trial version.
⭐ How effective are free trials?
Different types of free trials are:
a) Feature-limited
b) Time-limited
c) Usage-limited
d) Capacity-limited
e) Output-limited
f) Hybrid trial
⭐ Why is data enrichment important?
Data enrichment is the process of augmenting data to make it more useful, powerful and valuable. As a marketing strategy, data enrichment can be applied across a range of tactics, from catalog building and lead nurturing to campaign planning and analysis.
⭐ What is lead enrichment?
In Lead Enrichment, you're gathering more data about your prospects, so that when they do convert into leads and customers, there's a detailed understanding of where they're coming from and what they need.
⭐ What is data cleansing and enrichment?
Data cleansing is the process of reviewing individual records and correcting inaccurate or incomplete information. Data enrichment is the process of adding new information to a record, in order to make it more useful.
⭐ What is qualitative marketing data?
Qualitative data provides valuable insight into consumer behavior and thought processes. This type of data helps companies gain a better understanding of their target audience and what the consumer is looking for, thus allowing them to create more effective marketing strategies.