LinkedIn is a powerful social media platform for B2B businesses to connect with potential clients, build brand awareness, and generate leads. However, simply having a LinkedIn profile isn't enough to get the results you need. To truly make an impact, you need to create engaging content that resonates with your target audience.
In this blog, we'll explore five LinkedIn post ideas that are proven to drive high B2B lead engagement. From thought leadership articles to behind-the-scenes glimpses of your company culture, we'll cover a range of content types that are sure to grab the attention of your target audience and keep them engaged. Whether you're a seasoned LinkedIn user or new to the platform, these post ideas will help you stand out and generate more leads for your business.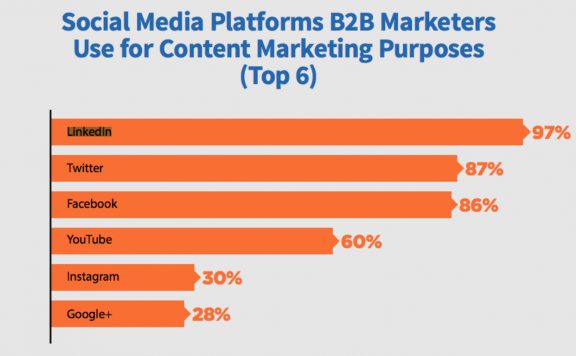 Top 5 LinkedIn Post Ideas to start with
With the dominant publishing feature on LinkedIn, marketers are given a platform to reach prospects and forge relationships with them. Which otherwise would have been nearly impossible. However, publishing content on LinkedIn is half the journey. It is even more essential to know how to create mind-blowing and striking content that influence your readers to take action. If you are not sure about where to start, relax! We have got it covered for you.
1. Headlines are a crucial part of your LinkedIn Post Ideas
David Ogilvy said something very striking.
On the average, the people that read the headline of a post are five times as many as those that read the body. One spends 80 cents of every dollar bill just for writing the headline.
Now, it is easier to create headlines on LinkedIn post examples that are performing excellently using an approach that is research-based. Ten thousand posts that were shared most on LinkedIn were analyzed by BuzzSumo, and there were some terrific discoveries. For example, using the following keywords will automatically lead to the more exceptional performance of the headline.
By including "habits" in the headline drives an average of 1,196 shares.
The word "mistakes" drives around 556 shares on average when you include it in the headline.
"Successful" fueled around 416 shares on average.
The word "leader" or "leaders" brought around 483 shares on average.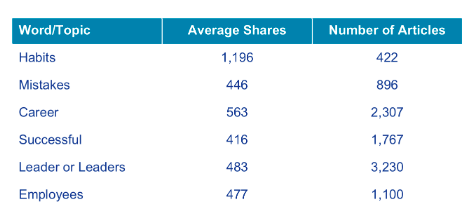 Here is what Buzzsumo discovered as popular phrases for LinkedIn posts: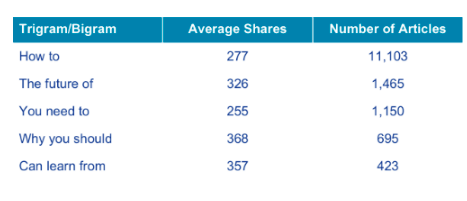 While creating a headline, have the length at the back of your mind. Those headlines that performed excellently had an average of around 49 characters. Go the extra mile and study the publications from influencers in the industry. While at it, check out their headlines. Note down the formats used and identify top-performing headlines then implement the strategies to your captions.
2. Lower the level of reading
This is your second most important thing to consider for your LinkedIn post ideas for businesses. The LinkedIn contents that are powerful and popular are the ones that are straight to the point and easy to read. Ensuring that your content is equally as simple to understand is actually easy. Always use the Flesch-Kincaid score.
This tool always scores content on a range of one to a hundred. A higher score means the article is elementary. Let us have a look at the breakdown.
A score between 90 and 100: can be understood by 11-year old on average
A score between 60 and 70: can be read by 13-15-year-old on average.
A score between 0 and 30: can be understood by graduates
What is the Flesch-Kincaid Score?
This is a readability test that helps you to understand whether what you are writing is easy to comprehend or not. Watch this video below to know more about the Flesch-Kincaid Score model.
---
Still Not an User of Aritic PinPoint Automation?
---
Your prospects are well educated and can easily understand things. However, this does not mean that they prefer reading complex content.
Around 3,000 posts were chosen for the study. It was discovered that even though one may apply conventional wisdom when writing for a knowledgeable set of audience, the posts that had a Flesch-Kincaid score of between 80-89 got the most views.
This tool uses a precise formula that accounts for the total words, sentences syllables. But worry not about understanding how it works. There is a built-in Microsoft word tool that can help you with this.
Open a word document and type anything on it and carry out spell checking. Once done, the tool will show you the "readability statistics." Locate the "readability" subheading and check the Flesch-Kincaid score and grade level for reading ease. The higher the score, the simpler the content.
3. Create an optimal length of the platform
As you plan to write a fantastic LinkedIn company post, consider how much content your target audience wants to read. In the past, marketers lived under the belief that shorter content was better for the customers. However, the trends have changed. Now, the longer, the better. Remember, when you write unusual and valuable content, your audience will read it regardless of its length?
An article that was published by Content Marketing Institute reported that shorter content that has a maximum of 1000 words was dominant on LinkedIn. What is shocking about this is that it was not the type of content that many readers wanted to read. The posts with words ranging between 1,000 and 3,000 got the most shares. Here is some data:
Up to 1,000 words: 6,439 shares on average
Between 1,000 to 2,000 words: 7,771 shares on average
Between 2,000 to 3,000 words: 8,702 shares on average
Here is the bottom line, publish long and high-quality content on LinkedIn post ideas 2022 so that you can hook the readers and capture their attention. Move them to share the content with their circle of contact.
4. Use a strong CTA to establish a relationship substantially
Creating content that draws the prospects and provides the information they desire is the start. After reading the material and realizing how amazing it was, they would want more from you. It is a sad thing that many LinkedIn articles do not provide the next step for the clients. They do not include a call to action.
Any effective CTA will start with establishing a goal. State precisely what you want your readers to do after reading the fantastic content. Your goal should be to entice them into reading more content. Therefore, include links to other fabulous and related content found on your blog.
If your goal is to get their email address so that you can kick-start a nurturing campaign, encourage them to download a guide that helps in solving their pain point. For instance, you can say, "click here to get our free white paper. It contains three most common mistakes that people make when they are blah blah blah and solutions to these mistakes".
The content that you publish on LinkedIn should be a significant part of an overarching strategy. Therefore, the CTA should be excellently designed to meet these set of goals. I will give you two examples of CTAs, which are not directly posted on LinkedIn, but you can take a fair idea of how to create effective CTAs that work.
For example, the CTA button on the landing page of Evernote is simple yet powerful. The message "Remember Everything" is clear and directly addressed to its visitors. It is easy for visitors to take a quick note of all the benefits of using the Evernote app and also a tip on how to sign up. Add to this, the twinning of the Evernote logo, headline, and CTAs button is a clear winner. Evernote keeps the CTA text as simple and direct you can think off, but the design, placement, and alignment with the entire landing page content and design make this one great CTA example.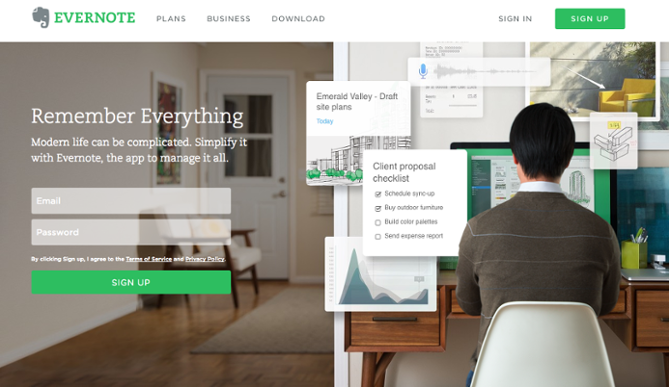 Many brands take a creative detour while framing the CTAs. It isn't a sin to experiment with your CTAs, as long as you don't overdo or underdo it. For instance, the use of reverse psychology by Huemor is worth talking about. Let's say you visit a website that has a 'Launch CTA" with a copy of "Do not press", what would you do? Honestly, you'd be dying to 'press' and see what happens, because that's how our brains work. We have an affinity for doing something which evokes curiosity in us. This use of harmless playfulness goes well with the brand's voice and opinions.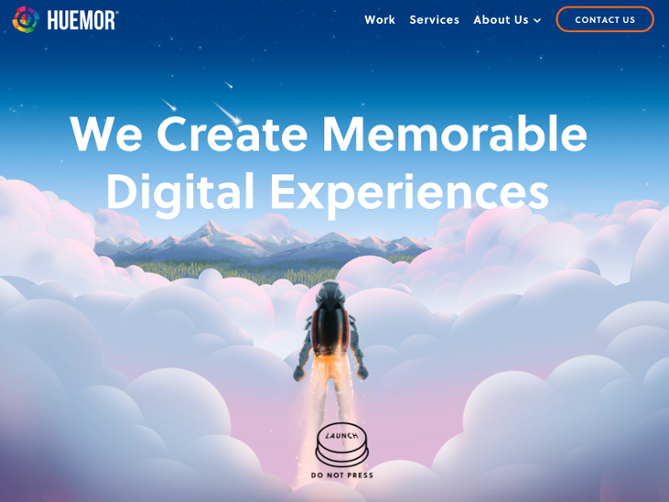 5. Keep the readers engaged with visual content
Let me share an exquisite secret about content to publish on LinkedIn; it is not always about the word count! Images are vital for all content on LinkedIn. LinkedIn posts' research showed that content with images got massive numbers of shares, likes, comments, and views.
Content without images received 6,413 views on average. But with the inclusion of eight images; this number skyrocketed to 57,575 views. Fascinating, right?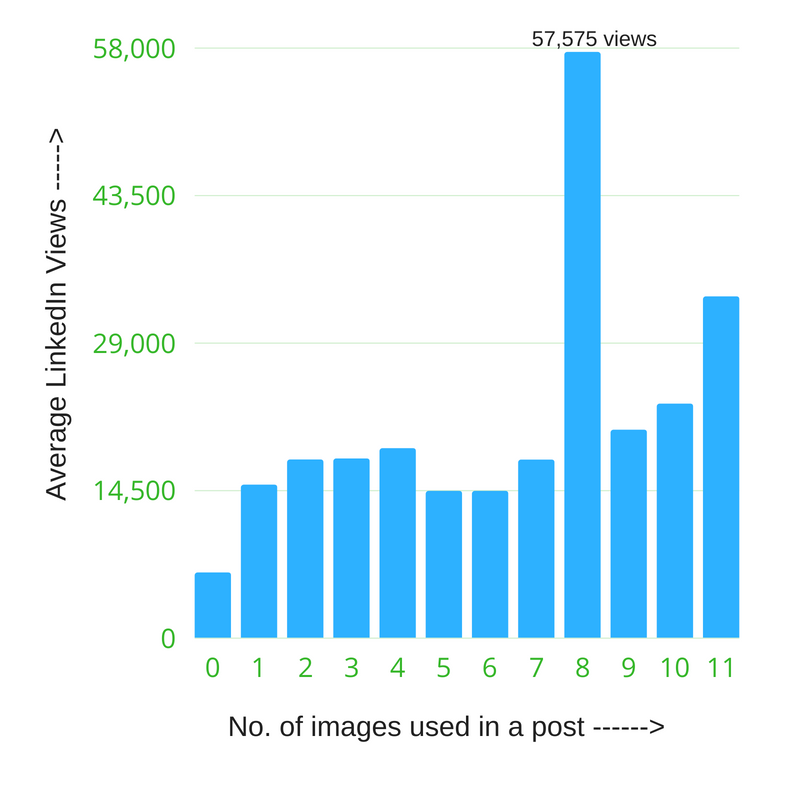 From this, you learn that it is not all about the content. The visuals should greatly support the content. The visuals will typically break extended information into smaller parts, and this will help the reader to move through the article at a comfortable rate.
About LinkedIn content marketing
All products that are created will always start with a pain point. This is something that is giving your prospect a hard time, and they are struggling with it. All they want is to have it fixed right away. On LinkedIn, there are so many prospects that are facing the same pain point that your product or service is resolving. It would be fantastic to meet these prospects, right? Now, this is the job description of a marketer? He should ensure that they capture their attention.
Also, read 5 Most powerful LinkedIn B2B marketing strategies.
With LinkedIn, you have the right medium to drive this agenda. It will help you get in front of prospects at the perfect time. Immediately you capture their attention; the next step should be to retain it. Use the strategies given above to engage with more prospects. Establish genuine interactions that will encourage them to learn more about your brand and trust it.
If you are publishing content on LinkedIn, let us know your best tips for getting readers hooked and capturing other people's attention.
⭐ How to write a good post on LinkedIn?
Tips for writing useful LinkedIn Posts:
a) Make short titles.
b) Create visual posts
c) Use "How to" and List-style headline
d) Avoid embedding YouTube videos
⭐ What are the best ideas for a LinkedIn post?
Have a glance at some LinkedIn post ideas:
a) Video content
b) Industry Updates
c) Stories on brands
d) Infographics
e) Case Studies
f) Interviews
g) Webinars
⭐ How often should you post on LinkedIn?
Marketers should post twice a week on LinkedIn, and posting frequency should not cross five posts each week.
⭐ What is the content type we can post on LinkedIn?
Here are some content types for LinkedIn:
a) Blog posts
b) Industry updates
c) Video
d) Product Benefits
e) Quiz
⭐ What is a native post on LinkedIn?
A native post is a type of promoted content that LinkedIn offers to businesses. It is similar in format and appearance to a post on the user's own newsfeed. A native post can be shown to relevant users, based on the business's targeting preferences for reach and frequency.
⭐ What should I post to get noticed on LinkedIn?
If you don't have to spend hours every day posting updates on LinkedIn. Just dedicate some time each week to publishing an article or two and share them with your connections.
⭐ What does Native mean in marketing?
In the digital marketing industry, a native usually refers to native ads. A native ad is an advertisement that fits in with the context of a publisher's website or app, rather than standing out as an obvious ad. The concept of a native ad is to create a natural link between the consumer and the brand being promoted.
⭐ How do you grow on LinkedIn?
The key to LinkedIn growth is sharing quality content that will be shared by others or inspire them to take action. If you want to use LinkedIn for business development, build awareness about your brand.