LinkedIn is a professional networking platform that is now proving to be the most lucrative social media space out there. When it comes to brand positioning, finding relevant content, or being found on the platform, LinkedIn hashtags come in as a valuable way for social media users.
Jump Directly to
1. When did hashtags arrive on LinkedIn?
2. What's the value of using LinkedIn hashtags?
3. When should I use hashtags on LinkedIn?
4. How do I select the best hashtags for my posts?
5. Should I participate in trending hashtag topics?
6. LinkedIn hashtag tips and tricks
7. Ready to Change the Way You Use LinkedIn Hashtags
According to LinkedIn Marketing Solutions Blog, content creation on the platform has increased by 60% as of 2020.
Hashtags are now more prevalent on LinkedIn and enable you to attract a wider audience and gain more engagement for the content you share on the platform. But despite the immense usefulness of hashtags on the platform, many businesses and personal brands find it tricky to utilize the power of LinkedIn hashtags in the best ways.
---
Still Not an User of Aritic PinPoint Automation?
---
Maybe you are using very long tail hashtags or using excess hashtags in a single post. So, let's take a look at how you can professionally and effectively use them on LinkedIn.
---
When did hashtags arrive on LinkedIn?
The LinkedIn hashtags feature was incorporated by the professional networking giant in its Android and iOS apps as a new content search enhancement way back in 2016 for the first time.
The motto behind this was that LinkedIn wanted to ease the searchability for its millions of users to comfortably find relevant professional content shared by other members in their feeds. But LinkedIn reverted this feature due to an underwhelming user response.
Interesting Read: 5 Most Powerful LinkedIn B2B Marketing Strategies of 2023
In 2017, LinkedIn hashtags reappeared, but now it was present in the desktop platform as well, as a part of the new LinkedIn user interface. But there was little awareness among users on how to utilize them as an enhancement feature.
Finally, in 2018, LinkedIn hashtags got a broader introduction and saw an uptrend in use among the platform users.
---
What's the value of using LinkedIn hashtags?
LinkedIn hashtags are similar to Twitter and Instagram hashtags functioning to categorize your content and distinguish them from the rest of the content shared on the platform daily.
Using them will actually aggregate your content to be grouped under specific topics, making it easier for people with those interests and professional preferences to find your content related to the hashtag.
Hashtags tend to spread quickly and get used by many different people; hence can begin to trend on the platform. Though trending will mostly depend on the number of hashtag followers and how the platform algorithm is designed to deal with trending hashtags.
But it is sensible to include them in your posts, articles, and comments to increase your chances of being spotted by a broader audience on LinkedIn who might be searching for that keyword.
In a gist, LinkedIn hashtags are valuable in the following ways,
Let's you reach a larger audience
It gives more edge to expand your network
Give your posts and articles chances to trend
Can help raise and sustain engagement
Let's you target more specifically
---
When should I use hashtags on LinkedIn?
Usage of LinkedIn hashtags actually influences your reach and overall engagement on the platform. If you are a brand or company, it is even more necessary to use hashtags in your LinkedIn updates and articles.
It acts as a helping hand in raising brand awareness on LinkedIn for your company or personal brand. Almost 2 million posts, articles, and videos are published on LinkedIn daily.
Here is when or how you should use LinkedIn hashtags.
1. Status Updates
You can start using hashtags in your LinkedIn status updates to boost up its searchability on the platform. Just be sure that you use relevant hashtags and keep them visually appealing for LinkedIn users.
2. Company Pages
---
Execute Effective Marketing Automation Workflows Now
---
As I earlier stated that brands and companies must use hashtags in their posts or updates as a standard practice. Besides this, they can also use hashtags in the "About Us" section but should keep hashtags aligned with their specialties and avoid hashtag abuse there, i.e… keep it visually appealing.
Remember one thing, the hashtags used in the "About Us" section of company pages are not searchable and only work like non-tagged keywords.
3. Articles
If you are pretty active on LinkedIn, you ought to be familiar with LinkedIn pulse articles. You might notice that your LinkedIn pulse articles have less reach or engagement. If that is the case, you are either not using hashtags or using irrelevant or excess hashtags triggering reviewers.
To reap in most influence, you can use hashtags at the bottom of your article instead of weaving them into the article's body. Again, keep them relevant and visually appealing (no excessive use of hashtags).
LinkedIn drives more than 50% of all social traffic to B2B sites & blogs.
4. Comments
Yes, you can use hashtags in the comments section but do not use irrelevant hashtags because that will cut off the flow of conversion and might look spammy on the platform.
---
How do I select the best hashtags for my posts?
LinkedIn allows you to follow hashtags and find hashtags on topics you feel interested in precisely. While you can find hashtags using the search bar on LinkedIn, the suggestions shown in the search function will pull all matching relevant hashtags, including posts, articles, and comments.
However, you want to be specific in your search while aiming to use the best hashtags for your posts or articles; you can find them using hashtag aggregator tools. Below is the list of hashtag aggregator tool that you may try:
Hashtagify Me is a valuable tool for assessing the success of hashtags and recognizing influencers that use them.
2. All Hashtag
All Hashtag is a platform that allows you to generate, create, analyze, and search for the top-performing hashtags. This tool gives you the results on the best hashtags you need for your content.
3. Seek Metrics
Seekmetrics has an entire suite of 22 tools that includes a hashtag generator that helps you generate relevant hashtags. Just enter a keyword, and the tool will provide a list of the top 30 hashtags related to your search query keywords.
---
Should I participate in trending hashtag topics?
Trending hashtags specifically points to those hashtags that reach well beyond millions of users on the LinkedIn platform. Hence, trending hashtags are a great medium to increase a brand's visibility.
Interesting Read : 5 LinkedIn Post Ideas for High B2B Lead Engagement
Yes, you should participate in trending hashtag topics, but the hashtags you choose should be aligned to your niche or specialties. Before you use a trending hashtag in your posts or articles, you should be sure that it adds value to your niche or existing conversation.
If your post does not add value, it is likely to go unnoticed and eventually be lost in a large pool of posts using the same hashtag.
---
LinkedIn hashtag tips and tricks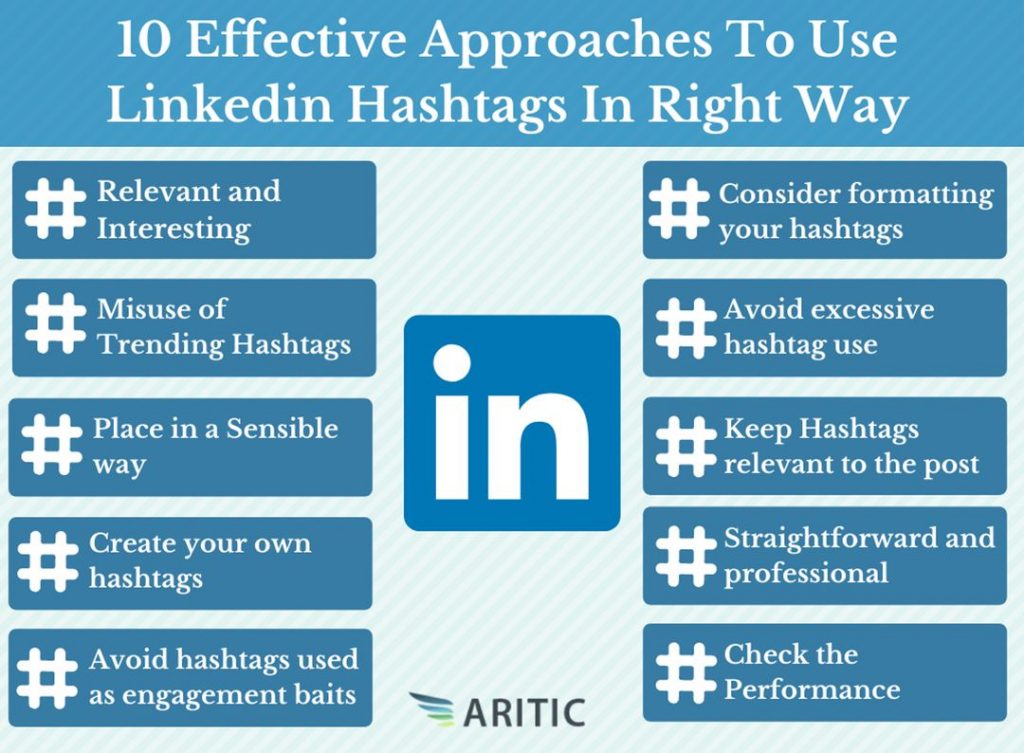 Hashtags should be relevant and interesting
Avoid misuse of Trending Hashtags
Place your hashtags in a sensible way
Create your own hashtags instead of replicating them
Avoid hashtags used as engagement baits
Consider formatting your hashtags, i.e., #MarketingAutomationPractices looks better than #marketingautomationpractices.
You can use as many hashtags as you wish, but it is better to avoid excessive hashtag use in a single post
Try to keep the majority of hashtags contextually relevant to the post as it will help avoid looking a spammy content
LinkedIn is primarily for professional networking, so it's best to keep your hashtags straightforward and professional
Construct a list of hashtags you already used to check the performance of those hashtags for later use
---
Ready to Change the Way You Use LinkedIn Hashtags
Hashtags play an important role in social media marketing, given that you follow the best practices and good etiquette while using them. In the case of LinkedIn hashtags, you need to be more careful, strategic, and professional while leveraging the power of hashtags.
You can do this by changing how you are using LinkedIn hashtags and reap the advantages by following the tips and tricks I mentioned above.
Happy Networking!