B2B eCommerce is a major factor in the growth of small and medium enterprises (SMEs). It can help SMEs overcome traditional barriers to entry such as location, transaction costs, physical distribution, and reach. In addition, with e-commerce platforms providing reach at a low cost, SMEs can reach new customer groups without investing heavily in building a brand or reaching out to them directly. For example, Shopify has more than 1.75 million merchants using its platform and generated $2.10 billion in revenue as of June 2021.
The growth in B2B eCommerce gets driven by several factors, including the increased sophistication and purchasing influence of small businesses. Moreover, the Internet has revolutionized the way business gets conducted. As a result, small businesses are now able to compete on a global scale, and consumers have access to an almost infinite range of product catalogs and services. As these trends continue, the face of e-commerce will change forever.
This article explores how B2B eCommerce platforms are rapidly becoming essential for SMEs – and what it means for SMEs looking to benefit from it.
What is B2B eCommerce
B2B eCommerce is an online business model which simplifies the exchange of goods and services between business entities. B2B stands for business-to-business, where the customers are other businesses rather than individual consumers. The business customers may act as an intermediary, who can then sell the products/services to the end-users.
The best B2B eCommerce sites allow buyers to see inventory, place orders, and pay for them directly through the site. As a result, the sales reps can use the data collected through this process to target their sales efforts better to ultimately grow sales. In addition, A B2B eCommerce website acts as a middleman, facilitating transactions between manufacturers and wholesalers on one side of the site and users on the other.
An example of B2B eCommerce is a wholesale eCommerce website such as Alibaba that facilitates business-to-business commerce sales including the wholesale process for bulk purchase orders through its platform.
B2B eCommerce is a rising industry. As per Grand View Research, the B2B eCommerce market size is estimated to grow over the estimated value of USD 25.65 trillion by 2028 with a growth rate of 18.7% CAGR globally.
Small and Medium Enterprises (SMEs)
Small and Medium Enterprises (SMEs), also called small to medium-sized businesses (SMBs), are usually privately-owned companies that employ fewer than a certain limit in terms of employee numbers. The term "small and medium" is used to distinguish these businesses from the larger global companies in the country. SMEs are typically limited in terms of financial, human, natural, technological, or other resources.
Often, these companies have a niche market focus and play a vital role in the economy of their locale. Usually, Businesses that fall under this category have more diverse customer groups and, therefore, need to spend more time and resources on marketing. SMEs also tend to be less price-sensitive than larger companies, making them attractive options for consumers looking for high-quality products without the expense.
The impact of the B2B System on the performance and effectiveness of an Enterprise
Enterprise systems are the backbone of any business, especially in B2B environments. They are used to provide an efficient service or product, but have you ever wondered how they affect your business?
Adopting business-to-business (B2B) systems could impact business performance and efficiency in a progressive way due to the increased use of advanced technologies that facilitate business management using electronic tools.
The B2B eCommerce system widely involves the computer network that connects organizations. This indicates the digital commerce revolution that has shown greater prominence. As a result of the digital commerce revolution, business-to-business (B2B) systems have become the backbone of any enterprise. They enable companies and organizations to transact and communicate efficiently and effectively, regardless of their industry.
---
Still Not an User of Aritic PinPoint Automation?
---
This includes the transmission of documents, images, emails, contracts, and other types of content. The exchange of information between companies helps them remain competitive in their industries while reducing costs. All this further gives rise to the goldmine of Data.
Data is everywhere, and you can find it in your company's warehouse, on the web, in your customer data, and more. Businesses are finding ways to sync data for predictive analysis by using advanced analytics tools that integrate advanced statistical models into the sales processes used. The goal is to gain insights that help decision-making.
B2B systems have led to dramatic changes in how we do business. Businesses that don't utilize B2B systems are at a significant disadvantage when it comes to competing with those that do.
The next big opportunity for SMEs
Increasingly, smaller organizations are embracing the economic potential of the digital commerce economy. The advantages of migrating to online business models are becoming more evident – by optimizing the customer experience and by improving the efficiency of operations and administrative functions, SMEs have the potential to increase their margins and profitability while reducing costs. In addition, B2B eCommerce automation induces new ways for SMEs to leverage spontaneously.
For small businesses, who are constantly under pressure to lower costs and streamline their operations, switching to online sales solutions or an online sales portal is often a no-brainer to gain a wider online presence to reach new buyers. However, more often than not, SMEs don't fully appreciate the scope of B2B eCommerce opportunities that exist to transform their business models into eCommerce model.
B2B e-Commerce platforms are expeditiously becoming vital for SMEs
B2B eCommerce platforms are rapidly becoming essential for SMEs for a variety of reasons. The first reason is that the electronic commerce industry has grown phenomenally in recent years and continues to grow. SMEs need to remain competitive in this growing industry and cannot do so without online commercialization. Business customers or business clients are no longer seeking companies; they seek their products and services to shop online. If you don't have an eCommerce website, eCommerce business models, or other marketing tools, you're going to lose customers to your competitors.
The second reason B2B eCommerce platforms are essential for SMEs is the increase in competition in the marketplace. Companies need to focus more on customer satisfaction because the competition is so high that if they don't provide what business customers demand, then someone else will quickly.
The driving forces behind B2B adoption in SMEs
B2B adoption in SMEs is increasing for various reasons.
SMEs are looking to grow their businesses to make them more successful.
B2B lead generation cost is much lower than customer acquisition costs through other channels.
Demand for B2B solutions is growing with the emergence of new technologies and changing consumer behaviors.
Growth prospects are strong as SMEs have valuable competencies for large organizations.
3 ways SMEs can reap benefits from B2B eCommerce platforms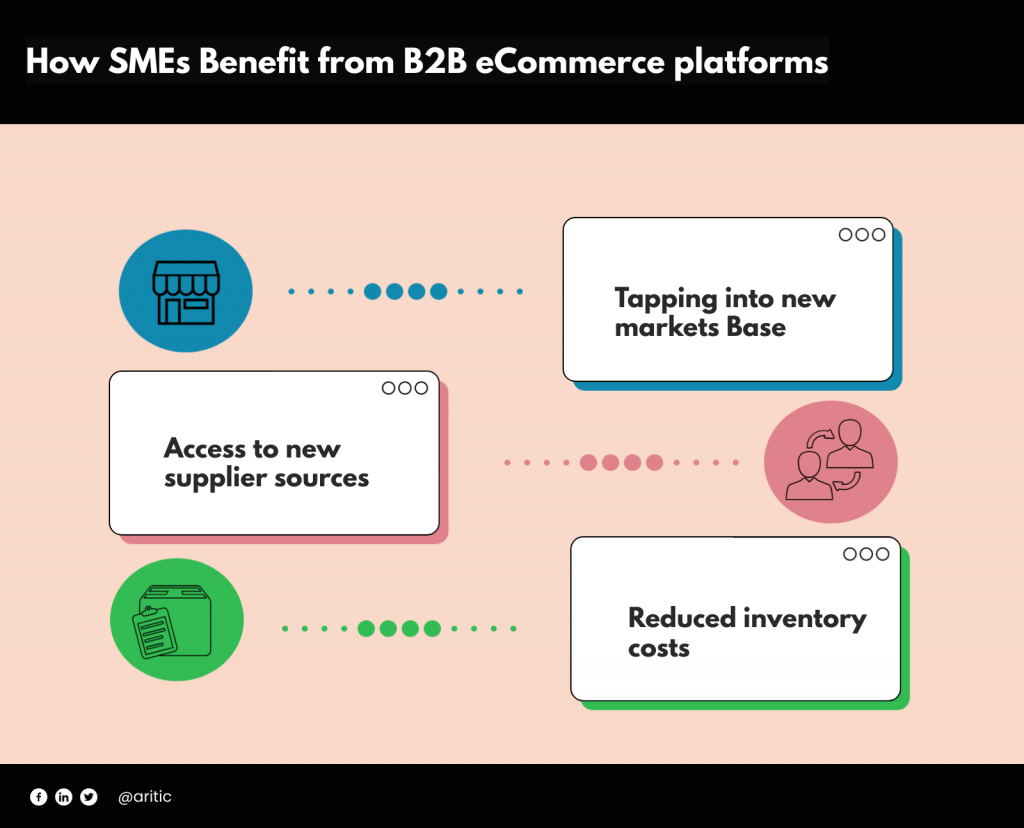 1. Tapping into new markets Base
One of the major roadblocks that small to medium-sized businesses face when trying to grow their customer base is the inability to access new markets. That's where B2B eCommerce comes in.
The world of B2B eCommerce has ensured that businesses are able to tap into wider customer groups across all sectors, with this greatly improving the sales process to increase sales and overall customer experience. For example, Buying wholesale has always been an option for business buyers, but it wasn't until the rise of the Internet that it became accessible to all.
With B2B eCommerce, SMEs can take advantage of the fact that the Internet is a global platform and access new markets. Moreover, the Internet provides greater flexibility in terms of business hours and is accessible from anywhere and at any time.
The rapid growth in the use of social media has increased the need for this opportunity for small and medium-sized businesses to reach out to wholesale customers across the world. These businesses do not have to be based in the country where their consumer base is located.
2. Access to new supplier sources
Many small and medium-sized enterprises (SMEs) are looking for new supplier bases. As a result, an increasing number of them are turning to B2B eCommerce to access new suppliers without spending money on advertising or events.
The fact that these SMEs can make trades through their own eCommerce website or other tools means they can also list their company information, contact details, list prices, product information, and more. This provides an easy way for SMEs to access larger supplier bases and helps them reach a global customer base.
3. Reduce inventory costs
B2B eCommerce has brought about a complete transformation of the marketplace, reducing the need for physical stores that traditionally acted as store-fronts for SMEs. The traditional brick-and-mortar stores are now getting replaced with eCommerce store-fronts. The advantages of online retail are many.
For some businesses, inventory management and inventory costs are a big deal. If they have a lot of inventory on their shelves, it can take up a lot of space. And there are also the time and people costs that come with having to keep stock on hand. With B2B eCommerce, small business owners no longer have to worry about the cost of storing their own products. Instead, they just need to focus on the production side of things and induce cost-effective efforts.
Through this type of trade, SMEs can cut down on their warehousing costs and generate more revenue in less time by only focusing on creating products they know will sell well in the market instead of creating products that might not sell well in various markets around the world.
What lies ahead
By combining business and market needs, B2B eCommerce platforms and tools have a huge role to play in moving forward.
Traditionally, major retailers have set the trend with B2B and have provided millions of business opportunities. However, the tides have been turning in recent times, making way for entrepreneurs to rise to the challenge.
B2B eCommerce platforms designed for manufacturers, distributors, and wholesalers can help organizations achieve their business goals. Manufacturers can use a B2B platform for lead generation, technical product management, and order fulfillment. Distributors and wholesalers can use a platform to manage multiple sales channels, organize shipments and personalized experiences for customers.
Not only are B2B eCommerce platforms and tools helping businesses grow, but they are providing small and medium businesses with new opportunities. If you're interested in learning more about what you could accomplish with an eCommerce solution in your business, schedule a demo today to learn about our products and how we can help.C