Automation workflows are not a trend, it is a mandate for eCommerce platforms looking to scale up steadily. Almost all offline stores have a digital presence.
Jump Directly to
2. Why your eCommerce business needs automated workflows?
3. How to design effective automation workflows?
4. Having said that, let's start with the to-do's to build these automated workflows effectively.
5. Bonus Tips On Creating Automated Workflows For Your eCommerce Subscribers
Infact, research shows that 82% of the brands without a digital presence are looking to begin online selling in a year's time. This response points to the evolving way buyers want to make a purchase in the present time.
Modern buyers are well-informed and do research independently. They look at multiple channels like web, social media, mobile, and more for reviews and comparisons. Word of mouth in eCommerce businesses works best because human brains tend to rely on human feedback especially from those whom they trust personally.
Research has also shown the word-of-mouth is one major way in which eCommerce businesses tend to acquire new customers, closely followed by social media.
---
Handling Modern Buyers
To understand the modern sales cycle and retain VIP customers, eCommerce businesses are turning to marketing automation. They are looking to adopt a comprehensive solution that will help them acquire new customers, automate customer-engagement, calculate sales revenue, and help in retaining customers for a longer period of time.
---
Still Not an User of Aritic PinPoint Automation?
---
In more simpler terms, eCommerce platforms need automation workflow that will put their entire business funnel in place. You can handle two or three subscribers manually, but when the subscriber count goes up along with their evolving demands, you need dynamic and automated workflows to keep things on track.
---
68% of shoppers abandon their carts after adding items.
This can cause a severe backlash if not handled smartly. However, it is not just one task of getting customers to complete their intended purchase, there are thousands of other tasks that will lead your customers to this stage.
To ensure that the entire customer workflow goes in a proper orderly fashion, you need automation that will simplify your tasks, drive efficiency, and save you time.
Here's an overview of what automated workflows can do for your eCommerce business:
Automated preloading of new products and publishing them to your online store, social media, and sales channels simultaneously.

Automatically identify high-value customers and tag them for customer service teams to initiate personalized campaigns.
Automatically unpublish out of stock items or mark items as unavailable on your platform. Simultaneously, let your marketing team know about the unavailability in order to pause any ad campaign around that product.

Automatically raise flags for high-risk orders.

Apply discount coupons or shipping rules for customers with tags like 'loyalty customer'.

Identify and tag customers based on their purchase patterns and segment them for personalized marketing.
These tasks continue to happen on a regular basis. Infact these tasks may happen more than once daily. Automating such tasks give your teams more time to focus on creativity, product iterations, sales and marketing, and brand building.
You now know a automation workflow will help your eCommerce business scale up. What follows next is designing these automation workflow based on customer interests, behavior, and market demands. We will now look at the pro-tips of designing an automation workflow for your eCommerce subscribers.
Why start with subscribers?
We essentially mentioned 'subscribers' because a happy customer has more chances of coming back (which we will discuss later), and if you can convert a majority of your subscribers into happy customers, you have 90% of your job done! [/heading]
---
How to design effective automation workflows?
The benefits of marketing automation are too many to list down. However, automation workflow keep subscribers engaged, informed, and active. Hence, there is no arguing about the importance of building the right kind of automation workflow.
In eCommerce businesses, there are a few common scenarios for which you must always have a workflow setup:
Welcome series

Reminder campaigns

Cart abandonment series

First purchase workflow

Recommendation series

Feedback series
---
Having said that, let's start with the to-do's to build these automated workflows effectively.
(1) Understand Customer Psychology
A B2C buying cycle is often driven by the emotional and immediate need for something. You have to understand that a subscriber will want to purchase something only when they "feel" like buying.
For example, you sign up on Amazon after hearing about the variety of product segments available here. You browse for something and then leave. Based on your browsing pattern, Amazon starts sending you emails on related products.
You again start browsing, and this time you find an item that you really liked at an affordable price. With taglines like "you save 14% on this," right below the pricing detail makes you add the item to your cart. If you really want to buy it immediately, you might as well complete your entire checkout. For instance, check out this automation workflow for a seasonal offer like Black Friday.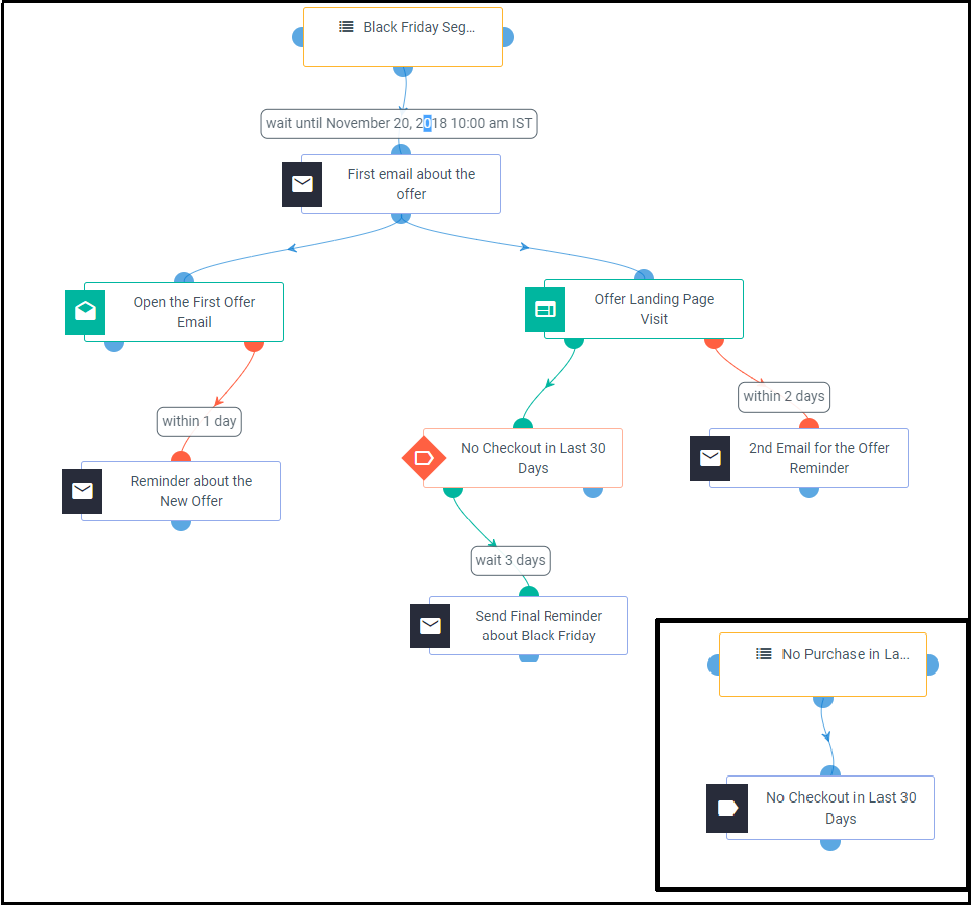 All this, in marketing terms, is known as emotional buying, where automated workflows are used to trigger purchase behaviors. A typical B2C customer will go through the following stages before making a purchase:
Research >> Comparison >> Purchase Decision >> Purchase
Mapping your customer journey is the first step to building an automation workflow. Only when you map your customers can you know what workflows you need and when.
A customer journey map helps identify customer sources, how many days or visits it takes for a subscriber to move from one stage to another, what goals they want to achieve on each stage, and how each subscriber behaves.
(2) Track your subscribers and create buyer profiles
Understanding what your subscribers are looking for is very important before you create an automation workflow. Unless you know what to send, you cannot create a communication workflow.
---
Execute Effective Marketing Automation Workflows Now
---
That is why behavioral tracking of your subscribers is mandatory for proper segmentation. Once you know what your subscribers want, you can craft a personalized response to it. This pattern helps in triggering engagement and activating subscribers to the next buying stage automatically.
Know how your subscribers navigate your website and app. Analyze their sessions after they log in – how long is their session? What are the product pages or categories they browsed? Where did they drop off?
This information is essential. And the best way to get them is Google Analytics. Google Analytics gives you an instant view of your subscriber's browsing path even before they've purchased anything. You can use features like live web tracking, which gives you a clear timeline of how your subscriber browsed on your website.

This tracking is divided into two parts: anonymous visitors and known visitors. You can use browser fingerprinting to retarget anonymous visitors and convert them into subscribers.
Tracking gives you data on the various steps your subscribers follow until they make a purchase. You can leverage this data to highlight popular pages to relevant subscribers.
For instance, you can use popups and highlight them in your email campaigns.
You also get clarity on your subscribers' buying intent. Using contact tags in your segmentation, you can segment subscribers based on their buying intent and buying stages for better campaigns.
For instance, if you see a subscriber returning to a particular product or page repeatedly, you can deduce that the subscriber is interested and has a strong purchase intent. Using this information, you can send out an automated email campaign about this product to speed up the process.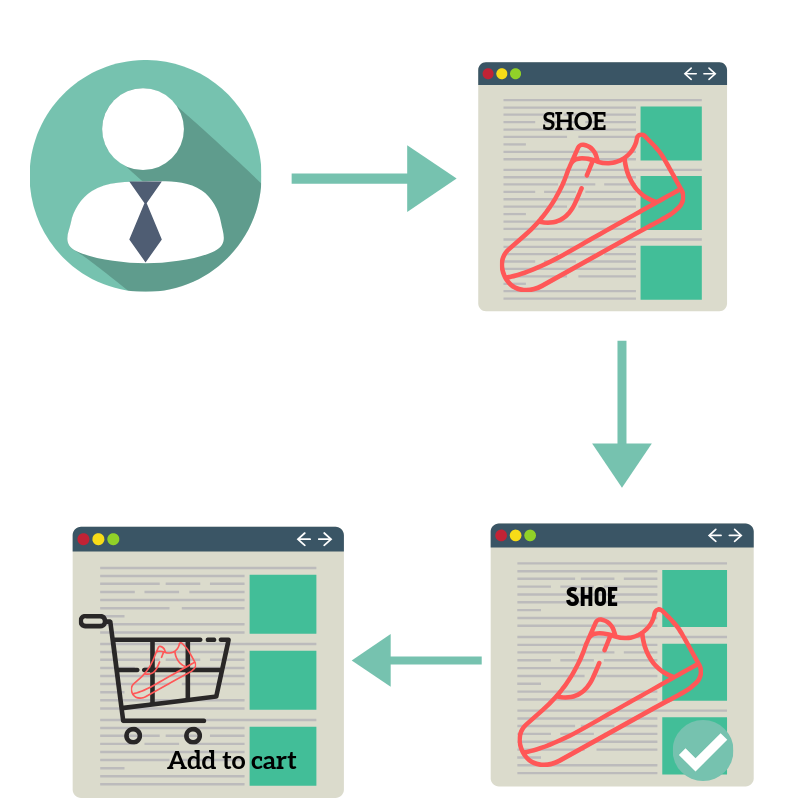 (3) Creating automation workflow for your subscribers
You have subscriber profile details, source details, and behavioral data. Now, you can get started with the basic automation workflow for your eCommerce subscribers. Ideally, the first three types of automation workflow you should be creating are:
Welcome workflow

Cart abandonment workflow

First purchase workflow
After a new prospect subscribes to your email newsletter campaigns, you must send a welcome email. It will kickstart a good experience for a new subscriber. Based on the details you have captured on your forms, you can create a multi-channel welcome series. For instance, look at the welcome automation workflow below.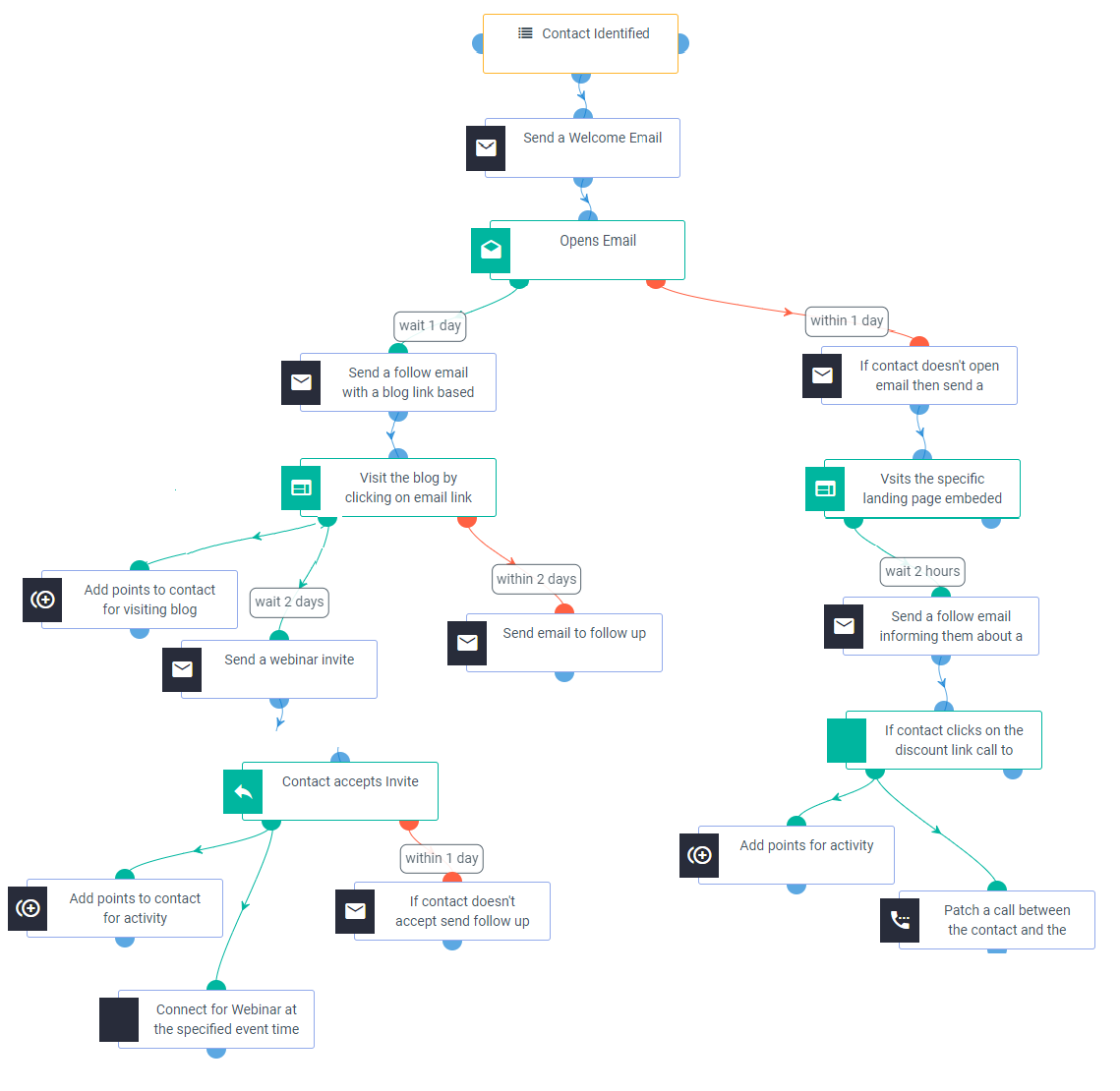 A welcome series contains a welcome message and an overview or guide to help subscribers start their browsing. For instance, if you subscribe to Netflix, their second email in their welcome series will help you browse various categories on their platform.
Setting up small milestones to achieve immediately helps subscribers get started faster. The first email contains only login details and a bold CTA to "start watching." As you browse, the email sequence kickstarts. Below is their second email, or should I say, first of the engaging sequence: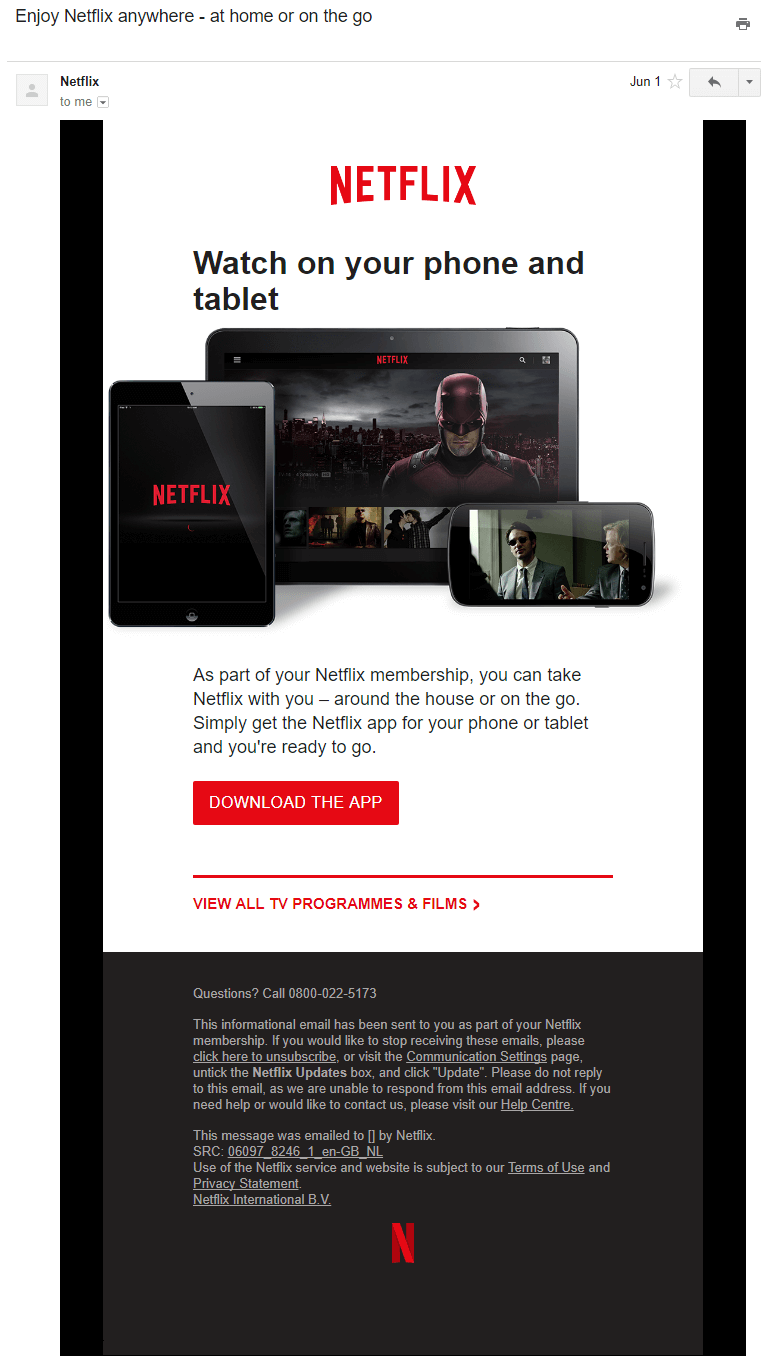 When a subscriber keeps browsing across various products or categories, they leave a trace behind, which is also called the 'browsing path.' Based on that, you can trigger recommendation emails, as Amazon does.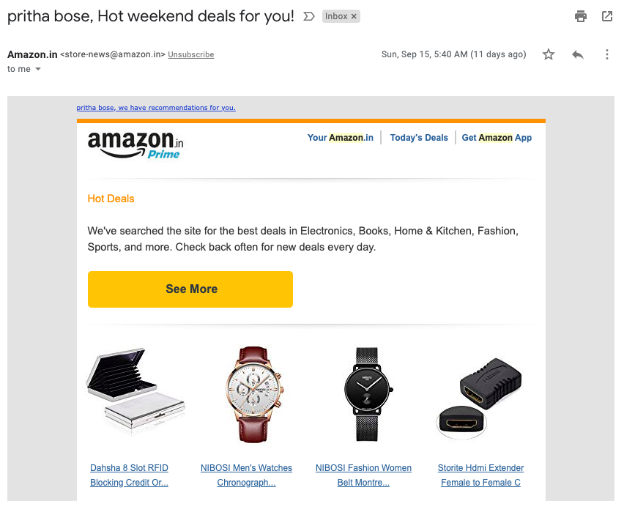 The subscriber's next stage is when they start adding items to their carts but do not complete the checkout. Below you can see an automation workflow for cart abandonment.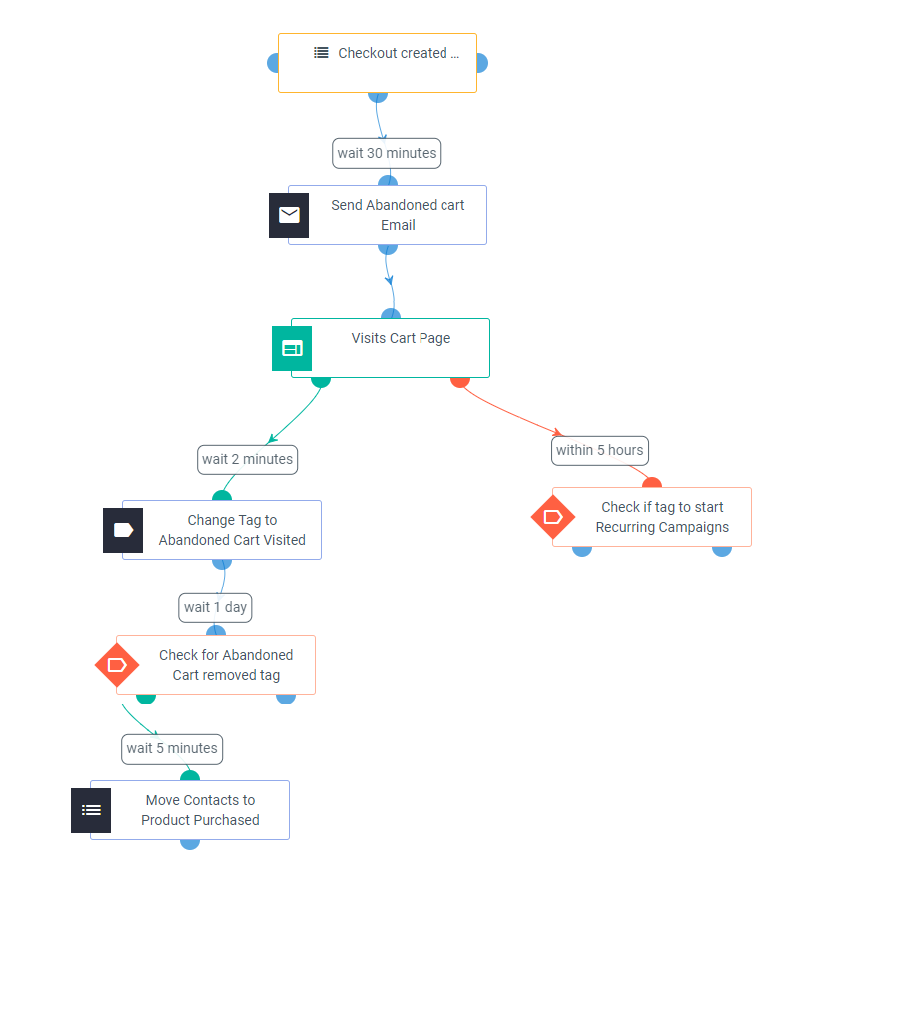 You can go multichannel is that many subscribers are browsing both on your website and apps. Mobile push notifications on cart abandonment can increase the conversion chances manifold times because mobile conversions happen on-the-go.

All these for purchase? So what happens after the first purchase?
In eCommerce, new customer conversion is the end of one circle and the beginning of another. Unlike B2B, the sales cycle for eCommerce is small and repetitive. It is one sale-closed, again back to stage one. Hence, it would help if you had a workflow ready for the first purchase follow-up because an existing customer has more chances of returning based on how their first purchase experience goes.
Research shows that the top 1% of your customers are far more worthy than 30 new average customers.
It simply means, takes care of your VIP customers. Encourage customers to repeat the purchase cycle more. The more they keep making purchases, the more loyal they turn to your brand, and more is word of mouth. Checkout a upsell automation workflow below: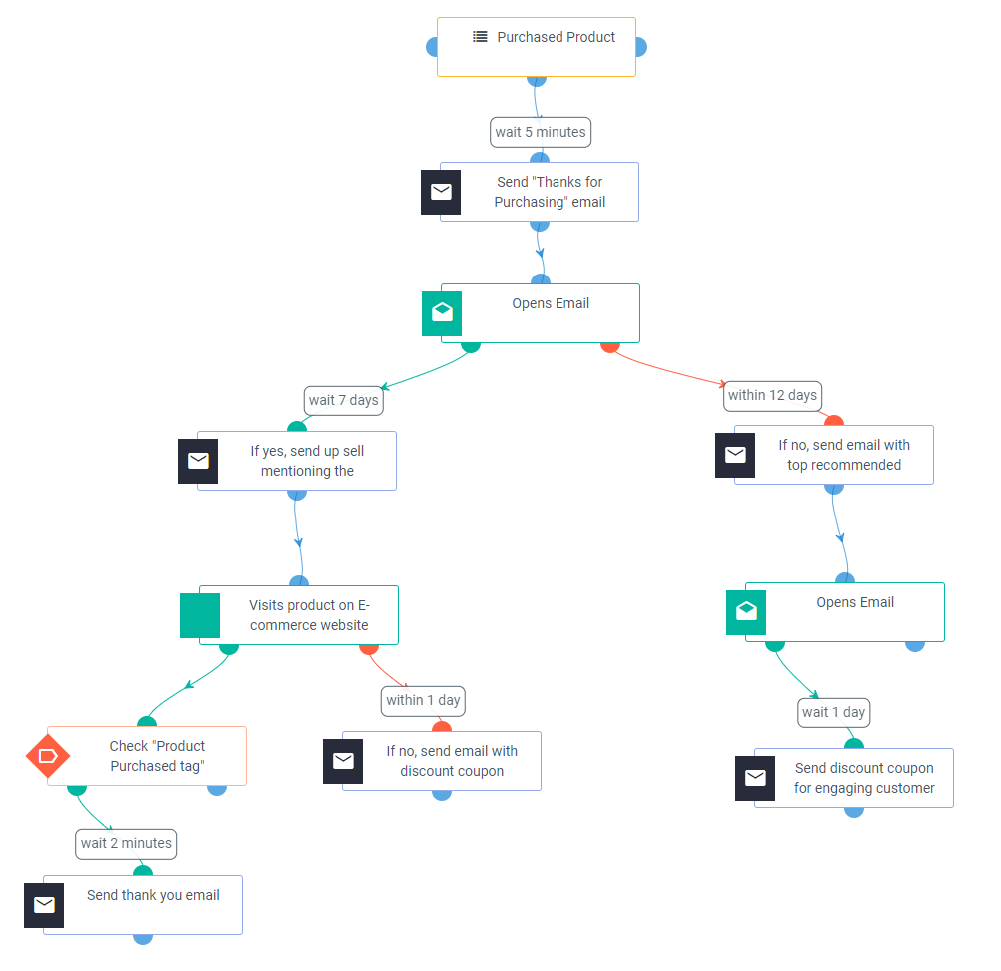 Now you see how everything is going back to right where we began!

A thank-you email, upselling or cross-selling automation workflow, or an exclusive coupon for the next purchase can make customers come back to you. For instance, send out an exclusive coupon for celebrating one year of first purchase?
It is something every customer will love! Check out this email by offering an upsell of a one-month long trial as part of his membership program.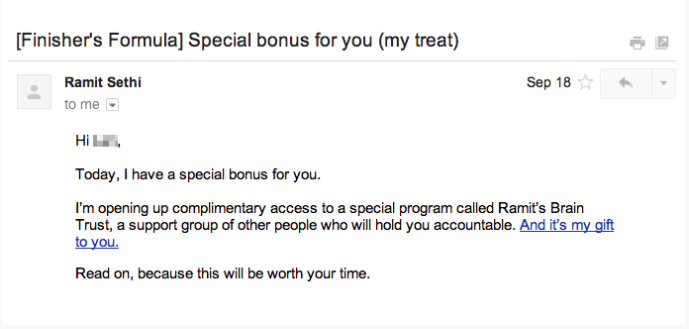 Source: Groove
Upselling is also another way of convincing customers to buy an expensive version of the same product.
Recall those comparison charts on Amazon while buying a product? Yes, that's exactly like what upselling is all about – showcasing a 'better' version of the same product together, urging customers to purchase the 'best' version. Check a sample below: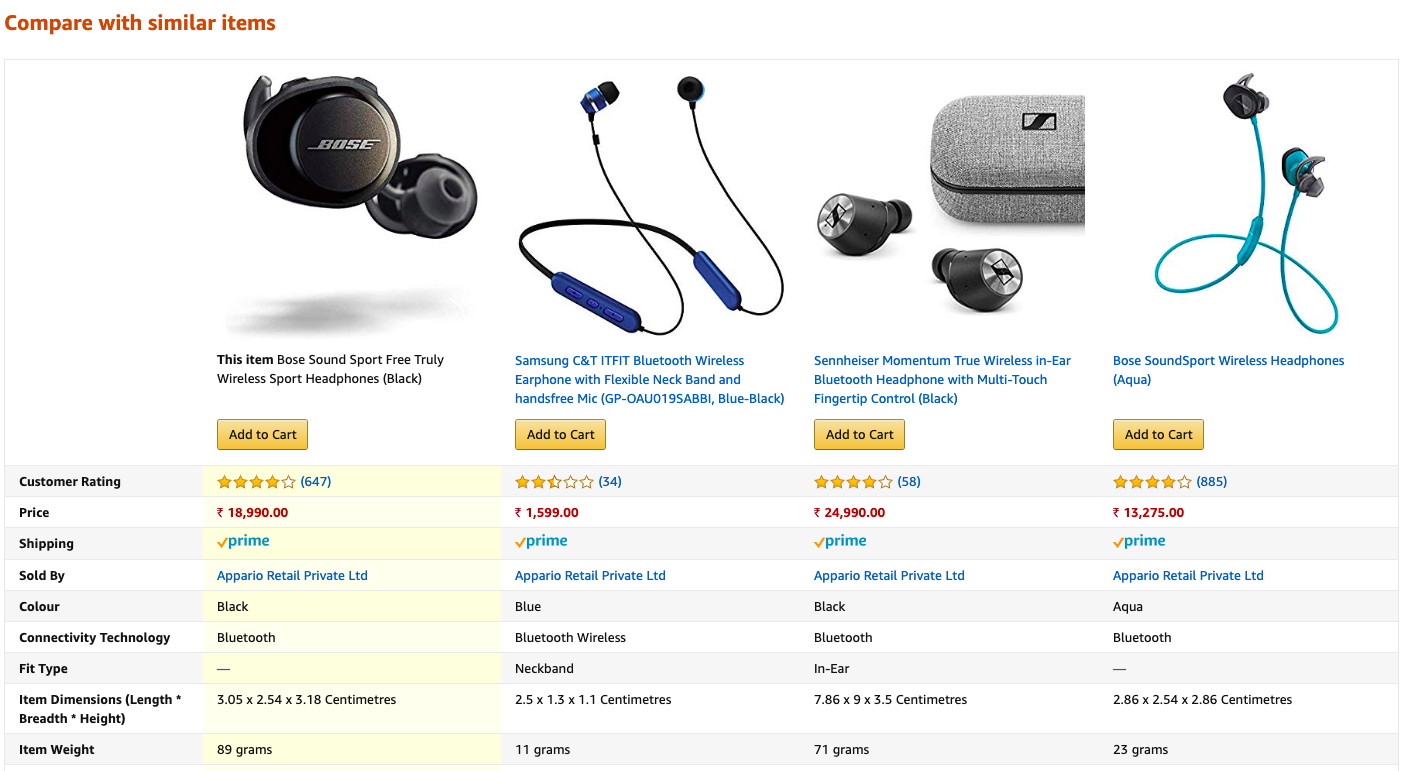 According to the Marketing Metrics book, the author suggests selling to an existing customer is 60% more successful than to a new customer.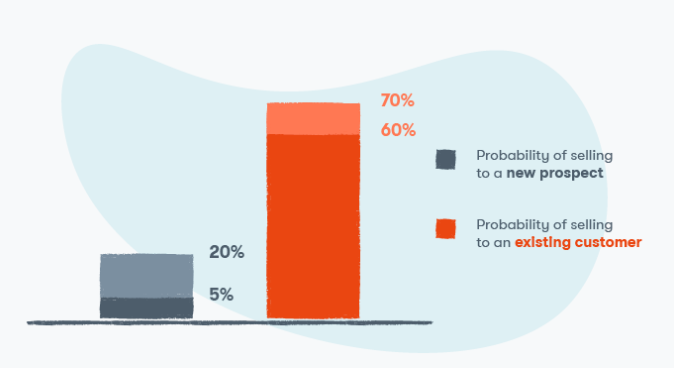 Source: Groove
Research shows that 48% of customers believe that loyalty comes right after the first purchase. If their first purchase is smooth, they will come back, no matter what.
And that is exactly like how Amazon has become an eCommerce giant – their purchase pathway is smooth, hassle-free, transparent, and fast. PS: Their customer support simply rocks!
In short, everything that adds to the first purchase experience is taken care of by Amazon.
[Also read: 9 Effective Marketing Practices to Boost Email Conversion Rates.]
---
Bonus Tips On Creating Automated Workflows For Your eCommerce Subscribers
There are a few additional things you need to plan out for your eCommerce subscribers.
1 . Create unsubscribe options
Your email and SMS campaigns should give your subscribers the option to opt-out. While you can always create a preference panel where your subscribers can choose a different category about which they might want to get updates rather than fully unsubscribing, the entire process must be smooth.
For instance, below is an example of creating a preference center from Aritic PinPoint: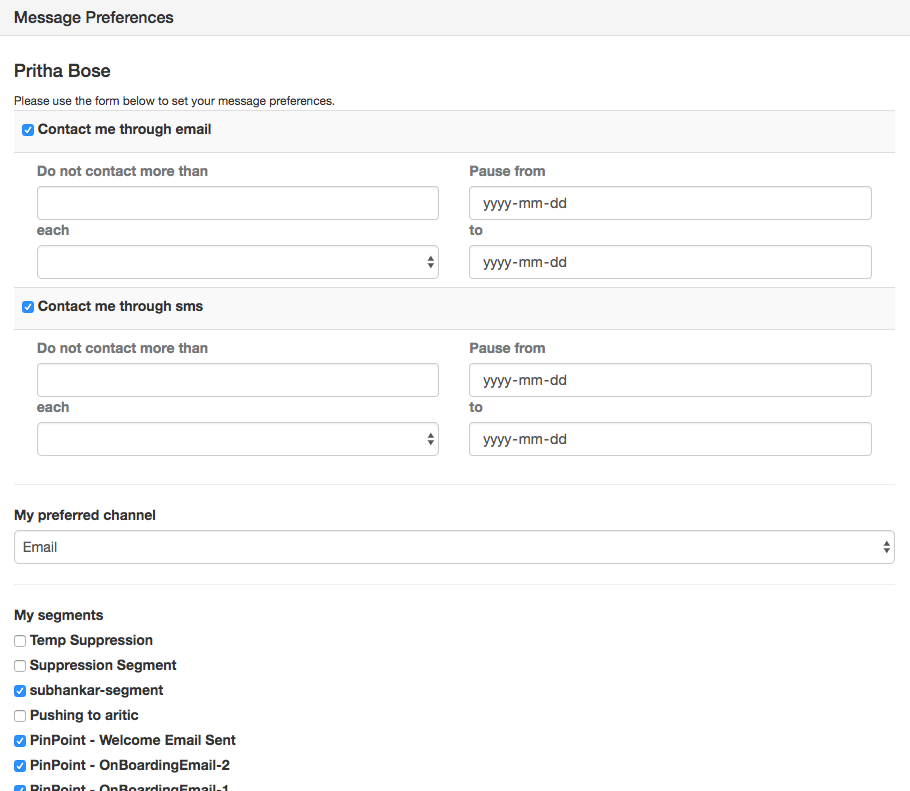 2 . Test your campaigns.
There is no better way to know what will work and what will not if you are not testing your campaigns. A/B testing gives you better clarity on understanding what will engage your subscribers maximum and when.
3 . Create Product Review Workflow
Product reviews help you improve your products and buying experience and are also crucial for other new visitors looking to buy from you. It gives them genuine feedback and helps them in making informed decisions.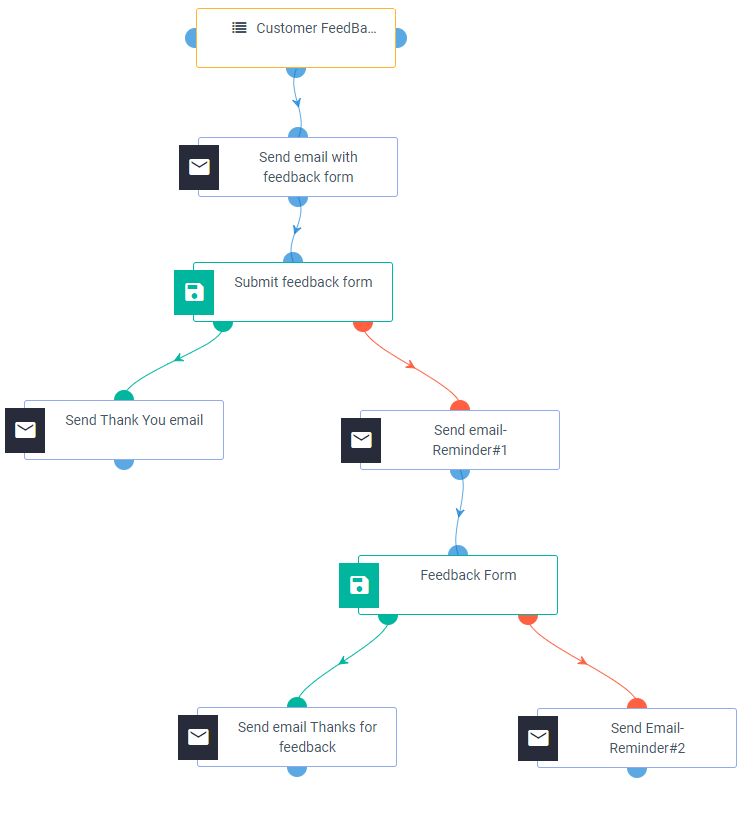 [
Also Read
:
A Walkthrough Customer Acquisition and Customer Lifecycle
.]
---
Conclusion
The eCommerce environment is dynamic, and subscribers are emotionally driven. Create an automation workflow that syncs with subscriber psychology, browsing patterns, and goes beyond what your competitors are doing!
Get started with marketing automation workflow today. Share your experiences and tips for building an effective automation workflow for your subscribers in the comments below.
⭐ Why do businesses want to automate?
Automation has been on the rise for decades, and for good reason. It's often far more cost-effective to automate than hire people. As a result, companies are pushing forward with automation at an increasing rate.
⭐ What are the weaknesses of personas?
Personas represent your target market in an imaginary way. They are based on customer data, research, and feedback to create an image of the kind of people you want to attract with your product or service. The only problem is that you don't always be sure of accurately capturing the needs and wants of an entire audience.
⭐ Why is automation important?
Automation is an important part of almost any industry. It allows for more efficiency and less chance of human error. However, it's not just about the bottom line anymore. With automation comes the ability to focus on other aspects of business that are even more vital to success than saving money or increasing efficiency.
⭐ How does automation affect business?
The idea of automation is nothing new. It has been around for hundreds of years and has been a part of the way we have done business since the advent of industrialization. Today, there are almost no businesses that don't use tools and applications to help them improve their workflow, lower expenses, and increase their output. 
⭐ Why automation is vital for the future of business?
Automation technology has the potential to dramatically alter the operations of businesses all over the world. It can increase efficiency, cut costs and reduce waste. However, it also means that many jobs will be lost due to increased automation.
⭐ Are customer personas still relevant?
Customer personas are means of putting a real face on your customers, helping you better understand who they are and what they want. Furthermore, they are a useful tool for planning campaigns and imagining how your products can fix their problems.
⭐ How is psychology used in marketing?
Psychology is one of the most important elements of marketing. The goal of advertising is to elicit a response from customers, whether it's making them look, think, or act. This requires an understanding not only of the products being sold but also of how humans will react to them not just on a conscious level, but also on an unconscious one. 
⭐ Are personas valuable?
Personas are fictitious characters created to represent the demographics and preferences of your target market. They help you figure out how users will think, feel or behave in some situations.