Twitter Spaces is a big opportunity for marketers to extend the reach of their brands or products- an entirely new way to reach prospective customers. Why are we saying this?
Jump Directly to
2. How Do Twitter Spaces Work?
3. How Organizations Can Use Twitter Spaces?
4. 5 Twitter Spaces Discussions to Host Right Now
You can find all answers in this article and know how you can benefit from the new social listening feature of Twitter.
---
What Is Twitter Spaces?
Twitter Spaces was first revealed in December 2020, and iOS users have had access to it since then. For Android users, the controlled beta version has been made available for broader testing purposes.
---
Still Not an User of Aritic PinPoint Automation?
---
Twitter Spaces is the virtual chat room that allows users to join or host audio chats. Twitter Spaces will be available as an intrinsic feature of the Twitter platform, so users don't have to download a separate app for using Twitter Spaces.
Think of Twitter Spaces as internet-based clubs built around the voices of the people using Twitter, your Twitter community.
---
How Do Twitter Spaces Work?
1 . Creating a Room
As a Spaces Host on iOS, you can create a Space in two ways: Tap and hold on the new Compose Tweet icon on your Home Timeline and then tap the new Speaker icon on the far-left side. Alternatively, you can tap on your profile image in Fleets, scroll to the far-right side, and tap Spaces in there.
When creating a Space, your mic will be off initially. When ready to chat, tap Start your Space and allow mic access to Speakers by toggling Allow mic access to on. Spaces are live for as long as they're open; once ended, they will no longer be available publicly on Twitter.
2. Participating in a Room
Spaces Chat Room Participation works similar to Clubhouse: The Spaces room is divided into Speakers and Listeners. Moderators can allow and turn listeners into speakers, and also listeners can raise their hand to indicate they wish to speak.
---
How Organizations Can Use Twitter Spaces?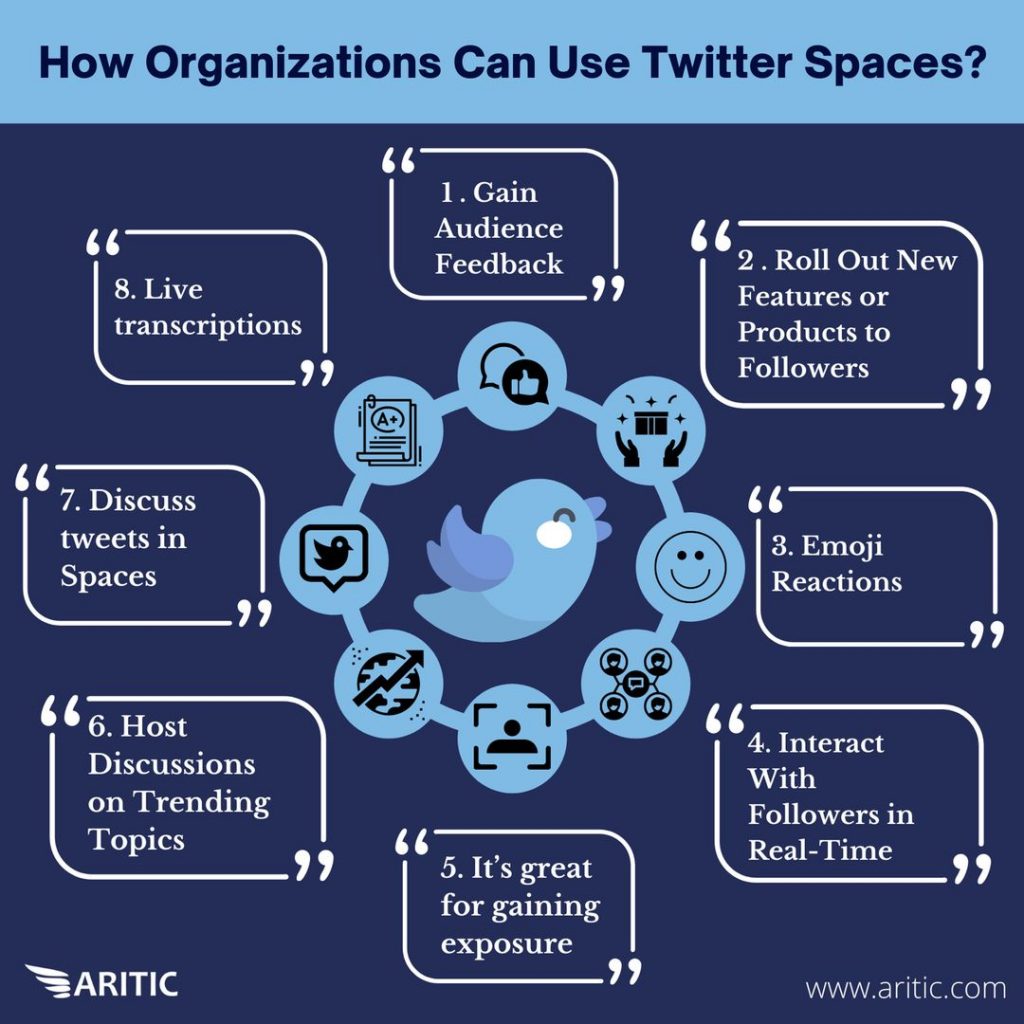 How can organizations and brands use Twitter Spaces to amplify their audience reach and vitalize their marketing footprints? Here are some first impressions of the new Twitter Spaces feature that organizations can leverage.
1 . Gain Audience Feedback
Twitter Spaces can be your valued resource when it comes to acquiring generalized feedback about existing products and your overall brand.
Traditionally, gathering feedback from audiences in the real world through focus groups is a time-consuming and demanding process compounded by restricted reach. However,
Twitter Spaces is now there for your rescue from those arduous processes of getting audience feedback and lets you earmark a significant portion of your audience base in a short time and with minimal effort. Twitter Spaces allows you to use social listening to engage with your audience directly and get the natural responses for your feedback sessions.
2. Roll Out New Features or Products to Followers
When you plan new features of your products, you can use Twitter Spaces to gain feedback from your existing customers to help guide and gauge those decisions.
Twitter Spaces as a conversational feature with its host having complete control of adding or removing participants can be super handy for brands who want to market their new products and services. You can use Twitter spaces to target new audiences besides their usual customers to get generalized feedback and gain insights on how non-customers perceive your brand.
3. Host Discussions on Trending Topics in Your Industry
You will agree that keeping up with trending topics in your niche is important if you want to gain the status of an authority figure in the online world. Trending topics can propel your thought leadership and allows you to discover opportunities to find new and relevant information to share with your audience.
About 50% of B2B marketers agree that thought leadership builds trust in their organization, while that number is around 83% among actual buyers.
You can use Twitter Spaces for hosting and contributing to discussions on trending topics. It will help you network with relevant influencers, demonstrate your expertise as a niche authority, and strengthen your relationships with your customers or prospects.
4. Interact With Followers in Real-Time
80% of B2B buyers expect companies to respond and interact in real-time, while 64% of B2C buyers expect brands to respond and interact in real-time. [Source]
Twitter Spaces is super effective when it comes to real-time live interactions, and brands can engage with their audience faster through real-time discussions. Your audience can tune into your live discussions, react, and potentially even get involved in the conversation.
5. It's great for gaining exposure
Audio content is something that will continue to gain popularity over time, so it's worth taking advantage of new social listening platforms like Twitter Spaces. One benefit to using Twitter Spaces you need not start from scratch to create a community because Spaces being an intrinsic feature of Twitter, can be utilized extensively using your already built audience on Twitter.
Plus, you're not just limited to your own audience. For example, we found collaborations to be super effective in boosting the attendance of Twitter spaces. For example, you could collaborate with another brand or an influencer.
They will naturally pull their own audience into your Twitter Space, boosting attendance and expanding your reach. This can be instrumental in supporting your consumer PR and marketing efforts.
Once Spaces becomes publicly accessible, this will eventually pave the way for audience interaction on a massive scale, allowing your followers even to share your discussions with their networks, increasing your audience base.
6. Emoji reactions
Conversations on Twitter Spaces feature some emoji reaction options for the listeners. Initially, in beta testing phases, the emoji options are minimal, with a total of six types of interactions. Indeed those options would get enlarged when full-featured Twitter
---
Execute Effective Marketing Automation Workflows Now
---
Spaces is publicly released next month. But Voila! While listening, your audience would get more engaged with you using emoji interactions.
7. Discuss tweets in Spaces
Yes, you heard it right. You can tweet inside Twitter Spaces directly, though these tweets won't be displayed on your public timeline. Tweets inside Twitter Space will appear at the top of the chat, allowing all your participants to view and discuss it in the audio room.
8. Live transcriptions
That's the kind of feature I like. Live transcription is a super helpful feature and can be enabled in Twitter Spaces. Enabling this feature will write out everything that people say in the audio room and booyah in real-time.
---
5 Twitter Spaces Discussions to Host Right Now
You can use audio-only live discussions in Twitter Spaces to connect with your community and gain exposure for your brand. You need to figure out what works and how you can leverage Spaces to appeal to your audiences. Here are 3 ideas you can explore:
1 . Hold a Q&A Session
You can hold Q&A sessions in Twitter Spaces where your followers can join and ask questions specifically about your brand or offerings. Also, you can ask for some questions to be submitted before Space sessions are started or even compile a list of questions you as a brand often asked by your customers.
2. Have an Exclusive Interview With Experts
You can host exclusive expert interviews on Twitter Spaces. Rope in experts in your industry that you think your audience would love to learn from, invite them on to talk about a topic in which they're specialized.
Make it more interactive by holding end-of-session Q&A for the people who are listening to grab the mic and ask questions to the expert.
3. Offer a Live Critique
This discussion idea is fun! You might consider offering live critiques to your audience, depending on your niche. For example, a marketer can provide critiques on the Twitter profiles of those who request it during the live discussion.
---
FAQ
1 . Who can see my Space?
Presently, all Spaces are public, just like your Tweets. Your Twitter Spaces, once created, will automatically appear at the top of your Timeline, where you see your Fleets. Each Space will have a link associated with it that will be publicly shareable.
2. Who can join my Space?
Currently, all Spaces are public, and anyone can join your Space as a Listener. When you create a Space or are a Speaker in a Space, your followers can see it at the top of their timeline, in their Fleets section.
3. How many people can speak in a Space?
As of now, a maximum of 11 people, including the Host of the Space, can speak simultaneously.
4. What happens after Space ends, and is the data retained anywhere?
Spaces are only accessible while they are live. Once Space sessions are ended, they will not be available publicly on Twitter. Twitter retains copies of audio from Space discussions and captions for a maximum of 30 days after a Space session ends in case there is a need to review them for violations of the Twitter Rules. If a Space session is found to violate any of the Twitter rules, Twitter extends maintaining a copy for another 90 days to allow people to appeal if they believe there was a mistake.
5. Do Spaces work for protected accounts?
No, The accounts with protected Tweets aren't able to create Spaces. Although, They will be able to join and speak in other Spaces, and they will be visible to other participants of the Spaces they join.
---
Conclusion
With Spaces, Twitter has turned the table, seeing how it appears to be better than Clubhouse.
With its beta testing in full swing and a full-fledged Twitter Spaces to be rolled out by next month, I believe there is a big bang arriving for the social media landscape. Fingers crossed!
Do you want to know more about other emerging Social Media Platforms, Click Here!