Collecting leads is just the first step to move closer to the sales funnel. You might have thousands of contacts collected and nicely organized in your database.
However, you can't just let them sit there without a further action plan on converting them. Nudging them into the funnel and moving them closer to conversion is *the* ultimate goal.
How do you effectively nurture these leads? How do you make sure that your marketing goal is achieved effectively? It is where marketing automation workflows come into the picture. 
Marketing automation has simplified the execution of workflows, making them core to almost every B2B and B2C business.
Another reason why marketing automation workflows work well for B2B and B2C businesses is that they can deliver personalized communication throughout the buyer's journey.
Easily customizable automation workflows give great results. They have the highest click-through rate and second-highest open rate as compared to other workflows. Companies that use workflow-based drip campaigns for nurturing leads witness a 20 percent increase in sales. 
---
Still Not an User of Aritic PinPoint Automation?
---
The point with marketing automation workflows is that they only work when planned and executed strategically. However, marketers aren't superhumans. They do make mistakes.
This post discusses nine such mistakes that we learned from while running marketing automation workflows in-house.
---
9 Deadly Marketing Automation Workflow Mistakes You Must Avoid
More than 75% of businesses are now using a marketing automation tool. This is one of the reasons that the marketing automation industry is predicted to grow bigger with each passing year.
Predictions show that marketing automation technology will touch $25.1 billion by 2023. It is only evident that more and more businesses are starting to explore the benefits marketing automation has in creating an omnichannel customer experience.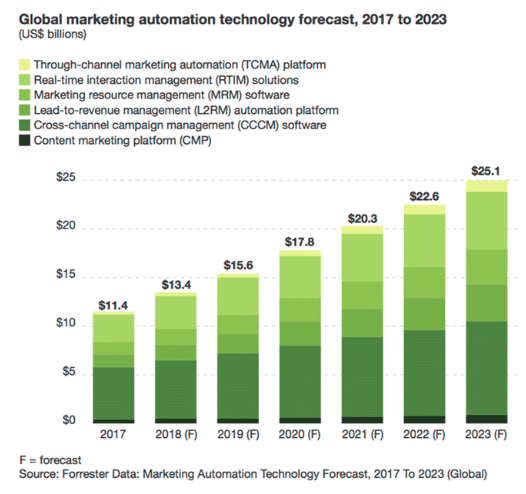 However, all customer experiences will fall flat if the marketing automation workflows are not built accurately.
Since everything is customer behavior-driven, there are often some errors that marketers end up making while creating the conditions, actions, and decision triggers inside their automation campaign.
Let's take a look at 9 such deadly marketing automation workflow errors that you can avoid (or rectify).
1. Missing out on the right trigger
Triggers are custom actions that act as the launchpad for your b2b marketing automation processes. A contact can be added to a workflow only after he takes a certain custom action signing up for a free trial, etc.
Through the automated workflow, the right marketing material is sent to the right contacts (at the right time). From the definition of triggers itself, you know how important it is to choose the right trigger.
Going wrong here would spell disaster.
Imagine picking the trigger as 'add to wish list' for the workflow that you've created for contacts who've rather 'favorited' an item on your website. Your entire re-engagement would be a sequence of disasters throughout your campaign.
You can avoid this by building the right kind of triggers. For instance, below is a marketing automation workflow for a cart abandonment situation.
The workflow is behavior-driven, and all conditions and decisions are appropriately placed to engage customers and make them hit the purchase button.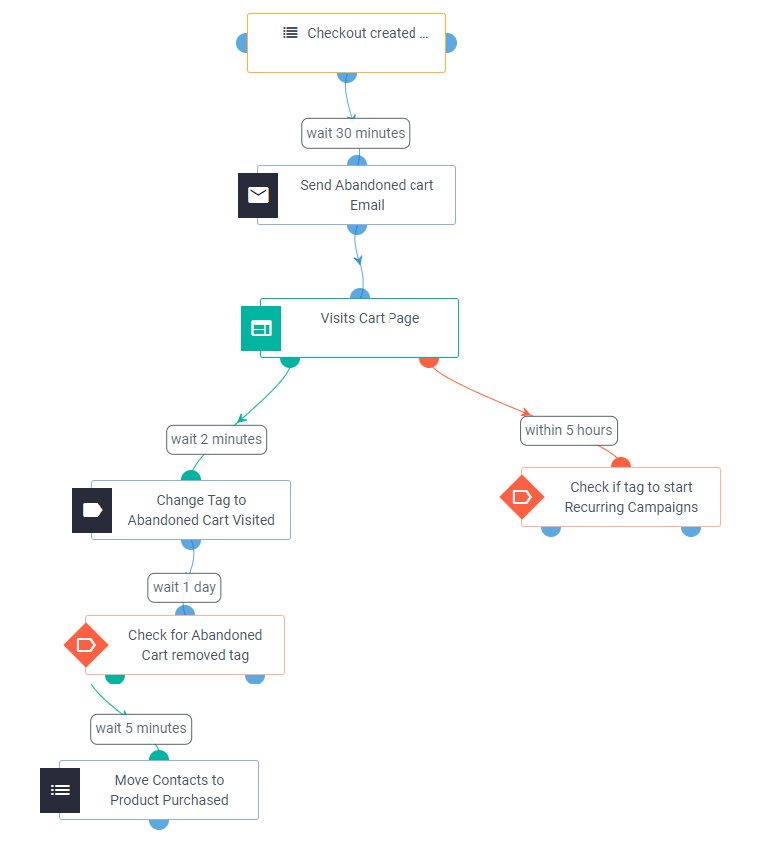 [heading]If a user is not opening
the email
, a reminder email is scheduled for the same. However, if you end up putting a 'send reminder' action to someone who has already opened your email, it will frustrate your user.[/heading]
2. Including inactive contacts in the workflow
Segmenting your contacts as active and inactive is key to effectively nurturing your leads. Yes, certain marketing automation workflows do focus on inactive contacts also.
However, it would help if you steered clear of mixing warm and cold leads. Sending out any communication meant for converting warm leads to your list of dead leads would mean low open rates and low engagement rates on your campaign. And, you don't want to distort your campaign goals because of the wrong selection of contacts.
---
Execute Effective Marketing Automation Workflows Now
---
If a lead hasn't engaged with you for quite a long time now, there is every chance that it will not open your email and download that eBook. Your eBook should instead land in the inbox of those contacts who've just filled in a form on your website and converting into an MQL.
It is where you begin nurturing these MQLs further into your sales funnel. Including inactive contacts in this b2b marketing automation workflow wouldn't be a good strategy.
So, where do you use inactive contact segments?
[heading]Answer: (Recommended) Re-engagement and contact pruning marketing
automation workflow
. [/heading]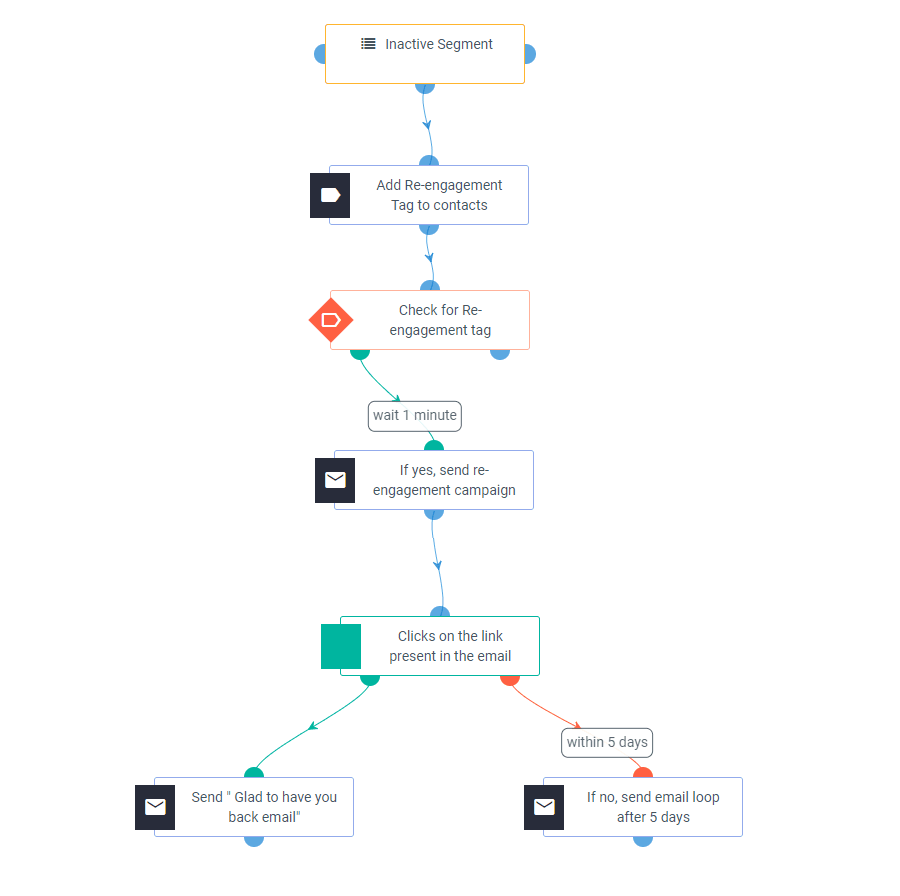 This re-engagement and contact pruning marketing automation workflow above is only for inactive segments. The cart abandonment workflow is for active users who have recently added items to their cart.
Imagine adding the inactive segment in the cart abandonment flow or the cart reminder to this re-engagement flow – it will be such a mess. Your inactive users will receive reminders to make purchases that they are not aware of, while your engaged users will receive an email on 're-engaging' again.
Include inactive contacts in your marketing automation workflow only when you want to send out a re-engagement campaign or move inactive users to a new segment to continue with your automation campaigns smoothly.
PS. You can re-engage your users with a push notification as well. The re-engagement workflow above is customizable after all, and Aritic PinPoint supports multichannel engagement automation workflows.
Here's an example of how push notification messaging has been used in re-engagement workflows for inactive users: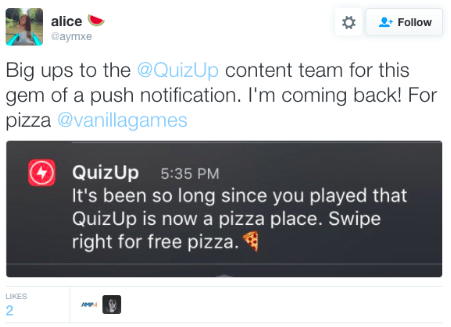 3. Implementing incorrect Decision-triggers
In a marketing automation tool, every workflow comprises three core elements – actions, conditions, and decisions.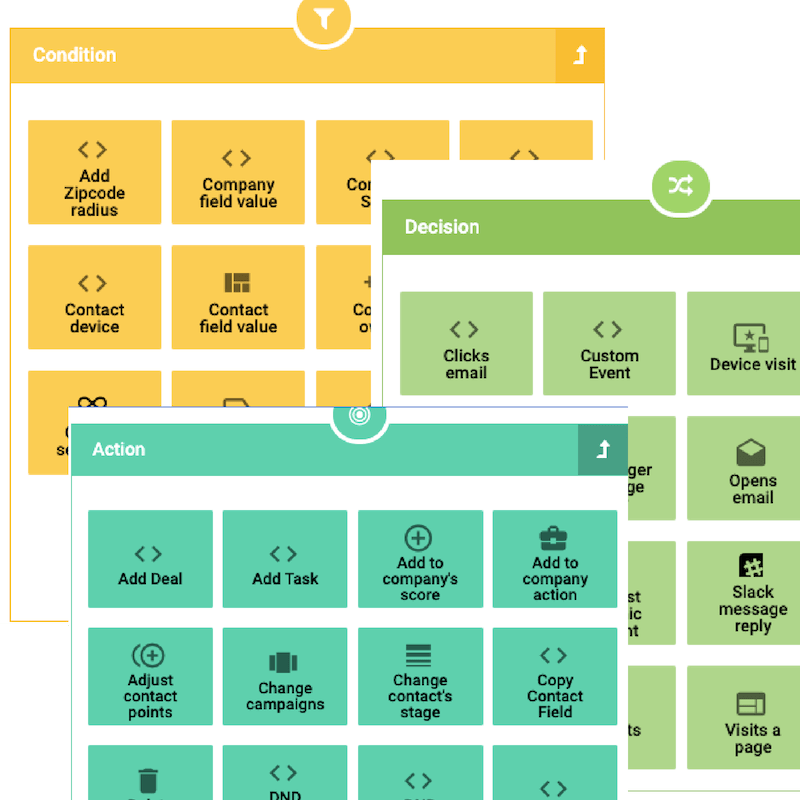 Your entire nurturing flow depends on decision triggers. These triggers ensure that all communication that goes out from you on any marketing channel is contextual and based on actions taken by your segments.
This way, decisions put the flow in the workflow. And, because you don't want your flow of communication to go wrong anywhere, you must see to it that the decisions you implement are always correct.
If you trigger a reminder email to a person who has already signed up for your webinar, you will create a lot of confusion. It will also make you appear unprofessional and lousy.
4. Not sure of which workflow to use
Many marketers commonly choose workflows based on predefined goals and triggers. Welcome workflows, onboarding workflow, new subscriber workflow – these are pre-set into the marketing automation tool and when the user takes a custom action.
However, the problem arises when you have to go deeper into personalizing communication with users. Here's where marketers need to wrap their heads around which workflow to use. Never run a workflow unless you are absolutely sure about what your goal is.
Your biggest reason for being unsure about which workflow to use is that you aren't 'segmenting' based on user actions. For example, within your lead nurturing workflow, you can further segment users based on their level of engagement with each communication sent out.
Based on how often a certain user clicks and opens your 'posts sent out on Facebook messenger,' you could further create a segment called 'Highly Engaged.' Send this sub-segment of users more relevant content (based on data insights on clicks, opens, and downloads' that you have to accelerate your sales cycle further.
5. Trying to build a workflow from scratch every time
Creating workflows is a time-consuming task. It is also a costly affair.
Manually setting up your workflows can lead to inefficiency, costing your company 30% of its revenue.
Imagine how unproductive and inefficient the process of setting up new workflows is if you do it repeatedly. Why not automate?
Smart marketing automation tools allow you to create workflows based on your user segments. You can create these segments based on custom triggers. For example, a workflow can be set up for lead re-visit. There are a number of such pre-set and automated workflows that you can run in minutes.
Check out a few here.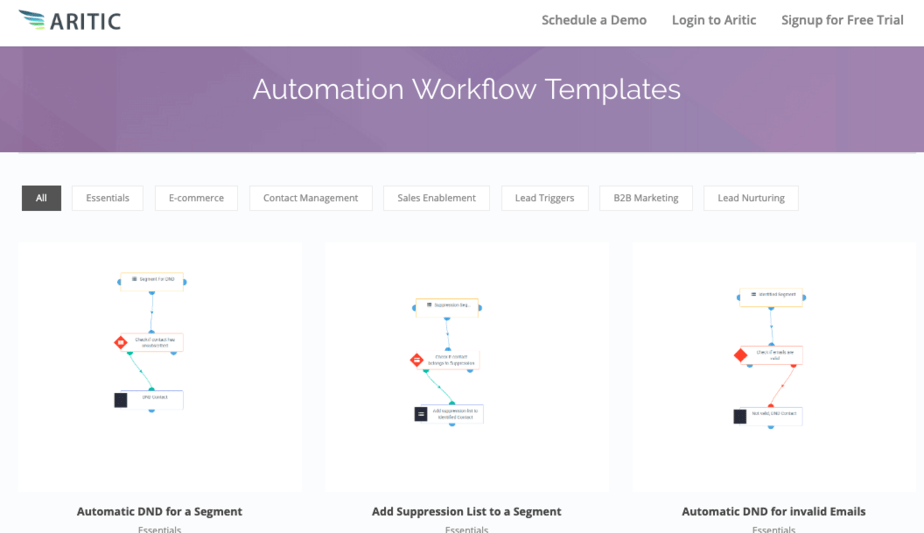 The best part is you can customize workflows easily, saving yourself the time and effort it would have otherwise taken in creating brand new workflows right from scratch.
6. Forgetting to add feedback workflow
Your sales or conversion cycle shouldn't end at *your* revenue goal. It's not the end of your nurturing effort once the user has converted into a buyer. It stands absolutely true for both B2C and B2B businesses.
It would help if you focused on retention and re-purchases. That is where building customer relationship matters. And, the first step to creating meaningful relationships with your customers begins with feedback. That's how your customer knows that you value his opinion and that you are willing to improve.
Not creating feedback workflows would mean you miss out on tons of voice of customer-related data and insights. Positive feedback tells you what you are doing right, and negative feedback can be worth a lot more.
It can help you build better value and products for your target audience. Your trigger for feedback workflows could be:
When a customer service call has just been completed
When an order is successfully dispatched and delivered
When an existing customer has purchased a new product
Here's an example of a marketing automation workflow for a feedback survey that you can use.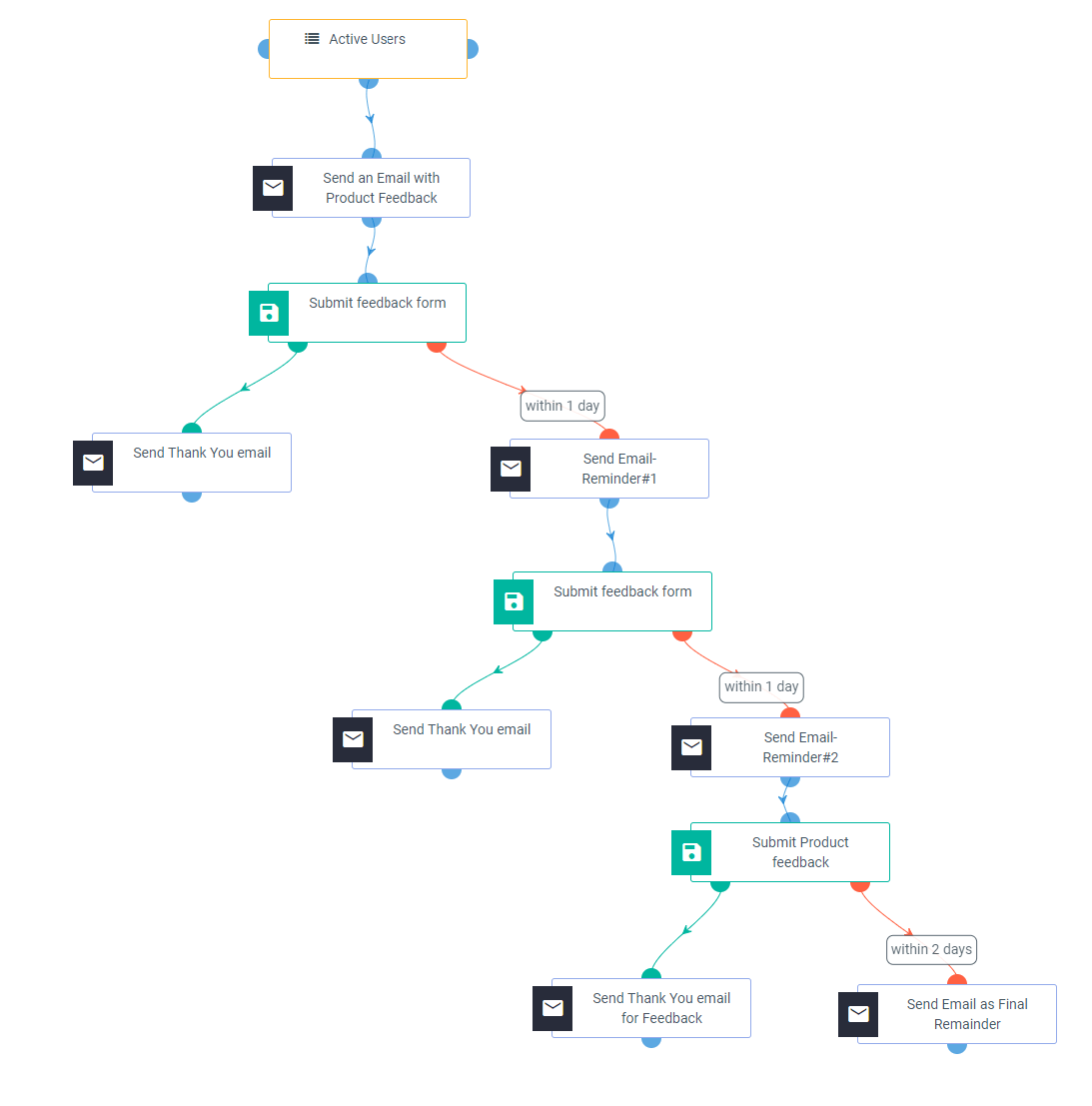 7. No workflow built for anonymous users
The average conversion rates for a SaaS company is merely 7%.
It means that 93% of your website traffic is simply draining away! Out of this massive chunk of traffic that you ignored focusing your attention towards, a large chunk comprises anonymous users.
An anonymous user, by definition, is someone who engages with your onsite business. However, it doesn't leave behind any valuable information. As such, you don't have a data point about an anonymous user to bring him into your nurturing funnel.
Techniques like browser fingerprinting and reverse IP tracking can help you there.
One important factor to consider for creating an anonymous user workflow is engagement points.
Onsite engagement points include pop-ups, recommendations, messages in live chat boxes, implementing progressive profiling, etc. Off-site engagement points could be your company's social media account, email, etc.
An intelligent and smart tactic is to nudge your anonymous users to leave their email id right when they are about to leave. Exit-intent pop-ups appear right in time when a user has spent considerable time-on-site and is just about to leave without dropping in his information.
AI-driven automation workflows track anonymous visitors' behavior. Often exit intents are the last resort. However, if your visitor downloads an asset from you and that fills up a form containing just the name field and email address or simply email address and company job role, you will still need more information to start nurturing campaigns.
Also, your visitor must consent to receive communication messages from you.
Unless that happens, these are yet to become your leads. In such cases, progressive profiling plays a pivotal role.
You can start with retargeting ads to these visitors, and when they come back to fill up another form, you can implement progressive profiling – wherein the fields they had filled previously are pre-filled. You get a chance to capture a little more information at every step, thereby completing the entire lead information capturing process.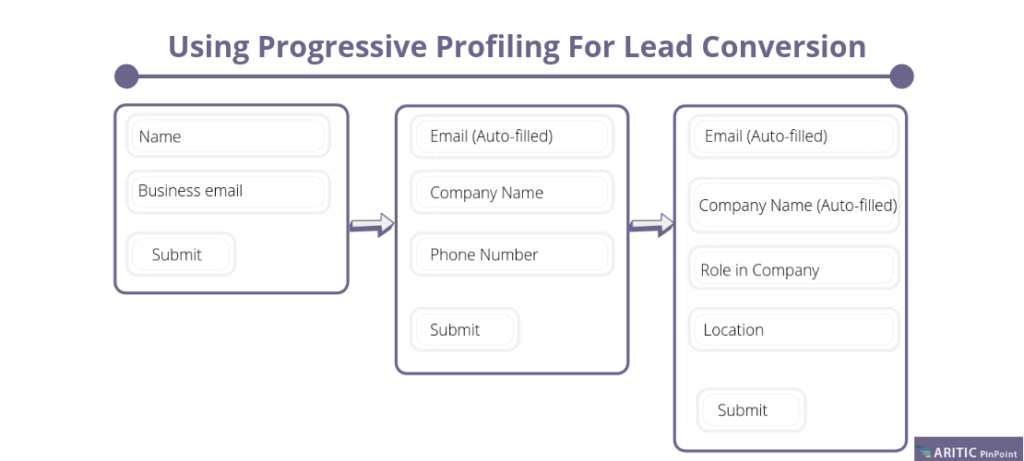 All of these can be set inside your automation workflow. 🙂

The crux is that with marketing automation, you can nurture even those users who are adamant about not submitting any information. That's why not creating workflows for anonymous users is a huge mistake that allows these potential users to slip away from your hands.
8. Integrating incorrect marketing channels
If Facebook is where your majority target audience is, and you are focusing just on email marketing, you will likely miss out on a lot. You should probably think about running nurturing campaigns via Facebook messenger.
Smart marketing automation tools allow for easy integration with several channels. Social media, SMS, push notifications, etc., there is tremendous opportunity in each channel of communication and marketing. That's why you must integrate your marketing automation tool with different tools and plugins.
Combining different channels in your workflow also makes much sense. For example, you could send out an email to the list of contacts with a 'coupon code' to avail 50% discount on opting in for your push notifications.
Why send out an email? Well, because emails stay in the inbox for a long. It is the surest shot way of making communication fetchable whenever required.
9. Zero-communication and sync between marketing and sales team
You don't want your leads to get stuck in just one phase of the funnel. But that situation will definitely arise when you aren't creating the optimum sync between marketing and sales.
For example, if your marketing team has successfully created MQLs from a campaign, but your sales team has no idea, the movement of these leads from MQLs to generated sales will be extremely slow. That's where you need workflows to move leads from this phase to the one that's another step closer to sales.
The best way to synchronize your sales and marketing is to score your leads. Marketing automation helps you score your leads based on certain specific criteria. For example, leads downloading a white paper could be assigned a lead score of 10. Similarly, leads signing up for a free demo can be assigned a lead score of 25.
Your workflow automation process must see to it that lead scoring is being done with each user interaction. Missing out on this stage will result in sales and marketing losing track of lead progress in the funnel.
At all costs, you must avoid this confusion for better lead management.
---
Conclusion
Workflows are core to lead nurturing and management. Other than what we've covered above, we also take testing workflows quite seriously in our organization. While you may think your marketing automation workflows are giving excellent results, you don't know whether you could improve without testing.
That's why in testing, you should trust. Got any other tips for strengthening automation workflows? Let's discuss this in the comments thread.
What is marketing automation workflow?
Is there difference automation workflow for B2C & B2C
B2B and B2C companies cater to different audiences, so they are implementing marketing strategies through different marketing automation processes. B2B companies are forming marketing campaigns that are related to mass audiences. On the other hand, B2C marketing automation focuses on relevant and personalized messages to grab the eyeball of their audiences. B2B companies focus on the customers' buying journey, whereas B2C marketing automation creates awareness for nurturing the new leads through the sales funnel.
How to create trigger in marketing automation workflow?
Marketers need to use the right content for the right contact to trigger them at the right time in the marketing automation workflow.
Do I have to create workflow from the scratch?
Marketers need to use smart marketing automation tools for creating workflows based on customer segmentation. With the help of an automation tool, they can easily customize workflows without creating new workflows.