Re-Engagement and Contact Pruning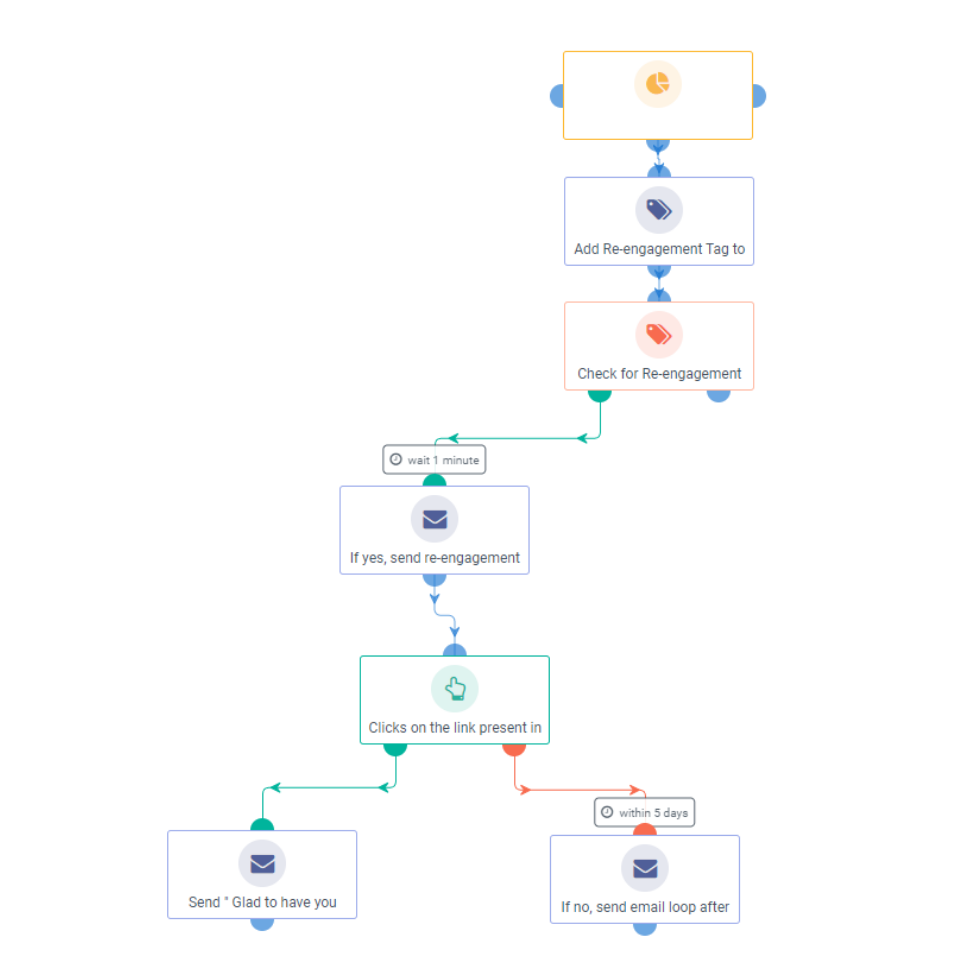 Overview
Re-engagement is the process of reminding users that you are still around and sending them relevant content that might help them remember your product or service. This is thought of as a marketing activity, but it can also help reach out to disengaged or dormant users. Over time, every email list will start having subscribers who have stopped opening your emails. If your email list has more unengaged subscribers, it will affect your email open rates and bring down your email sending reputation. Therefore, Re-Engagement and Contact Pruning becomes truly important.
Since mailbox filters are highly advanced, why risk such a situation? Instead, install this easy-to-set-up Re-Engagement and Contact Pruning workflow to send one last email attempt to these unengaged subscribers, and then if they don't respond, go ahead and automatically prune them. We recommend the last attempt just in case things take a new turn! 
The goal of the re-engagement and contact pruning workflow is to identify contacts that require attention and then create a plan for contacting them. This workflow will help you clean up your marketing lists from inactive, duplicate, or unwanted contacts.
Use Case
Automatically send out messages to your inactive customers based on the stages of their lifecycle 

Help prevent instances of outdated information

Let's you verify that you're always targeting the right people with tailored content and offers

Keep your customer experience always up-to-date and on point
Execution in Aritic
Aritic has a prebuilt Re-Engagement and Contact Pruning workflow for you. Click Resources > Automation Workflows> Lead Nurturing to view the Re-Engagement and Contact Pruning workflow and click the Re-Engagement and Contact Pruning workflow. 
For marketers, re-engagement is about ensuring that the less active users are still paying attention to your brand. This task can be done automatically with this simple workflow. However, you can always create it from scratch or use their free template for a contact. Simply copy & paste all the information for the new contact into their template. Then, you can edit it or leave it as it is.
Follow workflow as per the two cases below steps as mentioned in the prebuilt template:
#1- Add Re-engagement Tag to contacts
#2- Check for Re-engagement tag
#3- If yes, send a re-engagement campaign
#4- If the contact clicks on the link present in the email
Send "Glad to have you back email"

If no, send the email loop after 5 days
To construct your own Re-Engagement and Contact Pruning workflow from scratch, Automation Builder is there for your assistance. You have complete control over your workflow design, depending on the if-else conditions you put in the pre-designed Aritic template for your customizable workflow.
Advantages of using this workflow
With Contact Pruning, you can keep your contacts up-to-date and engaged with automated updates and reminders. With Re-Engagement, you can also send targeted messages to your contacts who have been inactive for some time. Tools like these make it easy for you to stay in touch without being too intrusive or annoying!
The workflow allows you to re-engage your customers, contacts, prospects, and leads. It is an excellent method for helping you collect feedback, generate sales, and grow your mailing list. In addition, by pruning contacts that are no longer active on your list, you won't have to worry about managing an extensive list of inactive contacts.