Your leads want you to earn their attention. That means your effective lead management strategy will need a quick revamping to meet your leads' evolving needs.
Thanks to inbound marketing, businesses play their best cards to garner their target leads' attention before deciding to settle for some other brand. And sadly, this decision happens almost in a snap if you fail to capture their attention. Courtesy of the wide range of options, your leads are already spoiled for choices. If you are not pacing up with the right lead management strategy, you will go back a few steps every day in the competition.
Okay, but Why do I need Lead Management?
Let's put it this way. It is always great for your sales rep to talk to 10 qualified and interested leads than talking to 50 unqualified, non-interested leads. Lead Management helps in making things smoother for a fast-paced conversion.

Once upon a time, lead Management was defined as the process of effectively managing leads, consistently and equally.
But that's an old-school point of view. We have come past various old-school myths, and so has our lead management process. Today, lead Management more effectively refers to:
A process of capturing leads, tracking their behavior and activities across the website and application, qualifying them, nurturing them with relevant content and marketing messages, making them sales-ready, and helping the sales team close the leads quickly.
Yes, that sounds more advanced and genuine now.
Lead management is a complex process, especially when the lead inflow increases.
Here's a brief on what happens.
Let's say you have started a business and created a great website. You began running ads, which eventually made way for new leads. You find leads that are genuinely interested and also leads that aren't. So, you take the help of an excel sheet to categorize your leads – not interested, somewhat interested, and very interested. Awesome.
Now, your lead volume starts to grow.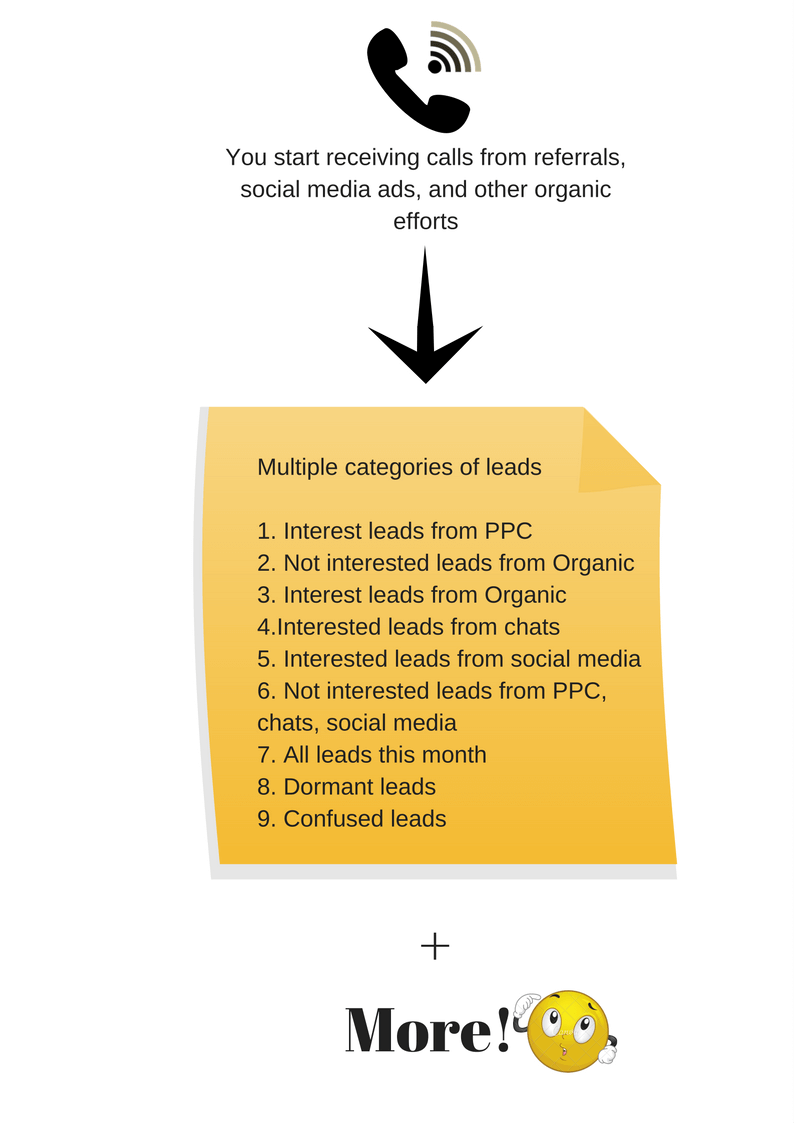 Gradually you fall prey to missed leads, lack of follow-ups, and no lead management.
Now let's assume this same situation, but this time we have a lead management software like Aritic PinPoint. The scenario looks something like this now: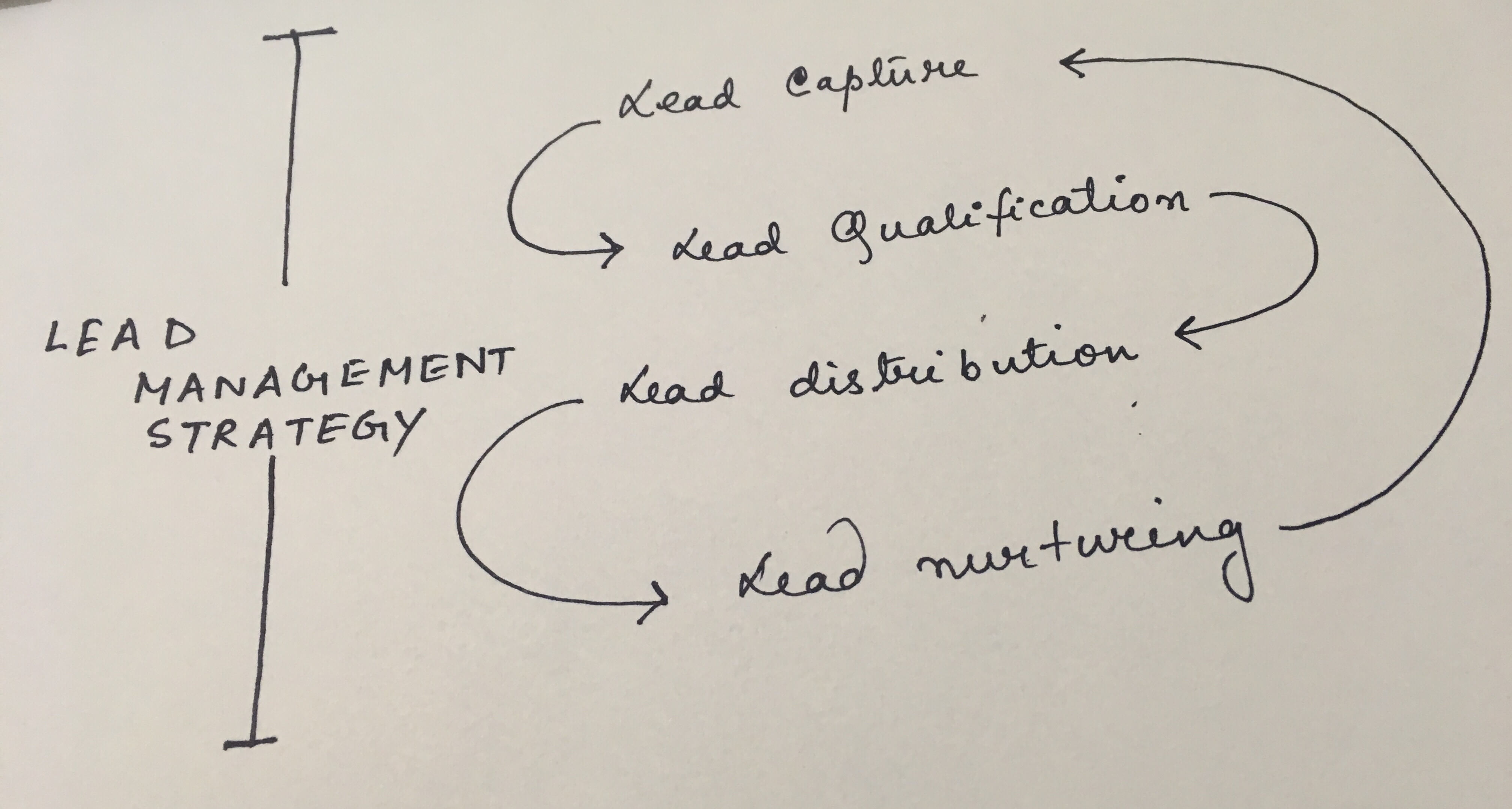 Do you know that story where an old professor taught how to prioritize things with a jar filled with pebbles, rocks, sand, and water? In inbound marketing also, lead generation is the first step. Then comes lead Management, which makes way for conversion. After conversion comes follow-ups and retention, the takeaway here is: focus on the essential things first; the others will fall into place one by one.
Different stages of Lead Management
We know how lead Management can help your business. We have also established that lead management software resolves multiple issues in one go. But it is still not a one-step wonder. Lead Management comprises five distinct stages: automated lead capturing, lead tracking, lead distribution, lead qualification, and lead nurturing. Let's quickly go through these five stages.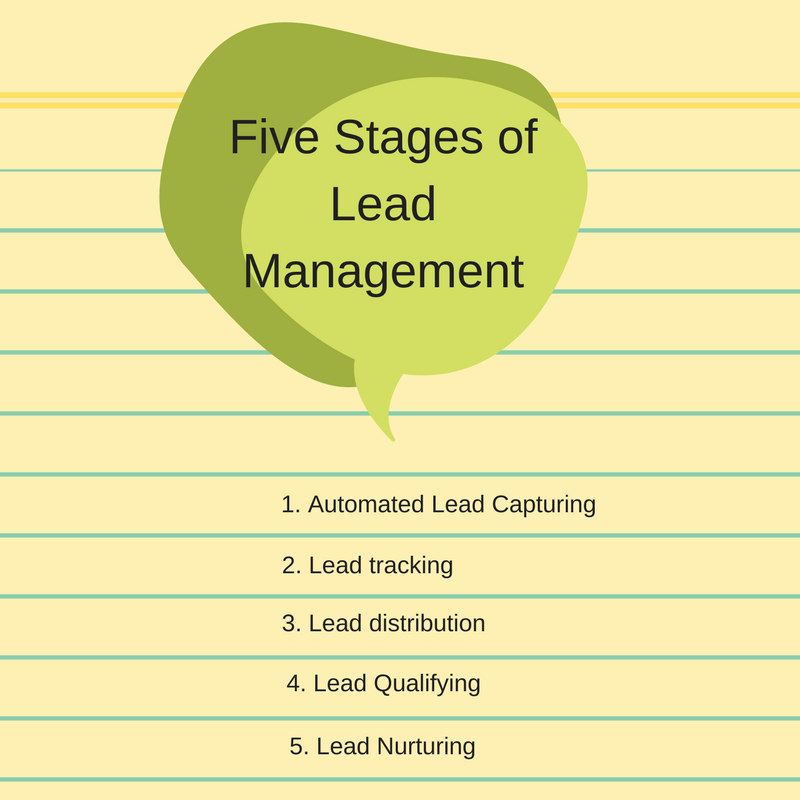 Automated Lead Capturing
Relying on excel sheets is passé. It would be best if you got your leads captured automatically within your system. Aritic PinPoint, which is also a great lead management software, ensures that your leads are captured and fed into the system immediately. So, no lead leakage, no missed opportunities. Alongside, it will automatically detect the leads that will yield revenue and those that are somewhat moderate. Aritic PinPoint helps in generating leads for your brand seamlessly.
You can capture lead information using our landing pages, gated content, smart and crisp forms, and progressive profiling. You already know what a landing page is (We call it the gateway to your main website or product page). Gated content refers to an insertion of a quick form that your leads will need to fill up to continue watching a video or reading your content.
For instance, suppose your potential leads searched up an eBook on best marketing practices and found your free eBook. Once the lead starts reading it, after several seconds or after reaching a particular section, he/she will see a small form asking for name, email ID, and location. Only if he/she enters the details can he/she view the remaining eBook. You can also add a motivating CTA to this form like "Get this eBook in your inbox." Gated content is a great way to capture leads because you catalyze their interest and offer a give-and-take situation. It is more like a two-way deal where your leads give you information, and you give them resources.
Lead Tracking
Remember the first line of this article? Your leads want you to earn their attention.
But how will you do that if you don't know what they are doing, where they are, and why!
Lead tracking in Aritic PinPoint helps you understand, monitor, and analyze lead behavior across your website and application. You can track your leads and consequently create a buyer's persona for each lead. Buyer's persona helps in understanding the buying pattern of your leads. After all, it is a semi-fictional representation of your potential leads.
You will automatically know about the pages they visit the most, where your leads are dropping off majorly, how much time your leads are spending on each of your product pages or pricing page. Also, you can identify the browsing flow of your leads. Let's say, your ideal browsing pattern is: Landing page -> main website/product page -> blog -> pricing page -> signup page/subscribe to newsletter.
It is a flow that you think is most beneficial. But your leads might jump from your product page to the pricing page and back to the product page. Again, another lead might drop off after browsing through the blog. This lead doesn't reach your pricing page and doesn't subscribe to your newsletter as well. And then, there might be a lead that replicates your ideal workflow but leaves without signing up or subscribing.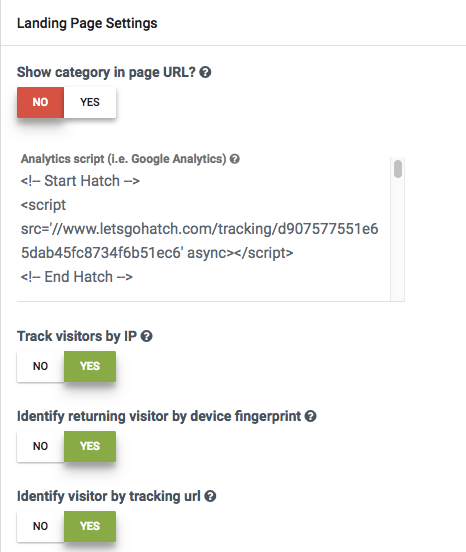 The point to note here is, each lead has a different requirement and expectation. Based on the lead's behavior and engagement on your website, you can draw a pattern and get a clear understanding of whether that lead is genuinely interested, needs more nurturing, or is a bad lead. To spot the most potential leads, you can start assigning scores for each activity and behavior. The lead that has the highest score is the most potential lead. You can then plan a dedicated marketing campaign around these highly potential leads (which, in other words, is termed account-based marketing). Here's how lead scores look like on Aritic PinPoint: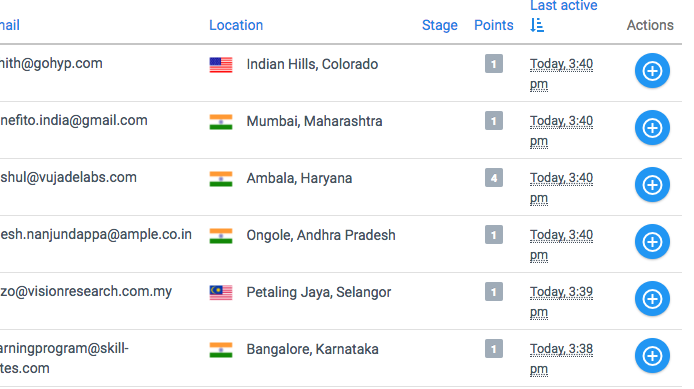 Lead Distribution
Lead scoring helps in identifying the potential leads, and account-based marketing helps in making these leads sales-ready. That's when leads are auto-distributed to the sales reps.
If you manually try to distribute leads among your sales team, it will take up days, and your leads will lose interest in your brand (or worse, forget about you). For such situations, Aritic PinPoint functions as the connecting link between sales and marketing. Both the teams are aware of the entire development from start to end. While the sales team updates the marketing people about the ideal customer, the marketing team brings in leads, nurtures them, and passes the interested leads to the sales team. It is a harmonious marketing-sales alignment that makes lead distribution seamless.
Lead Qualifying
Lead scoring in lead management tools like Aritic PinPoint instantly tells you whether a lead is worth your time and effort or not. Those leads that qualify your buying criteria and are genuinely interested in your brand get passed on to the sales reps. After all, it is better for your sales rep to talk to five qualified and interested leads than talking to 10 leads with no idea whether they are interested or not.
Lead Nurturing
Yep! We have already gone over this so many times now. But did I mention that you can opt for multi-channel marketing with Aritic PinPoint?
You read it right. Landing pages, email campaigns, SMS campaigns, drip push notifications, social media interaction, mobile alerts… Phew! Aritic PinPoint ensures that your leads are nurtured, informed, and aware of your brand.
Here's an overview of the host of things you can do to nurture your leads:
BEE Editor for landing page building (and customization) and email template customization (all-time favorite drag and drop editor is also there), automated email workflow, automated lead capturing, smart web forms, dynamic content, mobile marketing, SMS campaigns, push notifications (and drip campaigns), autoresponders, integrations to host webinars (and more), numerous plugins to use, social media interaction and building a brand presence, lead scoring, detailed reports, and analytics, and so much more!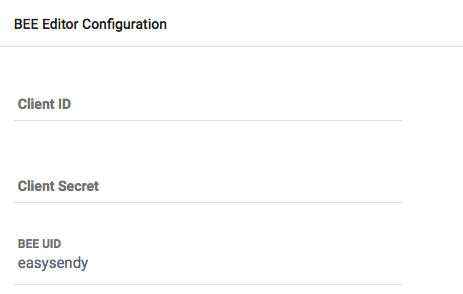 These are the five primary stages of lead management. But that's not all. It is interesting to know that there are various myths associated with lead management. Unfortunately, you will relate to believing in these quite frequently. After talking to many marketers and managers, we have accumulated 10 shocking revelations for you about lead management.
10 Shocking Lead Management Facts You Must Know
Let's get going! 🙂
1. Your leads do not hate changes
If you are afraid of making changes to your website or email template, or landing page, then fret not. Your leads won't ditch you for that (unless you make something that confuses your leads). Making unnecessary changes is what your leads might not like. But you can keep working on your content, your fonts, your email templates, etc. Try conducting A/B testing before making your changes live. It is always better to test with few leads than impose your new change on everyone and then get a backlash.
2. A great website is not enough to capture leads
You have a great website. Thus, your leads will come automatically.
NO. That's just plain fantasy!
However great your website is, your leads will not know about it unless you work to make it known. Your leads can't have a dream or gut feeling that you have launched a beautiful website, right? It is your job to make them aware of your presence. Social media, SEO, paid marketing, and content marketing is the most effective ways to get recognized by your prospective leads. With an intuitive landing page, using gated content, offering free eBooks and webinars (and more), you can start showing up in the search engines.
Work on your URL, SEO title, meta description, and other facets to show up on the search engine's first page for your selected keyword. Offer engaging content, social sharing buttons, RSS feed, subscribe button, and links to your main website (product page, comparison page, pricing page). Create automated drip campaigns, schedule autoresponders, and set behavioral triggers for your email campaigns. Lead capturing is not a cake-walk. There are so many ways to capture leads, and you have to be present exactly where your leads are with the right information and at the right time.
3. All leads are not sales-ready
When a lead subscribes to your email list or signs up for a demo, it may not be necessary for the lead to be your potential buyer. Not all leads that come are ready to make a purchase. Many leads will be 'bad leads' that you need to scrape off pretty soon from your list. Then, there will be leads showing symptoms of interest but would be interested in having more information and resources. These leads will require longer nurturing with effective content. Lastly, there will be few leads (read: few) who will be ready to hit the 'buy' button immediately. Just one phone call is all it takes!
But like I said, the last category will be few, just a handful. Typically the second category will fill your majority pipeline. With features like lead tracking, behavioral emails, drip campaigns, and autoresponders, landing pages, free resources and offers, SMS campaigns, social media contests, and so much more, you can keep them engaged and slowly push them down the funnel.
4. You don't need to spend dollars to get leads
Lead Management doesn't mean you need to empty your pocket to get leads. There is a person I know who often said, "I need leads for lead management. And I need dollars to get those leads." Nope. It's not true.
Gaining quality leads is not money-dependent. However, you might have to spend a lot of time and energy on getting these leads. Effective content marketing and SEO approaches can help in getting quality leads. It is time taking but worth the effort. Your entire focus revolves around providing correct information to your leads at the right time and investing your energy in building a relationship with each of your leads.
You can indeed launch a few paid social media ads or spend in Google Adwords, but that requires proper planning. It is not like spending randomly and then waiting for leads to come. Whether it is your time, energy, or money, every resource you spend must have a return.
5. Lead Management is not just a marketing initiative
A closed-loop lead management process does require your marketing team to contribute the most, but calling it a 'marketing-only' initiative is plain wrong. If lead management were just a marketing initiative, success would have been short-lived.
I have talked about marketing-sales alignment a few times earlier as well. Effective lead management involves the collaboration of both the teams – sales and marketing. They both must work towards achieving a common goal – business growth. Both teams must agree to and implement the lead management process harmoniously.
Add to this, the lead management process also calls for intervention from the IT team, finance people, and other third-party agencies or partners. When everyone from all the teams comes together to work on a shared goal, lead Management will show results. By taking aid from appropriate groups, you will get a better perspective into your ideal prospects, leads, and customers. It will only make way for longer sustainability.
6. Marketing automation is not equivalent to lead management
When CRMs launched, everyone rushed to own one and thought it would increase revenue in a snap. But they forgot a CRM is less likely to help flawed sales process.
The same thing happened with the emergence of automation tools. They confuse lead management with marketing automation. It's more like having automation features is enough; leads will get managed automatically.
Ummm… Not really. That's why Aritic PinPoint offers a separate lead management solution along with automation features. For growth, a business needs both. And no, these two concepts are not synonymous.
7. Lead management is not ONLY about lead nurturing and lead scoring
It never happened that a new client signed up for Aritic PinPoint and asked about lead scoring and lead nurturing. That's like driving your car on one good tire and ignoring the other three! (which means impossible). Lead management process is not just restricted to lead nurturing and lead scoring. In fact, it involves data analyzing, lead routing, content mapping, and creating a blueprint, lead nurturing, and detailed metrics for analysis.
If you address just one component, it will make your lead management process fall flat. It will not bring marketing and sales effectiveness, thereby deviating from the sole purpose of having a lead management tool.
8. Leaving your leads unattended will do no good. Your leads will NOT WAIT
Your marketing efforts paid off. A good influx of quality leads has made you happy. You are pleased that you took your leads for granted because you thought you'd done a favor by offering them precisely what they wanted.
RED ALERT.
Your leads are more empowered than you can think of them. If they have shown interest in your brand, they expect you to follow-up instantly. You can place a message like "Gets back within 2 hours or 1 working day" so that your leads will know when to expect a word from you. But if you are not living up to your promise, they will go away.
Golden rule: Your leads will NOT WAIT for you. Irrespective of how busy you are, you cannot put your leads in the secondary.
Aritic PinPoint ensures that an automated response sent immediately when a lead posts a complaint or subscribes or signs up. You can schedule a small drip series to keep your leads in the loop so that you can smoothly manage and reach out to all of your leads. Manually reaching out to all leads is not possible. But Aritic PinPoint can save your day!
9. Lead Generation Engine doesn't negate the need for a lead management tool
Once upon a time, sales interaction was the first step to the buyer's cycle. Marketing and sales processes evolved, automation happened, and sales interaction started happening at the end of the buyer's cycle. Since B2B buyers are already empowered these days, they look forward to one-to-one communication with you. They have full control over their buying experience, and it is up to you to garner their attention in the most optimal way possible. Hence, if you do not focus on personalized conversations, you are not playing the game by its rule.
A lead generation engine will fill the top part of your funnel. You will require a proper strategy (and a tool like Aritic PinPoint) to push these leads down your marketing-sales funnel with sufficient nurturing and brand awareness. Follow-up your leads quickly (As I said earlier, your leads won't wait) and maintain your relationship with your prospects throughout their buying sales cycle.
10. Great leadership skills are enough to bridge the gap. Lead management tool can wait!
You have a great team leader with a great vision. Your team leader has excellent ideas. But that does no good in capturing leads, nurturing them, and closing them. Lead Management relies on the effective use of the features, proper planning, and effectively managing the functionalities. So only visions and motivational quotes aren't sufficient for your business to grow. Your team leader must know when to assign roles, whom to assign them, understand your lead management tool in-and-out, and use it to its fullest.
Put thy faith in Numbers
Let's take a look at what numbers say about adopting lead Management.
80% of marketing automation users saw a spike in their number of leads, and 77% reported increased conversions.

Source.

68% of B2B companies use landing pages to nurture new sales leads for future conversions.

Source

.

48% of businesses have reported that most of their leads require 'long cycle' nurturing with many influencers.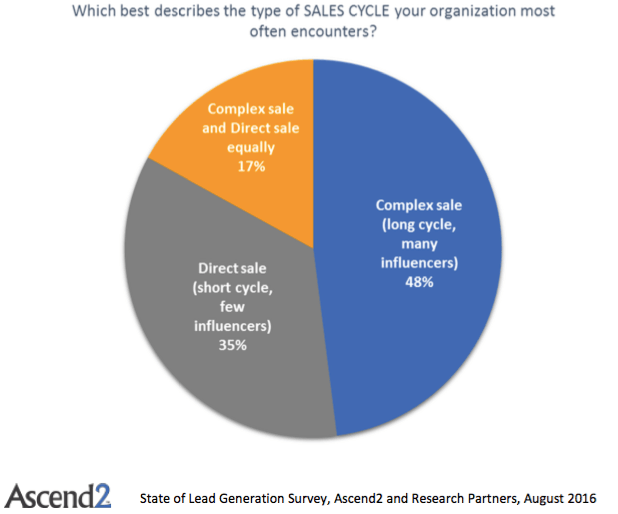 By following up with leads within 5 minutes, the conversion chances increase 9 times more. Source.
Tell me what you think
Have you come across more facts and facets about lead management that changed your views? Did you discover something new while strategizing your lead management process? Tell me all of it. 🙂
Before signing off –
Are you using Aritic PinPoint for your lead management?
No? Well, why don't you take a quick demo to see how Aritic PinPoint perfectly fits your requirements. Schedule a demo from here.
I will see you again with another new post soon.