Cart Abandonment Reminder
Cart Abandonment Reminder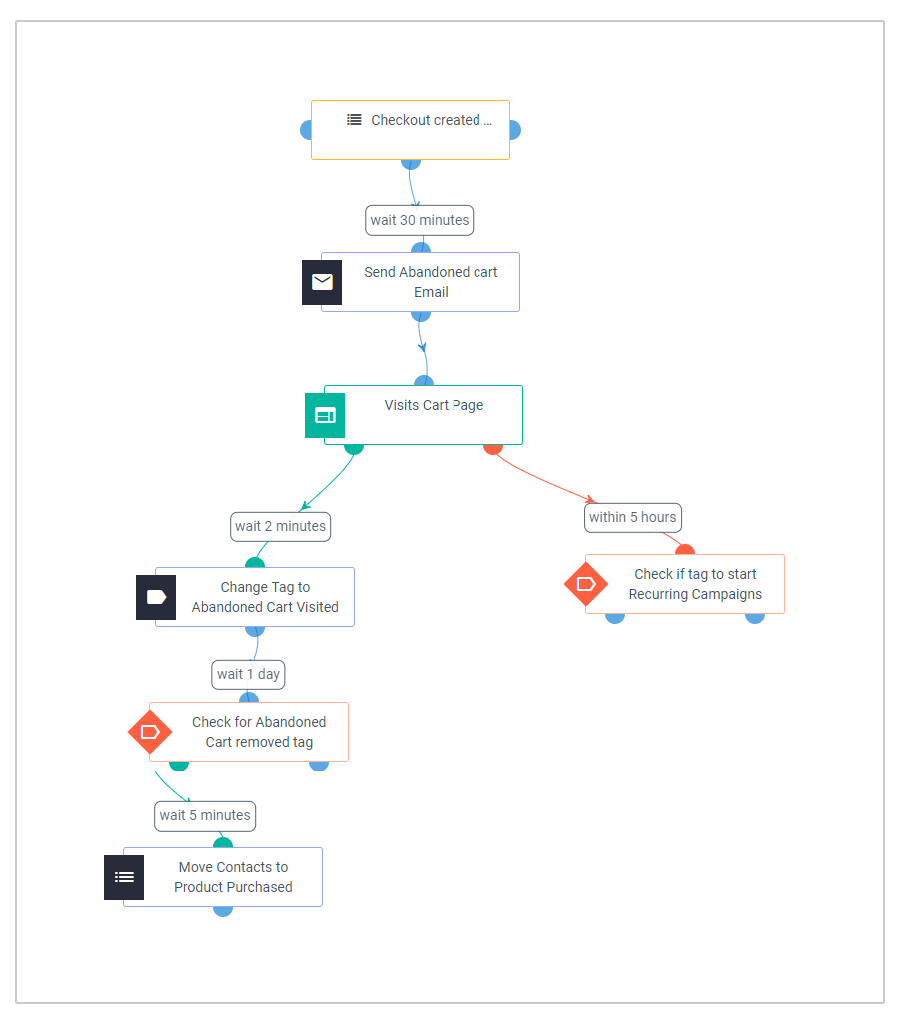 Overview
A cart abandonment reminder email is a message that is sent to a potential customer who has abandoned their shopping cart. The purpose of this email is to remind customers about the items left in their cart and encourage them to complete their purchases. The ultimate goal of these reminders is to make shoppers come back and finish their purchases.
Cart abandonment is an issue for many e-commerce sites. Cart abandonment rates are around 70% and even higher on mobile devices, up to 85 percent. Yet as much as 50% of customers may come back to make a purchase, so there's an opportunity to save them with a timely and personalized email reminder. 
Most e-commerce sites use cart abandonment reminder email workflow because it can lead to increased sales, as well as decreased customer acquisition costs.
There are many things that marketers should consider when crafting a cart abandonment email reminder. For example, they should know the type of product that the shopper left and what stage of the buying process they are in. A great strategy would be to send an email after they have been inactive for a certain amount of time so that there's a high chance that they will convert into customers.
Businesses can use different strategies to encourage customers to come back and complete their purchases. One way is by sending abandoned carts reminders, which can be done in many ways including pop-ups, emails, or phone calls.
Use Case
Cart abandonment is the process of when a customer adds an item to their shopping cart but never completes the purchase. It is usually caused by a customer being indecisive, forgetting they have added an item to their cart, or simply going through checkout flow but getting distracted and leaving the page.

These emails are mean to be sent after the customer has left their cart without buying anything and prompt them to complete their purchase. They work by reminding customers that they are interested in a product and give them the opportunity to continue buying it at the same price they saw before.

Despite all its benefits, this technique does have some drawbacks. For one, shoppers might feel like you are spamming them with too many emails or that you are too pushy when it comes to trying to get them to buy something from your store again.
Execution in Aritic
Aritic has a prebuilt Cart Abandonment Reminder workflow for you. Click Resources > Automation Workflows> Ecommerce>Click the Cart Abandonment Reminder workflow. 
The main idea behind this workflow is to automate the cart abandonment reminder series: Set automatic reminders and alerts for when the prices of those items go up or down with this simple workflow. It allows you to send relevant and timely emails to your customers to complete the purchase. You can schedule the reminders after a certain number of days and at a particular time.
In Aritic, Automation Builder is there for your assistance. You have complete control as to how your workflow will be designed, all depending on the if-else conditions you put in the pre-designed Aritic template for your customizable flow.
Advantages of using this workflow
The cart abandonment email notification has proven benefits for both the customer and the company. The customer feels valued by receiving this email, and it gives them an opportunity to complete their purchase. In addition, the company benefits from increased revenue and keeps its customers engaged.
Some of the key advantages of cart abandonment reminders are:
It reduces shopping cart abandonment, which can result in more sales

It helps increase customer engagement

It increases conversion rates