The main focus for B2B businesses is Lead Generation and Lead Engagement. Marketing automation plays a vital role here as it enables them strategizing automated marketing programs to manage prospect interactions to improve customer acquisition.
Jump Directly to
1 . What is Marketing Automation?
2. What Are the Benefits of Marketing Automation?
3. How to create a B2B content marketing funnel
4. How To Create A B2B Marketing Plan?
5. The Best B2B Marketing Campaigns
6. 5 B2B Marketing Plan Examples To Help You Stay Organized
7. 7 B2B Marketing Automation Strategies For 2023
Marketing automation makes it possible to quickly achieve B2B Marketing goals such as spontaneous inflow of qualified prospects, higher lead quality, and shortening the sales cycle.
---
Still Not an User of Aritic PinPoint Automation?
---
Sounds promising? Shouldn't we dive deeper into knowing about all the dimensions of Marketing automation?
Let's first start with the basics, shall we?
---
What is Marketing Automation?
Marketing automation is the process of using software platforms or technologies that automates repetitive marketing tasks, streamline and automate customer communication, like sending emails, SMS, Push Notifications, publishing social media posts, ads without any manual actions, and in the process, make these actions easier.
Integrating with your CMS, Mobile App, and Ad network, in turn, helps you orchestrate, measure, and improve the entire buyer journey.
---
What Are the Benefits of Marketing Automation?
Now that we know what marketing automation is, Let's take a look at why businesses back it or what benefits Marketing Automation has for businesses:
1 . Enhances Productivity
One of the most prominent benefits of marketing automation is that it simplifies routine organizational and marketing tasks, thereby improving productivity. It helps you eliminate repetitive manual tasks by substituting them automated solutions.
For example, In email marketing, marketing automation significantly reduces the hassle of going through lists, fetching suitable subscribers, and sending relevant content.
Marketing automation takes care of automating your entire email campaign, letting you gain more time strategizing and brainstorming creative ideas.
2 . Increased ROI
The next benefit of marketing automation is that it speeds up your time-to-market while improving your deliverables' quality, thereby boosting ROI. Marketing automation effectively does repetitive marketing tasks, eliminating the need to employ staff for these routine tasks.
Why is it important? It allows you to focus on streamlining your team and cut staff costs.
As you streamline your team, you can pick up free time to focus on high-impact tasks like prioritizing and following up your leads, thereby improving quality.
Thus, it immensely helps to retain a customer and increase customer lifetime value. All of these efforts form determining factors that ensure improved ROI.
3 . Effective measurement of results
What makes this marketing automation even more beneficial is that they help you track marketing campaign results, generate automated reports, and everything related to a high-level overview of your overall efforts.
It enables you to fetch accurate reporting, analyze friction points, and streamline measures meaning that you don't have to use multiple tools and stress over information jugglery.
Marketing automation enriches your efforts with accurate analytics, lets you spot shortcomings, and fix them on time.
4 . Omnichannel Communication
Another remarkable benefit of marketing automation is Omnichannel Communication or Omnichannel Marketing. It is the technique of using multiple channels to handle communication within one single system. You can create a smooth transition from one device to another device thereby developing unified experience for all your customers thereby helping you optimize customer relationships. Moreover, you can automate specific communications such as webinar reminders.
---
Execute Effective Marketing Automation Workflows Now
---
Using omnichannel marketing, you can achieve a deeper level of personalization regardless of who your prospect is, what channel they use, or where they are in their buying journey.
5 . Shortens the Sales Cycle
Marketing automation lets you execute lead scoring, simplify lead traction and effectively follow up, thus helping you get a quicker response from your leads. Lead scoring system provided within marketing automation software eliminates the guesswork regarding when leads are ready to be passed to sales as sales accepted leads.
Lead scoring system has been set up, then tested and altered as needed; the system passes them along once the lead has reached the minimum scoring threshold.
As sales engage with leads showing buying symptoms, personalized emails can be channelized using the system.
Marketing automation enables you to set up trigger emails containing dynamic content and personalized information based on the buyer personas.
Marketing automation tremendously helps nurtured leads close faster and generate larger deals, thereby shortening the traditional sales cycle by replacing it with an automated system.
---
How to create a B2B content marketing funnel ?
Before dealing with creating a B2B content marketing funnel, it will be best to understand why content marketing is essential for your business.
Content Marketing is an essential mode of promoting your brand. It assists in easing your methods of developing personalized lead nurturing campaigns. Content marketing generates approximately three times more leads than usual traditional marketing. But it all depends on your content marketing funnel.
A content marketing funnel is a step-by-step system that involves creating relevant and high-value content with conjugation to each buyer's journey stage. The funnel allows you to acquire as many leads as possible through a step-by-step content flow.
According to a survey by Semrush, most marketers create content funnel across all buyer journey stages- 95% of their respondents preferred to create TOFU content, 86% backed creating MOFU content, and 76% preferred creating BOFU content.
The stages of the B2B content marketing funnel includes Awareness Stage, Evaluation Stage, and Purchase Stage.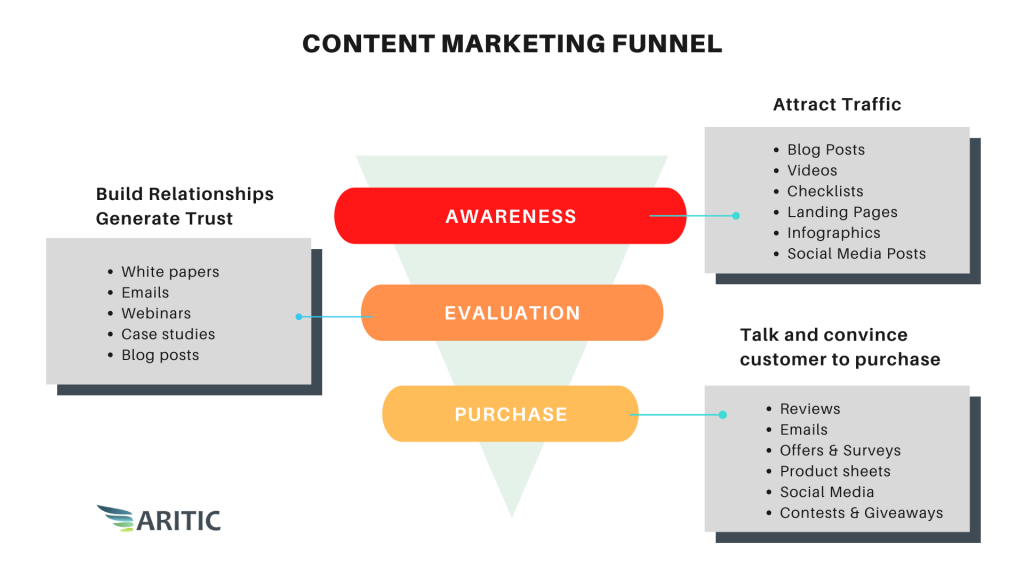 Awareness
The awareness stage is the first stage of your B2B content marketing funnel. You aim to attract and educate leads by showing them how you can solve their problems or share attention-grabbing content pieces like interesting articles, updates, etc., entice them to engage.
People engage with your attention-grabbing content and, in the process, become aware of your brand, product, or service. Be wary of that in this stage; the content itself should not be about you; instead, it should be for them.
The most effective content format in the Awareness stage are:
Blog Posts
Videos
Checklists
Landing Pages
Infographics
Social Media Posts
Evaluation
The evaluation stage is the second stage of your B2B content marketing funnel. You focus on building relationships, creating trust, and attaining your audience's interest in your products or services.
Even at this stage, it is still not the time for going the way of a hard sell, but once people are aware or educated about your brand or service, you do want them to consider purchasing if possible.
Whatever the scenario might be, be sure that you don't want your content like a salesy pitch. Instead, get engaged audiences and set a path for them so that they become your customers by getting at the top of their minds.
The most effective content format in the Evaluation stage are:
White papers
Emails
Webinars
Case studies
Blog posts
Purchase
The purchase stage is the most crucial in your B2B content marketing funnel. At this stage, you should try to seek the conversion of contacts or prospects that have expressed interest in your product and have a considerably high lead score.
These contacts or prospects are well aware and recognize your brand and products, and now finally, it may be the time to make the hard sale. At this stage, fixing your goal to create content that results in closing the deal is the best bet.
The most effective content format in the Purchase stage are:
Reviews
Emails
Offers
Surveys
Product sheets
Social Media
Contests & Giveaways
---
How To Create A B2B Marketing Plan?
Alexander Graham Bell once stated that ― "Before anything else, preparation is the key to success." '
A well-rounded B2B marketing plan is vital for making your path easier to promote your brand or product thereby getting competitive advantage in a crowded global marketplace. With digital marketing capturing a huge share of B2B decision-makers' deference, it is sensible for your brand to conceptualize a B2B marketing strategy which is compatible with both traditional and emerging promotional opportunities.
Below are the key steps to create a B2B marketing plan that is success:
1 . Analyze Your Current Marketing Performance
How do you measure your current marketing performance? What metrics do you prefer in measuring? ― Your marketing goals set the ultimate path for your business; however, situation analysis is the next required step to identify your internal capabilities, shortcomings, and significant external or internal factors.
Review your current marketing materials & activities, analyze your company's strengths & weaknesses. Research current industry trends that impact your business. Define your marketplace – understanding the context your organization operates in is crucial.
Give yourself an analytical view of your business and the dynamic environment it currently sits in actually. Carrying out current marketing performance analysis will help you mitigate risk to gain a competitive advantage. It is vital to be aware of all the different factors that influence your business today and in the future.
2. Analyze Your Competitors' Performance
Designate your key competitors. Consider your customers' challenges and problems; initiate analysis on what questions they are asking, who they find useful besides you, and how your competitors address those customer issues?
Employ conversational search methods to figure out key questions your customers want answers for from you.
As you are analyzing your competitor's performance; look for researching their attributes and keep an eye on what approach they are employing to gain customer loyalty.
3. Do A Deep-Dive On Your Target Audience
Your products or services must meet your customers' specific needs. Creating a buyer persona will go a long way in enabling you to achieve this goal. You should identify the biggest challenges that they face and the publications and community platforms that interest them.
Establish how they're different and similar to the ones your competitors target. Some products and services fail on launch because the investors skipped this essential step when developing their strategy.
4 . Identify Your Marketing Goal
There is no looking back after a cannon is fired- you must need to know what your target is in the first place.
It all starts with identifying and setting reasonable and practical goals. Discern what objectives you want to achieve with your B2B marketing plan and at what point you want to see a return on investment (ROI). It is advisable to work closely with the sales team when setting your goals.
Start by creating value propositions, outlining key messaging, tracing unique selling points while ensuring that your goals are measurable, realizable, relevant, and time-bound.
Develop content marketing goals in conjugation with business goals along with marketing goals as its subset. It will go a long way to boosting the effectiveness of your B2B marketing strategy.
5 . Identify Your Marketing Budget
Maybe it is a myth, depending on the organization ― Most marketers don't have a say in their marketing budget.
Once you have identified your goals, analyzed your current marketing performance, know your target audience, and designated your key competitors, you now need to estimate and create a marketing budget to be able to realize all the actions and resources you have identified as a part of your marketing strategy.
Now that you've created your marketing budget, you'll need to coordinate with the executive team to get approval. Present them with very specific figures and highlight KPIs as well as the expected return on investment (ROI) of every action and resource you have in your strategy.
6 . Work Out Your Inbound And Outbound Strategy
A rather exciting part of your B2B marketing strategy. Plan and work on your inbound and outbound strategy. Figure out all kinds of different marketing channels you have on board, decide on what channels you will focus on with your inbound and outbound marketing efforts.
Inbound marketing is ideal for drawing your leads toward you. Let's assume you're a marketing automation platform. If you write a blog article educating your leads on designing effective marketing campaigns―what you are doing is inbound marketing.
However, Outbound marketing involves abstract work like you have to reach out to your leads and sometimes interrupt them in their workflow. Sounds intrusive? Well, it is; outbound marketing is a slightly aggressive form of marketing.
7. Consider The Latest B2B Marketing Trends
The B2B marketing landscape is dynamic and ever-changing. If you keep sticking to what you do know, and playing it safe, you'll only get left behind.
The marketing landscape for B2B is dynamic and constantly evolving. Make sure to keep up with the trends so that you are not left behind.Maintain a healthy habit of curiosity and be ready to adapt to new B2B marketing trends and strategies.
For example, Let's consider Account Based Marketing (ABM).
This strategy basically deals with flipping the funnel of traditional marketing. ABM has recently gained traction for its unique methods of focussing high-value targeted accounts to build long-lasting relationships using right marketing strategies and channels.
8 . Implement And Refine Your Campaigns
Voila! Now, we have reached the final step of a B2B marketing plan where after all the hard work, you should focus on implementing and refining your campaigns.
But remember that you measure and track everything and make sure you employ your A/B testing perfectly. Avoid testing multiple things at a time, undo assumptions, and make your testing optimized.
---
The Best B2B Marketing Campaigns
Simon Sinek has beautifully stated that- "Don't show what you're doing. Show why you're doing it."
Any B2B marketing campaign should be designed in such a way that it says about company's purpose
1 . Juro's Legal Operations Ebook
Juro's Legal Operations Ebook is the perfect example of marketing campaigns focussed on building authority. This campaign's target prospects were lawyers. UK contract management startup Juro used this campaign to take a shortcut by finding thought leaders to help build authority on its behalf.
Juro's 71-page e-book featured practical advice from renowned leaders from major companies like Microsoft, Monzo, and Pearson. It drove over a thousand downloads within the first month.
2. Drift's Employee Advocacy Campaign
Another amazing example of B2B marketing campaign. Drift's Employee Advocacy Campaign highlighted that individual people make the roles at the organization more personalized thereby ensuring every individual at the company is perceived as a human voice by the customers instead of feeling they interact with bots.
3. Proof's "The SaaS Marketer's Guide to Website Personalization"
When your software product or brand is new, it can be challenging for any marketing team to fetch targeted traffic to the website with blogging and SEO. It takes a great deal of time and energy to position your brand, capture leads, nurture them, and then make sure prospects actually reach the conversion stage to convert finally.
To reduce the hassle and shorten this process, Proof introduced their new personalization software, Experiences. They played in their own league and opted to build a salient content guide revolving around personalization strategy.
This guide helped them position their company as professional and authoritative and give the marketing team a foundation to start having conversations with leads.
---
5 B2B Marketing Plan Examples To Help You Stay Organized
Now, Let's look at some B2B marketing plan examples that are splendid to keep you organized:
1 . Brilliant B2B Digital Marketing Ebook by Smart Insights
Brilliant Business-to-Business (B2B) Digital Marketing E-book– A magnificent ebook focusing on better practices for B2B marketing authored by René Power and Dave Chaffey. Dave is CEO and co-founder of Smart Insights.
2. Building an Email Marketing Strategy by Bronto
Bronto's Email Marketing Strategy assists modern marketers save time, optimize methods, and grow revenue. Besides, there are other resources that help in accelerating your email marketing strategy.
3. Business-to-Business Marketing Summary by SAGE
B2B marketing summary by SAGE is a concise combination of multiple approaches to B2B marketing in the globalised world. It covers both theory and practice of global business-to-business marketing.
4. Single Statement Templates from CMI
Single Statement Templates from CMI is an interesting one. It brings out the idea of core content strategy which is more like an editorial mission statement stressing on choosing topics and editorial checklist.
5. The Essential Data-Driven Content Strategy from CMI
The Essential Data-Driven Content Strategy from CMI is a planner that focuses on the role of data-driven content strategy in content marketing. It includes an emphasis on developing editorial guidelines, brainstorming content ideas, plotting out an editorial calendar, metric review reports, etc.
---
7 B2B Marketing Automation Strategies For 2021
B2B Marketing automation is flourishing at an exponential rate and would only pick pace in the future. New B2B marketing automation strategies and trends are one thing you must keep up with as a marketer. Here are some B2B marketing automations strategies:
1 . Efficiency and Effectiveness
With marketing automation at your side, you as a marketer would do less, brainstorm more and analyze better. In short, marketing automation amplifies the effectiveness of your campaigns. Marketing automation makes a marketer's job easy, harnesses more time for them to strategize, and improves efficiency and effectiveness to the fullest.
2. Sales and Marketing Alignment
Marketing automation can be a blessing when it comes to sales and marketing alignment.
Both sales and marketing departments should be in proper synchronization to run things without friction. A healthy sales and marketing relationship is crucial for a business to grow.
Marketing automation platforms are effective in sales and marketing alignment because, under its hood, marketing and sales can share common goals and utilize a single tool for their operations.
3. Personalization
Personalization is more than just salutations. It involves creating dynamic segments to target your potential prospects with highly relevant and personalized content.
You should optimize every digital touchpoint across all planned channels to engage and convert. Analyze user behavior to engage customers at the right time through their preferred communication channel.
4 . More Investment
The global marketing automation level was valued at $4.06 billion in 2019 and is poised to grow at 9.8% (CAGR) from 2020 to 2027. The marketing automation industry is undoubtedly a high-priority investment space for B2B marketers because of the enormous growth potential it shows in the B2B world.
As marketing automation has already passed the swing phase and is poised to sprint, there is plenty of room for the possibility of its increased adoption globally.
5 . Advertising
Automation has shown its footprints in advertising and is accelerating at an astronomical pace.
According to prediction, by 2023, almost 80% of advertising space will turn automated. Wow, that is some promising trend you must keep up with to race ahead.
6. Multichannel Marketing
Strategy coupled with Marketing automation allows nurturing your leads across multiple marketing channels simultaneously, like emails, landing pages, SMS, push notifications, social media, mobile, and website.
This strategy also encourages leveraging every possible or planned marketing and sales channel to build a unique and consistent customer experience for your brand.
7. Conversational Marketing
AI chatbots are now an integral part of any marketing strategy. They are considered the poster boys of conversational marketing. Chatbots are text-based or voice-based AI-driven interfaces or rule-based interfaces that simulate human intelligence by interpreting customer's queries and complete orders for them.
Chatbots are great at providing customer service, interpret customer queries, solve problems quickly, complete customer orders, and generate leads.
These are now considered valuable for businesses as they are incredible data gathering tools, significantly reduces staffing needs, and reduces barriers.
---
Marketing Automation is Booming!
Hopefully, these B2B marketing strategies and examples would help you inspire to refine your B2B marketing plan. Laden with marketing automation, B2B marketing is set to transform and benefit tremendously.
As far as marketing automation is concerned, it is booming and is poised to see the light in almost every other industry for its advantages and effectiveness. Those that have adopted marketing automation are reaping out benefits, and those that are still to do so should consider using marketing automation to compound their B2B marketing success.
Did you find some great B2B marketing strategies that relate to your style of working?