Do you think that it is time to upgrade content marketing by using Marketing automation?
Content Marketing is a marketing approach to employ strategy focused on creating and distributing relevant and high-value content to defined audience segments.
Quick Links
1. What Does The Future of Content Marketing Look Like?
2. Why Is Content Personalization Important?
3. How Content Personalization Helps to Drive Sales?
4. Technology across the Buyer Journey
5. Ways Marketing Automation Can Help With Content Personalization
On the horizon, Content Marketing is vital to keep up with the industry standards because it drives brand awareness, attracts prospects, and converts them into real customers. Content marketing is a fruitful investment for your business.
---
Still Not an User of Aritic PinPoint Automation?
---
When Marketing automation plays a role in content marketing, it becomes even more indispensable. Marketing automation can maximize your content marketing efforts as it is a perfect way to track or measure your critical metrics without worrying about time constraints.
In this article, you will get to know more about why marketing automation should be counted in to upgrade content marketing and how it helps drive your content marketing strategy in full swing to harness multi-fold success.
---
What Does The Future of Content Marketing Look Like?
In the days to come, organizations will continue to utilize their content marketing budgets on marketing automation and personalized campaigns to engage and delight more and more prospects.
Content Marketing results in amplified engagement as 70% of consumers feel closer to a company.
Notably, Technology and automation will continue playing a significant role in content marketing as marketers will tap into several tools that will keep them competitive to embrace the future of content marketing, picturing an even-more personalized canvas.
So, the future of digital marketing for you will depend on how you keep up to upgrade content marketing in your niche.
---
Why Is Content Personalization Important?
You pretty much enjoy an item that caters to your tastes, demand, and interests. It appeals to you because it is tailored to your needs and gives you a better experience.
That is what content personalization is about- personalizing a customer's overall experience and engaging them at the individual level. Why do marketers need to bother about this?
Your prospects consume multiple pieces of information, at different stages of their buying journeys, in different formats through various channels and for various reasons altogether. Personalization ticks all the right boxes.
So, It is evident that if marketers employ content personalization and upgrade content marketing to the core, they will be able to feed more to the funnel, unlock more sales, and improve thought leadership while cultivating trust and reputation.
---
How Content Personalization Helps to Drive Sales?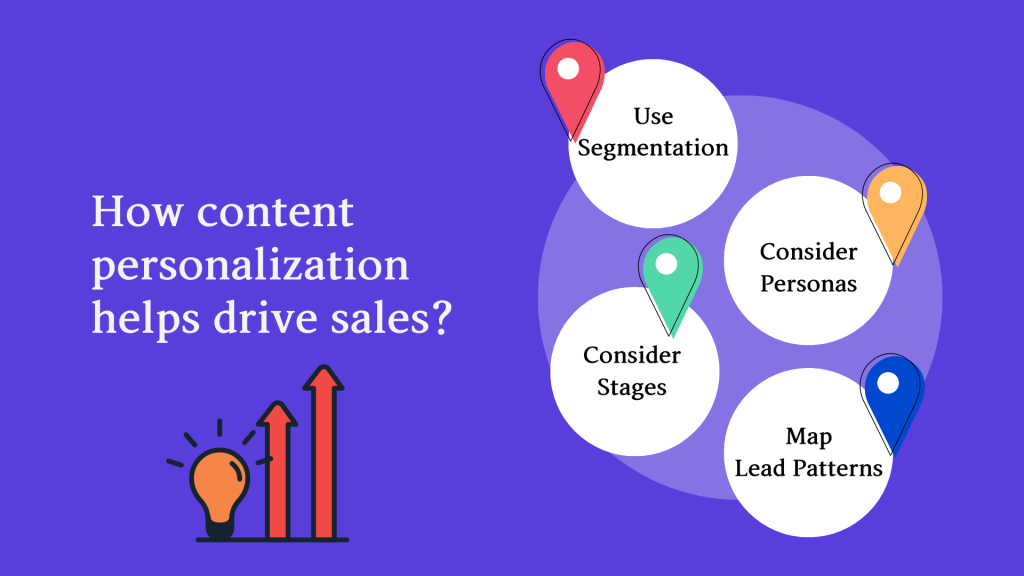 Every business is gradually realizing the importance of content personalization as it is unarguably the most considerable shift happening in the content marketing landscape.
According to Forrester, 89% of digital businesses are investing in personalization.
When you incorporate personalization into your content marketing strategy, it is easy to identify the needs of different audience segments and customize your content for visitors to convert them into leads.
It would help if you used marketing automation tools to optimize and integrate content personalization to refine your strategy and check what is working and what is not.
So, how can you upgrade content marketing using content personalization to maximize sales?
1 . Use Segmentation
Spend time and learn about your audience, prospects, and customers on various variables such as industry, department, geography, gender, age-range, and more. You can also segment them based on behaviors to understand their attitudes, preferences, past interactions, likes and dislikes, and more.
With such insights, you can anticipate customer needs and deliver relevant and personalized content that drives conversions.
2 . Consider Personas
Many brands rely on persona-based personalization to enhance the segmentation approach to generate relevant and high-value content.
---
Execute Effective Marketing Automation Workflows Now
---
A persona-based personalization involves segmenting content creation and distribution by the characteristics of each persona and data metrics such as who your buyer is, what problems they have, what motivates them. You can then refine each persona to optimize your content personalization efforts.
3. Consider Stages
Consider the stages at which customers are across their buying journey. Map them according to stages to evolve content that's relevant to them throughout their journey.
Mapping will help you align your content to each stage for your customers as necessary. You will surprise them by delivering personalized content related to their phase and ultimately helping them progress further in their journey.
4. Map Lead Patterns
Visitors are different from your leads. A visitor may have just visited your website and may or may not be looking for a solution, while a lead may be looking for a specific solution, may have signed up for a demo, opt-in as an email subscriber, or tried your product.
Personalize your content well in synchronization with the specific problem of your Lead. Map your Lead's patterns on how they are engaging with your brand.
---
Technology across the Buyer Journey
Content works best when created, keeping unique buyer journeys as a vital element. As mentioned earlier, technology and marketing automation plays a significant role in assisting you and brings wonders to upgrade content marketing.
Let us now look at how marketing automation can help you across a buyer journey.
1 . Top-of-Funnel Platforms: Analytics Suites
For all data, marketing, and product departments, Analytics Suites is a must-have analysis solution to charge the top of the funnel. You can utilize content marketing platforms and analytics suites like Google Analytics.
Analytics suites are required to give marketers in-depth information on overall site performance and audience paths through metrics like:
Web Traffic Data such as Pageviews, unique visitors, unique Pageviews
Engagement Metrics like Engagement rate, average engaged time, new vs. returning visitors
Content Performance Metrics such as Pages, topics, authors, content formats
Traffic Source & Geo-distribution Data such as location, age, search visitors, referral visitors
Behavioral Conversion Data like subscriptions, high-value page visits, bounce rate vs. exit rate
These valuable metrics reveal a detailed map about where visitors come from, what they do, and why they do it. However, these metrics open a channel of other metrics to measure for the middle of your funnel. Take steps to analyze these as you continue to upgrade content marketing. For that, marketing automation platforms will assist tremendously in widening your efforts.
2. Middle-of-Funnel Platforms: Marketing Automation
The middle of the funnel is where you already have leads who are aware of your product. It would help if you worked to help them move further down the funnel by sustaining their interest.
You are utilizing lead magnets through a popup for a newsletter subscription, gated content, or a contact form. Still, where your leads finally move often depends on leveraging a marketing automation platform.
Although leads eventually transform into contacts in the CRM at the last stage of the funnel, marketing automation platforms will help you efficiently aggregate all those leads and finally help qualify leads.
Marketing platforms are a mighty helping hand for marketers to gather all data surrounding nurturing leads, working leads, and unqualified leads, plus all campaign information. These platforms enable you to upgrade content marketing significantly.
The middle of the funnel metrics includes:
Lead-to-opportunity conversion rate
Leads in nurture campaigns
User retention
Email engagement metrics (open rate and clicks)
3. Bottom-of-Funnel Metrics: CRM Platforms
The bottom of the funnel stage includes only those leads that already know who you are, engage with your content, and show buying intent. Content marketing plays a crucial role here. It helps convince these leads to purchase.
At this stage, creating personalized content will provide an upthrust to reinforce their buying decisions, while metrics will give a viewpoint of when and for whom to create personalized content.
Measuring this part of the funnel provides useful metrics about customers and prospects such as their actions, signals of impending purchase, and the value they hold as opportunities.
Marketing automation platforms transfer the majority of useful data to CRMs. However, final reports get generated through marketing automation platforms.
The bottom of the funnel metrics includes:
Demo requests
Lead quality/score
Conversion rates
Free trials
ROI
---
Ways Marketing Automation Can Help With Content Personalization
Did you know that three-quarters of all companies use marketing automation?
Undeniably, marketing automation adoption is rising. Here are a few ways how marketing automation can help in content personalization and upgrade content marketing strategies.
1 . Creation
Marketing Automation helps you to leverage data to create better content experiences for your audiences. Insights and data help you segment your audiences into core groups.
You can then use these core groups to create content around relevant topics, generate personalized recommendations, and build a well-informed content marketing strategy.
Besides, You can fine-tune your content for each core group within your target audience and enjoy a competitive advantage.
2. Curation
Curated content is an effective method to stay on top of your audience's minds by providing them extra value while putting forward your industry experience as well as thought leadership. Although curated content's primary purpose is to make the content marketing process more comfortable, it takes a whole bunch of your time investment.
Fortunately, Using the curating features of content marketing automation platforms, the curation process becomes more manageable. Such platforms allow you to set specifications within the tool and search for suitable pieces to curate. Besides, curation gives you the edge to develop immersive content, thereby allowing you to upgrade content marketing efforts.
3. Engage and Stay Top-of-Mind Across Channels
Staying on top of the minds means having more comprehensive brand visibility and ranking higher in your audiences' minds. Psychologically, it means what brand, service, or products comes first in your audience's mind in a particular category.
Is it you? Maybe, to make sure you need to stand out and continuously drive engagement from your audiences or prospects. You can leverage email marketing automation platforms and social media to stay on top of minds across channels.
Build your email lists, send relevant newsletters, special offers, share industry news, retarget or remarket, follow up, and refresh your offers.
4 . Deliver Relevant, Personalized Content to Every Buyer
Delivering relevant and personalized content refers to providing unique experiences for your audiences by keeping track of their activities on your website to shorten their buying journey. Provide exact solutions, create one-to-one experiences, and speak more directly to them.
Leverage on data, insights, and profiling by utilizing the Marketing automation tools to deliver the right message to your audience. It helps keep your target prospects engaged with your brand and effectively increase your conversion rate and upgrade content marketing.
5 . Distribution and Analysis
There are several content distribution channels, including email, social media, blogs, ads, etc. Across all of these channels, you need to implement content personalization. Besides, you need to keep a check of your strategy to do something feasible for your business. So, actively track and monitor all these activities, analyze and refine your approach.
Utilize Email marketing as it is the most crucial channel for content distribution with traditionally high ROI. Invest time in crafting custom-tailored emails for your audience, execute audience segmentation, identify different types of audiences, collect deep insights such as demographics, interests, and pain points.
Continue your efforts to upgrade content marketing and focus on delivering highly relevant content to boost your brand engagement and conversion rates.
6. Lead Nurturing
Lead nurturing is an integral component of inbound marketing. It refers to the series of efforts that a marketer exercises to successfully convert a lead into a buyer and then into an advocator or promoter.
Parry, if you think of it as forced marketing. Instead, lead nurturing involves delivering relevant content to leads. Lead nurturing is aimed at relationship building processes. It helps brands create personal relationships with prospects by addressing their demands, complaints, goals, and needs.
When Lead nurturing works in tandem with marketing automation, it saves time and produces tremendous results.
Ultimately, following the rule of optimized, personalized, and targeted communication is one of the most critical aspects of a successful content marketing strategy. And Marketing automation truly helps you make your strategy intuitive and compelling.
7 . Lead Scoring/Qualifying
Not all leads are at the same level, and it is impractical to think like that. It would be best to employ scoring leads based on engagement patterns and data that indicate new leads, hot leads, cold leads, Marketing Qualified Leads (MQL), Sales Accepted Leads, and Sales Qualified Leads (SQL).
Using a marketing automation platform and integrating Bi-directional CRM will allow you to score your leads effectively based on engagement metrics and monitor score-based event triggers. Ramp up your content marketing efforts and plan lead nurturing sequences based on lead scores to qualify leads.
---
Over to you
Marketing automation assists businesses to scale and become successful. For marketers, it is synonymous with superstructure to upgrade content marketing efforts.
What do you think about how marketing automation is tapping across different niches, and How is it driving force to upgrade content marketing?
⭐ What is B2B content marketing?
Business-to-business content marketing is a set of strategies designed to create relevant content to promote products or services to target audiences.
⭐ How important content marketing is important for B2B?
Content marketing is a type of marketing strategy that uses relevant and valuable content to attract and retain customers, as well as drive word-of-mouth. Content marketing is used primarily by B2B companies because it focuses on helping potential customers solve problems they have. It's not about pushing your product or brand, but rather giving information that will help your target market make better decisions.
⭐ How does B2B content marketing drive revenue for a business?
B2B content marketing is an important part of the B2B funnel. It helps educate prospective customers and leads, providing them with information that they need to help make a purchase decision. But it also serves a vital role in generating revenue for businesses looking to expand into new markets or penetrate existing ones.
⭐ What is Content Funnel Optimization?
With the ever-changing landscape of content marketing, many brands are struggling to keep up. Content funnel optimization is a relatively new concept in the world of content marketing. It is the process of using data and metrics to optimize your content for maximum conversion.
⭐ Why do you need a content strategy?
A content strategy is an organized, intentional, and collaborative effort to create quality content that meets the needs of your audience. Whether you're a small business or a large corporation, having a content strategy in place is critical to your success.
⭐ What's the difference between a persona and a market segment?
A persona depicts a typical user, while a market segment is a specific group of users. 
⭐ How often should personas be updated?
Personas are living documentation. Therefore, they should be updated according to the needs of your organization or the change in client/customer.
⭐ Are buyer personas dead?
Just because the world is moving to buyer-centric marketing doesn't mean we should abandon our buyer personas. In fact, it's more important than ever that you have a strong understanding of your buyer personas and their needs.