Ensuring you have a solid marketing strategy that governs your marketing automation growth means that the marketing automation tool you employ will actually get used and not just be a liability on your bottom line.
Jump Directly to
2. Identify Need for Automation
5. Identify Lead's Buying Stage before Nurturing
7. Remove Leads from Workflows
9. Improve Campaigns Over Time
---
Still Not an User of Aritic PinPoint Automation?
---
10. Routinely Analyze Your Needs
11. Personalized content will reign supreme
12. Machine Learning + AI-assisted platforms
13. Chatbots will continue making waves
14. Automated Social Media Marketing
Automation is the definitive productivity booster — you can reduce risk by minimizing human error, speed up operations, and make the data-driven decision that involves understanding your options and how the technology can help you reach those goals.
Below is the checklist you can use for understanding key considerations to begin automating your marketing campaigns so that you can work in a smarter way — not a harder way.
---
15 Steps to Automate Your Campaign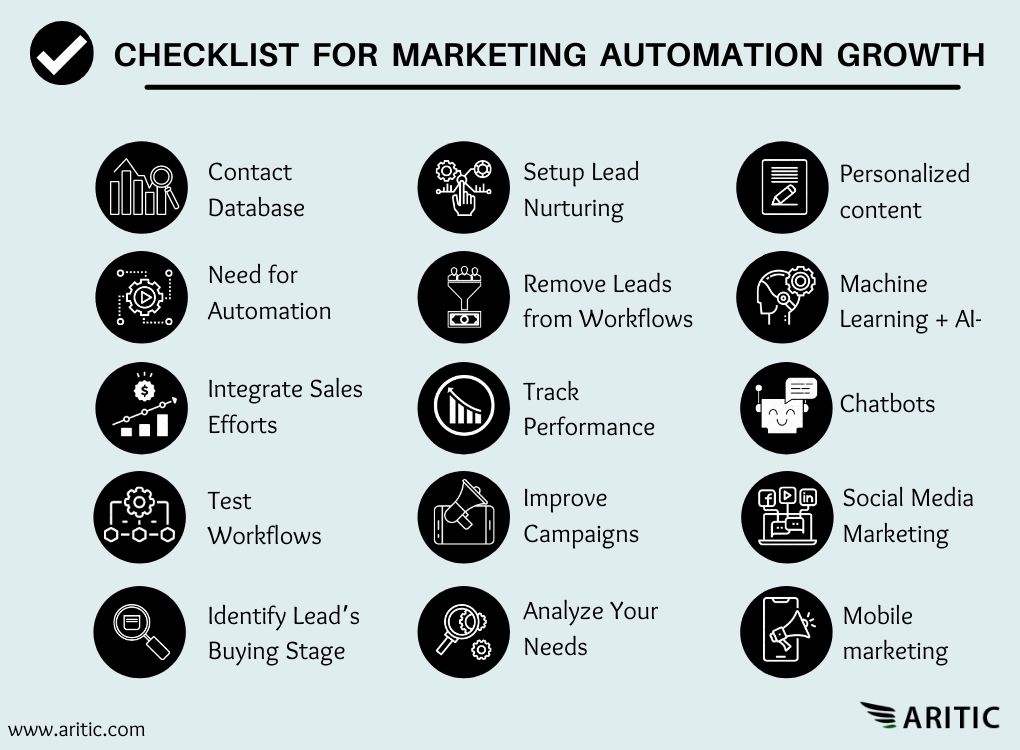 Let's take a look at 15 determining steps that you should use to automate your marketing campaigns and help you achieve marketing automation growth.
1 . Know Your Contact Database
Contact Database is your turnkey asset that impacts your business growth as these include your prospects, customers, and suspects.
It is super important to know your contacts well and effectively manage the contact database to understand the basic pointers in your mind like who your contacts are, their interests, campaign engagements, lead source, qualification scores, life cycle stage, and sales conversation.
It will actually help in keeping your interactions more productive and better poised to close deals.
---
2. Identify Need for Automation
Marketing automation tools help you carry out an enduring mix of inbound and outbound strategies and the ability to score leads spontaneously. It means that marketers can easily understand which leads are qualified and ready for conversion and which ones still need extended time to figure out and understand the challenges you can help them solve. But it all comes down to starting with the analysis of the processes that need automation in the first place.
Interesting Read : Guerrilla Marketing Secrets- 5 Tactics That Worked For B2B
Undoubtedly, organizations need to assess and identify which of their internal business processes and workflows need to be automated and, above all, can be automated in an absolute sense. Identifying needs to automate helps organizations cut down operational costs while doubling efficiency and, thereby, pace up their marketing automation growth.
However, automation gone wrong can have adverse effects meaning resources are spent in vain, eventually putting them behind the lines of competitive advantages compared to their competitors who employ automation effectively.
---
3. Integrate Sales Efforts
It is vital to ensure that your marketing automation software and CRM platform are tied together extensively. Ensuring cross-functional alignment will let you sync contacts and leads back and forth between the two platforms. Think of it as a mediator that governs how various software components interact with each other.
Remember that the marketing automation platform is for both sales and marketing teams, as all tracking activities, insights, and data must be in proper sync with both departments. It, in turn, helps in keeping your marketing automation growth and generates efficacy.
---
Execute Effective Marketing Automation Workflows Now
---
When it comes to strategizing workflows or creating relevant and personalized experiences for leads, both your sales and marketing teams should collaborate end-to-end and be aligned with implementing your strategy.
---
4. Test Your Workflows
Marketing automation involves numerous complex workflows. Workflows enable you to set specific triggers based upon the engagement and behavior patterns of your prospects. When it comes to testing your marketing automation workflows, it is a clear necessity to ensure that they're working in calibration- going out at the right time intervals and to the right contacts.
For example, To properly test the emails in your workflow, you need to create a contact record or 'dummy lead' that can be tested through each stage of the campaign to determine your workflow effectiveness.
---
5. Identify Lead's Buying Stage before Nurturing
Before directing your attention towards lead nurturing efforts, first, you need to discover at which stage each lead is in their buying journey. It would be best if you did that because once you've figured out the stage of each lead, then you can follow a step-by-step system that involves creating relevant and high-value content with conjugation to each lead's journey stage.
It will enable you to nurture leads effectively and acquire as many leads as possible through a step-by-step content flow.
80% of marketers report a significant increase in leads due to marketing automation.
---
6. Setup Lead Nurturing
On average, automated lead nurturing converts 15-20% of potential buyers that weren't ready to purchase in the first place.
Be ready for a bitter truth- not all of your leads will turn into sales-ready leads.
Therefore, setting up lead nurturing campaigns will enable you to develop flexible, adaptive communications at scale. These campaigns will determine how you cater your leads with relevant content intended to educate them and ultimately moves them further down the sales funnel to turn them into sales-accepted leads. Your robust strategy for your lead nurturing campaigns will determine profitable marketing automation growth.
Interesting Read: 10 Emerging Social Media Platforms Which Are Great for Marketing
As per Forrester Research, companies that excel at lead nurturing generate 50% more sales-ready leads at 33% lower cost per lead.
---
7. Remove Leads from Workflows
Once a lead interacts, performs a specific action, and is compatible with set triggers within your workflows, you should create a setting that removes them from that particular workflow while enrolling them in another workflow based on their interactions and actions.
Why, may you ask? For the simple reason, you want to avoid any lapse, which can usher in delaying any progress you've made and obstruct leads from moving further down the sales funnel.
---
8. Track Performance
Tracking your marketing automation campaigns' performance is crucial, as it will provide you deep insight into the results of your efforts- what is working or what is not working.
Keep an eye on lead conversion rates, make data-driven decisions, and be in touch with your sales team to identify problems, if any, within the end-to-end process. Tracking performance will enable you and your team to pinpoint where you need to make necessary adjustments and focus your strategy on the best short-term and long-term goals.
58% of industry leaders using marketing automation say that conversion rate and revenue generated are the most useful metrics to measure.
---
9. Improve Campaigns Over Time
In reality, it is necessary to improve your marketing automation strategies to ensure profitable marketing automation growth. As your business grows and evolves, you'll want to make adjustments in the content you're employing in nurturing your leads, as it can become outdated and therefore may not yield desired results.
So, it is important to mold your ways while continuing to develop more relevant and high-value content. It will tremendously help you keep it updated and fresh, thereby ensure that you keep your leads engaged with your brand.
---
10. Routinely Analyze Your Needs
Not all fingers of your hand are created equal; similarly, as far as marketing automation tools are concerned, not every marketing automation tool will be perfect for your company.
It is super important to identify your specific needs when you first implement marketing automation and slowly analyze those tools that will help your campaign. Also, make sure to routinely analyze your needs because as your business evolves, you may need to update or remove certain content or automation tools.
---
11. Personalized content will reign supreme
Personalized content is set to rise in terms of adoption across various business segments because it connects emotionally with the prospects, customers, and suspects.
You need to move beyond your prospects' segmentation and adopt the hyper-personalized content strategy to drive predictive recommendations and cater relevant content to address the exact needs, challenges, and expectations of your prospects, customers, and suspects.
Interesting Read: 11 Ways for Marketing Campaigns to Promote Virtual Event?
Employ a fine-tuning strategy for retention and cross-selling opportunities; for this, there must be effective alignment between marketing and sales teams.
---
12. Machine Learning + AI-assisted platforms
AI-assisted platforms and ever-evolving machine learning dynamism is revolutionizing the marketing environment. AI-assisted platforms enable marketers to understand the sales cycle better, correlate theories, and scale strategies besides delivering personalized and high-touch experiences for customers.
Machine learning, Big data, and AI firmly assist marketers in analytics, forecasting, and various optimization tasks. Future beholds significant changes as far as AI applications in marketing are concerned, thereby setting a promising landscape for better marketing automation growth.
---
13. Chatbots will continue making waves
Employing Chatbots in your marketing automation strategy can help you extensively ripen your campaigns' effectiveness, thereby ensuring profitable marketing automation growth. ChatBots can juggle between many roles as they are great at providing customer service, interpreting customer queries, solving problems quickly, completing customer orders, and generating leads.
These are extensive, flexible, and intelligent and provide a more lifelike experience to users. As chatbot capabilities have grown, they prove to be increasingly effective for deep integration into hyper-personalized marketing efforts to scale marketing automation growth.
Chatbots are valuable for businesses as it drives brand-used engagement, is an incredible data gathering tool, significantly reduces staffing needs, and reduces barriers.
---
14. Automated Social Media Marketing
Every day, 1.3 million new users joined social media in 2020, and as of Q1 of 2020, almost 420 billion people are active on social media.
In 2019, SocialMediaToday found in its report that 83% of marketers considered social media post scheduling to be apt for automation, making social media the most popular realm to integrate with automation strategy.
According to Entrepreneur Magazine, you can fetch an increased reply rate by almost 250% when you automate your social media marketing strategy.
Automated social media marketing lays a strong base for rapid marketing automation growth. Automating social media marketing processes can help you turn your time spent on social media more productive and focus on other business areas.
---
15. Mobile marketing approach
According to the Statista Research Department, the number of mobile users worldwide surpassed 3 billion as of 2020 and is forecast to grow by several hundred million in the next few years.
It is important to note that as of January 2021, around 4.23 billion people worldwide accessed the internet via mobile devices.
Mobile use is booming. Thus, it drives curiosity over immense possibilities of mobile marketing automation (MMA), especially when it comes down to delivering personalized messages to customers and prospects.
MMA systems let you schedule push notifications, SMS messages, in-app messages, and even your emails while enabling you to gather more details about your leads and customers, such as their locations, browsing habits, behavioral data, and type of device being used.
Therefore, adopting mobile marketing automation can spearhead your efforts, gain momentum in omnichannel marketing, and scale up your marketing automation growth.
---
Want To Try?
Aritic PinPoint is a power-packed marketing automation platform for marketing operations teams or SMEs. It helps you build relationships with leads, automate marketing campaigns, and convert leads to paying customers easily.
The extended list of features that Aritic PinPoint offers includes landing page builder, lead scoring, lead tracking, lead nurturing, email campaign management, email campaign automation, marketing campaign builder, a/b testing, website tracking features with marketing file, and library management.
PinPoint integrates with Salesforce, SugarCRM, Zoho CRM, and Social platforms like Facebook, Twitter, Linked In, Google Plus, Foursquare, Instagram.