According to Gartner's annual report on CMO Spend Survey 2021-2022, CMOs have allocated 11% of the marketing budget to marketing analytics indicating marketing analytics will apparently have the largest spend in the coming days. This is a pointer that heavy marketing budget in previous years has come to put heavy expectations as well, a few of which are still pending; as pointed out by Ewan McIntyre, research director, Gartner for Marketers.
The same Gartner report has also revealed that overall marketing budgets have fallen to 6.4% of the total turnover of the company in 2021, compared to 11% in 2020. It further says that this slip in building a marketing budget is owing to marketers over-investing in areas that fail to give measurable results on top of Covid-19 pandemic lasting effects. The only solution is to understand the need of the hour.
If you are developing a marketing budget as a percentage of turnover, that your CFO will approve instantly, you will need to sketch out a budget that revolves around your customer.
Let's face the facts. According to PwC's consumer intelligence series:
Great customer experiences can stir up to 16% price premium on services and products.
Along with this comes:
Enhanced loyalty
Urge to try out new products
More transparency with personal data
65% consumers agreed that positive customer experience plays a more influential role than advertising or plain marketing.
Click To Tweet
Yet, in a room full of marketers who've promised to handle customer relationships, try asking about their budget for customer experience. You will get the blankest looks that might get awkward or creepy after some time! Companies do have a marketing budget based on revenue. But companies are forced to ponder upon their marketing investments.
The shift from money to customer experience has already happened. Is your new marketing budget aligned to this change? Do the evaluation while reading the do's and dont's of creating and calculating a marketing budget that your CFO will not decline.
Where should you spend your marketing budget in 2023?
Digital marketing ad spending is slated to increase to $700 billion, according to Forbes. If you are wondering where your marketing budget will have the largest spend after marketing analytics, then it has to be social ads (according to Hanapin Marketing survey).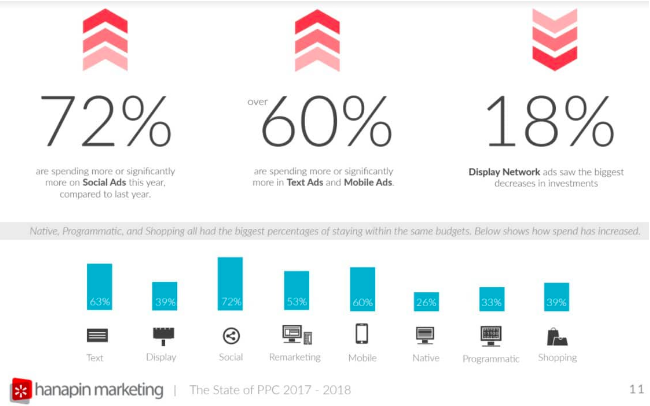 Source: Hanapin Marketing
Talking about social ads, Hanapin Marketing survey analyzed how marketers will change their budget in the next 12 months across all social media platforms. The survey revealed that Google AdWords, Facebook, and Mobile marketing will take the lead.

Source: Hanapin Marketing
By now, you are already prepped up to start creating an effective marketing budget. But pause for a few more seconds.
---
Still Not an User of Aritic PinPoint Automation?
---
While deciding your components of a marketing budget, ignoring the impact of traditional media may not be a great idea always. Although this clearly depends on your business proposition and marketing positioning, let's take a general look at the current scenario.
According to Nielsen Insights,
Old fashioned radio (AM/FM) still reach 93% millennials in each week and 88% of Generation Z. Infact, the amount of time spent listening to radio goes up with millennials.
Putting all this information together, you can design a marketing budget that is fit for your brand, positively impacts your team members, and gets a green signal from your CFO.
Best practices to write an effective marketing budget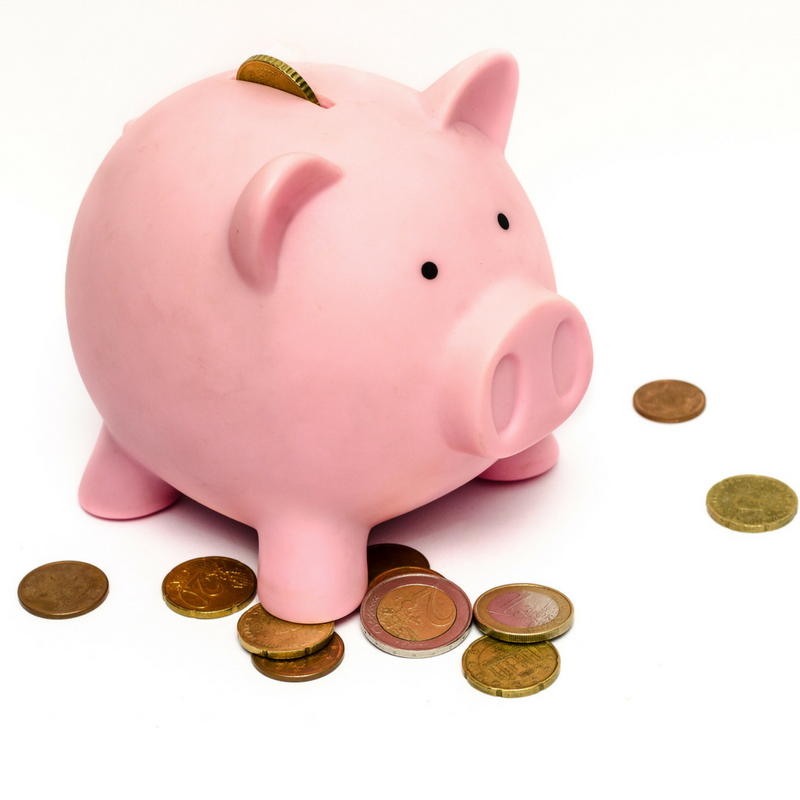 Practice #1: Learn about the goals of the organization first
There are marketing leaders that develop their marketing budget without any proper knowledge of the purposes of a business or division. This makes the plan backfire. You should know the revenue targets for the following year. Also learn about the net-new sales, margins, customer retention, and other metrics that are crucial for the business. Every marketing strategy builds towards something. This means that you cannot start creating a plan without knowing what it is. Identifying the objectives of an organization aligns everything with what the CFO wants.
Practice #2: Have a chat with the sales team first and get them on your side
This is a strategy that will build your support system for the plan. Before going to the CFO, let the sales counterpart know what you have. Explain the marketing strategy to them. Show them how the plan will benefit them and help them hit their target in the coming year. If you get them on your side, you can jointly go to the CFO to present your plan. With the sales team backing you up and supporting the benefits the idea has for attaining their target, you will have an advantage.
Practice #3: Eliminate the line items that were unsuccessful in the previous year
Do not keep everything from the earlier year of your plan. Be strategic and wise. Some things did not perform so well in that year even if the year was a success. Eliminate these items. Anything that you will eliminate must have an explanation. Always remember this. By removing, you are improving the efficiency of this new budget. Explaining your move will help explain any additions you may have for the coming year's budget.
Practice #4: Organize the marketing budget as per the business objectives and not a business function
Many people organize the marketing budget in ways that do not appeal to the CFO, and they get no clarity from it. It may be easier to create a plan that revolves around the vital functions of the business or organization. Even so, the strategy will be more successful if it revolves around the business objectives. It will get better support from the CFO and other management members. This strategy may not be for everything. But sort a few initiatives by sales, retention of customers and so on.
Practice #5: Make an effort to project the results if it is possible
We all know that a marketing budget revolves around costs. People make an effort to show how the cost will help to drive the objectives of the business. It is of more value if you can have a precise projection of what the company stands to gain from the expenditure. It will be of great importance if you incorporate a mini ROI calculator within the budget. It will help to spot the negative impacts of cuts quickly.
Practice #6: Create future budgets that can accommodate unforeseen changes
There are market leaders that ask for all the marketing finances from the start. However, we are in an era where the market keeps changing very rapidly. This makes it hard to predict what you are likely to spend the second half of the following year.
To help with this, do not ask for the full budget. While planning, identify the items are keep changing with the market based on early success. Define this as success in the initial marketing objective or the overall performance of the business. Whichever option you choose, it will help to make the budget more flexible. It will show that you will not need more finances unless the performance justifies the need.
Practice #7: Make the staff bonuses to be dependent on sales performance
There is a lot of marketing staff with bonuses built into their budgets. Even so, they receive bonuses only if they complete the marketing objective regardless of the sales performance. For the new year, try and tie down the rewards on a broader scale, the performance of the company. For the demand generation team, tie their bonuses to the growth of sales opportunities or businesses they close. For the retention team, tie their bonuses to the reduction of churn or lifetime value growth.
For people to perceive you as a knowledgeable profit center marketer, set apart your operational dashboard and an executive dashboard. Keep the metrics for the operation to yourself and the marketing team. When communicating the value of the marketing to the CFO and other heads, center on the metrics they know. I am not talking about industry acronyms, email open and click rates, web traffic, social engagement, and so on.
Let your CFO dashboard focus on the marketing contribution it has to the sales pipeline. Focus on the overall cost of acquisition of lifetime value, the marketing effort's impact on sales opportunity increment, conversion rates, and more. When with your marketing team, you can focus on everything else that will make marketing better. But with everyone else, focus on metrics that have a direct line to revenue, margin, and metrics on the CFO dashboard.
This strategy is more than having efficient inter-office communication. It simplifies and aligns the perception of marketing, its evaluation, and prioritization by the organization. It transforms the culture that people associate marketing with and focuses on crucial metrics.
You can do this in the following ways. But start here:
Look at your CFO's dashboard. Look at their priorities, the terms she uses, and their primary concerns.

Closely align your metrics with those of the sales organization

While reporting on metrics, do not clutter the dashboard with activity-based and operational figures. They may distract people from your primary focus.
For those you are working with, ensure that they understand the difference between the CFO dashboard and the internal dashboard. Internal dashboards are relevant. However, they are a means to an end.
So, all set to get started with your marketing budget? Few final takeaways before I wrap up:
Create a customer-centric marketing budget
Try not to pick up from the previous year's budget to save money
Segment your ad spend smartly
Analyze the probable implications of your marketing budget when implemented practically
Let me know if your marketing budget got a green signal from your CFO after this. Also, share your insights if you've used some other research or pointers while creating your perfect marketing budget.