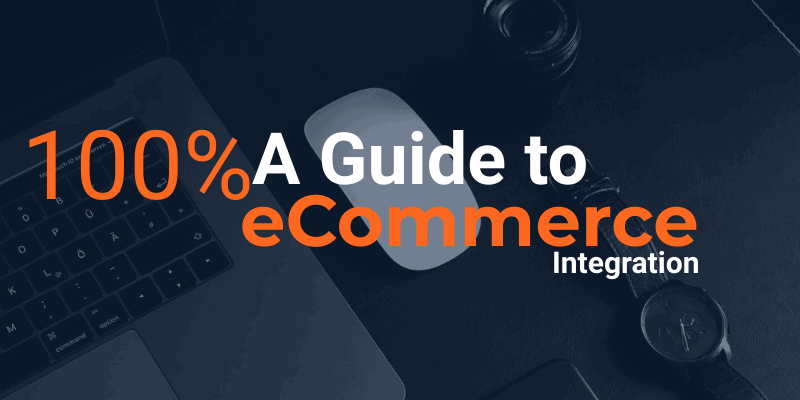 The internet has become a channel of choice for suppliers to reach their customers, especially those who are involved in business-to-consumer (B2C) or business-to-business (B2B) transactions. Therefore, it is very important for companies to make sure that their eCommerce integration is done right so they can achieve the maximum benefits and avoid any obstacles that could prevent them from reaching their goals.
But, what does it mean for your sales, conversions, and marketing? What are the benefits of eCommerce integration in 2023? We'll explore these topics and more in this blog post.
What is eCommerce Integration?
eCommerce integration is a process in which the existing eCommerce site's information is integrated with the essential back-end technologies such as CMS, ERP, inventory, CRM, and more. The eCommerce integration can be done in two ways: manually or automatically. Manual data entry is a time-consuming process, and it is prone to human error, which increases the risk of errors occurring in the data exchange. On the other hand, automated data entry ensures that in a fast and accurate manner.
The advantages of eCommerce integration include quick implementation and reduced labor costs. The disadvantages of integrating an eCommerce with a CMS are that it may affect SEO rankings, increase website load time, and introduce data discrepancies into search engine results page (SERPs).
Ecommerce Integration: How it Works?
Integrated eCommerce is more of a unified method that integrates the storefront, the marketplace, and the customer into one easy-to-use platform.
It has many advantages over other types of eCommerce. For instance, integrated eCommerce is better for brands because they don't have to worry about their brand being sold on another website under different conditions. They also have more control over the customer experience because they are not splitting their attention between two or more websites.
In order for an integrated eCommerce site to work well for both the user and the business, they need to have all of these different categories in place. If any single area lacks functionality, it will affect the website's usability and how profitable it is for the business.
The most popular example of integrated eCommerce is Shopify. It is a solution for online retailers and can be easily set up and customized for any business.
5 Great Benefits Of Ecommerce Integration in 2023
For retailers, integrating with eCommerce is crucial. This way, they can offer their customers a seamless shopping experience with the ability to buy products online or on the spot. It also saves time for them – all they need to do is transfer customer information from their store to their website.
There are various advantages of eCommerce integration that would be true in 2022, including:
#1- Get the chance to grow your brand across new markets
When your business grows beyond a certain point, it is time to expand into new markets. This is the only way to ensure growth, customer loyalty, and brand awareness. Once you have reached that stage where you need to consider expanding your business, one of the best ways to go about doing this is through the eCommerce integration platform.
In a recent finding, it was found that most consumers who have purchased on an eCommerce site also purchased from other channels in which they shop.
It's not uncommon for a consumer to purchase from multiple channels because it is convenient to do so. If you are able to integrate your eCommerce brand with your mobile app, consumers will be able to easily navigate between each and make purchases anywhere at any time.
---
Still Not an User of Aritic PinPoint Automation?
---
#2- Get accurate data and inventory levels view
For e-commerce businesses, having data accuracy is key to staying competitive. For example, it's been proven that e-commerce sites with poor inventory management (out-of-sync inventory levels) are more likely to lose sales than those with a well-managed supply chain.
Both new and established eCommerce companies need to know how much inventory they have on hand at all times. As an eCommerce business owner, by having eCommerce Integration, you'll be able to see how much inventory count a particular product has sold, as well as its remaining quantity. This feature helps you eliminate any stock-outs or backorder issues in your shop.
#3- Get rid of manual order entry
Companies have realized the eCommerce integration benefits. And, they are moving away from manual order entry to more efficient systems that can handle manual data entry automatically. Since there are no manual data entry steps, the cost of managing operations in terms of operational efficiency will be much lower when compared with other solutions.
This allows companies to focus on their core competencies while lessening their inventory and order processing burden.
#4- Provide automated notifications for customers
Some companies offer customer notifications to keep them informed about the status of their orders. These notifications get done manually or automatically. Customers need to sign up for manual notifications, while automatic notifications are pushed out to the customers when they sign up for the services by interest.
Sending personalized and timely notifications to customers is one of the most effective ways to maintain customer engagement. That's why eCommerce integration is a blessing in disguise for automated notifications.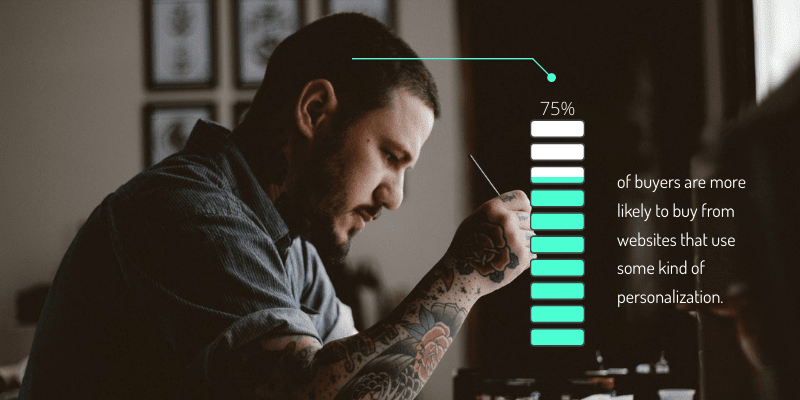 A whopping 75% of buyers are more likely to buy from websites that use some kind of personalization.
You can use an eCommerce integration platform for this purpose.
The eCommerce integration platform will enable you to send automated emails based on customer data or events that happen on your website. These automated emails are known as triggered emails that are sent automatically at scheduled times.
#5- Readily add more sales channels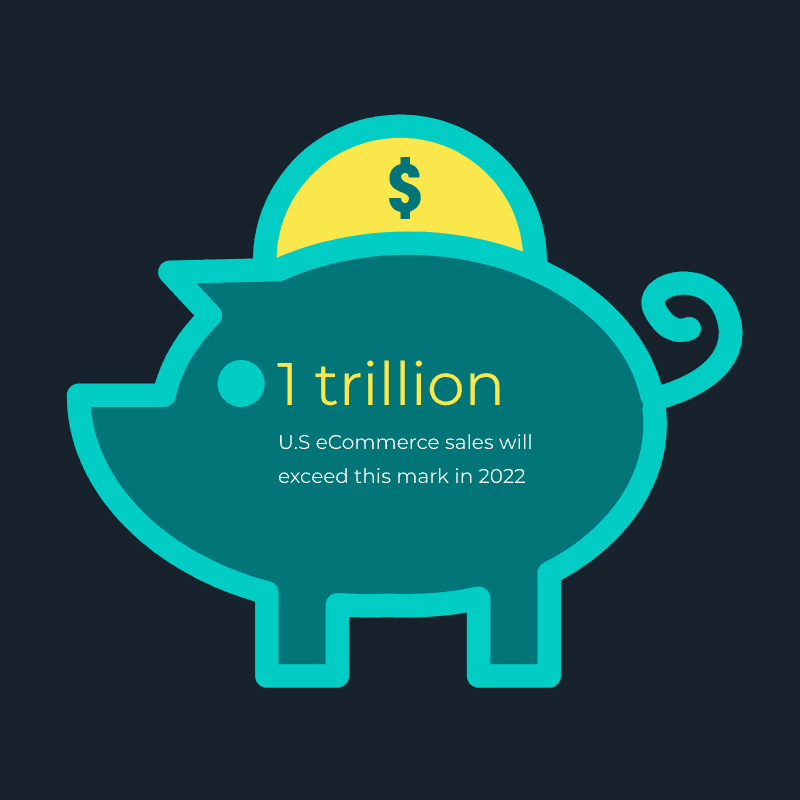 According to eMarketer, U.S eCommerce sales will exceed $1 trillion in 2022 and will account for over 20 percent of total retail sales by 2024.
When you're starting out, your biggest challenge is getting more sales. But, unfortunately, growth can be hard to come by without reliable online sales channels. That's where eCommerce integration comes in.
You'll want to make sure you have the right interface and integrations to help you scale. As your store grows, it's essential to keep up with demand and provide a seamless customer experience.
According to Shopi­fy, more than 73% of shoppers use various channels during their purchasing experience.
The eCommerce Integration allows you to eliminate all the complexity of adding a new sales channel. It allows you to create a unique 'channel' for each online store and add it to your existing eCommerce platform with just a few clicks.
4 Checkpoints to Identify an Integration Project for Your eCommerce Brand
Before you decide to go ahead with the integration projects for your eCommerce brand, you need to make sure that you have a plan in place. An incomplete plan can lead to complications and failures in the future.
"Good planning of requirements enables better execution of a planned digitization project. Therefore, even before the project begins, basic requirements for the new system should be evaluated with everyone from all business units involved.

Simon Neininger, E-commerce project manager, D-I-S commerce
Identify the manual processes
There are several unnecessary or tedious manual business processes that you can determine before going for an eCommerce integration project. You should be clear about your project's scope before proceeding further.
Use closed-loop attribution
The eCommerce companies that use data analytics to inform their marketing and sales systems effort know that data points might be missing or inaccurate. It's an issue leading to inconsistent marketing campaigns, missed opportunities, and lower revenues.
You can solve this problem by working with eCommerce integration. So, consider closed-loop attribution to be on your deck as it would let you integrate your eCommerce site with its analytics tools so they improve data accuracy.
Dive into consumer data insights
Instead of just focusing on optimizing and automating reporting in business processes, think about how to use consumer data insights for competitive advantage.
Keep everything intact right from synthesizing better customer experience, cross-sells, and up-sells for successful eCommerce integration goals.
Focus on reducing friction
With so many separate platforms and systems connected to each other, there's a lot of room for error. To reduce the number of actions or systems, you need to see what's going on behind the scenes at all times. This would let you make changes quickly to keep the business processes seamless.
5 Vital eCommerce integrations to maintain a flourishing business
This section will let you know the different integrations you need to have to maintain a flourishing eCommerce business.
Some of the critical integrations that you should have for your business are Single sign-on, Payment processing, CRM/ERP integration, Hosting of data files, or Seamless user experience. These integrations will help your business grow and keep it on the right track.
(I) Single sign-on – Single sign-on is a technology that allows companies to provide all their services through one account to the customer. It offers convenient access to all of their products and services without creating separate accounts for each. Single sign-on eliminates the need to remember multiple passwords, making it easy for customers to log in from multiple devices.
The eCommerce integration solution helps make it easier for customers who are used to shopping on your websites or applications but have an aversion to creating another account just for your business.
(II) Payment processing – You'd agree that payment processing is a critical part of the eCommerce integration because it allows consumers to purchase products. It's what keeps your business running smoothly, with customers getting what they pay for, and you get paid.
The integration needs to be up and running in terms of payment gateways before a customer can buy a product. In addition, it should be easy to use, have low fees, and have high availability.
(III) CRM/ERP integration – CRM/ERP eCommerce integration is crucial for all retailers. Selling products online without integration to the two systems such as CRM system or back end ERP system may prove to be futile.
A significant number of retailers around the globe have streamlined their operations with CRM integration or ERP system integration and can attest to the positive impact that this has on their business.
---
Execute Effective Marketing Automation Workflows Now
---
(IV) Hosting of data files – A Content Delivery Network (CDN) can be used as an eCommerce integration solution for hosting data files and other types of file downloads. In this case, CDNs help small businesses save money by integrating their own web server with those belonging to other networks – such as Amazon Web Services – and using them all together as one extensive server network.
In addition, because these networks distribute traffic evenly across all available servers at all times, they also lessen a company's tax nexus while strengthening the economic vitality.
(V) Seamless user experience – The user experience is an essential aspect of website design and online shopping. For making the experience seamless, there are a few key things that can be done using eCommerce integration.
It lets you use customer-specific data passed to pre-filled carts, and customers can place an order without having to input any information about themselves at checkout.
Besides that, it assists in using a custom domain that will make it easier for you to maintain your site and ensure that it stays updated with the latest information for complete control.
Wrapping Up
We hope you enjoyed learning about some of the checkpoints and benefits of eCommerce integration. However, it's important to know all vital eCommerce integrations you may need for business growth before attempting eCommerce integrations for your online business.
Schedule a free demo to learn more about how our team of experts can help you get started today.