"Omnichannel marketing is a strategy which lets you leverage customer data to deliver an immersive, seamless customer experience, regardless of the channel they use or stage they are present in their customer journey."
Jump Directly to
1 . Omnichannel marketing strategy: Why does every business need one?
2. 5 KPIs you should always measure for your omnichannel marketing strategy
Although this strategy attributes a complex path to follow, it still allows marketers to calibrate their strategy with customer-centricity.
Moreover, it's all about holistic thinking in terms of the customer experiences, interactions, and relevant messaging to the customers; linking and using customer data.
---
Omnichannel Marketing Success Strategy: Why does every business need one?
Businesses using omnichannel marketing strategies have a whopping 91% higher year-over-year customer retention rates in contrast to those not using omnichannel strategies.
Moreover, customers utilizing omnichannel capabilities have about 30% higher customer lifetime value than those who buy using just one channel, meaning a clear chance to boost customer loyalty.
Omnichannel marketing guarantees that every customer touchpoint, regardless of the channel they utilize, leads them in the same direction in a smoother way. The goal is that customers will get a valuable and tailored experience, regardless of how they connect with your business.
It lets you offer consistent user experiences across every marketing channel across various screen sizes with out-and-out multichannel campaign features. Therefore, you can create unified lead profiling, nurturing sequences, and conversion tracks through omnichannel marketing.
---
Still Not an User of Aritic PinPoint Automation?
---
Interesting Read : Why are Snackable Videos Actually Good for Your Video Marketing?
It would be best to prepare your company for a digital shift rising in the world— in which there are no obvious distinctions between the "real" and "virtual" worlds. The two will continue to blend and complement one another.
To make it easier for your customers to reach you on their terms, you must build an omnichannel marketing strategy.
---
5 KPIs you should always measure for your omnichannel marketing strategy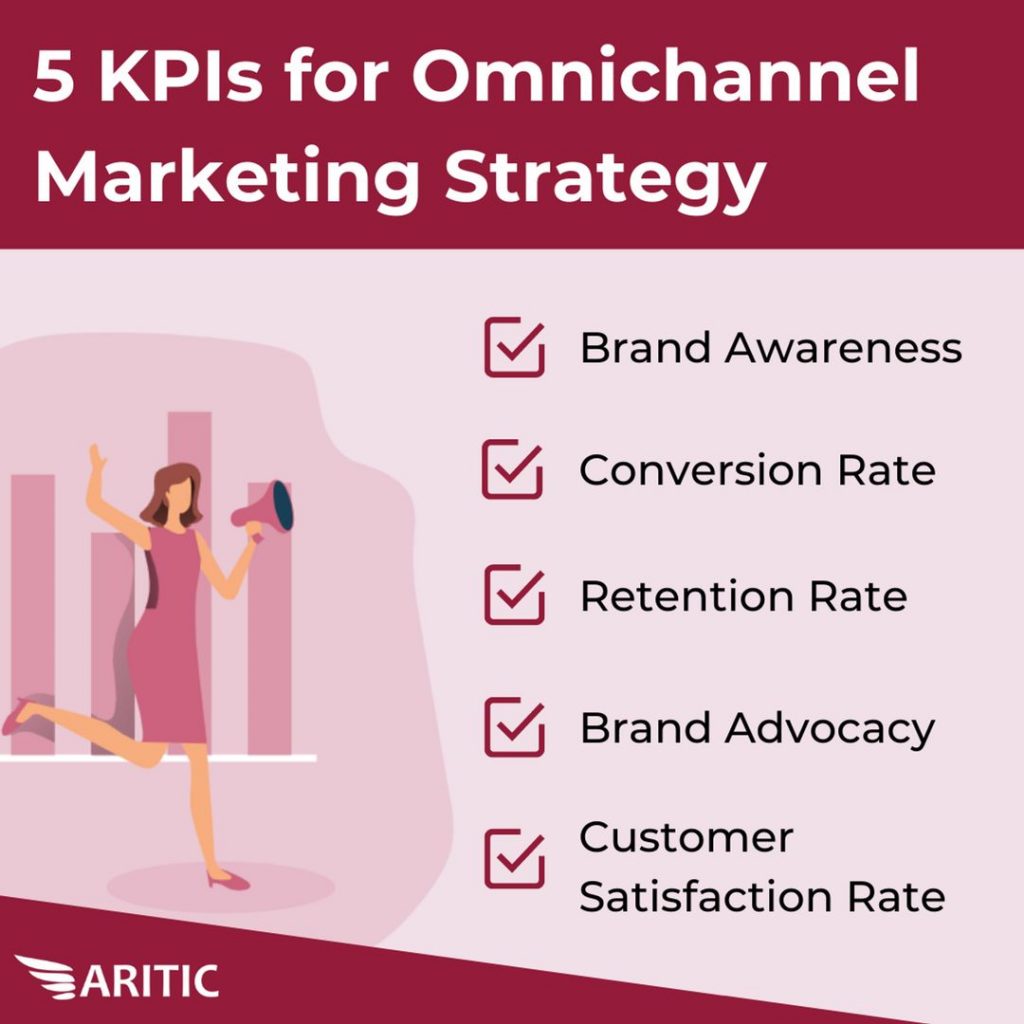 1 . Brand Awareness
Omnichannel marketing is about being present where your customers are so that it can help you keep developing your brand awareness. Indicators such as patterns in direct website traffic or the number of social followers suggest that people get aware of your brand and search for solutions you provide.
Here are a few metrics for omnichannel marketing that you can measure to discover the success of brand awareness efforts:
a . Cost Per Impression (CPM): Focus on tracking the CPM of your ads across a variety of channels such as Google ads, Instagram ads, Linkedin ads, Facebook ads, and YouTube ads to see how often your advertisements have been displayed to your audience. It helps you to determine your brand's exposure.
b. Social media engagement metrics: Social media signals such as likes, shares, and comments are important metrics for omnichannel marketing. It indicates your customers' interest and engagement level towards your brand.
c. Website traffic: Website traffic patterns are vital metrics for omnichannel marketing that show whether your brand awareness efforts were successful. To measure your campaign success, check how many people visit the website, the bounce rate, and the activity duration of unique visitors on your website.
2 . Conversion Rate
The rate of transformation of your visitors into paying customers is the most accurate and evident metrics for omnichannel marketing.
With an omnichannel business strategy, it is no different, except you want to analyze the conversion rate across various channels to fully understand the behavioral patterns of each buyer and what is involved in their buying decisions.
3. Retention Rate
Retention is determined by discovering the number of existing customers who return within a particular timeframe to make another purchase from you. The number of customers you manage to retain in a certain period indicates how successful you are in maintaining the retention of customers and, in turn, how good your entire omnichannel solution works.
Communication is a significant driver of engagement here. The sooner you connect with your customers after they have made their first purchase, the more likely it is that they will place a second order.
Interesting Read : Audio Marketing Evolution From Radio to Podcast and now Clubhouse
The retention rate is one of the useful metrics of omnichannel marketing that reveals consumer loyalty. Moreover, the retention rate gives you the assessment of the efficiency of marketing, sales, customer service, and any related activity in a company.
In the retention phase, measure the following KPIs.
---
Execute Effective Marketing Automation Workflows Now
---
a . Customer Lifetime Value (LTV): One of the essential metrics for omnichannel marketing is the customer lifetime value (LTV) tracked across channels. Measuring this KPI at the retention stage allows you to predict how well your company will benefit from individual customers over their lifetime value. The higher the LTV, the more loyalty there will be.
That is why this metric lets you focus on building long-term relationships with them, which is a crucial aspect of your business's future stability and growth.
b . Churn rate: The churn rate refers to the percentage of consumers that abandon your website and never return. That is why it is also one of the vital metrics for omnichannel marketing. So, for calculating the churn rate, you should divide the number of customers that left your platform within a given timeframe by the number of customers you had at the start of that period.
A high churn rate is a terrible news for your company since it can impact profitability and growth curve. As a result, if you notice a high churn rate, evaluate your omnichannel marketing plan to figure out how to mitigate it.
4. Brand Advocacy
People are more likely to buy based on recommendations from relatives and friends. That is the power of brand advocacy. Furthermore, customers trust reviews more than anything else now.
Interesting Read: 12 Tricks to Align Marketing with Business Goals That Work Every Time
Setting KPIs for brand advocacy under the belt of key metrics for omnichannel marketing can assist you in analyzing your brand reputation among buyers. Additionally, it gives a path for strengthening your omnichannel marketing strategies and making your overall efforts more customer-centric.
5. Customer Satisfaction Rate
Finally, customer feedback is another critical piece of data you can analyze. Measuring your customers' satisfaction with your service, products, and support is a reliable metric that comes from the source.
The Net Promoter Score (NPS) has existed for this reason; it is a 0-10 scale that asks your consumer to answer simple feedback questions. You can use surveys and polls in email marketing campaigns to accomplish this efficiently.
---
Parting thoughts
A single channel is not enough anymore, so even brick and mortar businesses are looking to go online, and why every company is seeking numerous possibilities to have a strong presence across multiple channels, whether online or offline.
The problem, though, is developing a perfect solution for both customer experience and internal operations. Omnichannel marketing overrides such barriers by enabling companies to create omnichannel experiences for customers.
However, companies that win are the ones that spontaneously measure metrics for omnichannel marketing.