The social media battle has mostly between major platforms like Facebook, Instagram, and Twitter. There is a new name in the block, and the growth rate of this application is insane. TikTok, also known as Douyin, has surprised marketers with its immense growth in a very little time.
Jump Directly to
2. TikTok's Growth Chart – An Analysis
3. Why TikTok has seen such an uproar suddenly?
A short-video-making app, formerly known as musica.ly, is winning hearts leads to an insane and massive user base. Its growth chart is impressive as well as a pointer to the impending future that marketers are looking at – TikTok ads.
While TikTok has already started testing ads quietly, it is yet to be available to the global masses. Its growth is not a one-day wonder, and there is a lot of history and controversy that this app has seen to reach where it is today.
---
What is TikTok?
TikTok is a short-form video app originating from Beijing's ByteDance that saw an addition of 75 million new users in December 2018, a 275% increase from 20 million it had added in December 2017.
It is a lip-syncing app, which makes it appear more like an online karaoke. One of the closest comparisons will be Vine, Twitter's most missed short-form video app, whose content-remains are alive only as YouTube compilations.
---
Still Not an User of Aritic PinPoint Automation?
---
when the clock strikes midnight #MayThe4thBeWithYou pic.twitter.com/DabMnbAYgo

— TikTok (@tiktok_us) May 4, 2019
It was originally launched in China in 2016 as A.me, which later changed to Duoyin. Since its launch in 2016, Duoyin was home to 100 million users and 1 billion daily video views in a year.

Post this, Duoyin was renamed TikTok marking its appearance in the international market. In September 2017, Duoyin was available to the global masses in the new packaging.
The original company, ByteDance, went ahead to acquire the already famous Musical.ly video app at a mere $1 billion. After this acquisition, they started moving Musical.ly to a revamped version – a version that saw both these apps' merger into one.
That's exactly when the growth rates triggered, and it started having a huge impact on the international audience. By 2018, TikTok's downloads reached 600 million.
---
TikTok's Growth Chart – An Analysis
According to reports from Apptopia, TikTok's been on a growth spree since the merger with Musical.ly. The US monthly active user count sped up by 30 million in three months after the merger.
App downloads increased by 25% in the US and 20% worldwide. By November 2018, TikTok was ranked 2nd in the US and 3rd worldwide based on iOS and Android downloads, social communications, and videos.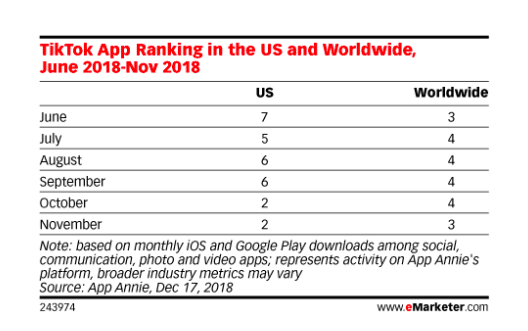 ---
Why TikTok has seen such an uproar suddenly?
The format that TikTok used is a tried and tested formula, but the difference is the mass appeal. It lists down songs, raps, pop, and even snippets from various talk shows, baking shows, and ads.
There are a variety of tunes that serve as backing for the 15-second video clips. Not just that, sounds are taken from various YouTube music videos like the weird soundbites from Peppa Pig.
These memes-as-video clips often refer to popular or familiar things like gaming culture. They come as standalone videos, reactions, duets, clones, and more.
Its acquisition and merger with Musical.ly gave it global exposure, with celebrities and influencers joining the bandwagon of lip-syncing. Whether it is Jimmy Fallon pushing Tik Tok on his talk show or Tony Hawk joining forces, it is already the next big thing.
---
The USP
Despite influencers and celebrities joining Tik-Tok, this app doesn't have the feel of being dominated by celebs, unlike Vine (RIP), Twitter, YouTube, or Instagram. The main feed of this app features everyday users who are not pro with video creation.
These users are funny, creative, clever, or cute, but with complete knowledge, this is an internet joke.
It features outright cringe-worthy videos, but then there is also a whole world of videos that are not found anywhere except for on Tik-Tok. These videos are weird at times, sure, but they are fun to watch.
And that's exactly what is driving this insane growth.
---
Execute Effective Marketing Automation Workflows Now
---
Below we have tracked the timeline of Tik-Tok since its inception, where you can clearly see how this app has paved its way into the phones of billions of people seamlessly.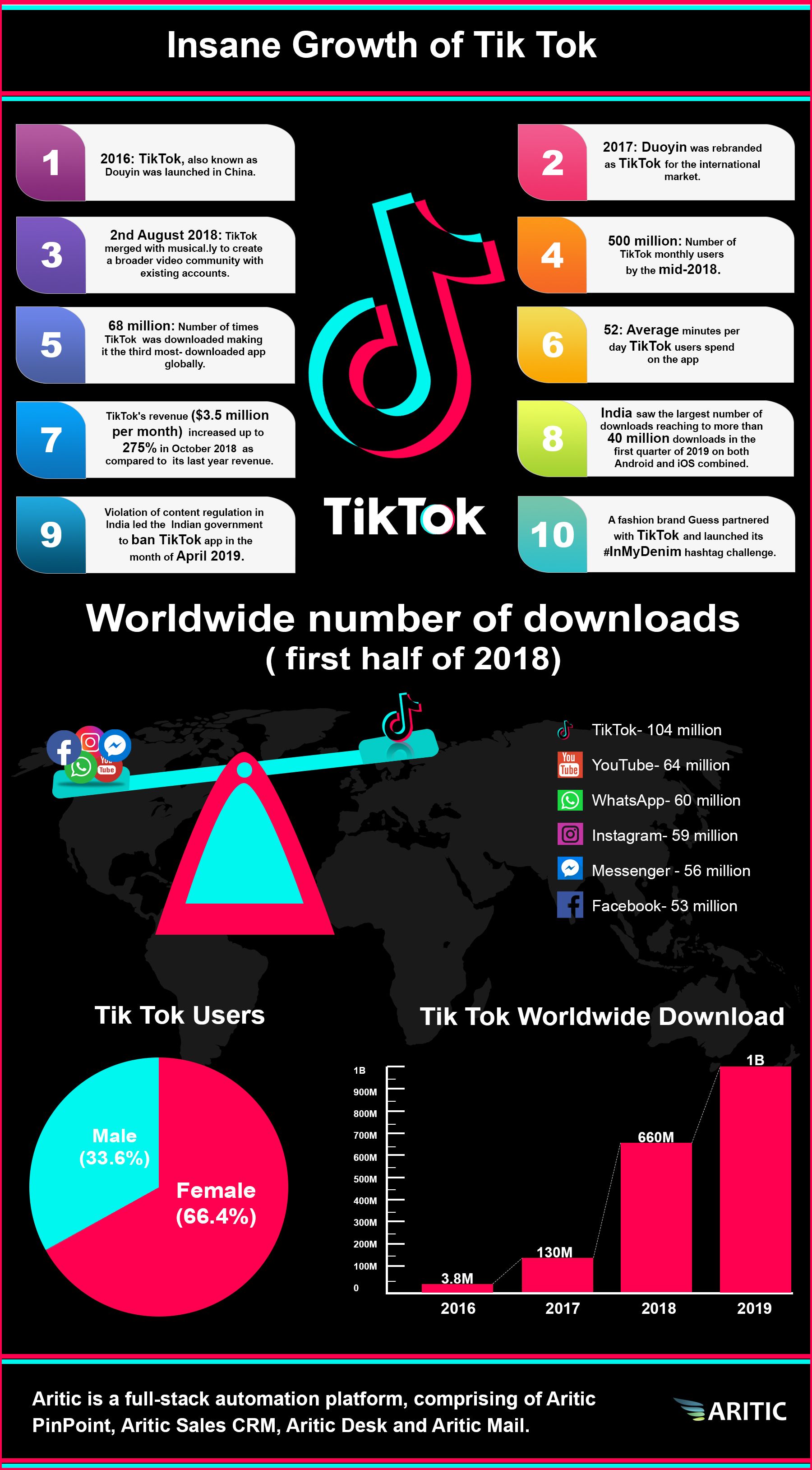 ⭐ What is TikTok?
Tik-Tok is a Chinese video-sharing app that allows users to foster creativity and share short-form videos on any topic.
⭐ How fast is TikTok growing?
Tik-tok has risen incredibly in a short period, with a whopping rate of 14.3 million in the last six months. It is one of the booming social media platforms in the world.
⭐ Why has TikTok become so popular?
Tik-tok offers the opportunity to go viral by connecting with like-minded people with instant gratification. Teens believe that it did better than social media predecessors and grabbed the eyeballs of millions.
⭐ Is TikTok dangerous?
Tik-tok also has inherent risks like any other social media platform. It has gained negative popularity for spreading lousy influence on kids.
⭐ How many people are on TikTok?
⭐ Is TikTok a good marketing tool?
Anyone who has been searching for marketing tips in the past few years has probably come across TikTok. This app is a great way to get your brand in front of new eyes and reach a whole new audience.
⭐ Can you promote your business on TikTok?
TikTok, the short video app that seems to be taking over the world, has now become a social media platform for businesses. The more innovative your content is, the more engagement you will get from your followers. However, many businesses are still trying to figure out how to use TikTok in their marketing strategies.
⭐ Does TikTok have advertising?
Yes, it has. You can utilize Video ads available for TikTok itself. These video ads run as 5-60 second videos in the full-screen format right in the user's For You feed. It lets you easily share your brand, right from ad display image, ad text, brand, or app name.