The B2B eCommerce market is booming, and companies are finding new ways to make money from it every day. In fact, according to a recent report by Kenneth Research, global B2B eCommerce will grow steadily, increasing by about 14.4% each year over 2020–2030. That's a huge number of dollars that businesses are making!
So what does this mean for you? If you're looking to get into the world of B2B eCommerce, now is the perfect time to do so. Here, we will outline some of the most lucrative B2B eCommerce strategies and how you can make your company successful with them.
What is B2B eCommerce?
B2B eCommerce is the act of purchasing goods and services between businesses involving the online business models. This type of commerce predominantly functions as an industry in itself, with many corporations offering their own B2B eCommerce platforms.
B2B is an abbreviation for business-to-business, which refers to customers who are other businesses rather than individual consumers. Business customers can act as intermediaries, selling the products/services to end-users.
What are successful B2B marketing strategies?
Good B2B eCommerce marketing strategies are the ones that will help a company scale and grow. Indeed it is a challenging goal to achieve but not impossible with proper planning and execution.
The first thing is to focus on the product or service behind the company. Therefore, this gives clarity on what you are going to create, how it will work, and what kind of benefits it will provide for someone looking to buy it.
The second thing is about defining your target audience. Who is your ideal customer? What do you know about them? What do they want from your company? Once you have clarity on this, then you can start formulating content that speaks directly to those needs and interests.
Thirdly, think about your goals and objectives as a business – which channels you should utilize for various types of B2B eCommerce marketing strategies you want to employ.
15 Mandatory B2B eCommerce Marketing Strategies You Need
The goal of the B2B eCommerce marketing strategies is to make your company more competitive, innovative, and customer-centric.
We see an increased number of B2B eCommerce strategies in the market. Different marketing teams are turning to these methods to get ahead of their competition. Selling online isn't always an easy task, but there are some mandatory strategies that you absolutely need if you want your company to succeed.
Forbes advises all companies with a B2B focus on making their product or service visible across various communication channels including social media avenues like Instagram, Twitter, and Facebook.
---
Still Not an User of Aritic PinPoint Automation?
---
Below are 15 essential B2B eCommerce marketing strategies that you need to adopt, categorically discussed under three sections.
Category #1- B2B eCommerce Strategies: SEO Perspective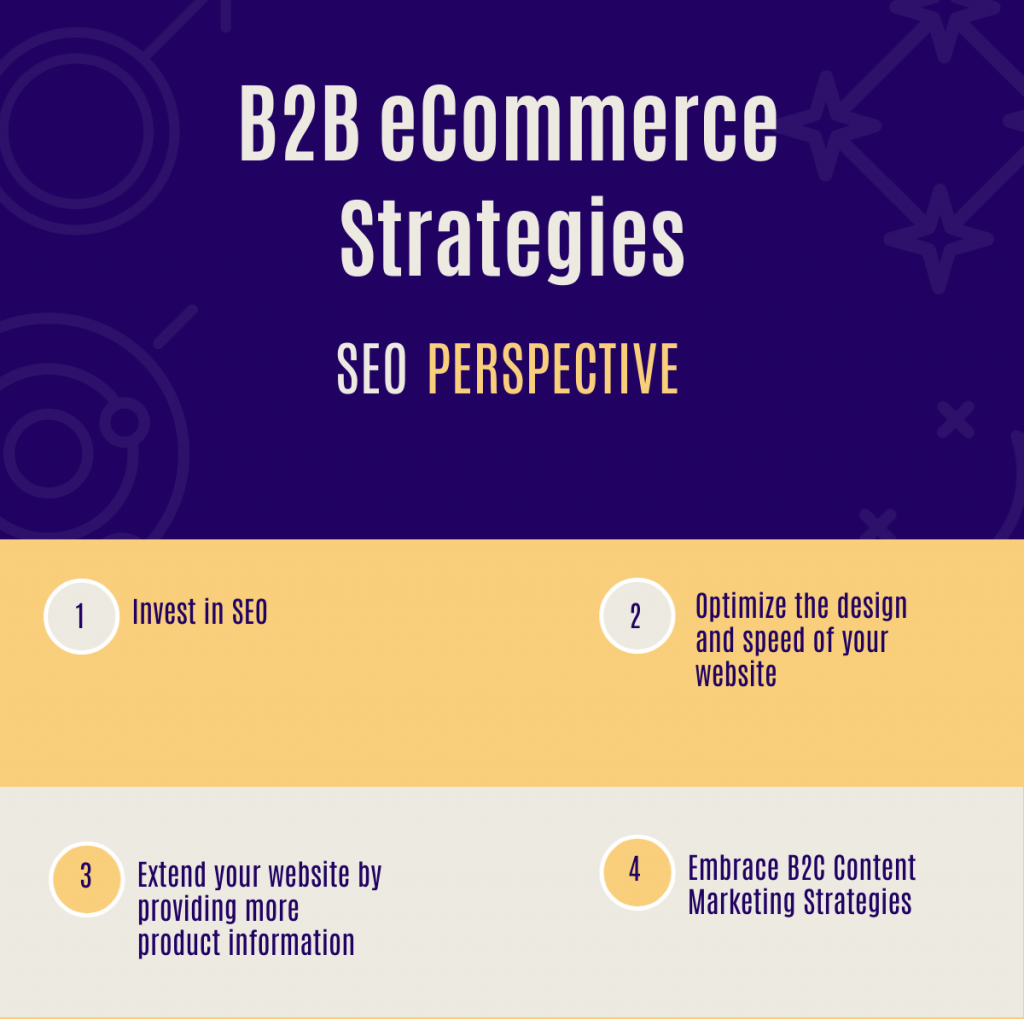 Invest in SEO
Extend your website by providing more product information
Embrace B2C Content Marketing Strategies
1. Invest in SEO
In order to build a strong brand on the web, you need to make it easy for potential customers to find you across search engines. Therefore, having an online presence is critical for your business. In fact, according to numerous studies, more than 68% of consumers start their purchase journey on search engines.
The business competition has never been more intense. As a result, you can't afford to let your SEO efforts lag.
Search Engine Optimization (SEO) is the only bold way to ensure that your site will rank at the top of search engine results pages. Achieving this, however, is anything but easy. To be successful in today's B2B eCommerce environment, you need to have a comprehensive SEO strategy in place before you launch your site.
In fact, 61% of B2B marketing specialists found that SEO and organic traffic generate more prospects than any other marketing initiative.
2. Optimize the design and speed of your website
Many factors contribute to the success of an eCommerce website. For example, you might have a great product, but if your website doesn't look professional and up to date, you won't be able to generate leads or make sales.
The best way to maximize conversion rates is through the use of proper web design, page layout, and navigation. One of the best UI design tips is to make sure your page is uncluttered and does not require too much scrolling or clicking for any one page. In addition, navigation should be intuitive so customers can find what they need quickly and easily. Furthermore, pay heed to responsive design to keep the mobile version of your website appealing.
The page load times of your website are also important as customers will leave if it takes too long to load pages or if any other technical issues affect the user experience negatively, such as broken links or 404 errors.
3. Extend your website by providing more product information
Every business is unique, and no two businesses will have the same needs or goals for their B2B eCommerce site. For example, do you have an eCommerce store that sells products to other businesses? If so, there are a few things you could be doing to increase your revenue.
One thing is to identify your business's unique selling points, create a website structure that meets specific needs, and implement the right eCommerce solution to match. Another thing is adding more product information to your B2B eCommerce site. Product information is any feature or benefit that sets your product apart from the others. Without it, customers can't make informed decisions about which product they want.
The use of content marketing strategies, such as blog posts, case studies, white papers, and webinars, has a proven track record of generating leads for companies with a strong brand presence.
4. Embrace B2C Content Marketing Strategies
B2C content marketing has been a proven, effective way to increase brand awareness and drive traffic to your website. But what if you sell exclusively to businesses? Shouldn't your B2B eCommerce business be using those same content marketing skills?
When it comes to B2C, content marketing is a no-brainer. For B2B eCommerce companies, however, the idea of using content marketing strategies for converting B2C consumers can be a bit daunting. Utilizing content doesn't have to mean producing blog posts and videos with dancing ferrets dressed as superheroes. Branding through content isn't necessarily new, but we've seen the role of branded content change over time. It's not just about advertising anymore; it's about establishing a community around your business and creating valuable experiences for your audience.
Content marketing is the most effective way to attract prospective customers to your business, especially when trying to make a name for yourself in an oversaturated market. Content marketing draws attention to your brand by creating highly valuable content that people want to read, share, and engage with quickly. Creating value through blogs, whitepapers, infographics, videos, and other content types gives your potential customers a reason to trust you.
Category #2- B2B eCommerce Strategies: CRO Perspective
Optimize your upsells
Provide flexibility in ordering and pricing options
Refine the customer service
Research your prospects and customers extensively
Touch Base with Top Customers
Broaden your sales funnel
Employ the referrals system
Power up Loyalty Program
5. Optimize your upsells
No matter what type of business you have, there are a few tried and true methods that can help boost your revenue. One of them is the upsell technique. In its simplest form, an upsell is a product or service that you offer to customers after they have already made a purchase.
In order to increase your upsell rates, you need to make sure that the first purchase is as easy as possible. You can then focus on improving customer experience and developing a strong loyalty program. Therefore, the first purchase should be very straightforward, meaning that it must be simple and not require any effort from the customer.
The key to optimizing your upsells is not to overthink. Focus on the following for upsells:
– Your most popular products
– Products that will satisfy one specific need
– Upselling complementary products (products that may go well with the product you are selling)
– Upselling your most expensive product line
6. Provide flexibility in ordering and pricing options
When it comes to selling B2B products online, you need to be able to offer customers flexible ordering and pricing options. The most successful B2B eCommerce companies do this by offering custom solutions based on an individual customer's needs. When you're running an eCommerce business, it's important to find the right balance between making profits and providing convenience to your customers.
There are many ways you can go about this. For example, you can offer affordable shipping options for competitive rates or allow buyers to order smaller quantities of inventory at a time rather than in bulk. In addition, when you have a wide range of customers, it's important to offer as much flexibility as possible throughout the selling process. It'll give you an edge over your competitors by ensuring that your customers don't have to worry about how they're going to pay for their purchase or if they're going to get what they need from you.
7. Refine the customer service
Customer service is an important aspect of any B2B eCommerce business as it's correlated with customer expectations. Your business is built around your customers. And the success of your business depends on creating an exceptional experience for existing customers and new ones alike. But how do you make sure that your customer service efforts are top-notch?
Here are some ways that you can improve customer service for your B2B eCommerce business:
– Automate as much as possible
– Offer 24/7 service
---
Execute Effective Marketing Automation Workflows Now
---
– Monitor social media channels
– Create a clear FAQ page
– Make sure that all employees get trained on how to handle customer issues
– Offer an incentive for feedback
8. Research your prospects and customers extensively
One of the most important components of running a successful business is understanding your customer. Knowing where to find them and how to reach them is crucial to your success. The simple truth about using data for online marketing is that you need as much as possible, as often as possible.
One way to research your prospects is to take the time to look at how people are searching for products and services like yours. If you're selling wholesale products, start by looking into the keywords that people are using when they want something similar to what you're offering. You can find this information in Google Keyword Planner or even Google Trends. Once you've identified a few related terms, look up their search volume in Google Trends. Take note of which ones have the highest search.
The more information you have on your customers, the better equipped you will be to design effective marketing campaigns that resonate with their needs. One way you can get this information is through surveys and questionnaires. There are many ways to research a B2B prospect. Here are some ideas:
– Look for keywords in their domain name, homepage, and social media that provide insight into their business
– Read articles, blogs, or other content that they have shared on their website or social media
– Search for industry associations that share useful information about the industry the prospect operates in
– Search for other online sources that might contain information about the company
9. Touch Base with Top Customers
When you are a B2B eCommerce company and want to get more customers, then it is important to develop a strong relationship with the top customers. The aim should be to provide them with an exceptional customer experience and offer them high-quality products and services.
If your company wants to keep the customer at the heart of the business, then you need to make sure that they do not feel neglected or abandoned. That can be done by following up with them over email, telephone, social media platforms. You can also send them gifts or cards to show appreciation for their loyalty, thereby upping the customer experience.
10. Broaden your sales funnel
With the rise of a new, sophisticated breed of buyer who expects a personalized experience at every step of their purchase journey, e-commerce businesses have been taking a hard look at ways to improve their sales funnel. As a result, many have turned to customer relationship management (CRM) software to help them automate and streamline the sales process from the initial point of contact with a prospect, through lead generation and nurturing, all the way to closing deals.
Basically, you need a sales funnel. A sales funnel is the ultimate tool for taking your B2B eCommerce business to the next level. The sales funnel means a sequence of steps where potential customers progress from being unacquainted to making purchasing decisions, thus becoming a customer.
B2B eCommerce businesses should focus on maximizing their sales funnel at every stage. This way, they will be able to draw more attention and increase their conversion rates. The following are some ways in which businesses can do this:
– Make sure visitors' journey is as smooth as possible by using design and user experience tips to improve the site's navigability and usability.
– Establish a good content marketing strategy that educates and converts visitors into leads.
– Make sure that the product pages offer detailed descriptions of what you are offering along with quality images of those products or services to make them stand out from other competitors in the market.
11. Employ the referrals system
The referrals system should be one of your top priorities if you want to grow your customer base and grow exponentially. You can use it as a powerful tool that will allow you to increase your conversion rate and boost your sales dramatically.
With the help of referrals, you can gain new customers and increase sales for your business. It is a way to get free advertising and marketing for your business. The importance of having a referral system cannot be understated.
Here are some tips for optimizing and streamlining the referral process:
– Add a referral sign up form to your website or landing pages
– Create clear policies that explain what you reward customers for their referrals
– Implement an email marketing campaign to remind potential customers about the referral program
12. Power up Loyalty Program
Loyalty programs are an essential tool for small business owners, particularly when it comes to building positive relationships with customers. When you're operating a B2B eCommerce business, it's important to portray your brand in the best light possible. A loyalty program can help build long-term relationships with customers while improving customer retention rates and driving repeat sales. And, as we know, happy customers always come back for more as repeat customers.
A loyalty program is a perfect solution for businesses that want to keep their customers satisfied and loyal. You can use it as an incentive system, reward program, or promotional strategy.
If you'd ask me some of the main reasons that drive customers to participate in loyalty programs, then here they are:
– Increase in the perceived value of the company's products and services
– Potential for discounts on future purchases
– Rewards for past purchases
– Recognition of their personal preferences and interests
Category #3- B2B eCommerce Strategies: PPC Perspective
Map your ads to the landing pages
Leverage social media marketing
Advertise customer reviews/testimonials and ratings
13. Map your ads to the landing pages
Landing pages are where visitors arrive after clicking on an ad, and they're often confused about what to do next. So if you're using ads to drive traffic (you should!), you must make sure you have good landing pages in place, or you'll lose all the time and money spent driving these qualified leads right back out of your site!
The key here is creating a landing page tailored to the ad someone just clicked. But making sure that your ads and landing pages speak the same language can be tough, especially when you have multiple campaigns running simultaneously. A landing page is the first point of contact with potential customers when they click on the ad. The goal is to make sure that these visitors convert into paying customers by providing them engaging content in terms of both text and images.
14. Leverage social media marketing
Social media is the second most popular search engine. If you are not using it to market your business, you are missing out on a huge opportunity.
Social media marketing is an indispensable asset for B2B eCommerce businesses. The challenge lies in finding the right social media platform that works for your business. When it comes to B2B, LinkedIn is known as the superior choice, but Twitter and Facebook provide incredible opportunities too.
With social media, you can create a huge business network and keep in contact with people who are interested in your products. It is one of the best ways to find leads for your business. It allows you to interact with potential customers and share content regarding your goods or services.
15. Advertise customer reviews/testimonials
Ecommerce sites are becoming more and more popular. Consumers want to know the pros and cons of every product they're interested in buying, so it is vital to include customer reviews on your site. You can also encourage customers to submit their own reviews, which adds authenticity to your site.
Gathering customer reviews and testimonials for a B2B eCommerce site can be an effective way to gain exposure across social media. The more positive feedback you have, the easier it will be to attract new customers. However, even if your business offers top-notch products or services that are in high demand, few companies will take action without first doing their due diligence. That's where you come in by providing proof from real customers that your company is trustworthy and reliable.
B2b Ecommerce Strategies 2022: Conclusion
The most lucrative B2B eCommerce marketing strategies are being adopted by businesses with an online presence. With the growing popularity of digital marketing, more merchants are becoming aware of its potential to boost sales and conversions.
Now that you have a more understanding of B2B eCommerce strategies, we want to help you implement them into your online marketing campaign. If you want to avoid missing out on the big opportunity that lies ahead, don't hesitate to schedule a demo today!