Today, for leading businesses, data-driven marketing is a key factor for identifying customer intent and all touchpoints across the buyer journey to acquire customers.
Data is the most valuable asset for leading companies that focus on digital transformation, but it is still in "early adoption" juncture and waiting for more innovations to follow.
Jump Directly to
1. What is Data-Driven Marketing?
2. Data-Driven Marketing Strategies
3. Benefits of Data-Driven Marketing
4. Data-driven marketing trends 2023
With data-driven marketing, businesses rely on quantitative and qualitative data to make informed decisions, eliminate guesswork, and create scalable marketing processes to enable budget optimization.
Insight-driven organizations are picking pace in their growth at an average of 30% each year; by 2021, it is predicted that they will gain $1.8 trillion annually from their less-informed counterparts.
Also, the organizations embracing data-driven strategies are 23 times more likely to acquire more customers.
---
Still Not an User of Aritic PinPoint Automation?
---
This article will present a clear idea about what data-driven marketing is, what top data-driven strategies you can follow, current trends corresponding to data-driven marketing, and its benefits.
---
What is Data-Driven Marketing?
Data-driven marketing is an approach to optimizing brand communications based on customer information acquired through customer interactions and third parties.
In data-driven marketing, marketers utilize customer data to predict their needs, preferences, and future behaviors. Classifying and prioritizing customers happens in real-time, based on a complete analysis of the voluminous customer data. All such data and insights help marketers build personalized marketing strategies for the highest possible return on investment (ROI).
You can also view data-driven marketing as evidence-based marketing. Well, how? See the data-driven marketing strategies below.
---
Data-Driven Marketing Strategies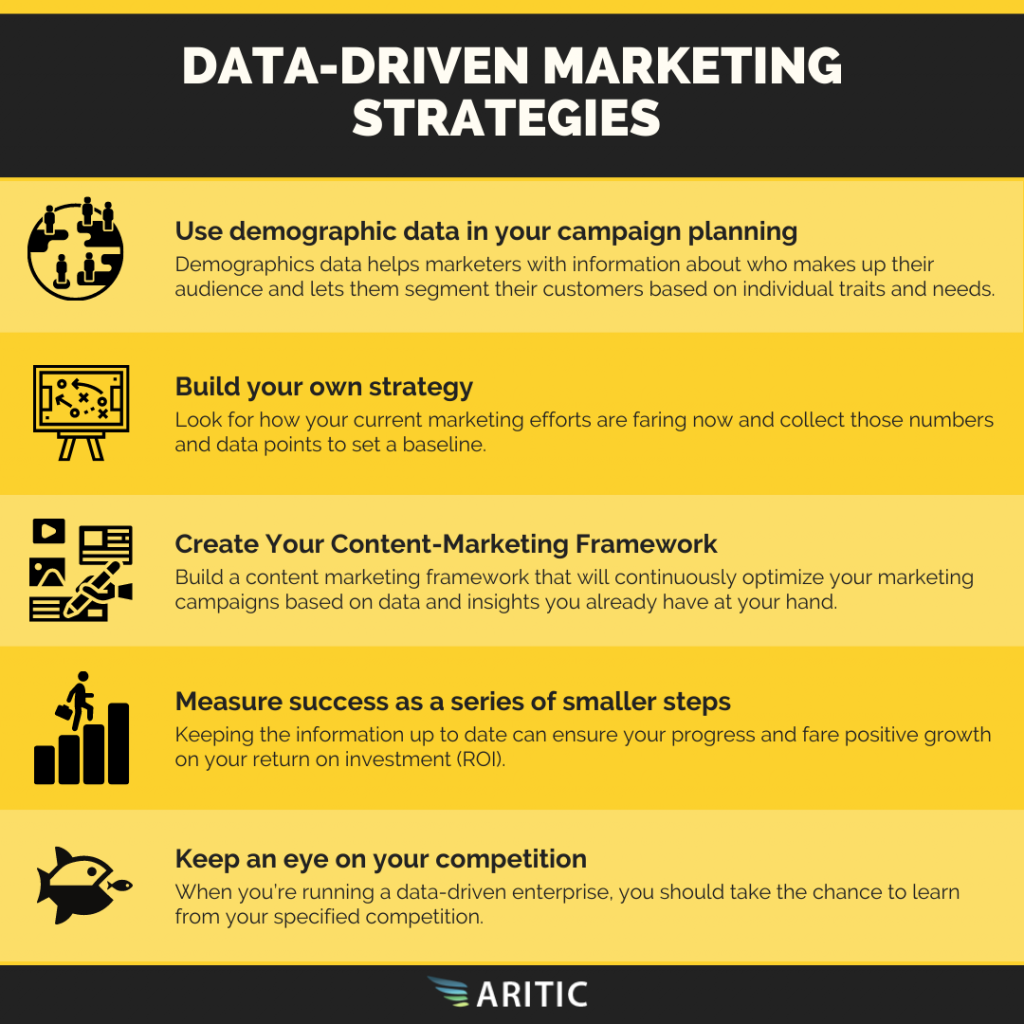 Here are 5 data-driven marketing strategies that you can keep at hand while planning your next campaign.
1. Use demographic data in your campaign planning
Demographics data helps marketers with information about who makes up their audience and, in turn, lets them segment their customers based on individual traits and needs.
By employing analytical tools, marketers can interpret the hot points in terms of demographics they want to target to create effective email marketing campaigns and content marketing strategies.
Interesting Read: Quick Checklist to Help You Boost Your Marketing Automation Growth
Besides this, it also enables them with a set of actions that their organization can leverage to provide tailor-made and personalized experiences to customers.
Now talking about the relevant demographic information, it includes age, gender, designation, education level, income level, location, etc. You can choose the relevant details matching your campaign requirement and go into as much detail as possible.
It's also valuable for you to also identify psychographic information for your potential customers. Psychographic information includes their interests, hobbies, spending habits, attitude, and opinions.
2. Build your own strategy
Data-driven marketing implies the compounding accumulation of information and stats over time. So, to be successful, you'll need to build your strategy and plan.
So, consider the baseline. Look for how your current marketing efforts are faring now and collect those numbers and data points to set a baseline. For example, if your marketing plan involves sending a weekly newsletter, what are you recording as the average open rate, click-through rate, and conversion rate? Are you using pay-per-click (PPC) ads? What is the percentage of people who respond?
List down every marketing tactic you're currently practicing and generate a baseline for using the insights and metrics.
Also, brainstorm about your goals and add them to your list. Maintain a sense of reality when describing your goals. In other words, Set a target to increase the open rate of your newsletter by 2-5% next quarter.
3. Create Your Content-Marketing Framework
Around 46% of B2B organizations plan to increase their content marketing spending within the next 12 months.
Data-driven marketing strategy involves dimensions like engagement, inspiration, and creating relevant content, meaning that content marketing is the heart of the overall marketing strategy for any organization working to elevate its success.
---
Execute Effective Marketing Automation Workflows Now
---
Interesting Read : Guerrilla Marketing Secrets- 5 Tactics That Worked For B2B
When you plan your data-driven marketing strategy, it is obvious to build a content marketing framework that will continuously optimize your marketing campaigns based on data and insights you already have at your hand.
As you collect more data and information, such as performance metrics of published content, you need to fine-tune your content marketing framework.
4. Measure success as a series of smaller steps
There is always room for refining a data-driven marketing strategy in terms of optimization and strengthening, as with time, you compound on accumulated data and insights.
So, you need to formulate a series of simpler processes of analyzing new data and tweak your marketing campaign to coincide your efforts with the new development and changing trends.
Keeping the information up to date can ensure your progress and fare positive growth on your return on investment (ROI). In fact, businesses leveraging data-driven marketing record 5 to 8 times better ROI on their marketing spend.
5. Keep an eye on your competition
When you're running a data-driven enterprise, you should take the chance to learn from your specified competition.
You should figure out which strategies aren't working so that you can avoid those and focus your attention on the ones that can help you succeed and keep your data-driven marketing campaign on track.
You can effectively gather data, review results, and fine-tune your strategies by following the steps outlined above. Aside from that, when you use data-backed insights, you can be assured that all of your attention can be based on achieving your goals. It can also help you in terms of enhancing customer loyalty.
---
Benefits of Data-Driven Marketing
Having discussed data-driven marketing strategies, you might be curious to know what benefits data-driven marketing holds for data-driven enterprises and businesses. Let's see what its advantages are.
1. Data helps to gain better clarity about the target audience
Data-driven marketing lets marketers utilize the potential of any information about customers and prospects to understand almost every crucial aspect of your target audience before even getting involved with them for business.
Insights or data can keep you alerted beforehand about their interests, needs, and preferences so that you can target them with better communications to get their attention and to nurture them to drive them further into your business funnel.
2. Uncover the best channels for promotion
Data-driven marketing strategies can unfurl more information than just your target audience's preferences. It can give you a clear perspective about all potential channels an enterprise should use to market to their audience in the current and future scenarios.
It can immensely help you distribute data-driven ads across various channels using automated marketing campaigns and ensure that your message is clear, consistent, streamlined, and reaches the right audience.
3. Personalization
One of the lucrative benefits of data-driven marketing is upping your marketing efforts by utilizing personalization to create unique experiences for your prospects and customers.
Marketers that exceeded their revenue targets were utilizing the personalization strategy 83% of the time.
Interesting Read : 10 Emerging Social Media Platforms Which Are Great for Marketing
Customers can identify generic marketing communications and might be saturated upto the point that they will simply ignore generic marketing messages or, even worse, perceive them as spam. Data-driven marketing enables you to cater them personalized messages through your campaigns and actually capture their attention.
4. Segment Your Audience
As a marketer, you would agree that it is a bad idea to send the same messages or employ the same marketing tactics to your every potential customer.
Your prospects can be at different stages of their buying journey, and each would require specific marketing messages based on their interactions and patterns.
Data-driven strategy lets you effectively segment your leads and contacts with minimal human intervention based on their behavior, leads scores, campaign engagements, lead source, sales conversation, and more.
5. Improve Your Product Development
Data-driven marketing efforts enable you to learn about your prospects' needs, challenges, preferences, and desires before you plan to launch your product or add new features to scale up your products.
Therefore, it can immensely help you tailor the perceived value and significant features of your products to match your potential customers' expectations, ensuring better product success in the long run.
---
Data-driven marketing trends 2023
Trends are important for any business and especially for online businesses. Let's now look at a few data-driven marketing trends of 2023.
1 . Consumer Privacy
New regulations like GDPR and the California Consumer Privacy Act and Google's announcement of its plans to end support for third-party cookies in its Chrome browser have actually shrunk down on marketers' ability to capture and leverage third-party data.
As of Dec 2022, Google chrome has over 64.68% of the browser market share worldwide.
All these happenings point towards one thing that consumer privacy is now more important than ever before.
The marketing landscape is changing and continues to embrace the responsibility to be aware of how they collect consumer data and provide opt-in or opt-out capabilities. Consumers will have the ultimate power and will continue to expect more transparency in how and why businesses collect personal data.
2. Personalized marketing automation
True personalization is about serving the right message at the right time to prospects and customers.
People expect brands to provide personalized experiences to them rather than generic communications. Personalized marketing gets people to spend more.
91% of consumers are more likely to buy from brands that provide them with relevant offers and recommendations.
Leading marketers are leveraging personalized marketing automation to target audiences by personalizing web experiences and capturing insights from all inbound marketing strategies.
3. Omnichannel Marketing is Everywhere
Omnichannel marketing is all about creating a seamless experience for customers from the first touchpoint to the last.
Marketers no longer rely solely on just one channel for their marketing strategy. They exercise omnichannel marketing for their marketing methods. It is best to adopt such a strategy and understand that your customers use multiple devices, compare brands, and then arrive at buying decisions.
Omnichannel marketing will enhance your brand identity and establish a strong presence everywhere your audience is so that your brand will be found by them easily.
4. Artificial intelligence for lead follow up
Most enterprises are actively following up on new applications of Artificial Intelligence (AI) to adopt faster and more innovative tactics to race ahead of their competition. AI has immense possibilities and can provide you a competitive edge when used to optimize response time to customers and leads or to make complicated decisions in a comparatively faster way.
Interesting Read: 11 Ways for Marketing Campaigns to Promote Virtual Event?
For instance, AI chatbots effectively handle customer queries and provide incredible opportunities for businesses that use them as integrated marketing components. Besides this, AI chatbots can gather valuable data from such queries.
5. Data-informed SEO
Data-driven SEO refers to utilizing data as a key element when building an SEO strategy. Marketers will continue to use data-informed marketing to help them outrank the competition in terms of their SEO plan.
Data is specifically used in SEO to produce key phrases and arrive at decisions like which are the most powerful.
However, take the time to gather the available information, analyze it, and interpret what it means precisely.
You can discover opportunities that can lead you to select relevant and right key phrases aligning well with your strategy.
---
Wrapping up
When you adopt data-driven marketing, then that means you set the stage for data at each step of your marketing plan and eventually get closer to smarter and informed decisions.
64% of leading marketers strongly agree that data-driven marketing is crucial for the economy.
Marketers spend time analyzing and choosing the best data-driven marketing strategies while also keeping a sound awareness about trends and changes in this landscape.
⭐ Why is data driven marketing important?
Data-driven marketing is a rapidly expanding field in the marketing industry. It has become essential for marketers to have access to data, and use it effectively, in order to make sound business decisions.
⭐ What is Content Funnel Optimization?
Funnel optimization is the method of fine-tuning a sales funnel and its steps for acquiring, retaining and converting the highest qualified customers.
⭐ What are the elements of the content funnel?
Different elements of sales funnel stages:
a) Awareness
b) Interest
c) Evaluation
d) Engagement
e) Purchase
⭐ What are the challenges of data driven marketing?
Data and analytics are a crucial part of modern marketing. But there are challenges to be overcome. For example, many companies lack the infrastructure or resources to collect data from every channel or device.
⭐ Which is not a personal data?
An individual's personal information may be sensitive, but it is not always considered "sensitive personal information". For example, the name and address of an individual are generally not categorized as sensitive.
⭐ What is the demographic segmentation?
Demographic segmentation is a type of market research that helps classify consumers into subgroups according to factors such as age, occupation, gender, and more. This helps businesses better understand their target customers and focus on areas where they can grow sales and revenues.
⭐ What is a good content strategy?
A content strategy is a procedure. This is more than just the end result. It's how you get there. An effective content strategy will help you create valuable and compelling content that will help your audience meet its objectives.
⭐ Why do you need a content strategy?
When you have a good content strategy in place, it helps you deliver your valuable information in a strategic manner. Additionally, you can ensure that every piece of content you post serves its purpose and works towards your most important marketing goals.